Sculptural lighting
An overview of projects, products and exclusive articles about sculptural lighting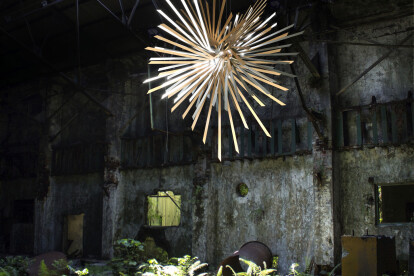 Produto • By Yellow Goat Design • Implosion
It might resemble the sparks from metal grinder but the spark here is not coming from a grinding wheel. Instead it is a burst of renewal frozen in time. Shades of metallic aluminum blades are positioned in a precise angle with each other, lit up by LED bipins between.
Mais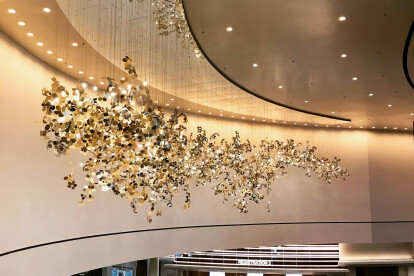 Produto • By Yellow Goat Design • Arboreal
'Arboreal' or 'living in trees' is a signature sculptural light of Yellow Goat Design bringing the beauty and harmony of the natural environment into intimate, bespoke and luxurious contemporary design interiors. A stylish light for commercial retail, hotel lighting and casino spaces, Arboreal casts a unique mix of prickled light and shadow around a room in leaf-like patterns, emulating filtered sunlight cast from the native Australian Eucalypt. Featuring thick clumping foliage cut from satin and mirror polished gold and silver aluminium sheet suspended en-masse in clusters using brass rods (optional) and lit by LED, this decorative, large-scale custom chandelier brings the outdoors indoors and accentuates the moveme...
Mais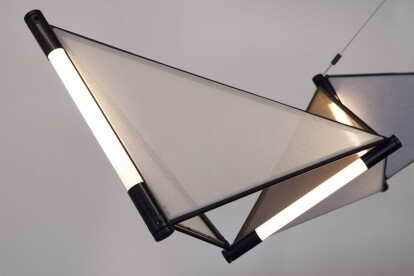 Produto • By james dieter • kite chandelier
kite was conceived as a chain of light tubes linked by tetrahedrons.The planar fabric surfaces of kite offer a wide range of choices in color and transparency.This piece can take on many forms by virtue of the multi-position joining mechanism at the ends of the light tubes.
Mais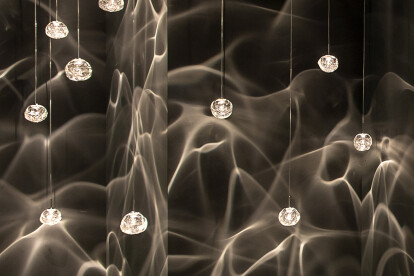 Produto • By Scholle-Deubzer • DROPS
We blow and sculpt DROPS with our own hands, freestyle at the glass-furnace.Each one has it's own individual shape.An LED ist placed inside through a specially developed, sophisticated system.2,5 W / 150 LUMEN / 2700 K dimmableDROP are available as a singleor as an installation of 3, 5 or 7 pieces.For bigger numbers please contact us for an individual solution.
Mais
Produto • By Prolicht • SIGN DIVA
Classic illumination that sets new standards. The round, seamlessly welded surface lights make a discreetly elegant impression but set unique accents in any space. In playing with various sizes and classic or unconventional arrangements, SIGN becomes a formative architectural element.SIGN is available in a number of different sizes and it can be installed in ceilings using any mounting type from trimless, recessed, surface mounted to suspended. The SIGN DIVA suspended range can be installed with a central wire suspension or a central rod system. With a well-engineered and patented swivelling system, PROLICHT has enlarged the entire collection with a new masterpiece: the SIGN DIVA DANCER PLAY. This new range features a unique adjustment syst...
Mais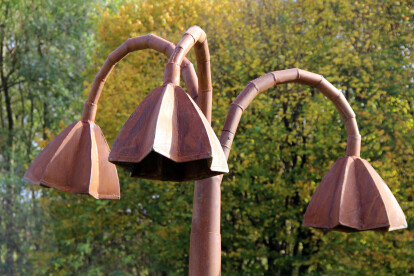 Produto • By Rob van Avesaath • Sculptural lights
These sculptural lights have been made out of (1 mm) Corten steel. Their height is approximately 3,5 meters. For the design I got inspired by the German photographer Karl Blossfeldt; in his work plants and flowers look as if they were made out of steel. Since Corten steel only can be bought in sheets every part has to be rolled or hammered into the right shape and dimensions. For me there is a basic resemblance with working with paper: cutting, folding and gluing it together. Working as a sculptor the actual making of these individual objects is part of the designing: the last decisions about shape, angle and dimensions are being made before the final assembly.
Mais
Produto • By Prolicht • SUPER-G
THE ILLUSION OF MOTIONDynamic, buoyant, powerful - SUPER-G brings movement to light design. Inspired by the experience of high velocity, the avantgarde luminaires captivate with their liveliness and extraordinary freedom of design.The SUPER-G lamps are composed of individual parts that can be seamlessly and infinitely arranged together. Straight connecting pieces in various lenghts, curves in different radii, corners and intersections can be combined in a limitless number of sequences. Due to its free alignment, SUPER-G can be optimally adjusted to any architectural dimensions or assembled to create individual shapes.The lamps are available in a recessed, surface-mounted or suspended version, as well as in two track widths (65 and 150 mm) a...
Mais
Produto • By Prolicht • GLORIOUS
GEOMETRIC PROGRESSIONWith a look that fuses pop art and science fiction, GLORIOUS stages extraordinary spaces. This can be seen and experienced at Google and Microsoft already. The sculptural surface luminaires of the GLORIOUS family look like colourful, oversized icons - brilliant, digital, 3-dimensional symbols.The lamps are available in traditional geometric shapes: the GLORIOUS circle, the VICTORY triangle and the QUANTUM quadrilateral. The character-defining "Soft Edge Design" gives the lamps a unique identity. The corners of the strictly geometric shapes are gently rounded, yet the lighting fixture has an angular accentuation - a striking affirmation of a clean design that is easily recogniseable. With a number of mounting options suc...
Mais
Projeto • By Il Pezzo Mancante • Centros de Exposições
This unique architectural work, a raw metal blade plunged in the ground and buried below the surface of a body of water, features Il Pezzo 3 Endless Chandelier in the tasting room. Discover the full collection: http://bit.ly/2gLfaZK
Mais