System
Os mais recentes projetos, produtos e artigos exclusivos
Produto • By Davide Groppi srl • FLASH
Davide Groppi, 2017MetalWall lampLength divisibleAvailable at up 12 metres in lengthIt is Infinito turned around, creating direct light that flows downward from the light source.The stainless steel strip, 9 mm in width, can be stretched up to 12 m in...
Mais
Produto • By Davide Groppi srl • ENDLESS
Davide Groppi, 2018This system was created and patented by our Team in order to transport electric energy in a digital and graphic manner.It's the idea of considering walls and ceilings like electronic circuits so that the positioning of lights and l...
Mais
Produto • By Young Projects • PdP Pulled Plaster Panels
Our PdP Pulled Plaster Panels were born out of real-world material experimentation in our Gerken Residence project, completed in 2015. In developing this prototype, 
we moved fluidly between digital modeling and full-scale mockups to create a dynamic...
Mais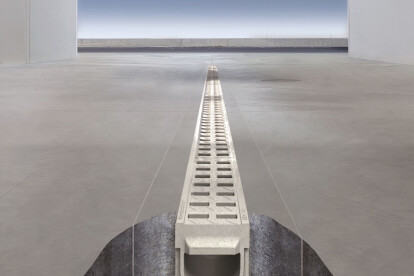 Produto • By ULMA Architectural Solutions • KOMPAQDRAIN® COMPACT CHANNEL
ULMA Architectural Solutions presents KOMPAQDRAIN®, its new, innovative compact drainage channel with Max Flow® system. KOMPAQDRAIN® is a novel compact channel made of polymer concrete, suitable up to load class F900, according to standard EN-143...
Mais
Projeto • By Strikolith BV • Casas Particulares
Architectural villa with the Strikotherm external wall insulation system 100-200. This sleek modern building with a minimum of details, integrated rain drain. This trendy home in white decorative plaster insulation system has dark accent with b...
Mais