Anodized aluminum frame systerm for screen walls and equipment enclosures that do not require roof penetrations
An overview of projects, products and exclusive articles about anodized aluminum frame systerm for screen walls and equipment enclosures that do not require roof penetrations
Project • By DEEPSTREAM DESIGNS, INC • Heritages
The Left Bank Apartment Building, built in the Art Deco Style in 1929, was a historic freight station and warehouse for the Pennsylvania Railroad. The Left Bank is located in the University City neighborhood of Philadelphia, Pennsylvania on the Schuylkill River between Drexel University and the University of Pennsylvania. After the conversion, the Left Bank sets itself apart from the competition by offering luxury pet-friendly apartment homes with an exclusive amenity: a rooftop social deck for tenants and their dogs. DeepStream Designs' large Mariner commercial planter system, with its integrated anodized aluminum structural frames and rugged planter liners, anchors large glass and wood screen walls form an enclosure for a rooftop...
More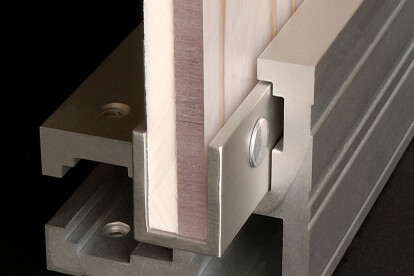 Product • By DEEPSTREAM DESIGNS, INC • Architectural Structural Aluminum Frame System
DeepStream Designs creates the dies for its proprietary extrusions in house, as well as its aluminum push flaps for trash and recycling receptacles and stainless steel hardware from lids and shelves to hinges for a wide aray of custom fixtures. With these components, our proprietary frame system has the flexibility to create the wide selection of custom solutions like the Architectural Screen Wall, Privacy Screens, Equipment Screens, Security Screens and Enclosures shown here on Archello and our website without compromising our sustainable design philosophy. DeepStream Designs' structural extrusions should not be confused with typical thin-wall extrusions. The aircraft aluminum walls of our primary extrusion are ¼"...
More