Archtectural lighting
An overview of projects, products and exclusive articles about archtectural lighting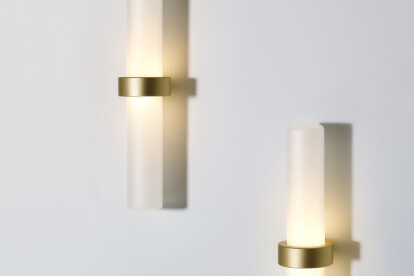 Product • By Rakumba • Typography Cilon - Staff wall sconce
Typography is a graphic lighting system, reflective of the multi-disciplinary talent of its designers and the manufacturing and specialist technical abilities of Rakumba.
More
Product • By Atelier Robotiq • Fiber Pattern Lamps
In Aerospace lightness is of great essence, which has led to the development of lightweight fiber composites. Fiber composites can be extremely strong and lightweight by use of strong fibers accurately placed by robots. Atelier Robotiq is now using this technology to make lightweight fiber structures with mesmerizing fiber patterns. The fibers of the Fiber Pattern Lamps create geometrical patterns, which are mathematically defined using in-house developed software. The pattern is created by repetition of the single fiber path around the product. For the same shape different fiber paths and patterns can be designed, resulting in different lamp designs. Additonal lamp designs can be made by combing two or more patterns into one design cre...
More