Blinds manufucturer
An overview of projects, products and exclusive articles about blinds manufucturer
Project • By Bailo Rull + add arquitectura • Residential Landscape
The health and wellbeing of people and their surroundings are the keys to HAUS. A responsible, creative way of approaching architecture with the aim of bringing added value to standardised construction. The construction project manager Marcove and architects BAILORULL combine their experience and reliability to create HAUS, an innovative proposal that applies healthy criteria to the spaces we live in with the aim of improving the lives of people and the environment.The international architecture practice BAILORULL has created Espai Natura [Nature Space], a collective housing development comprising 16 cross-ventilated dwellings –four per floor– of approximately 140 m2, designed to improve the health of their occupants and surroundings. Locat...
More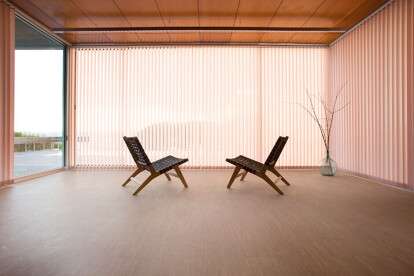 Product • By Bandalux • VERTICAL blinds
180º sunlight management. Vertical shades afford a precise control of the light with two movements: Open or close, and position. With a single command, the slats are regulated in keeping with the orientation of the sun, for maximum visual and thermal comfort. The slats (measuring 89 mm and 127mm) are delivered with a perfect separation between them. When in the closed position, they offer a perfect equidistant overlapping, for total protection from the impact of the light and heat. These are very versatile systems that adapt well to large openings, high ceilings and irregular surfaces, such as slants, cornices, staircases and curved spaces.
More