Façade
An overview of projects, products and exclusive articles about façade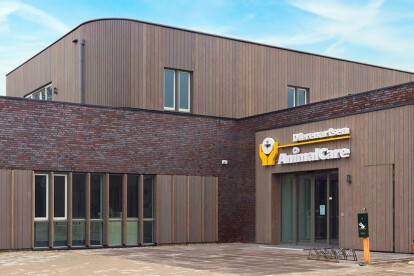 Product • By Derako • Solid wood façade systems
The solid wooden façade system of Derako is not only extremely durable, but it gives residential and non-residential buildings an unique and warm look. Derako wooden façades meet the European fire resistance requirements with regard to the use of wood as cladding material and the system is C2C Silver certified. Mounting of the SystemThe façade consists of solid wooden panels and anodized aluminum profiles that are equipped based on the specific project with slots for the fastening of a patented stainless steel clip. The entire fastening is on the rear. With this the appearance remains intact for a long time and there are no screws or nails used to fasten the wooden slats. The ventilated façade system can be used in a horizontal or vert...
More
Product • By HAVER and BOECKER • LARGO-TWIST 2045
HAVER Architectural Mesh type LARGO-TWIST 2045 is characterized by its tilted horizontal flat wires. Depending on the orientation of this mesh type it acts as an effective sun or privacy screen. LARGO-TWIST 2045 creates a homogenous appearance with reduced transparency and extensive brilliance. Weight: ~ 5,5 kg/m²Open area: ~ 38 %Main applications: Facade, Sun protection, Privacy Screen Characteristics: • robust mesh for outdoor applications • homogeneous appearance with low transparency and light reflections • effective as solar shading • also suitable as privacy screen depending on the mesh orientationSun protection mesh LARGO-TWIST 2045With a sunlight incident angle of 60° and a double glazing w...
More