Facades boards
An overview of projects, products and exclusive articles about facades boards
Product • By dasso Bamboo Products • Classic Espresso Fused Bamboo S4S Millwork Lumber
dassoXTR Fused Bamboo S4S Millwork Lumbers are rounded on long edge and pre-primed with exterior oil for ready use and, reduces processing and installation time. They comes in different nominal thicknesses: 5/16", 3/4" and 1-1/2". When working with Fused Bamboo product, always assume you are working with natural tropical wood, because the material feels, looks and react like wood/bamboo except more stable and durable. The Millwork Lumber are suitable for privacy fences, railings, balusters, handrails, facades, louver and many more usage that you could imagine. It is really your imagination is the limits.
More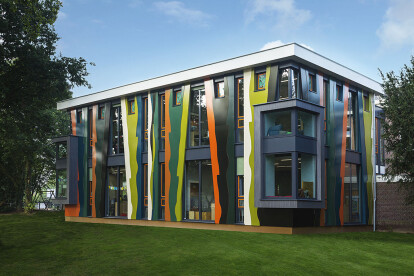 Product • By Rockpanel • ROCKPANEL® Brilliant
Rockpanel® Brilliant in 16 sparkling designsEvery building has its own story through its form, structure and colours, and often it is Rockpanel façade cladding that inspires architects to give their design a distinctive character. The Rockpanel Brilliant series and its 16 designs offer unlimited aesthetic possibilities to let your building blend into the environment or to make a bold statement.The broad design range of the Rockpanel Brilliant series ranges from natural brown, aubergine or green hues through cooler colours like grey or blue and on to a dominant red or orange, which provide inspiration and support innovative design concepts. All the sparkling surfaces offering an astounding play of colours. Sunlight or artistic spotlighting f...
More