A2
An overview of projects, products and exclusive articles about a2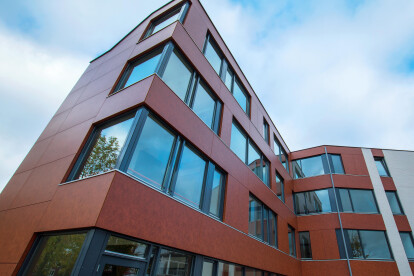 Product • By Rockpanel • Rockpanel Stones
Rockpanel Stones is a range of lightweight, easy to process façade boards with the pure look and feel of stone. The panels offer a visually impressive, economically efficient and environmentally sustainable alternative to conventional façade styles in natural stone or concrete. Furthermore, the flexible panels can be easily applied in a curved façade to create striking structural contours.A high-end concrete or natural stone façade can enhance any building, giving it a professional appearance. However, the use of stone façades can lead to weight-related construction and static problems which can be challenging and costly to resolve. Where curved or contoured building surfaces are involved, narrow limits are put on the design, if only becaus...
More
Product • By Rockpanel • Rockpanel Metallics
Make a striking design statement with your building. Give it shine and lustre with a modern engineered facade of Rockpanel Metallics. The metallic sheen created with the Metallics range plays with the light to create unexpected colours and effects.Rockpanel Metallics is used as façade/rainscreen cladding in ventilated constructions.Five Metallics designs are offered: Gold, White Aluminium, Graphite Grey, Anthracite Metallic and Grey Aluminium, allowing architects to create a full range of contemporary finished façades.However, truly first class design not only requires beautiful aesthetics, but also outstanding building performance. Just like all other Rockpanel products, the designs are durable and sustainable, achieving a Green Guide A+ r...
More