Color coated steel
An overview of projects, products and exclusive articles about color coated steel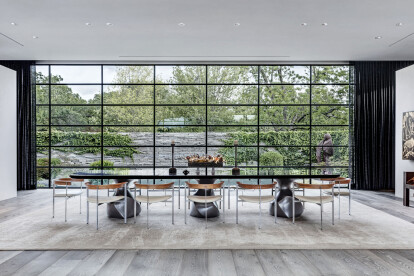 Product • By MHB • MHB Steel windows
MHB's steel windows are the most exclusive, aesthetic windows for your project. The windows are made entirely by hand in our own facilities. The robust, sharp-edged steel frames are unique, durable and ultra-slim with a profile width of only 50 mm (1 15⁄16"). We strive for aesthetic perfection and the highest safety of our products. We monitor our entire production process to ensure that your windows are flawless. Highest technical standards All our steel frames are weather resistant up to Class 6A - 600 Pa according to the NEN-EN 12208 standard. The thermal insulation of MHB windows is unprecedented thanks to the advanced insulation system in our solid steel profile systems. We add micro-engineered, fully double...
More
Project • By GreenCoat by SSAB • Hotels
Innovative architects that are dedicated to working with sustainable materials in their buildings are who SSAB strives to work with. One good example is Utopia Arkitekter from Stockholm, Sweden, who wants to build a trekking cabin in the mountains with a strong sustainable angle – the Skýli.The Skýli trekking cabin features sharp pyramidal shapes, a strong, durable and stable structure and many practical details. The triangular gables resemble a classic tent, the most basic shelter used by trekkers worldwide.The brilliant blue Skýli color of the roof, which will be made from GreenCoat® color coated steel, from SSAB, represents the Nordic light and ensures that Skýli is visible in the Nordic landscape. It will make the cabin easy to find, wh...
More