Folding panels
An overview of projects, products and exclusive articles about folding panels
Project • By AB&D Philippines • Offices
RELIABLE SUPPLIER AND INSTALLER OF FOLDING DOORS IN METRO MANILA PHILIPPINESFolding doors or Accordion doors get their name due to the folding panels. Accordion doors have long panels which are connected by a flexible strip. This strip can stretch and constrict to allow doors to fold. Accordion doors are not only an effective space-saving option, but they are also popularly used as room dividers and offer several conveniences. Read further to appreciate the benefits of an accordion door.Space-saving option Accordion doors fold into themselves and panel widths are quite small. This means that they have minimal projection beyond the face of the opening. Swinging doors take up a lot of space since clearances have to be made for the door arc. S...
More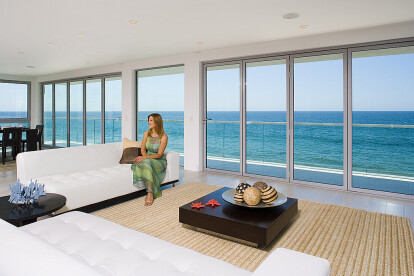 Product • By NanaWall • Folding Glass Walls
NanaWall Systems is the recognized industry leader trusted by architects, builders, and owners alike to provide the opening glass wall systems for large architectural openings. Based on a foundation of testing, research, and innovation, NanaWall Systems provides countless style options, unsurpassed durability, and a superior performance. Unrivalled Performance Creating large opening glass walls is the easy part—the challenge is performance when the wall is closed. A NanaWall folding glass wall protects from water and air infiltration, provides sound attenuation, and is energy efficient when closed.Benefit from a single-source product built as a complete system of unparalleled quality. Independent testing confirms high performance levels of...
More