Interior design styles
An overview of projects, products and exclusive articles about interior design styles
This project is located in an iconic building in Mexico City that stands out for the historical significance of its ground and magnificent address, alongside a great architecture with a peculiar interior morphology. Torre Manacar accommodates the corporate offices of a world class insurance company in an area of 17,000 sq. m in 7 levels, one of them with a grand terrace. The space was designed based on the global design guidelines of the company, creating flexible and adaptable spaces towards nowadays business environment answering to a new emerging task force. The offices were designed having sustainability as the main axis plus taking account of factors such as the selection of materials, optimum illumination considering the acce...
More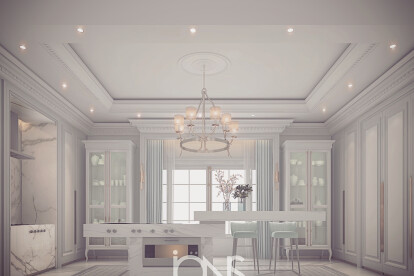 Product • By IONS DESIGN • Sleek and Pristine Grey – White Kitchen Design Ideas
An exceptionally sleek and pristine Grey – White kitchen design ideas that surely will add a sophisticated statement to the home design. Simplicity and elegance saturates the space as its interior design concept opted for neutral palette background complemented by a soft tone on tone gray patterned flooring. It is then accentuated with pale pistachio green color as seen in drapes and contemporary furniture to enhance vibrancy and further the tranquil and cozy atmosphere in the home interiors.Focal point of these timeless room design is a marble kitchen island with comfortable dining area for a quick breakfast, bar area to hangout after a long day or just a practical...
More