Luminaire
An overview of projects, products and exclusive articles about luminaire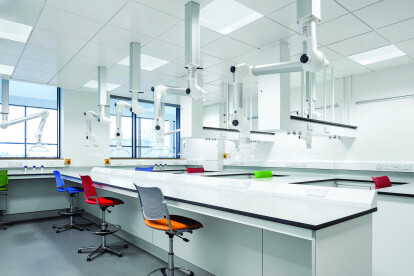 Design without compromise. Inbox delivers a complete family of recessed configurations to be used in a multitude of applications and spaces. Mix and match sizes and groupings while maintaining design continuity. Inbox features vertical Anidolic optics and creates a recessed punctuation of the ceiling plane with low glare and great batwing distribution. Delivering approx 40 fc in an open office environment with an energy density approaching 0.30 W/sq ft, Inbox provides superior energy efficiency and sustainability for a wide range of interior lighting applications. The ultra-minimalistic aesthetic has no orientation, allowing it to be used in open areas regardless of its position in the ceiling. The smooth gradient of light across t...
More
Project • By L. McComber ltée • Hospitals
A trivial space is transformed into a cutting edge and welcoming dermatology clinic. Dr. Danielle Brassard has long dreamt of opening her own public dermatology clinic in Montréal. To meet the needs of clients who deal with eczema, psoriasis, hives and other skin conditions linked to stress, the future clinic must welcome patients in a comforting atmosphere. Her vision for the space is unlike the model of traditional medical clinics, which are often gloomy places where the comfort and well-being of the patients and professionals are relegated to the sidelines in favor of technical requirements. To turn her vision into reality, she contacted Laurent McComber in September 2014 from the architectural firm L. McComber. Gloomy to glowing...
More