Outdoor umbrella
An overview of projects, products and exclusive articles about outdoor umbrella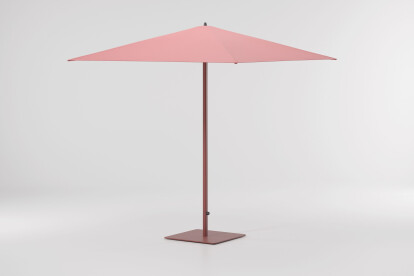 Product • By Kettal • Objects Meteo S
Meteo S is a continuation of the Meteo family designed by Konstantin Grcic, which explores the enormous untapped potential of modern sunshade design. Protection from direct sunlight has become a fundamental condition for our health and well-being. The growing influence of sunshades and other shade systems in the planning and furnishing of modern urban landscapes, leisure resorts and private residences presents the challenge of providing a renewed focus for this specialised product category. This project has been developed on the basis of Kettal's experience in garden furniture, motivated by a genuine search for performance and quality in design: a contemporary, comfortable product made of the most intelligent materials for efficient a...
More
Product • By Royal Botania • Bloom
The Bloom umbrellaFive years ago, the Royal Botania Palma umbrella was the attraction of the Salone del Mobile in Milan. The smooth organic lines of this first strutless automatic garden umbrella were so appreciated that the Red Dot Award jury gave Palma the Best of the Best prize and featured it on the front cover of their yearbook. Now Bloom has seen the light of day. It retains the clean lines and organic shape of the Palma but is technically a completely different masterpiece. To allow for bigger sizes of canopy, the pneumatic system of the Palma has been replaced by a lever-operated spindle system in Bloom. When the spindle is activated, the upper part of the hub is pulled down to join the lower one, while all the small supportin...
More