Personal style, #terratintastyle, is the venue through which we share our vision, it develops, expands and becomes more unique as we continue making our vision a reality. Achieving a personal style represents a significant amount of work, filled with courage and motivation: our personal style is the translation of our vision into actual products, the translation of our thoughts into something that others can see, appreciate and get. We believe in innovation, through our way of execution, taking ideas and bringing them into the marketplace. This achievement means following our inspirations and vision, being creative, trusting our own instincts, studying the market and the client's needs and not being afraid to take chances and make our own choices. For us, the contrast between tradition and innovation, between vintage and modern, is very important: we keep in our ranges, beside innovative big sizes, also historical small sizes, but interpreted with the modern technologies of nowadays. We also like matching many different Grey tones which follow clean lines and timeless design, between Concrete, Stone and cold Wood look, with the warmth of the colors and decoration. We created a new warm minimalism, following latest trends in Scandinavian style, and mixing our crazy passion for the business with the know-how of the materials. For these reasons, they can copy us, but #terratintastyle will always be something different.
Terratinta Product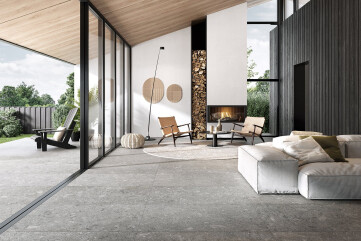 Vicentina Cenere
Terratinta
Vicentina - The next icon of ceramics Different sizes, different thicknesses, suitable for indoor and outdoor use for walls, floors, counter tops and...
Other Floors and Stairs Products
Member Promotion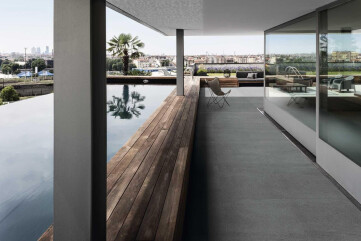 Mystone Basalto20
Marazzi
Mystone Basalto20 in the 20 mm thickness, available in 2 different sizes - 80x80 and 50x100 cm – and in 3 colours: Sabbia, Piombo and Lava. In i...
Our Products are Used in Projects by
Projects with Products from Terratinta
Inspiration in Floors and Stairs
Member Promotion

Alberto Chiggiato Ph

Alberto Chiggiato Ph

Alberto Chiggiato Ph

Alberto Chiggiato Ph

Alberto Chiggiato Ph

Alberto Chiggiato Ph
Alberto Chiggiato Ph
HQ
Terratinta Group
Via Monte Bianco, 55, Fiorano Modenese, MO, Italy
Is this your brand and would you like to remove content from other manufacturers on your brand page?
Contact Archello