Alsace LA, un hotel boutique de 48 habitaciones situado en el histórico barrio de West Adams de Los Ángeles, abre sus puertas el 20 de septiembre y ofrece una experiencia auténtica y desenfrenada en la que la energía artística y libre se plasma e interpreta a través del diseño. El hotel gira en torno a un exuberante patio y a una piscina subterránea aislada, con un paisaje desértico de ensueño que se suma al encanto del oasis del hotel. En el corazón de la filosofía del hotel, Alsace LA fue concebido pensando en la comunidad de West Adams, buscando servir a los residentes y propietarios de negocios como una comodidad, socio y apoyo.
El diverso y creativo barrio de West Adams cuenta con una impresionante arquitectura histórica y es uno de los barrios más antiguos de Los Ángeles. Además de sus emblemáticas casas, el West Adams actual cuenta con un próspero panorama gastronómico, boutiques únicas, abundante arte callejero y una gran variedad de organizaciones culturales y sin ánimo de lucro.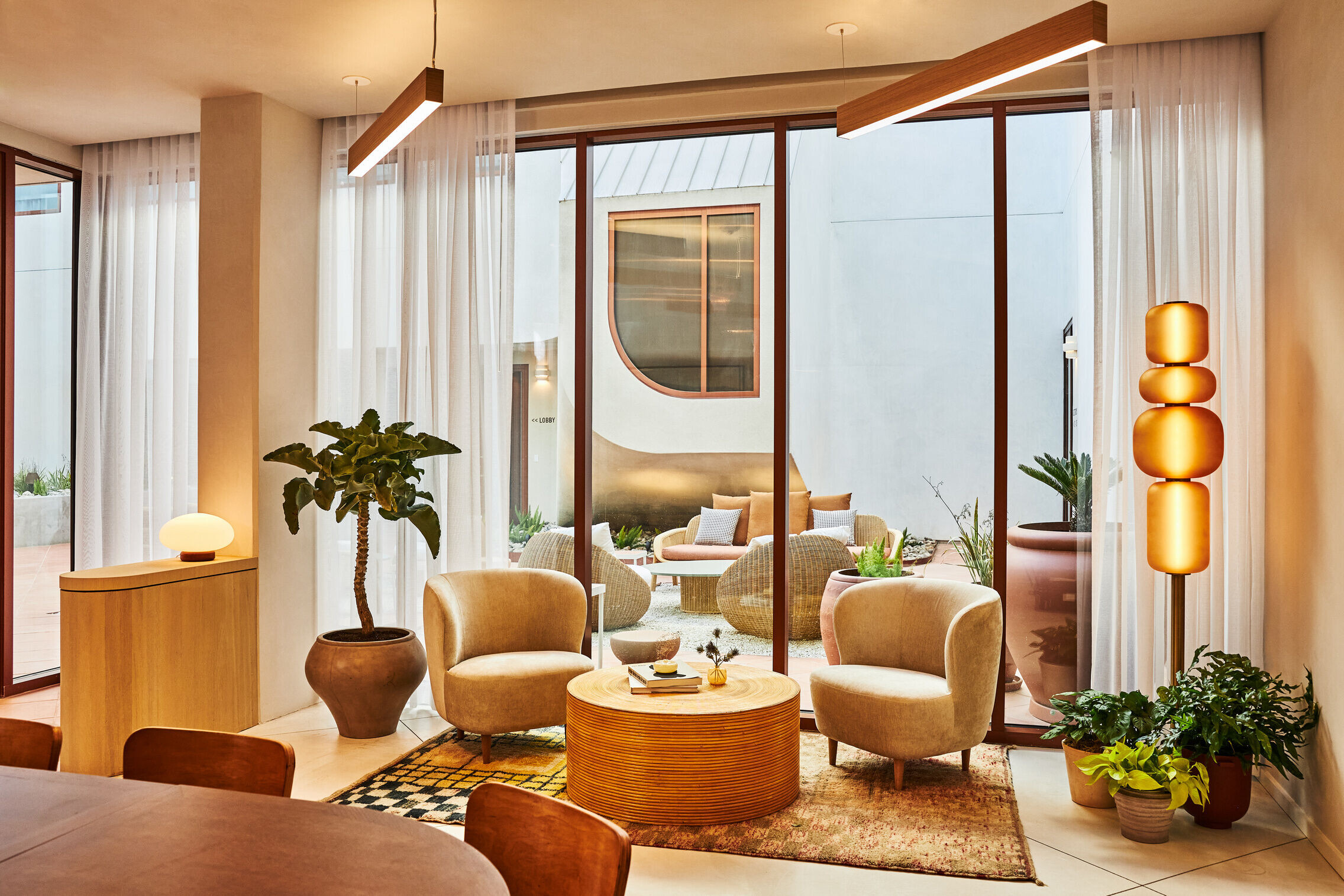 El diseño de Alsace LA hace hincapié en el poder de la narración visual, recurriendo a elementos encantadores como las curvas inspiradas en la Bauhaus, los techos y suelos de roble blanco y el arte específico del lugar. Con un énfasis en lo inesperado, el hotel es realmente un espacio único, hecho culturalmente relevante a través del arte contemporáneo, la fotografía y los detalles de diseño lúdicos. Desarrollado por CIM Group, con diseño arquitectónico de NMDA Architects e interiores de Home Studios, con sede en Brooklyn, Alsace LA cuenta con una arquitectura exterior e interior de múltiples capas, con un uso ecléctico de muebles e iluminación vintage y a medida. Las texturas acanaladas, el revoque de terracota y los cálidos materiales de madera hacen referencia sutilmente a la vegetación y el entorno natural de California para crear el ambiente de una casa, del barrio y de Los Ángeles.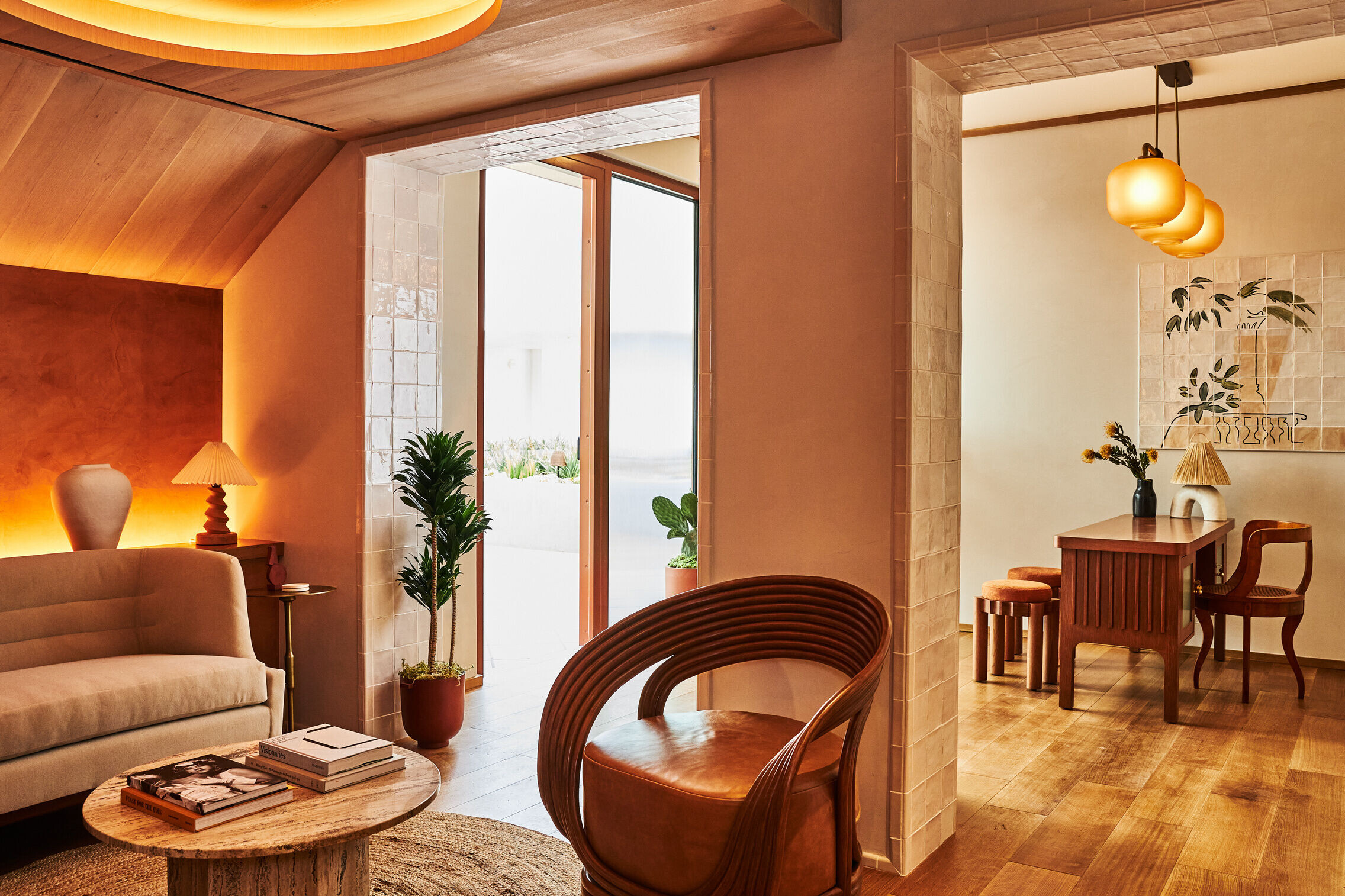 Al entrar en Alsace LA, los huéspedes son recibidos por un vestíbulo íntimo y apartado que imita un pórtico de estilo mediterráneo. De carácter residencial, el patio central del hotel filtra la luz a través de cada una de sus tres plantas. Las habitaciones son serenas y acogedoras, y ofrecen a los huéspedes agradables comodidades, como si se alojasen en una residencia bien equipada. Si bien cada habitación cuenta con detalles artesanales, las suites más grandes también tienen un balcón o terraza, una mesa de comedor a medida y un sofá personalizado.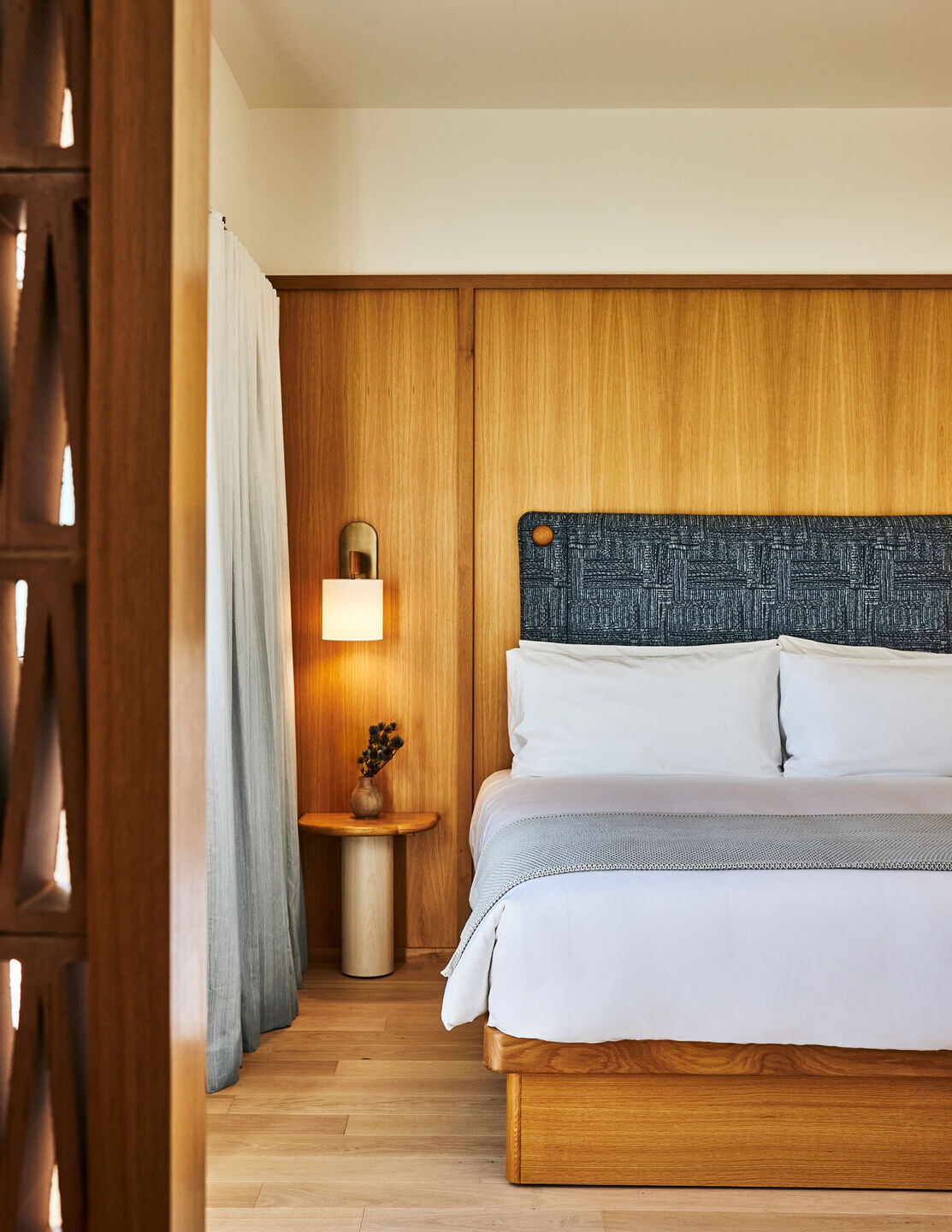 Los huéspedes del Alsace LA recibirán café y bollería de cortesía todos los días, y el hotel se asociará con el cercano Hi-Lo Liquor Market, que preparará cajas a medida de vinos, cervezas, licores y aperitivos locales que los huéspedes podrán pedir y recibir directamente en su habitación. El hotel también acogerá un nuevo concepto de restaurante este invierno, con opciones de comida en el interior y al aire libre en el patio del hotel.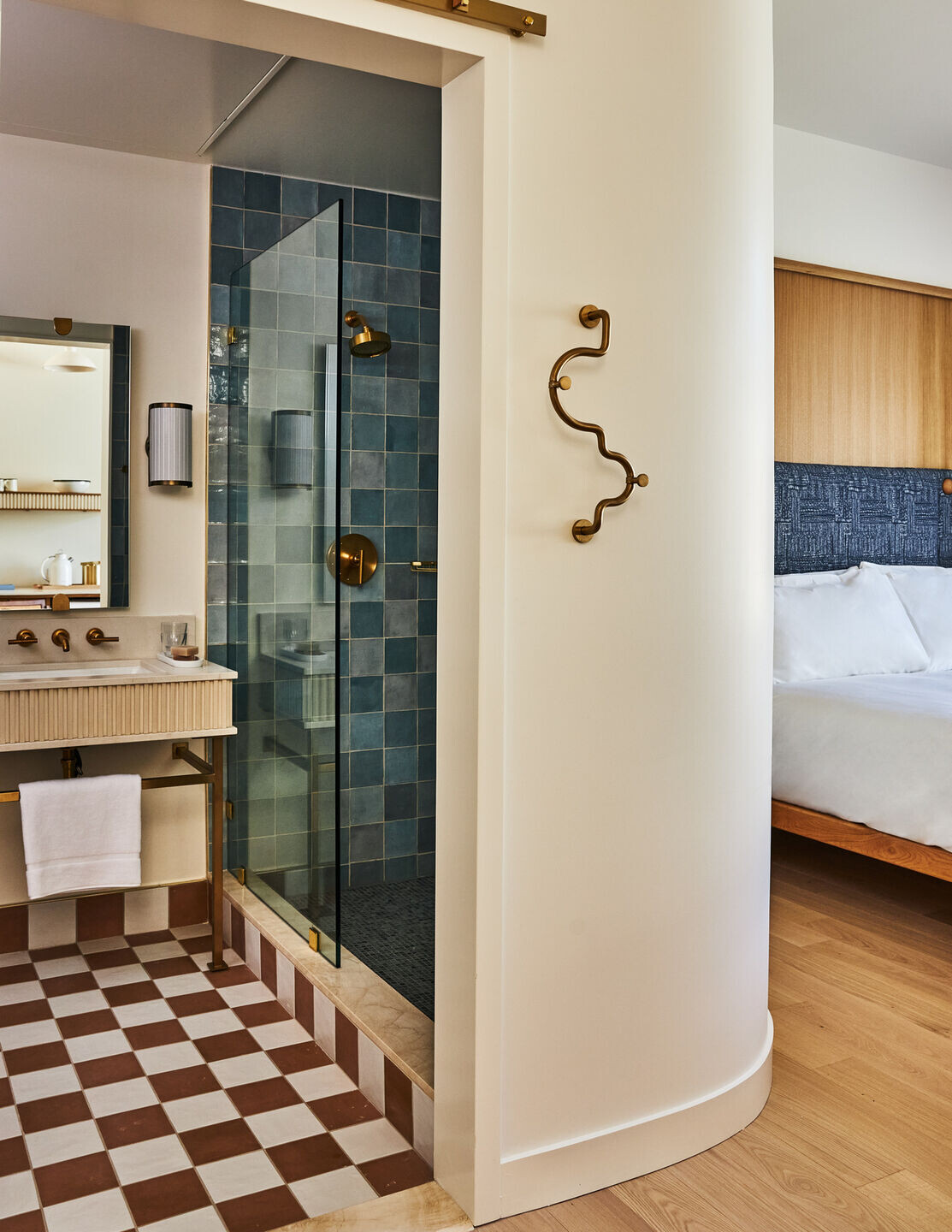 Los huéspedes tienen acceso a un centro de fitness de última generación, abierto las 24 horas del día, que incluye todo el equipamiento esencial, como una cinta de correr, una bicicleta, una máquina de remo, un sistema de doble polea, mancuernas y pesas libres. El hotel, que cuenta con abundantes aparcamientos para bicicletas, ofrecerá bicicletas de cortesía a los huéspedes y recorridos mensuales en bicicleta por el distrito histórico con el agente inmobiliario local José Prats, fundador de West Adams Bike Tour y Adopt A Bike, que reacondiciona y fomenta la reutilización de las bicicletas. Y para mejorar la experiencia sonora de los huéspedes, la legendaria tienda de música High-Fidelity Records proporcionará sonidos ambientales en el vestíbulo, así como listas de reproducción en las habitaciones.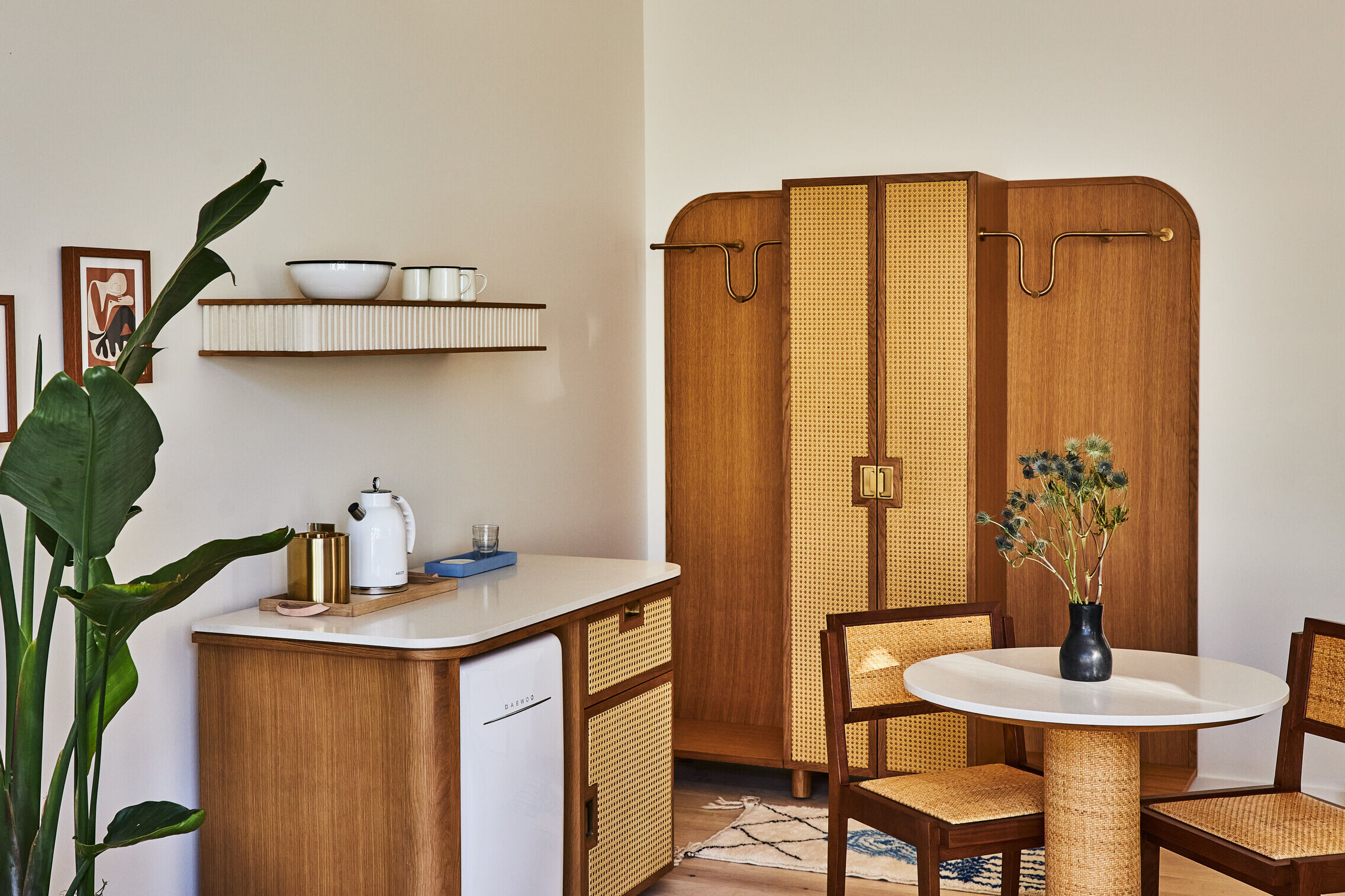 Para aquellos que quieran trabajar mientras se divierten, la sala de reuniones privada de Alsace LA, de 409 pies cuadrados, está equipada con una mesa de estilo sala de juntas de 12 asientos, una televisión de alta definición de pantalla plana y un sistema audiovisual de sala de juntas. Además, el hotel se asociará con su vecino, el espacio de coworking YOUBE, para ofrecer a los huéspedes créditos y acceso a un espacio de trabajo durante su estancia.
Las reservas ya están abiertas en Alsace LA, para reservas a partir del 20 de septiembre de 2021. Las tarifas son a partir de 199 dólares por noche. Alsace LA también ofrece una oferta especial de apertura de un 15% de descuento en su mejor tarifa disponible, con mejoras de habitación gratuitas según disponibilidad y opciones de cancelación flexibles.
Materiales utilizados:
Lobby / Stairwell
● Reception Desk: Custom. Rift cut white oak desk with brass and fluted glass details.
● Glass Pendant and Vertical Chandelier: Custom. Etched Amber Glass with Brass Accents
● Reception Table Lamp: Volta Large by Marta Bonilla. Hand-made Ceramic Base. Straw Shade.
● Reception Chair: Vintage. 19th Century Bidermeier Barrel Chair with Cane Seat.
● Stools: Custom. Solid oak base with Erica Shamrock's Terracotta Upholstery Fabric
● Tile Art: Custom site-specific hand painted mural on glazed ceramic tile, developed in collaboration with local LA artist, Lukas Geronimas Giniotis.
● Wood Table Lamps: Vintage Turned Wood Bases. Custom Pleated Linen Shade.
● Striped Textile Art: Piece by LA Tactile Sculptor, Molly Haynes
● Wavy Terracotta Vase: Handmade "Dandelion Stretch Vase" by LA sculptor, Morgan Peck
● Blue Vase: "Don't Forget to Stretch Vase" by LA Ceramicist, Sarak Koik
● Checkered Display Platter under featured chandelier: "Scallop Platter" by LA sculptor, Morgan Peck
● Wood Door Push / Pull: Custom. Eased edge oak square with brass surround.
● Sofa: Custom Piece. Mohair Upholstery.
● Stone Coffee Table: Epic Coffee Table. Travertine. By Gubi.
● Lobby Runner: Custom Wool Rug. Handwoven by Moroccan Artisans.
● Stairwell Sconces: Custom. Fluted Amber Glass. Brass Accents.
● Circular Rug: Jute Woven Rug
● Floor: Rift Cut Medium Toned White Oak Planks
● Wall/Ceiling Wood at Niche: Rift Cut Light Toned White Oak Planks
● Trim & accents: Rift Cut Medium Toned White Oak & Glazed Ceramic Tile
● Walls & Ceiling: Portola Paint, Roman Clay - Full Circle
● Terracotta Wall at Niche & Stairwell: Portola Paint, Roman Clay - Cassidy
● Lobby Restroom Mirror: Custom. Redwood Frame. Lichen Green Lacquer. Integrated Tala Light Bulbs.
Meeting Room
● Area Rugs: Custom Wool Rugs. Handwoven by Moroccan Artisans.
● Conference Table: Custom. Rift Cut White Oak.
● Floor lamp: Custom. Etched Amber Glass with Brass Accents
● Table lamp: Vintage. Oak and Frosted Glass.
● Coffee Table: Vintage. Midcentury Vintage Modern Split Reed Pencil Round Drum.
● Chairs: Vintage. Reupholstered Bentwood Chairs
● Lounge Chairs: Stay Lounge Chair by Gubi.
● Tile at Niche: Terracotta Square Matte Tile
● Millwork: Rift Cut Light Toned White Oak Planks
● Walls & Ceiling: Portola Paint, Roman Clay - Full Circle
● Flooring: Poured White Concrete. Large Terracotta tiles at Entry - pulling courtyard materiality to interior
● Window Treatment: Linen Ripplefold Drape
● Photographs: Wild Burros Portraits by Pascal Shirley (LA based Photographer)
Courtyard
● Stools: EQ3, Earthenware Terracotta Bingo Stool
● Sofa: Kettle, Vimini Sofa
● Side Tables: Custom. Concrete tile top, metal base.
● Coffee Tables: Kettal, Vimini Garden Table.
● Lounge Chairs: Casa Design Group, Bubble Armchair
● Umbrellas: Kettle, Meteo Telescopic Parasol
● Flooring: Terracotta Square Paver & Gravel
Guest Rooms
● Bed: Custom. Rift Cut White Oak.
● Upholstered Headboard: Custom. Rift Cut White Oak. Fabric by Rebecca Atwood.
● Side Tables: Custom. Rift Cut White Oak. White Wash Oak.
● Bedside Sconce: Custom. Linen Shade. Rift Cut White Oak. Brass Accents.
● Bedside outlets & light controls: Celebrated brass knobs.
● Desk: Custom. Rift Cut White Oak. Bent brass armature.
● Bench: Custom. Rift Cut White Oak.
● Stool: Custom. Walnut. Upholstery with Erica Shamrock Fabric.
● Drapery: Ripplefold Blackout Drapery. Custom stitched ombre textile by Schumacher.
● Chair: Custom Oak with Rattan Seat and Back.
● Armoire: Custom. Rift Cut White Oak. Inset rattan details.
● Wavy Hook: Custom. Bent Brass.
● Area Rugs: Custom Wool Rugs. Handwoven by Moroccan Artisans.
● Terracotta Flush Mount: Custom. Ceramic Shade.
● Pendant: Ceramic Oriel Pendant by Justin Design Group
● Bathroom Sconce: Custom. Metal Mesh and Linen Shade. Brass Armature.
● Mirror: Custom. Baby Blue Lacquer to match shower tile.
● Cafe Table: Custom. Rattan, Rift Cut White Oak Base, White Stone Top, Brass details.
● Flooring: Rift Cut Medium Toned White Oak Planks
● Bathroom floor: checkered terra-cotta and white porcelain tile.
● Bathroom shower floor: Verde Marble Mosaic
● Bathroom shower wall: Zellige Ceramic Tile
● Breeze Block Screen: Celosia by Mutina. Terracotta Breeze Block.
● Room Light: Rich Brilliant Pastille Sconce. Custom Painted Rom Numbers.
● Corridor Carpet: VERS INOUT by Ege
Pool
● Sun Loungers: Barceloneta Sunlounge by Isimar
● Lounge Chairs: 745 Out by Adico
● Side tables: Dominquez Stool by Pfeifer Studio
● Umbrellas: Roman Valance Square Umbrella by Tuuci
● Sconces: House LED Wall sconce in Blue by Rich Brilliant Willing
● Flooring: Travertina Raw. Permeable Paver by Techo Bloc
● Pool Materials: Stucco Pool interior with checkered blue and black ceramic tiles at water line
● Walls: Warm White Stucco
● Tile As walls: Inset Zellige Tile at Doorways