The home base of Egide Meertens Plus Architecten is a textbook example of successful expansion through infill and with respect for the environment. After an earlier extension to the existing practice, the office was expanded with an invisible reception pavilion—invisible because of its recessed placement between the architect's office and the Haspengouw environment.
The pavilion is on the ground floor, but owing to its location in the sloping terrain, it sinks into the back yard. The location of the extension volume creates a patio between the existing and the new. The green space in between is a pleasant place. With its green roof, the pavilion blends into the landscape behind it. The smart design of the roof garden offers a surprising function—the footpath in clay pavers ends in a long bench. That bench, in turn, is in line with the floating band window of the pavilion.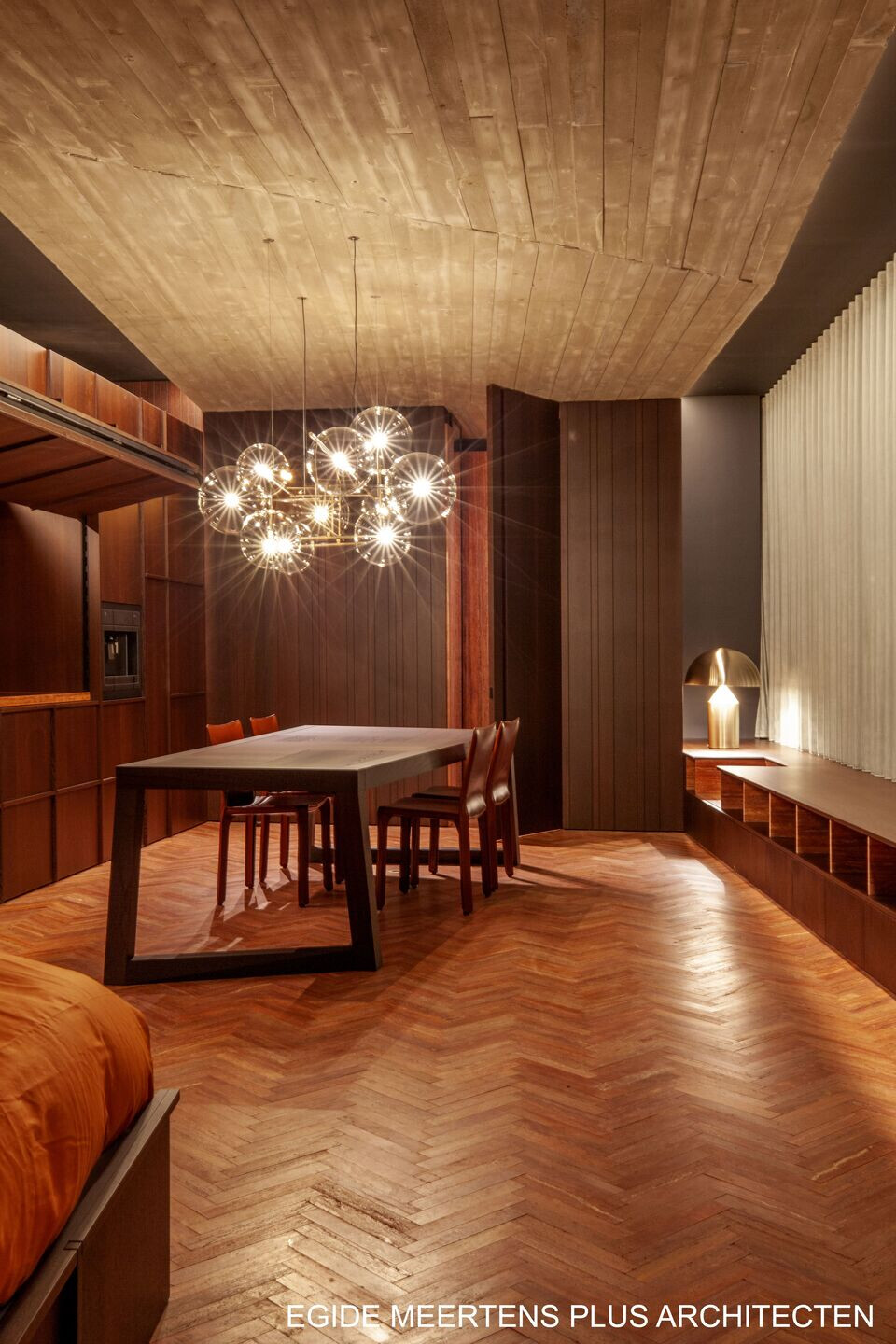 A stainless-steel footbridge forms the connection between the practice space and the (roof) garden. The reflective material absorbs the patio garden and the marl wall behind, causing the construction to fade into the background. The positioning of the bridge under the cantilevered extension volume gives the bridge a dual function as a covered terrace.
The rural environment and the context of the parental farmer's home were the inspiration for the interior. This translates into a decidedly atypical, rather brutalist decor, which is at odds with what customers typically request. The carriers of the interior finish are wengé wood for the walls, rosso persiano natural stone—in herringbone pattern—for the floor, and concrete for the ceiling. The wooden, profiled cupboard wall is ingeniously functional. It unites storage space, kitchen, toilet, shower, and, for customers who stay overnight after an evening meeting, a bed.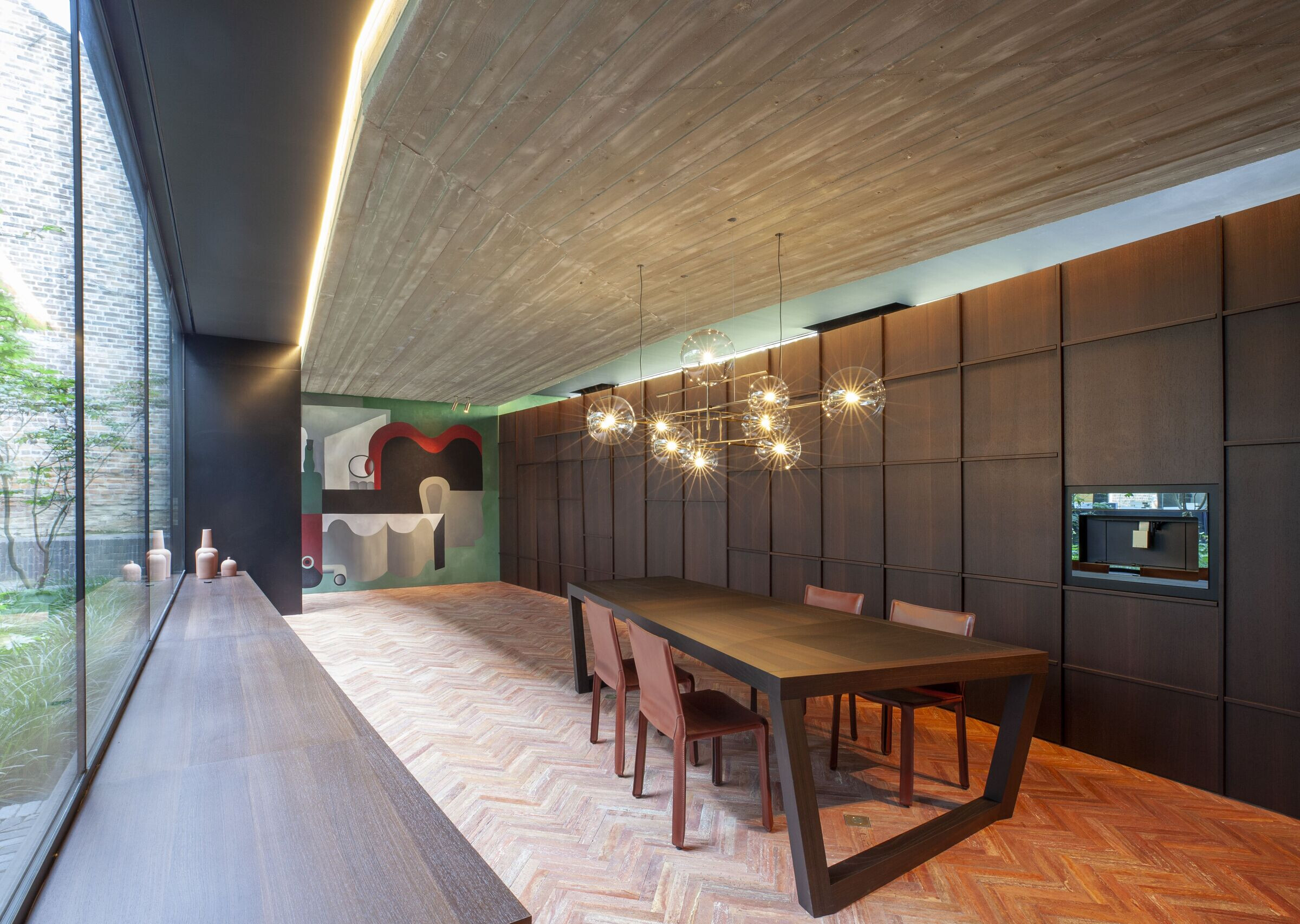 The ceiling, cast on site, conforms to the oblique lines of the meeting table. The band window above the cupboard wall and the glass wall to the patio give the ceiling a floating effect. The band window provides extra atmosphere when it brings in the evening sun. Round tubes in the ceiling of the cabinet bring daylight to the toilet.
The wide wooden windowsill at the large window is an attractive place to sit. The furniture in the pavilion is coordinated with the basic color of the floor.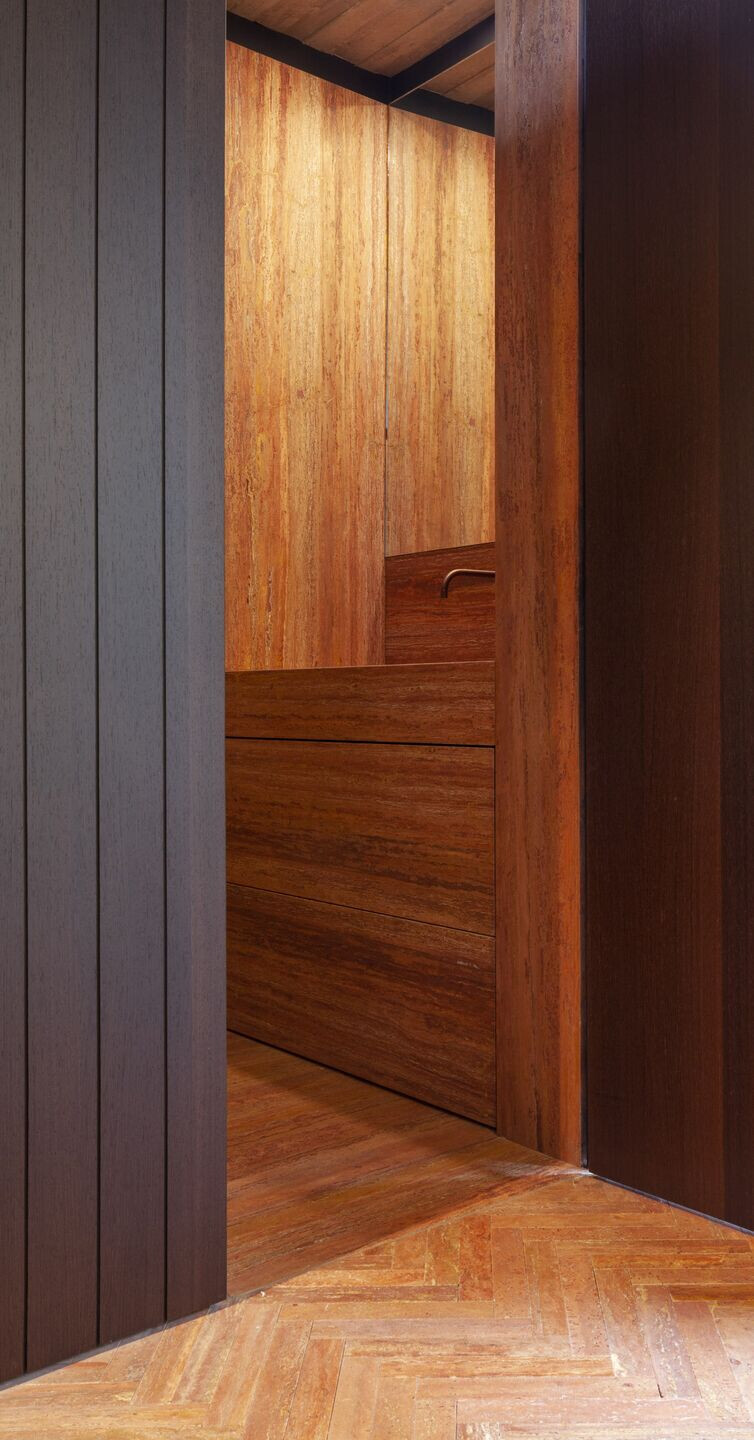 Just as all elements in the reception pavilion have a dual function, the pavilion itself also plays two roles. In addition to a meeting space, it can also be a unique place to stay for customers who come from out of town and want to explore the area or Maastricht during the weekend.