A corporate office and a commercial business, 4th floor of a commercial complex, what comes to mind when you see this? Probably what we have usually seen with corporates, but, we thought of changing the same and made this space into a minimal yet elegant corporate space. Using materials like veneer, glass, pu colour, wood, and more, we turned the space into a waffle-theme based exciting workspace.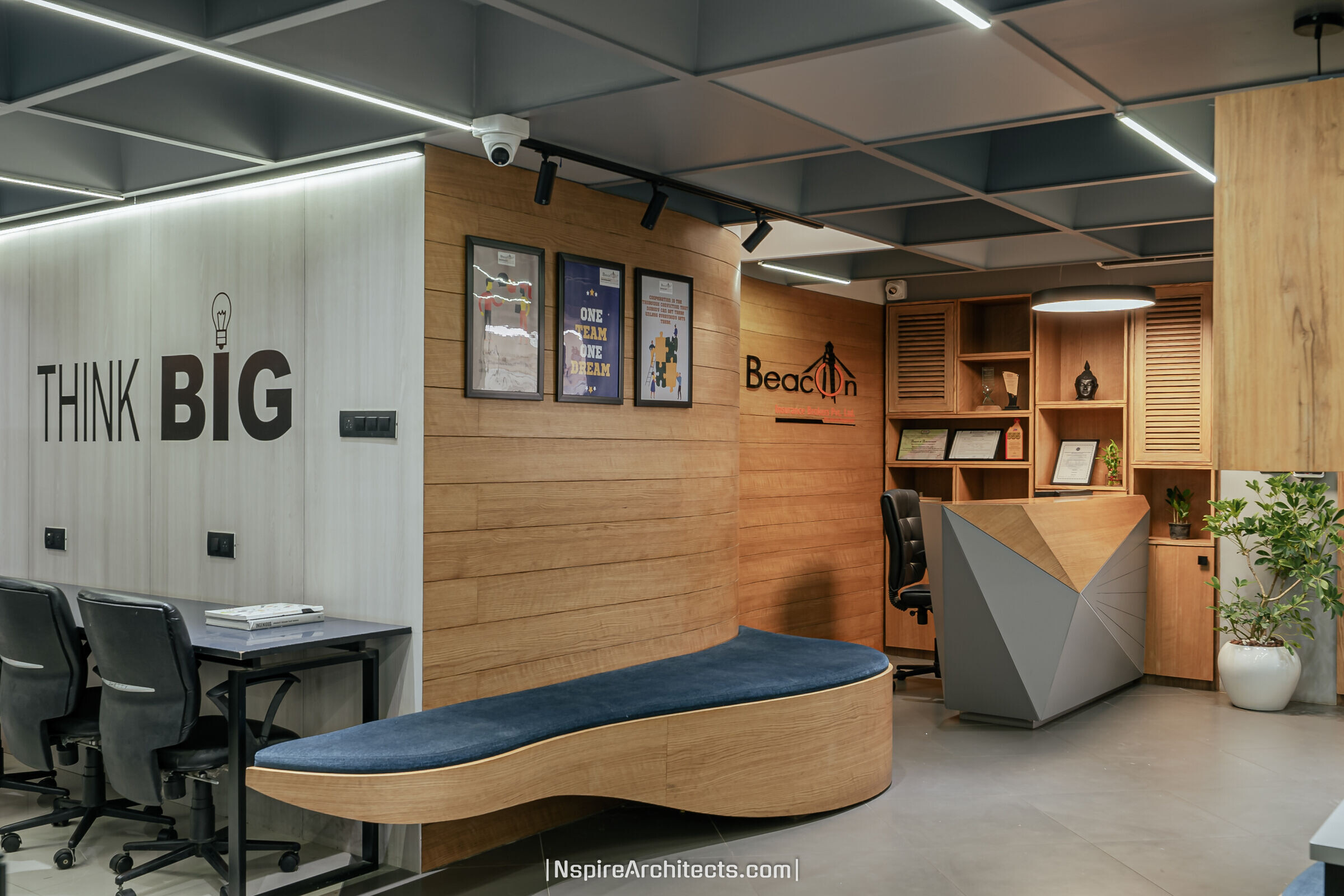 Being a shopping complex, it has long columns, thus lesser ceiling height than usual. But, that was the right opportunity for us to take our creativity to the Waffle-level and make the whole space a waffle-ceiling and similarly flushed walls.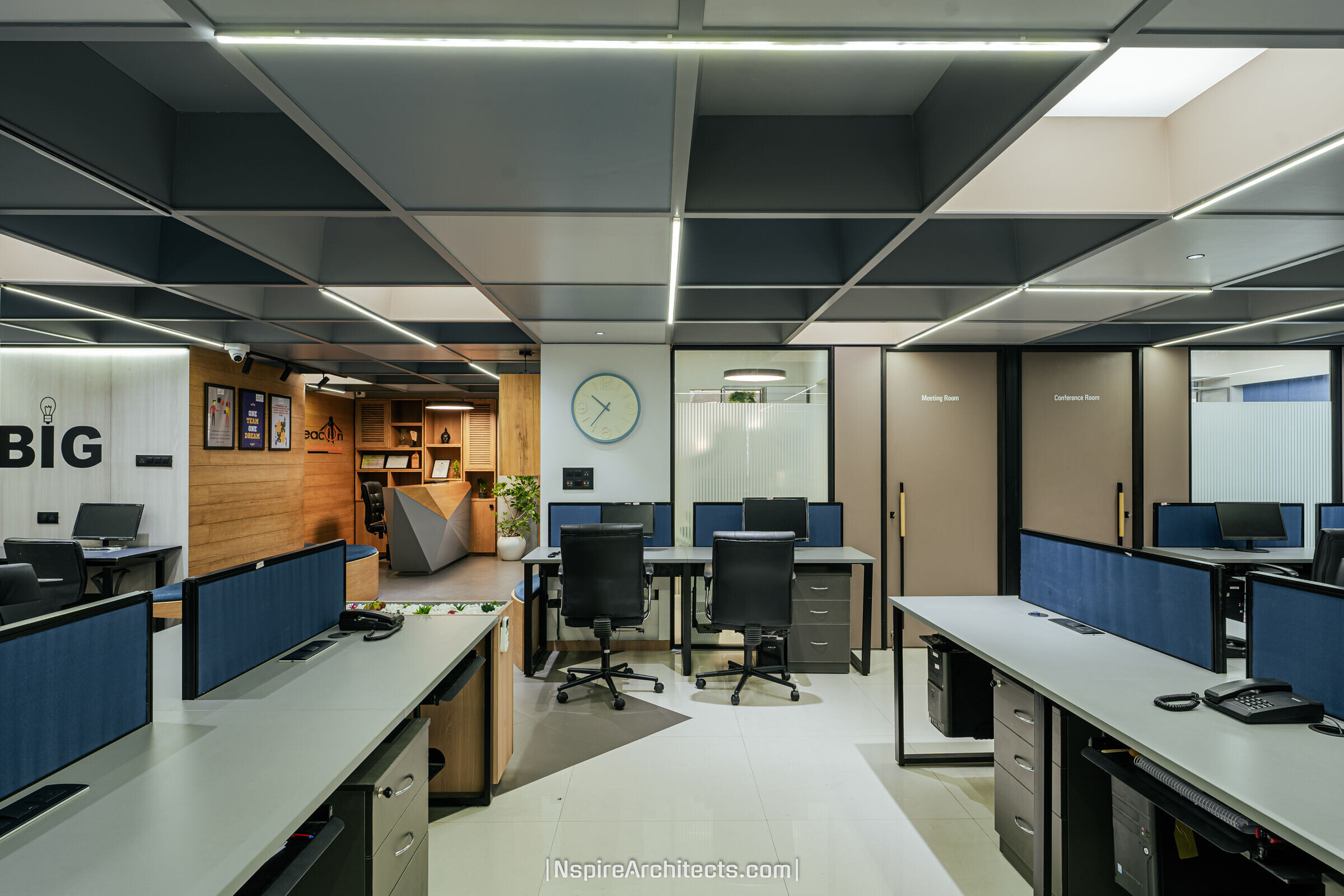 To begin with, the entry has a reception flowing into the waiting area with a curve that gives a directional feel to the visitors and welcoming feeling. Every spare space around the reception has been used as display cum storage and flushed into the walls using a waffle-based theme.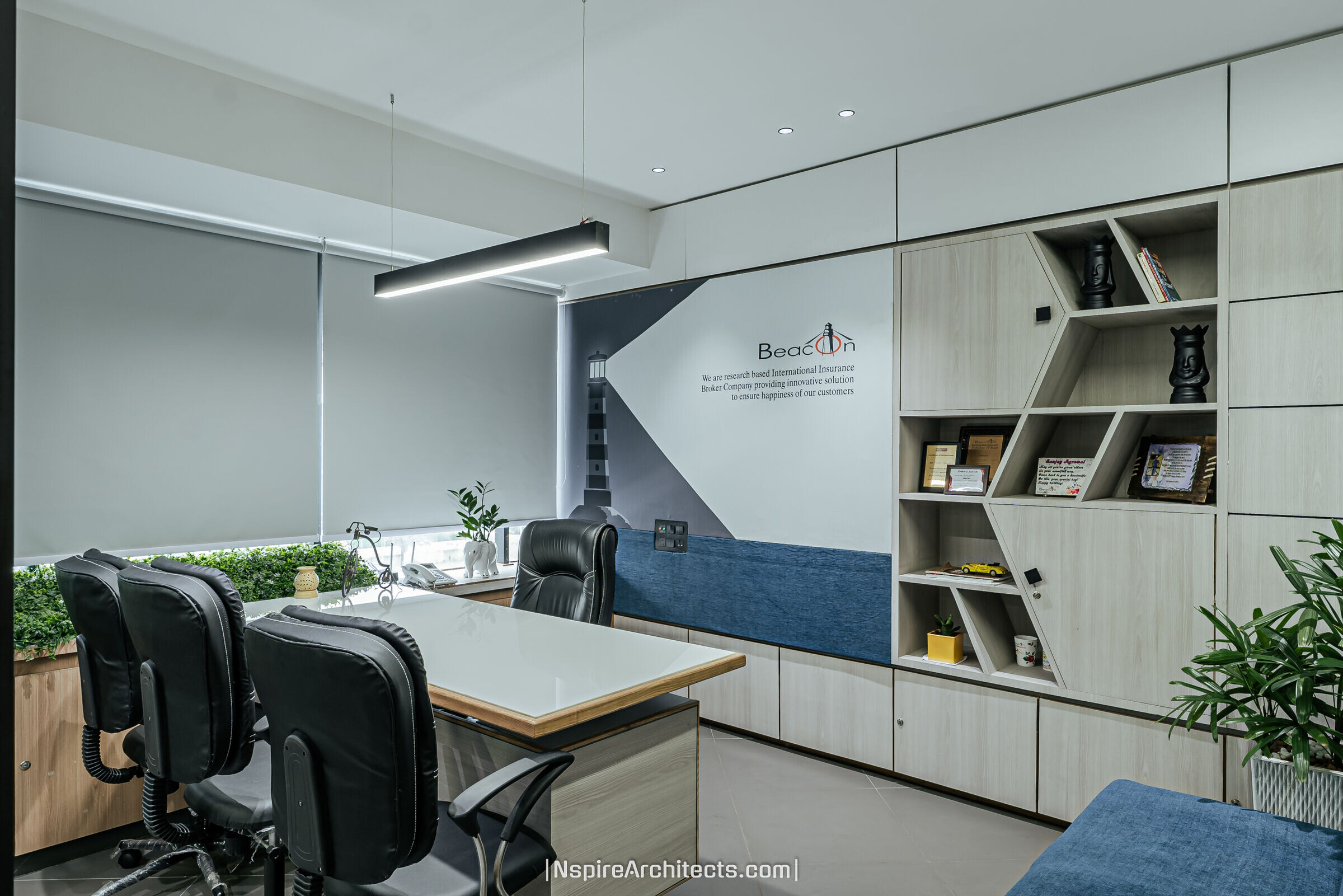 When it comes to establishing a flow of how the firm's hierarchy looks, the two front cabins are the main cabins with a clear vision of what is happening in the office to maintain and establish transparency. The cabins start with the Main office, head office, and followed by the staff cabins and spaces. To make sure that the space gets utilised to its maximum and effective capacity, the cubicles have been arranged in similar repeating patterns. This helped us achieve a maximum capacity of 55 people comfortably seated at once in the office.Having a bigger requirement of people than usual, the main office and meeting room are separated using a glass wall cum door that can be folded to merge both the rooms into one for a bigger meeting.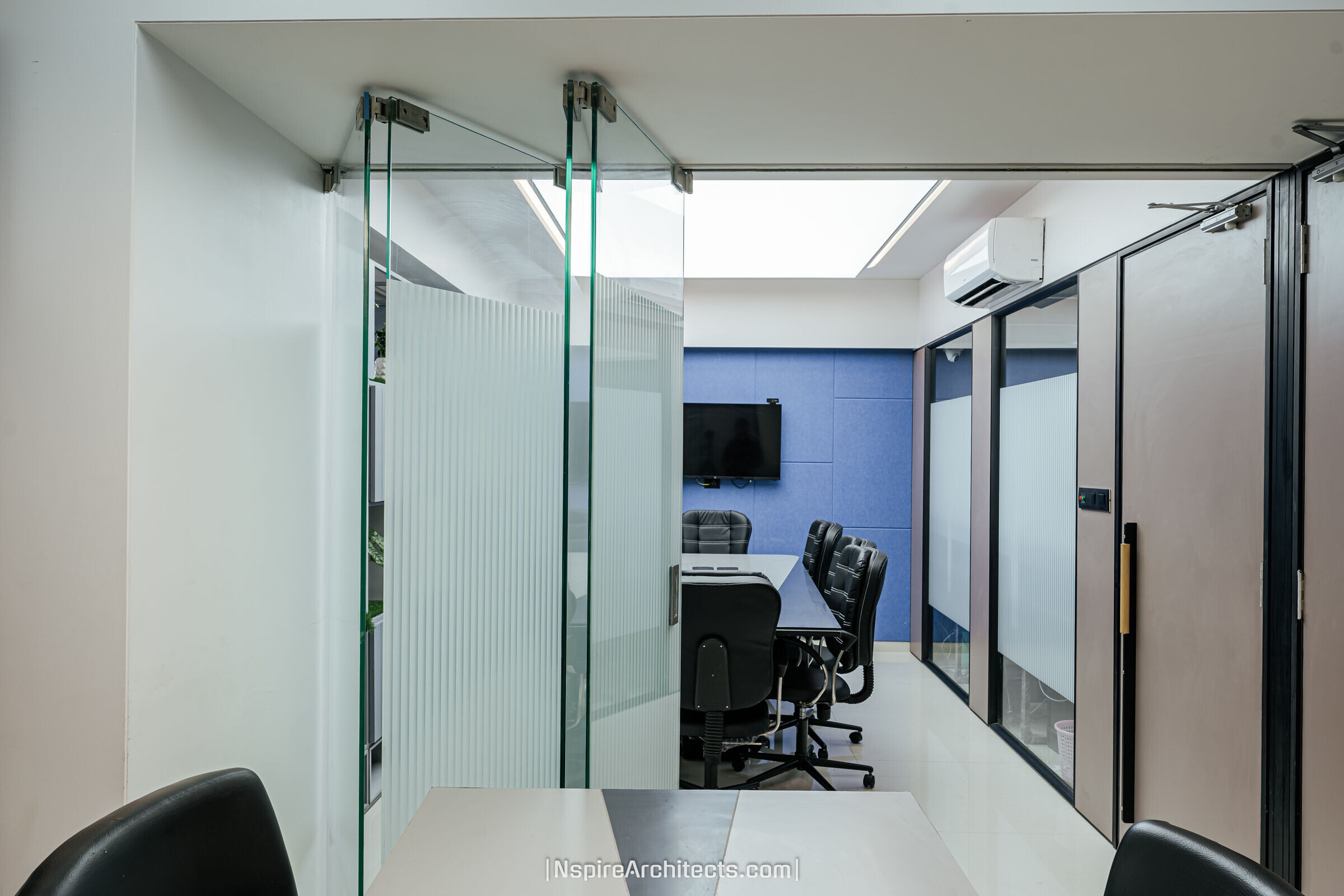 To accommodate the needs of the employees and the visitors at the same time, the pantry and its seating area has been designed into a separate space with all the amenities to maintain the relaxing and refreshing essence of the space and let the clientele maintain their work mode as they visit the office space. The meeting area also has two entries so that different purpose works can be conducted simultaneously without affecting each other.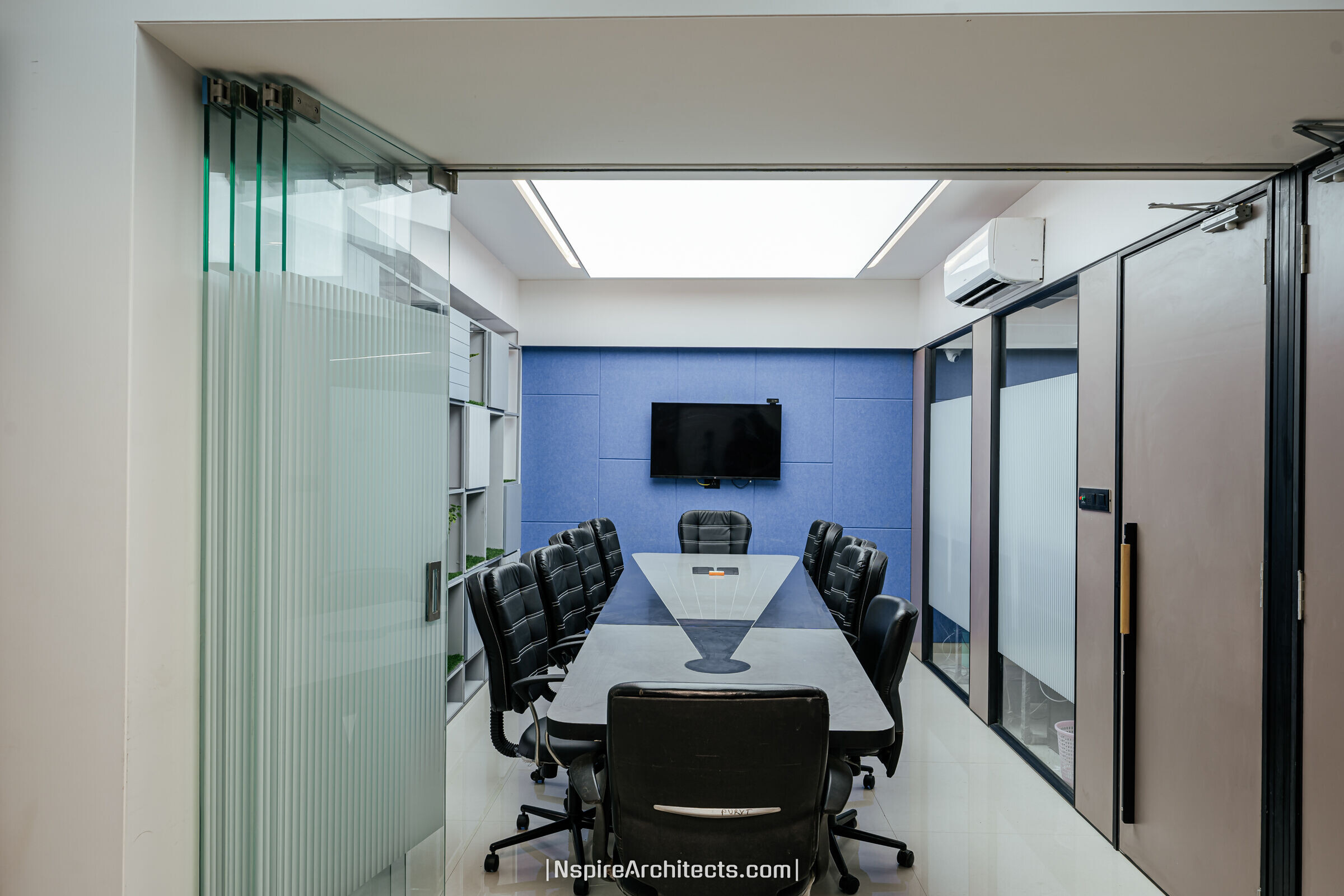 So, there we are, with a space that is minimal, effective, and surprisingly corporate too.