Some might say don't tamper with a John Lautner house, but the new owner, a longtime, passionate swimmer, wanted to add an indoor pool to this classic modernist beach home. Thus began a significant addition and interior remodel project where the great challenge presented to Kovac Design Studio lay in balancing client goals with honoring the original architect's creation.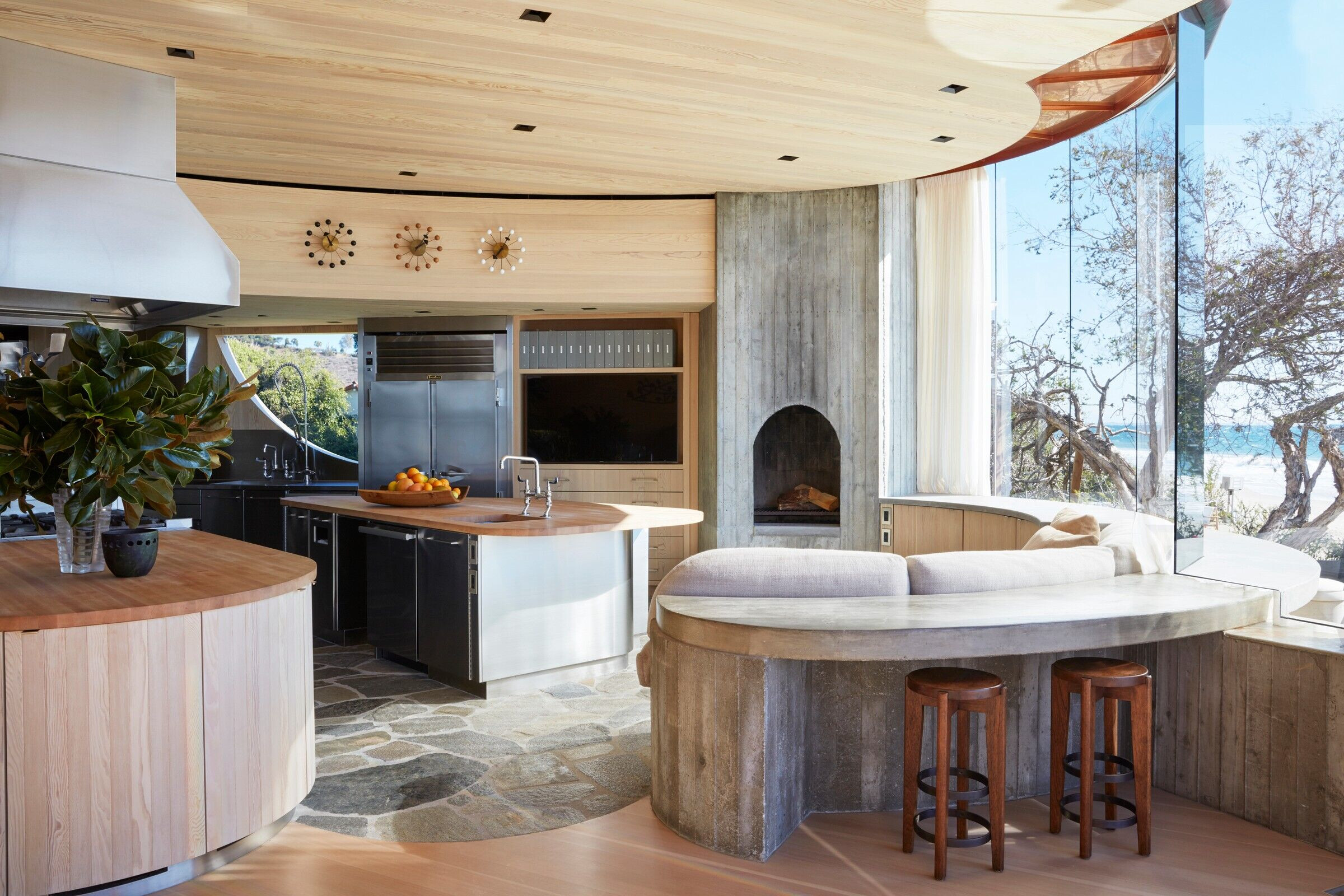 An awkward 1990's addition, incongruent with the original residence, was replaced with a new indoor swimming pool designed to be largely indistinguishable to Lautner's building. Above the state-of-the-art, wake-free lap-pool, a sloped double-curving copper roof was added to blend with the original design, and an existing area of green roof was re-planted. Inside the pool area, a frameless swinging window opens to the ocean, allowing for increased ventilation. To one side of the pool, retractable glazing by Vitrocsa invites the ocean's smells and sounds inside, blurring the boundaries between sea, house, and sky.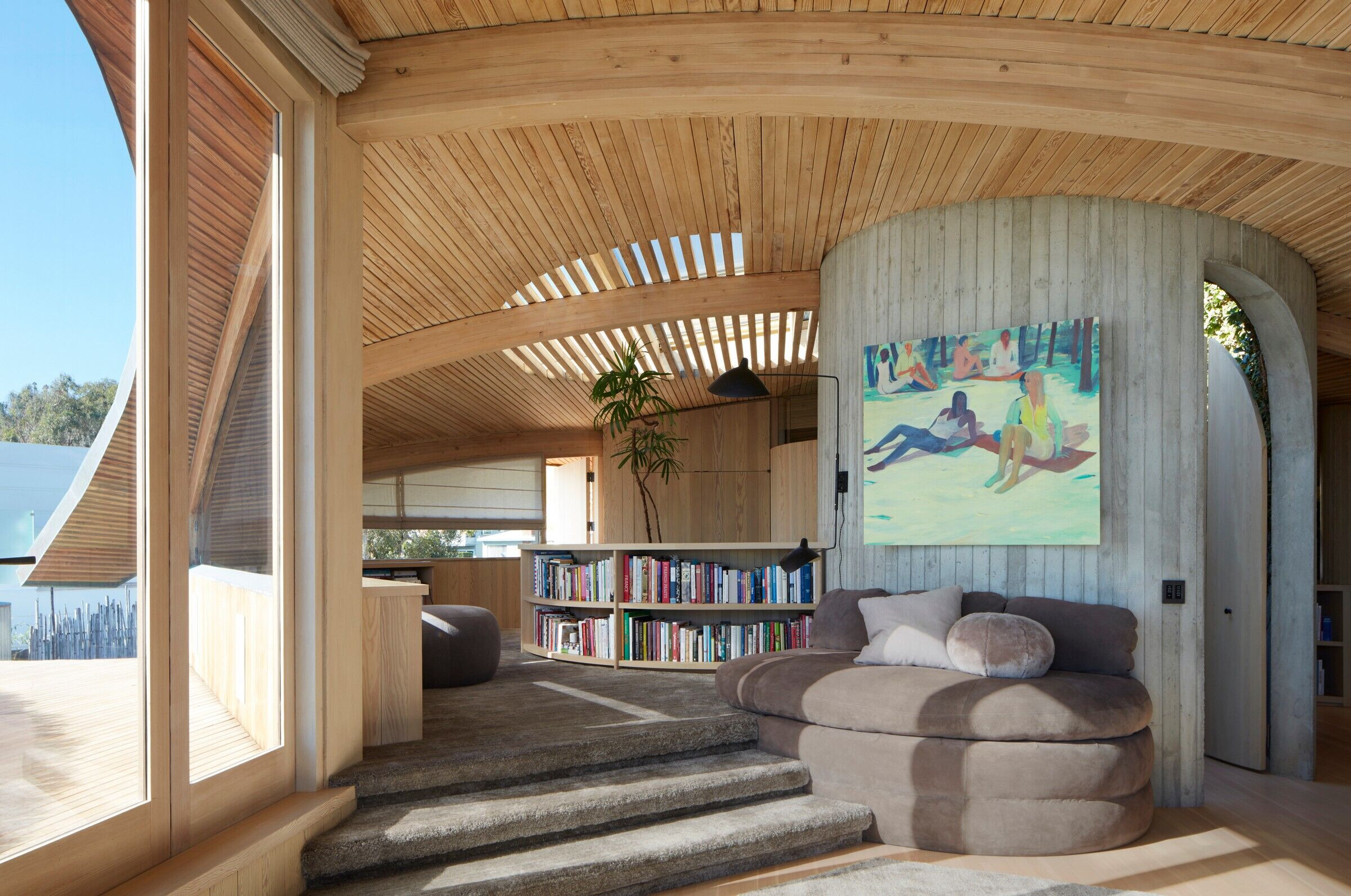 Throughout this project Kovac Design Studio worked around Lautner's avant-garde engineering and sculptural applications of wood and concrete to carefully repurpose spaces to suit the client's needs while matching the home's original materiality and spirit. The home's existing exterior was mostly vertical cedar, replaced as needed, and included some elements of vertically oriented board formed concrete that was refurbished. Inside the home, the majority of the walls and ceiling boards are douglas fir while the flooring ranges from wood and board formed concrete to an area of original flagstone on the first floor.
The most significant changes include a new media room, enlarged bedrooms, and the addition of a home office. A stunning chef's kitchen – detailed down to the owner's cooking utensils – forms the core of the home's open living and entertainment space and features a mix of stainless steel and douglas fir cabinetry, butcherblock and poured-in-place cement countertops, and designer appliances including Traulsen refrigerators. Throughout the home, downlights from No 8 Lighting and some feature downlights from Speciality Lighting add strategic illumination. Interior plants and boulders, around which Lautner designed the original home, honor the surrounding Malibu landscape and were left untouched during the home's revitalization. Now, the client says, the house, "breathes with me."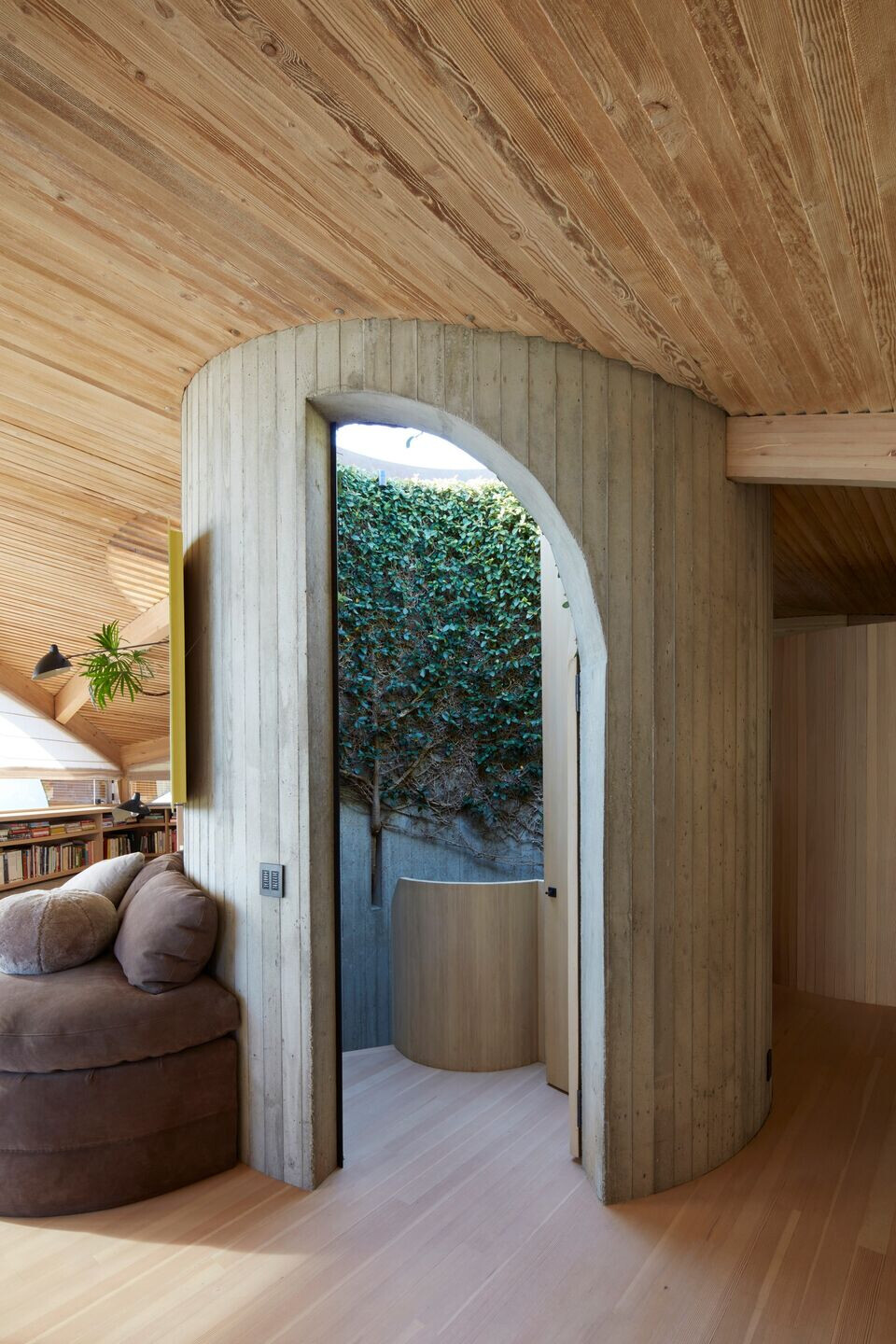 Material Used :
1. Facade cladding: Vertical cedar, vertically oriented board formed concrete
2. Flooring: Board formed concrete, douglas fir, flagstone, carpeting
3. Windows: Vitrocsa
4. Roofing: Copper
5. Interior lighting: Downlights by No 8 Lighting, feature downlights by Specialty Lighting
6. Interior furniture: Interiors by Waldo Fernandez
7. Kitchen: Traulsen refrigerators. Stainless steel, board formed concrete, and douglas fir cabinetry. Stainless steel, poured-in-place concrete, and butcherblock counters.