At an important milestone in Japan, we often wear a special clothes called as Haregi. Yokohama Marusho is a long-established costume rental store with the mission of handing down traditional Japanese culture to posterity through Haregi. This time, we mainly renewed the sales floor of wedding Kimono costumes. Nowadays, people tend to be pushed by costume rentals at wedding hall affiliated shops, and there is a strong desire of clients to widely inform them that they can offer a wide variety of costumes at reasonable prices through space design, and against the sense of danger that the ceremony is shrinking due to the COVID-19, a form and impression suitable for a place to choose a special costume once in a lifetime was required.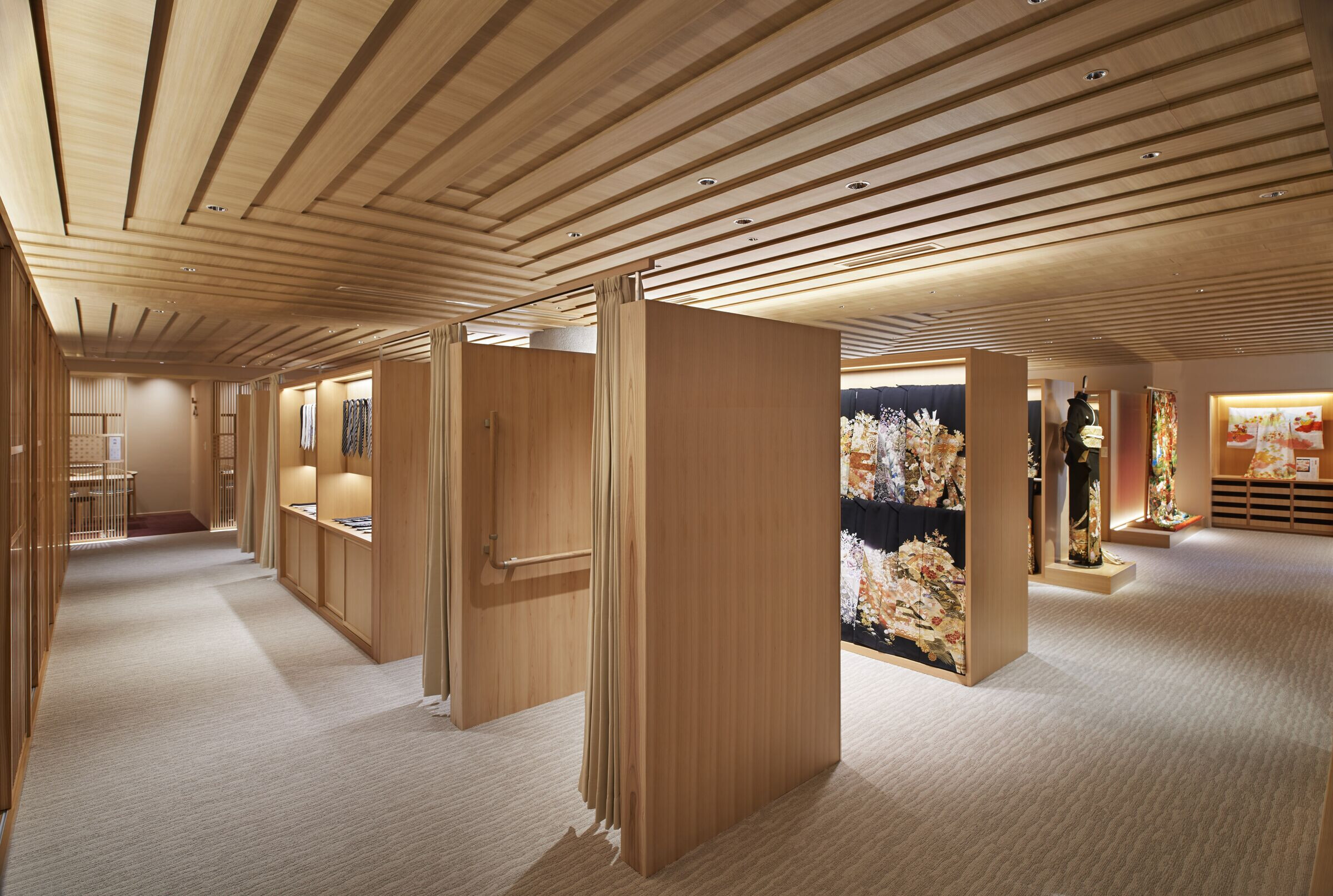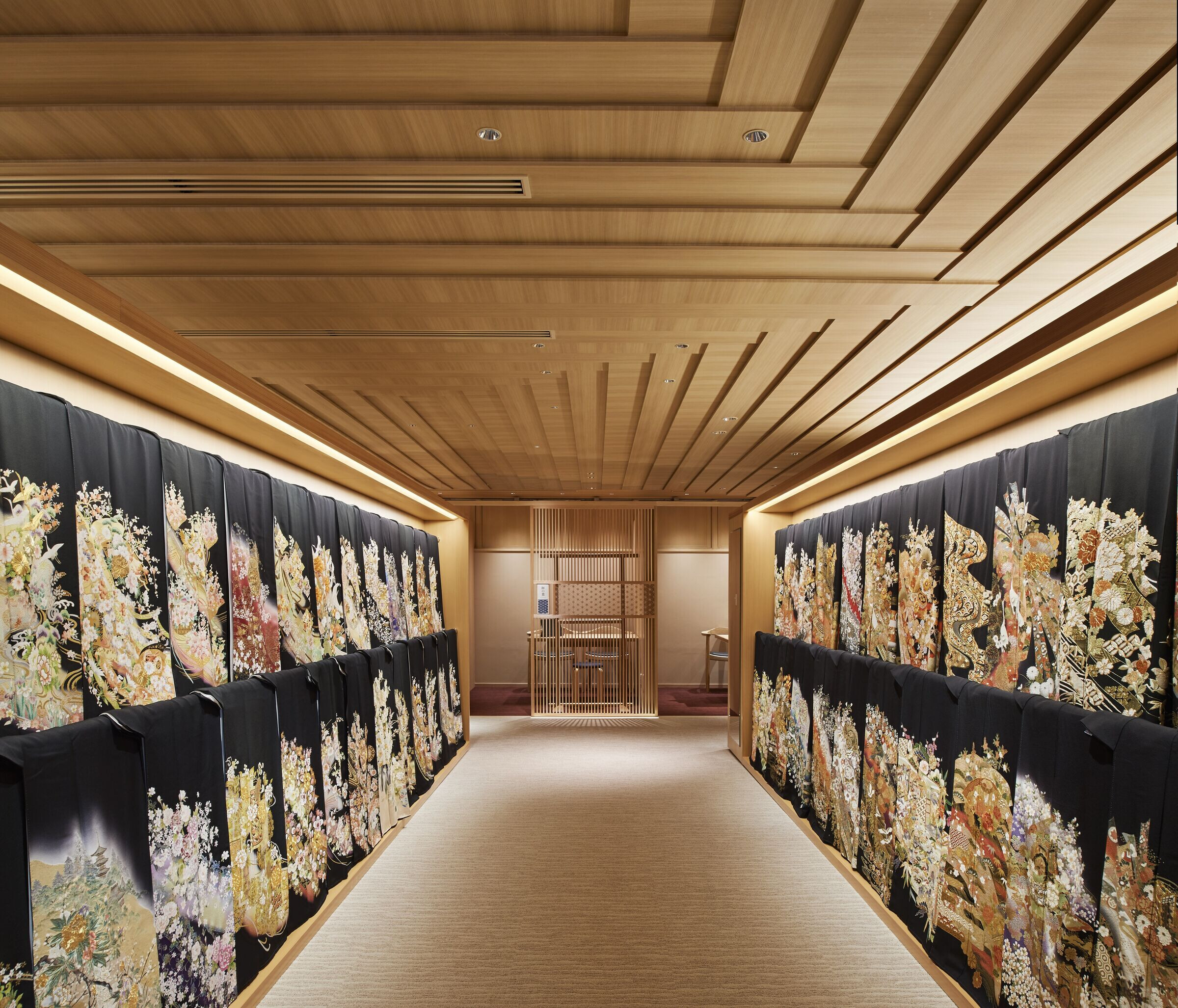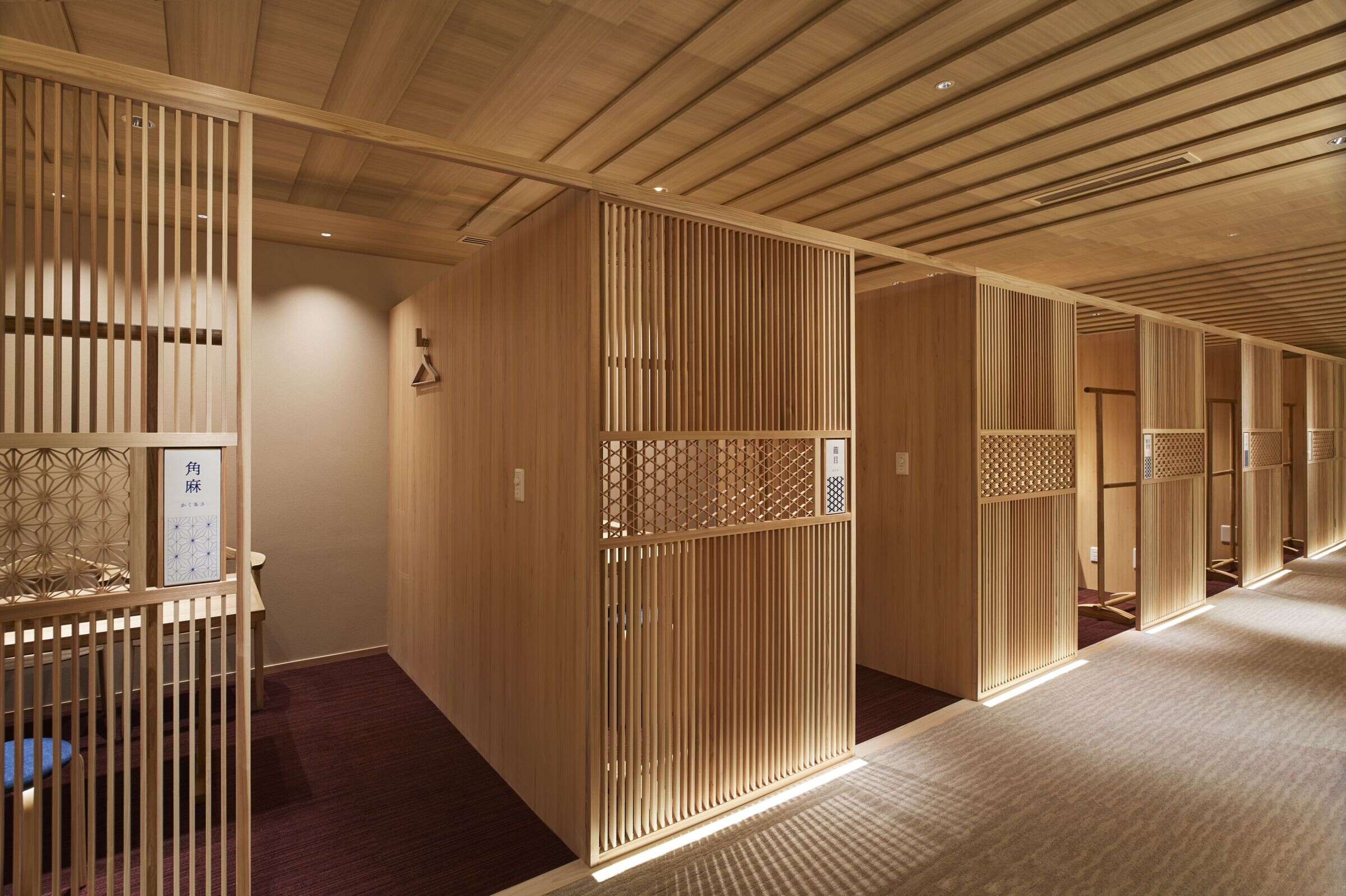 There are many Kimonos are exhibited because they boast a wide variety of items, so the fixtures are arranged in a simple layout and easy-to-recognize, and the height of the fixtures is kept to a minimum of 1.8 m in order to reduce the feeling of oppression. The hanger pipe was raised from the bottom plate instead of the back plate so that the main product, Tomesode, could be displayed beautifully and continuously without being blocked by the bracket.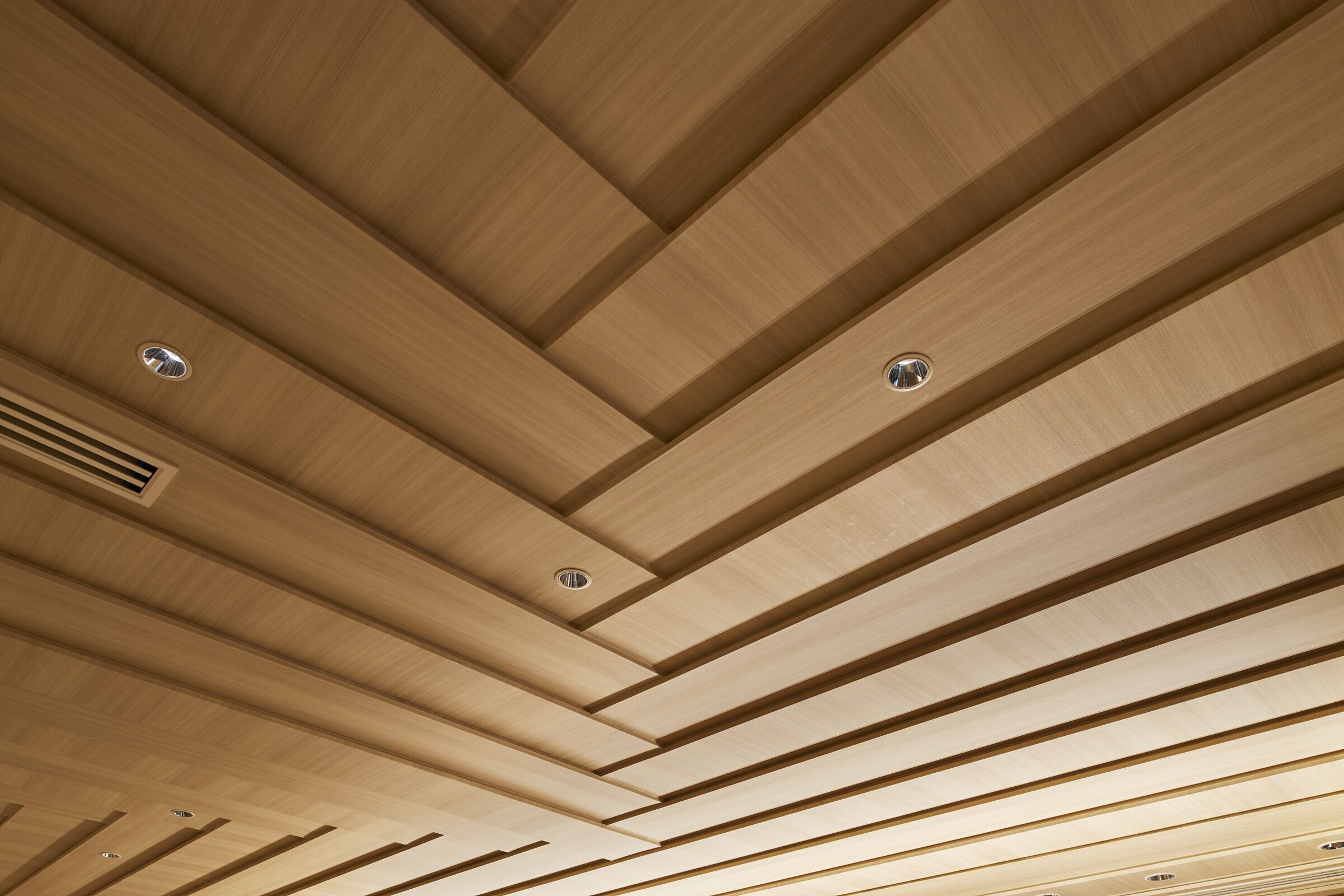 The partition of the meeting space is a thin lattice partition, and different Kumiko work is fitted to each spandrel. The traditional pattern name of Kumiko printed on the Kutani ware plate which becomes the room sign.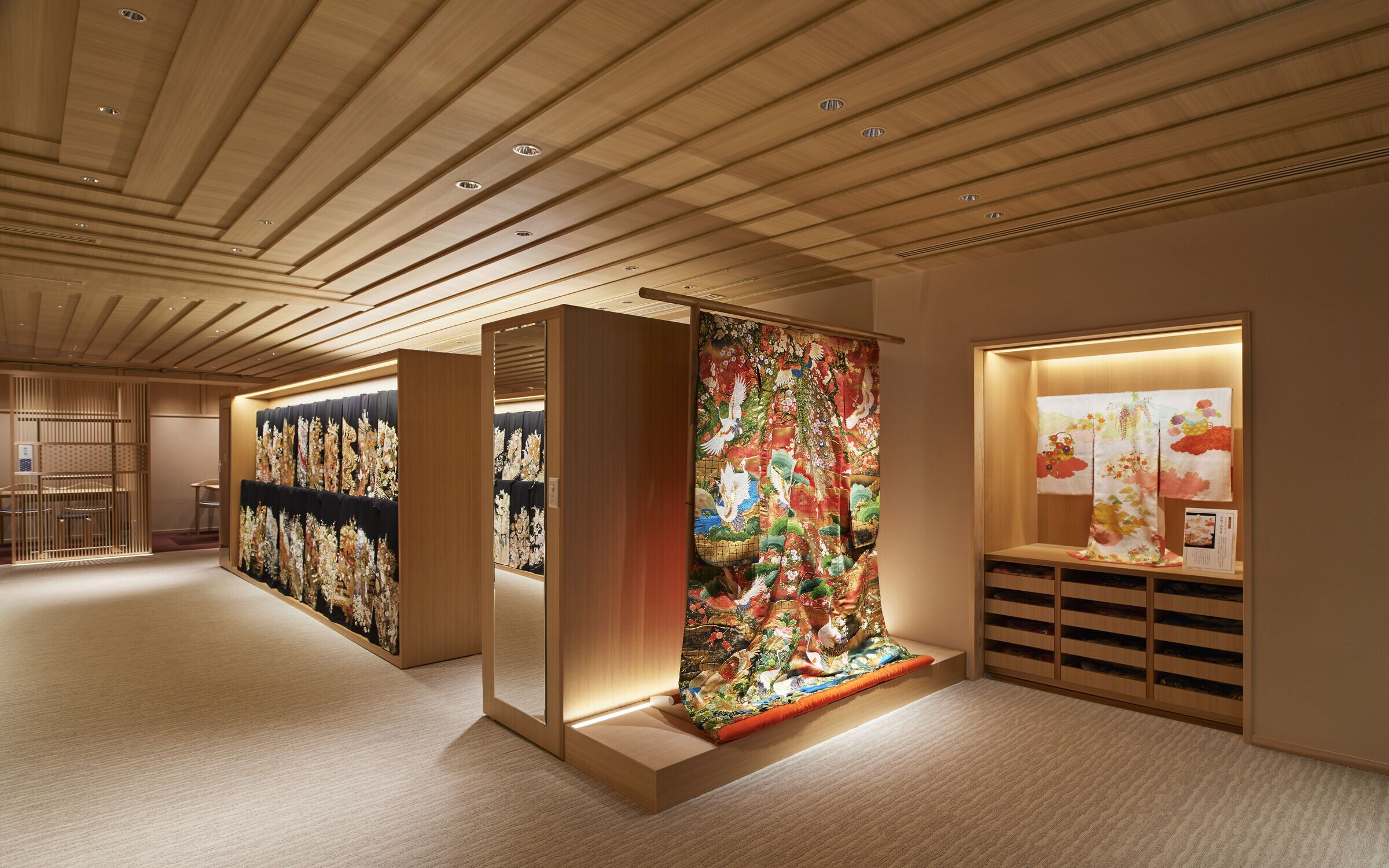 The large column in the center was intentionally shown positively, and was painted to imitate rammed earth, giving it an impactful presence that harmonizes with the Japanese-style space. Oya stone is piled up on the wall of the toilet, and Japanese paper of glossy Bengala color is pasted on the ceiling to design a dignified and elegant sanitary.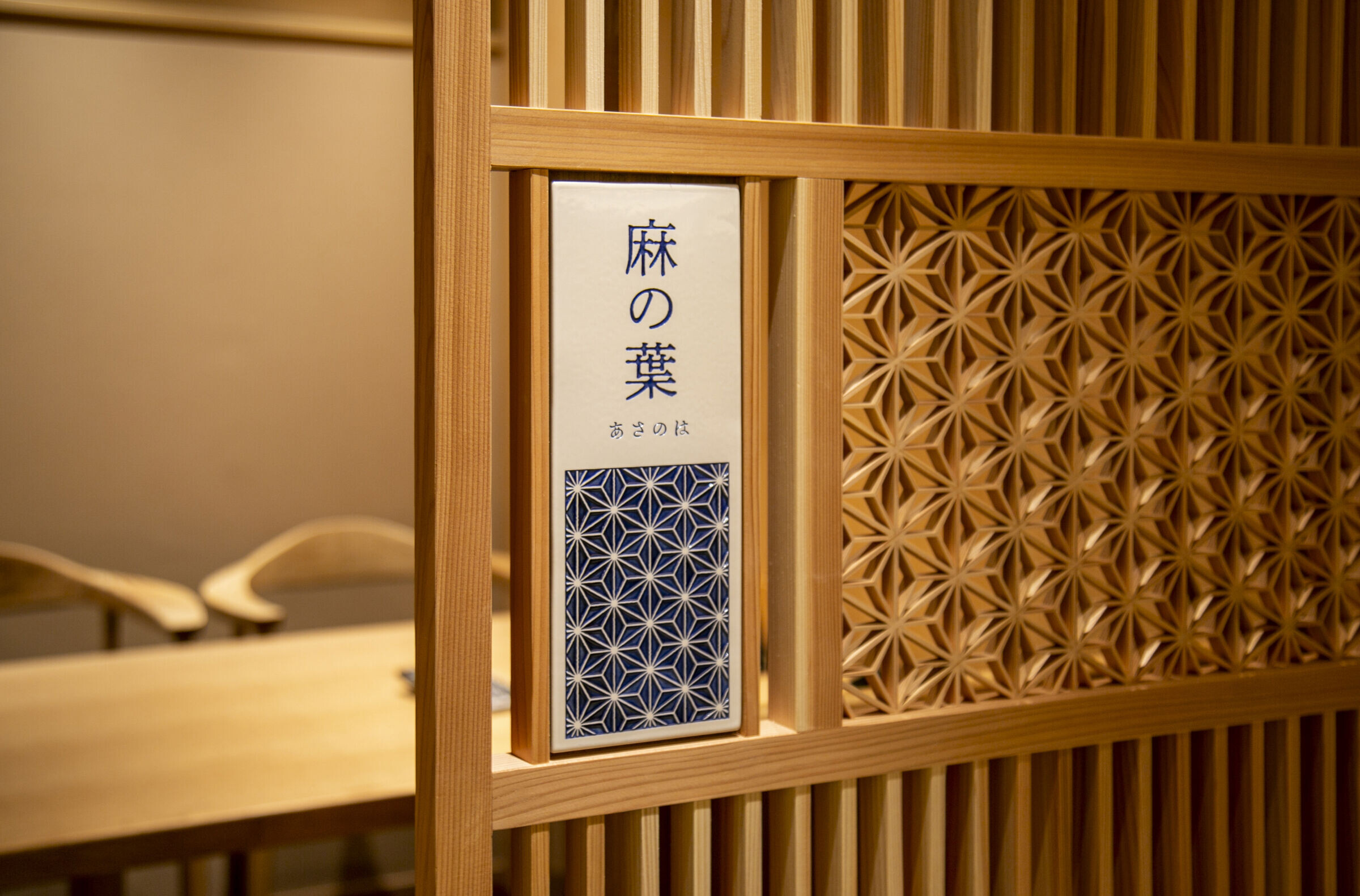 The most remarking design of ceiling was an idea due to the limited height of the existing structure. While avoiding the beams of the RC structure, thin wooden boards are pasted while slightly changing the height, and the bottom joints are cut to make it look as if they overlap. This idea is inspired by the traditional manner of layering Kimono called as Kasane. Since ancient times till present days, Japanese people have enjoyed layering cloths. The most well-known case is probably the Junihitoe of the Heian period. It is said that in this era, it was a proof of fashion sense to be able to handle layering various color schemes. We hope that the experience of choosing costumes in a contemporary space inspired by tradition will enhance the uplifting feeling of the upcoming sunny stage.