Since 1951, generations of the world's highly renowned musical masters have come together with exceptional young musicians to participate in Marlboro Music, a seven-week festival tucked among Vermont's Green Mountains at Marlboro College. Musicians learn not through lecture or traditional classwork, but by playing together daily in intensive, intimate rehearsals.
The college's idyllic campus is comprised of retrofitted farm buildings that are exemplars of 400-year-old Cape Cod vernacular. Over the last seventy years, these aging farm buildings have become less-than-ideal environments for chamber music. Driven to meet the needs of 21st century musicians, the design of the new Reich Rehearsal Hall remains true to the spirit of Marlboro while providing modern performance space, staff offices, a state-of-the-art music library archive, and gathering spaces.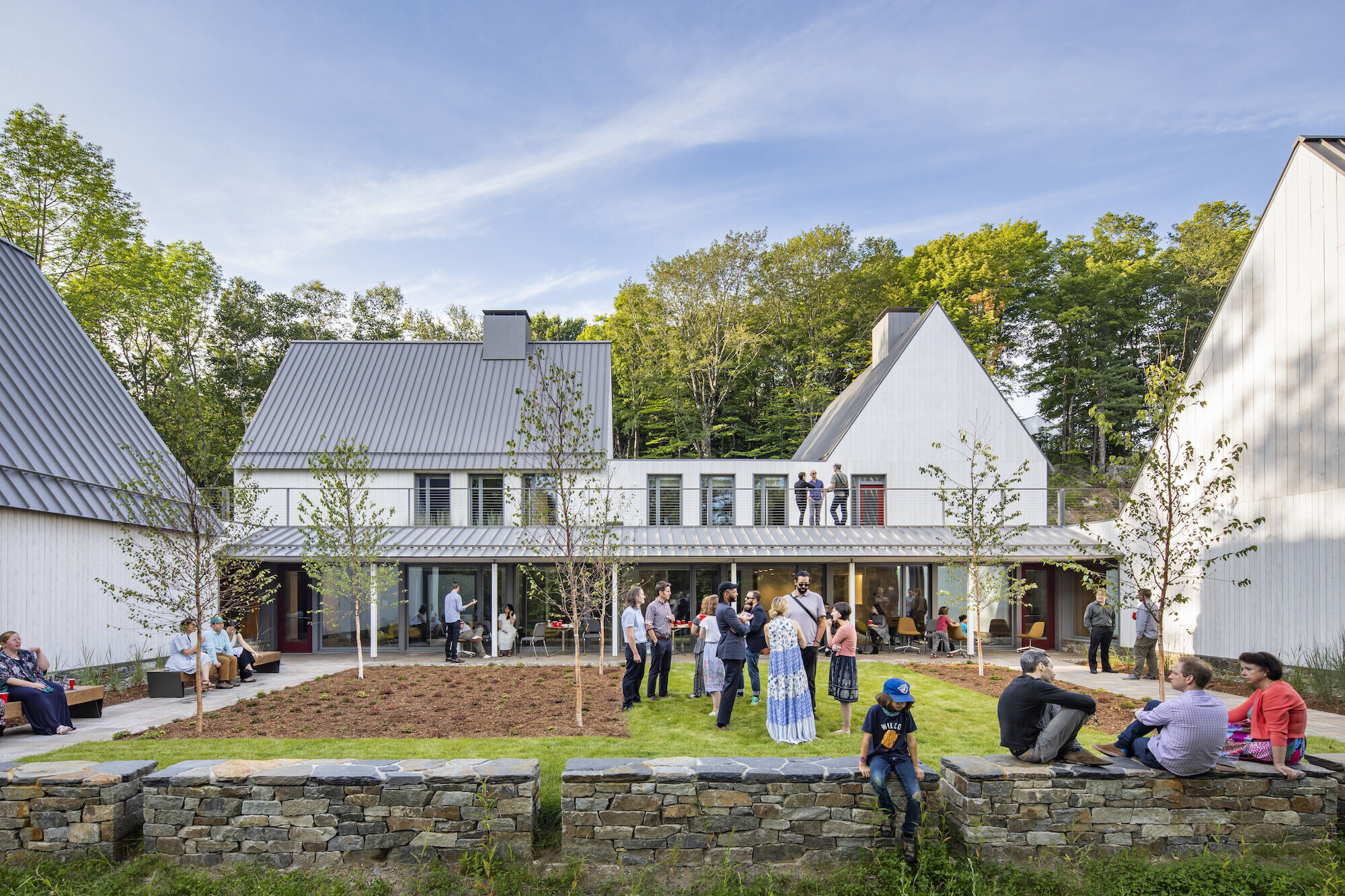 With a goal to tread lightly on the land, the building's mass is balanced between two levels of a steeply sloped site, resulting in fully accessible entrances and grounds on both floors with seamlessly integrated sustainability strategies. The building relies on geothermal, passive solar, and green roofs with stormwater treatment while the interior material selections promote a healthy indoor environment.
A series of three rehearsal rooms and the archive library are connected with gathering spaces and orchestrated around a central courtyard, composing an experience of compression and release.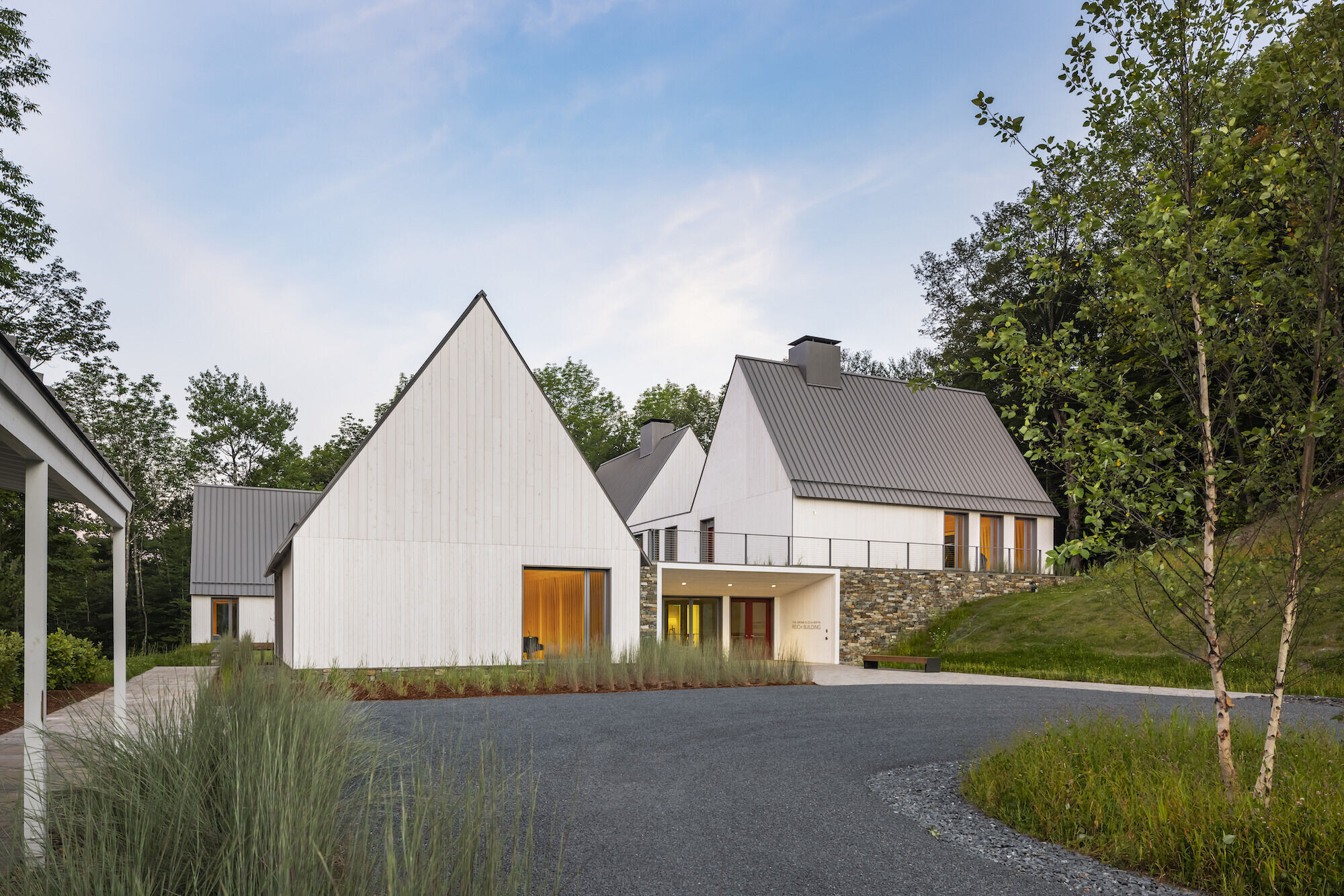 The humble ceiling heights of the lobby spaces allow the full volumes of the rehearsal rooms to soar. Each interior space was designed with dual use in mind: supporting rehearsals in the summer and classes, lectures, and meetings during the school year.
The palette gently pulls the Vermont landscape indoors, with textures and colors inspired by its flora and fauna; carefully placed windows further this harmonious connection with the surrounding landscape – celebrating the intrinsic relationship between music and nature.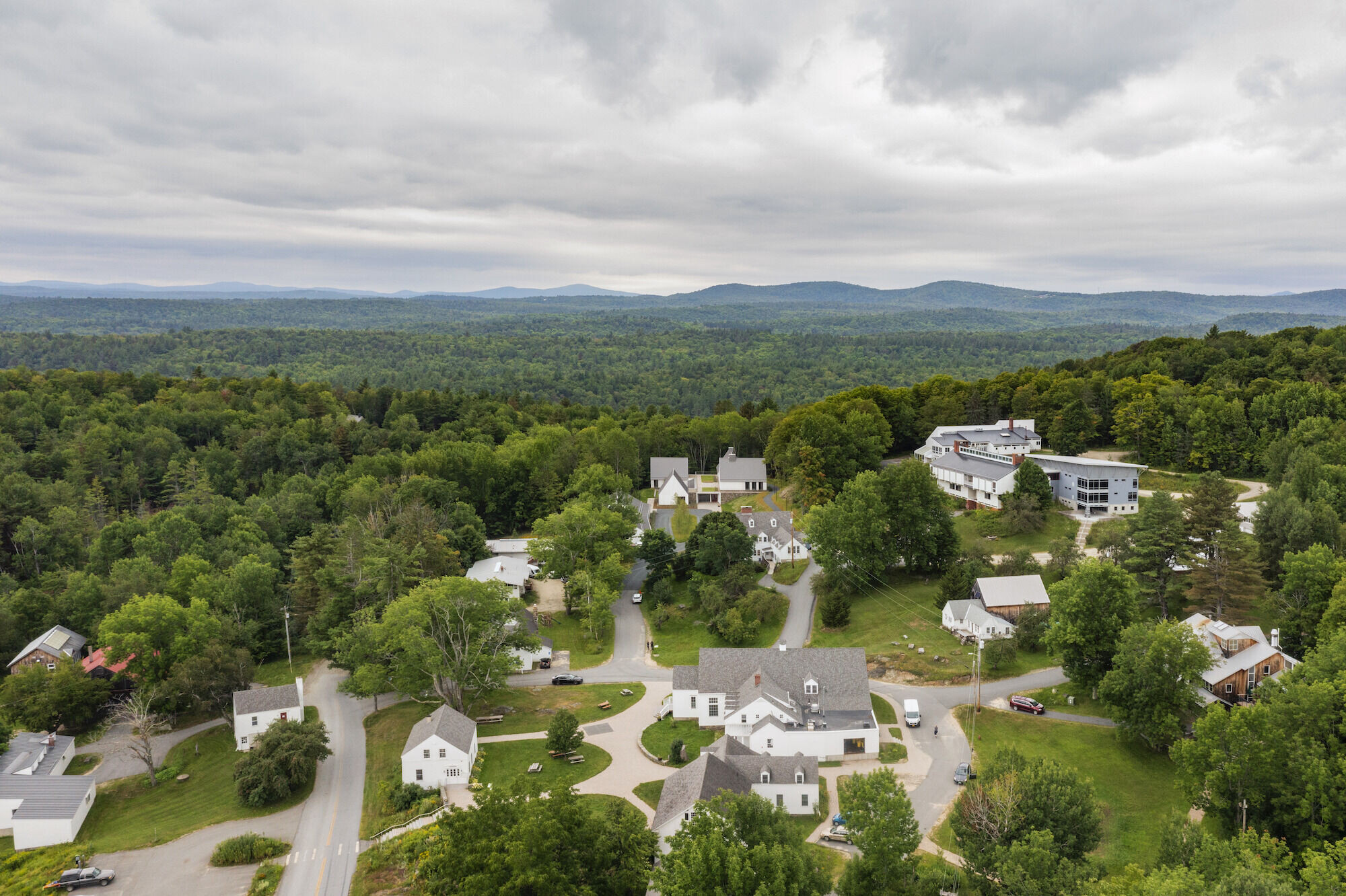 The project needed to withstand all seasons with Vermont's cold, snowy winters. Long-lasting, durable, and low-maintenance materials were chosen, including standing seam metal roofs, heavy-duty snow guards, and cedar siding. Best practice standards were used to select materials with low/no-VOC content, and products with Environmental Product Declarations have additional third-party certifications for air quality, recycled content, or life cycle analyses.
From the outset, Reich Hall had to meet Vermont's ACT 250 criteria – legislation enacted in 1970 to preserve Vermont's fragile environment and natural resources; helping establish Marlboro Music's place within the lush Vermont ecosystem and responsibly mitigating the project's impact on its picturesque site.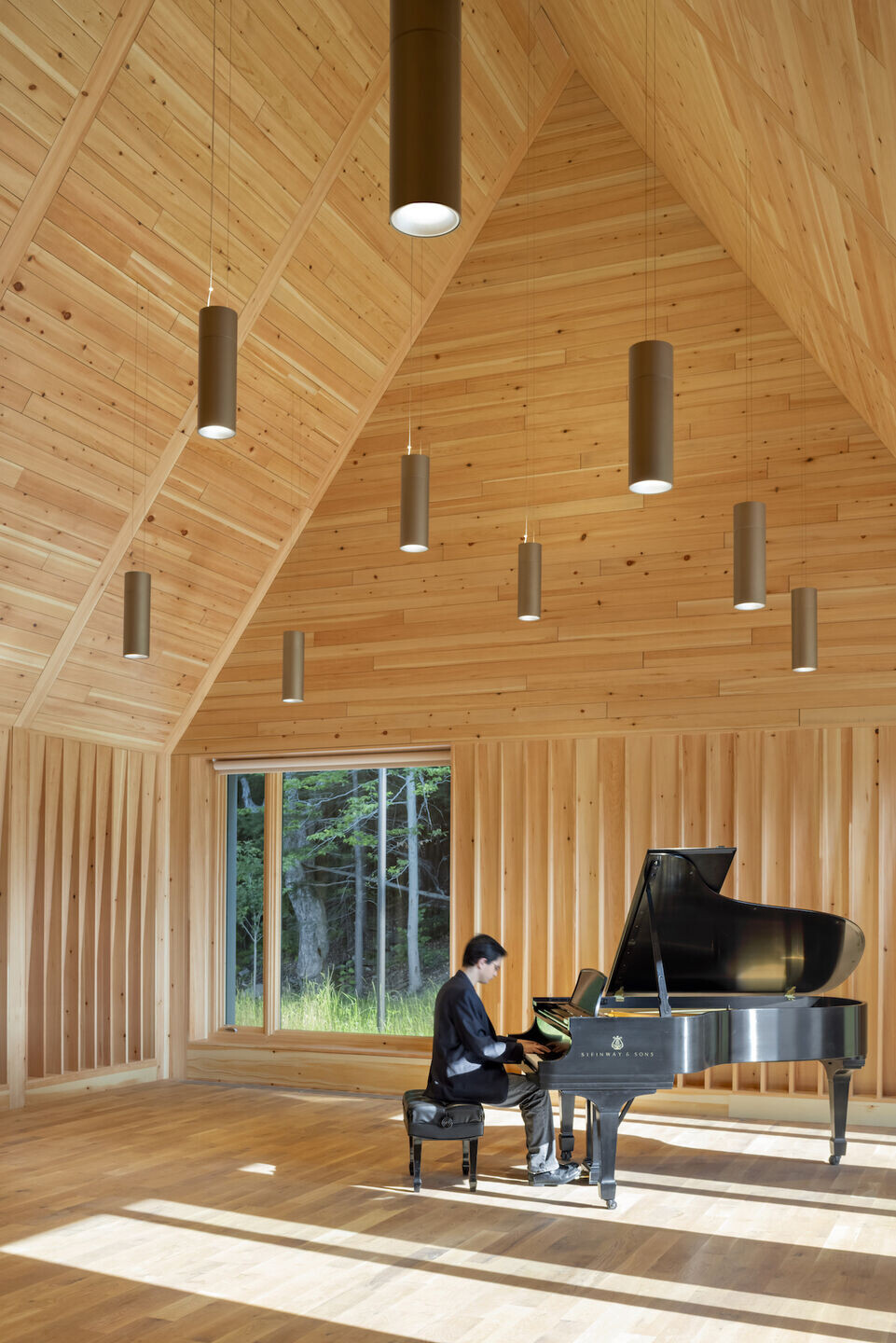 The landscape design was part of a comprehensive vision for sustainability and stewardship of this distinct place. Native plantings – with no fertilizer or pesticides – are abundant and the natural boundaries of the surrounding forests are maintained as if the new building always inhabited the space. 40% of the total site square footage and 71% of the total planting area were sown with pollinator-supportive species. Minimal site lighting preserves the awe-inspiring dark skies in this rural setting and embraces the principles of responsible outdoor lighting.
Marlboro Music's singular process has led to music-making infused with uncommon joy and renewed spirit. The new Reich Rehearsal Hall ensures that art has a home in which to thrive for generations to come.
Team:
Architects: HGA
General Contractor - Courtlan Construction
Civil Engineer - CHA Consulting, Inc.
Acoustics - Kvernstoen, Rönnholm & Associates, Inc.
Historical Consultant - Vermont Property Preservation Consultants
Signage Fabrication - GemGraphics
Photographer: Albert Vecerka/ Esto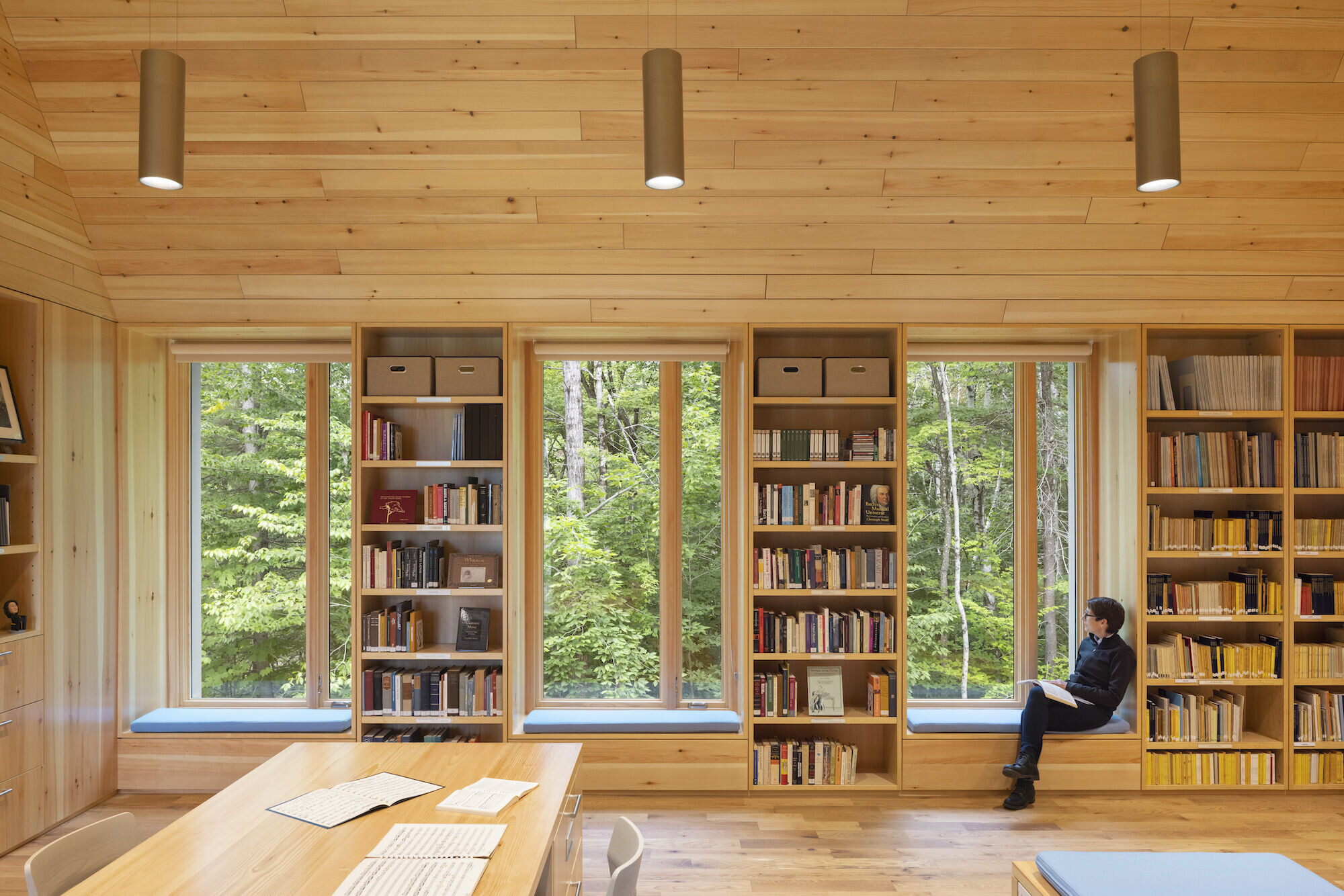 Materials Used:
Wood, Millwork | White Pine, veneer & solid wood | Navy Island
Custom Casework/Millwork | Stark Mountain Woodworking
Marvin Clad Ultimate Casement windows | Marvin Windows
Marvin Clad Outswing Door | Marvin Doors
Ribsy felt wall covering tiles; Custom area rug | Filzfelt
NovaSpan fabric-wrapped ceiling assembly | Novawall
Keystones Mosaic wall & floor tile | Daltile
Ecocrete floor tile & Artisan wall tile | Ceramic Tileworks
Gamut fabric | Designtex
Zulu window covering; Divina 3, Divina Melange, Hallingdal upholstery | Kvadrat
Homage, Structured Stripe upholstery | Luum Textiles
DecoRib / Tough Rib walk-off carpet | Mats Inc.
Embossed Flannel carpet tile | Tandus Centiva / Tarkett
High Pressure Laminat - Formica
High Pressure Laminate - Wilsonart
Solid Surface & Quartz - Corian
Summit window shades, U500 & U300 - SWF Contract
Heathermoor, stone sills/thresholds - Vermont Structural Slate
Wall & ceiling paint - Sherwin Williams
DUO 6 up/downlight pendant - Meteor
Pinnacle Rubber Wall Base - Roppe
Tretford Roll area rugs - Tretford Americas
Office furniture / desking - Teknion
Stilt floor lamp, Circula tables - Blu Dot
Kiik bench, Catifa lounge chair - Arper
Spindle Bench - Ethnicraft
Stackton chair - HIghtower
Nub lounge chair, Raglan sofa - Andreu World
Soul lounge chair - Bolia
Cove lounge chair - Stylex
Chloe task chair - Bernhardt Design
Span table - Davis
Musicians Chairs - Wenger
Blocq exterior benches - mmcite