Completed in September, 2019, SDK Kumamoto Building offers a splendid view of Kumamoto Joh, one of Japan's most famous medieval castles. The building's exterior design, with its shading panels reminiscent of roof tiles, rafters and colonnades in the temple/shrine architectural motif, imparts the feel of a traditional teramachi(a city block dense with sites for worship).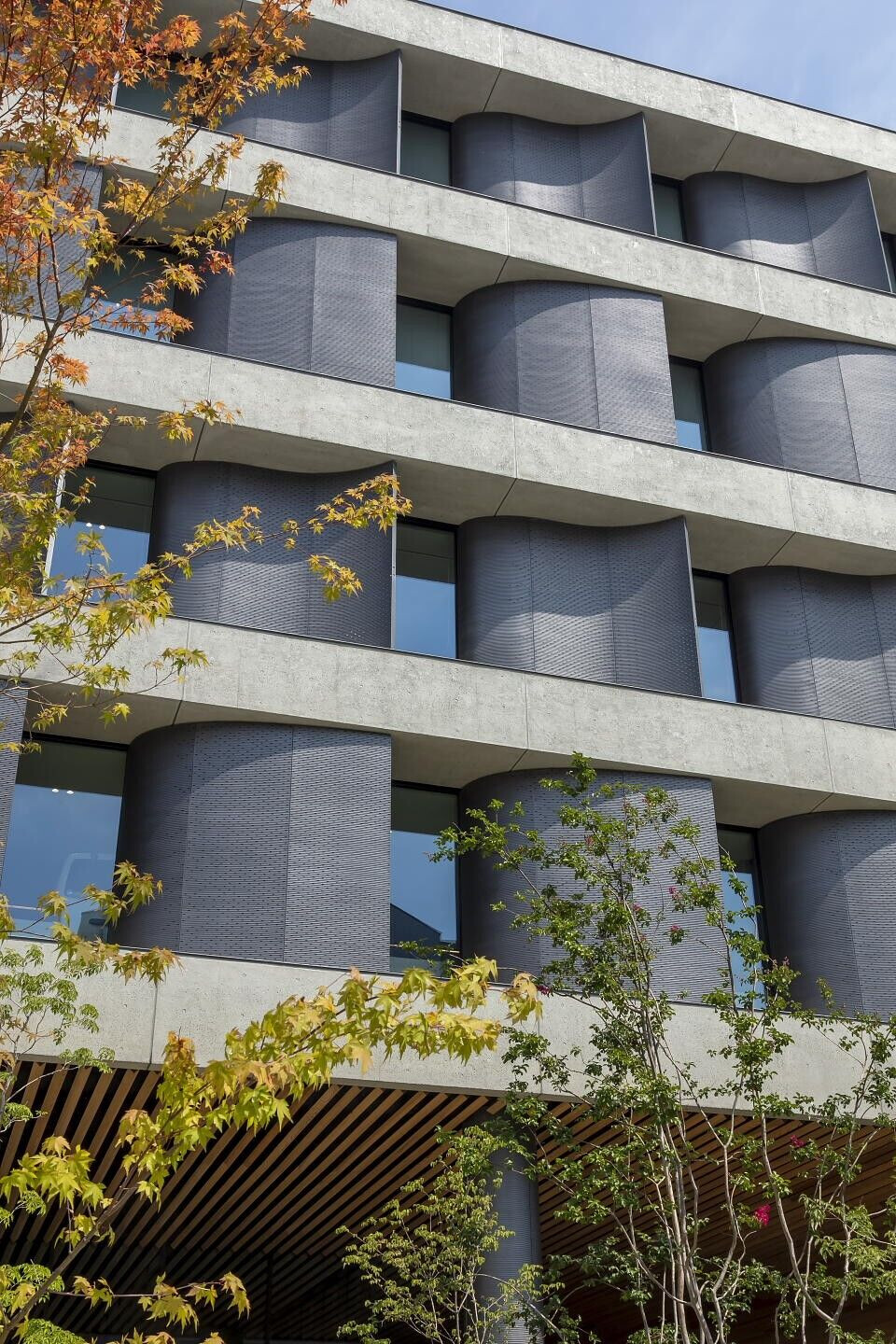 The underlying philosophy of project owner Seibu Electric Industry was sound: contribute to the local community by emphasizing vitality. To do this, the building needed to become an indispensable part of the neighborhood, and also profitable by garnering consistent patronage.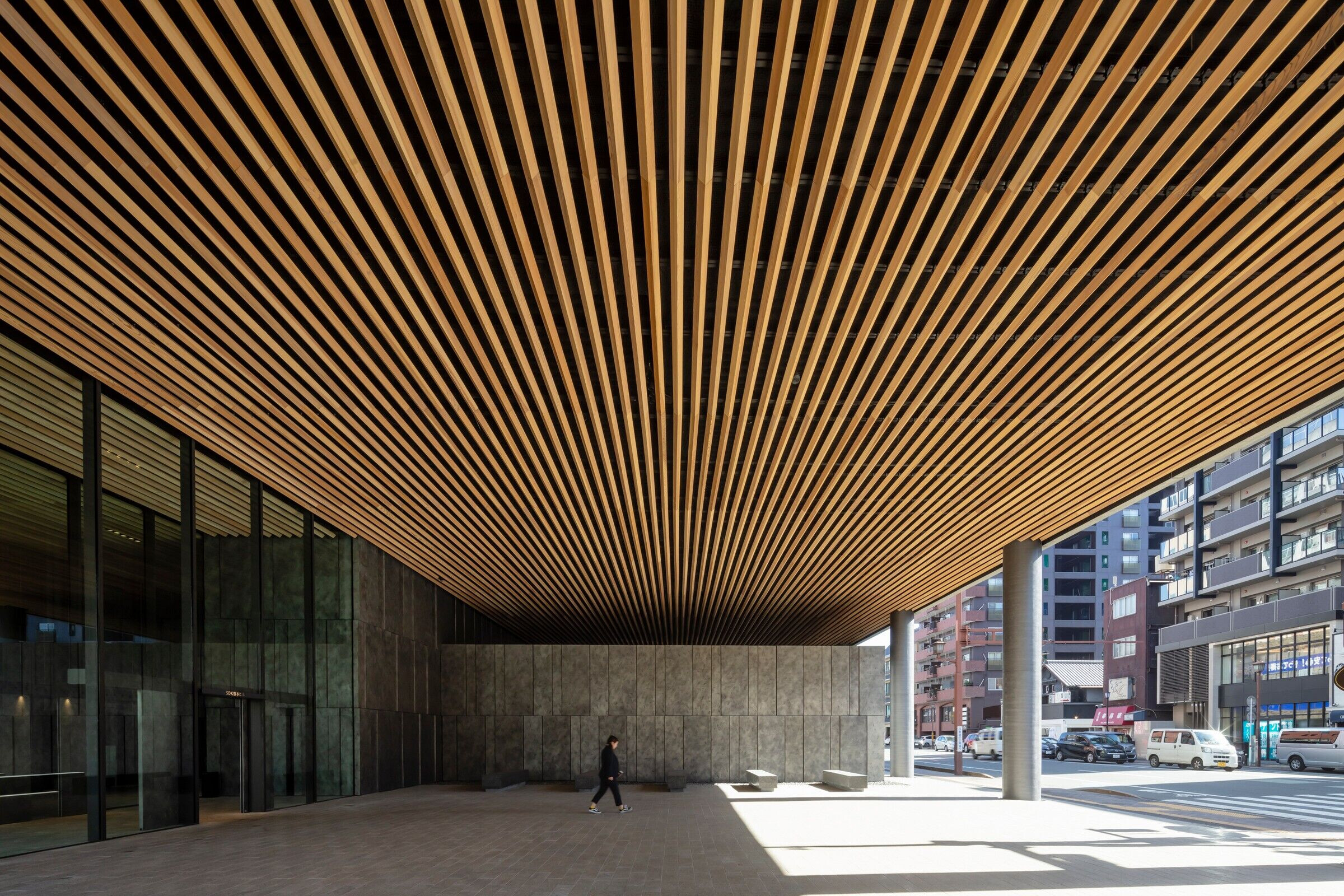 The six-floor, 10,143.10m2 facility is located in its namesake Kumamoto City on the southern Japanese island of Kyushu. All concrete surfaces were sandblasted to afford a natural "textured" look that would prevent rain stains from standing out; the city sees more than 2,000mm of average annual rainfall. Eaves also feature a washed-out finish.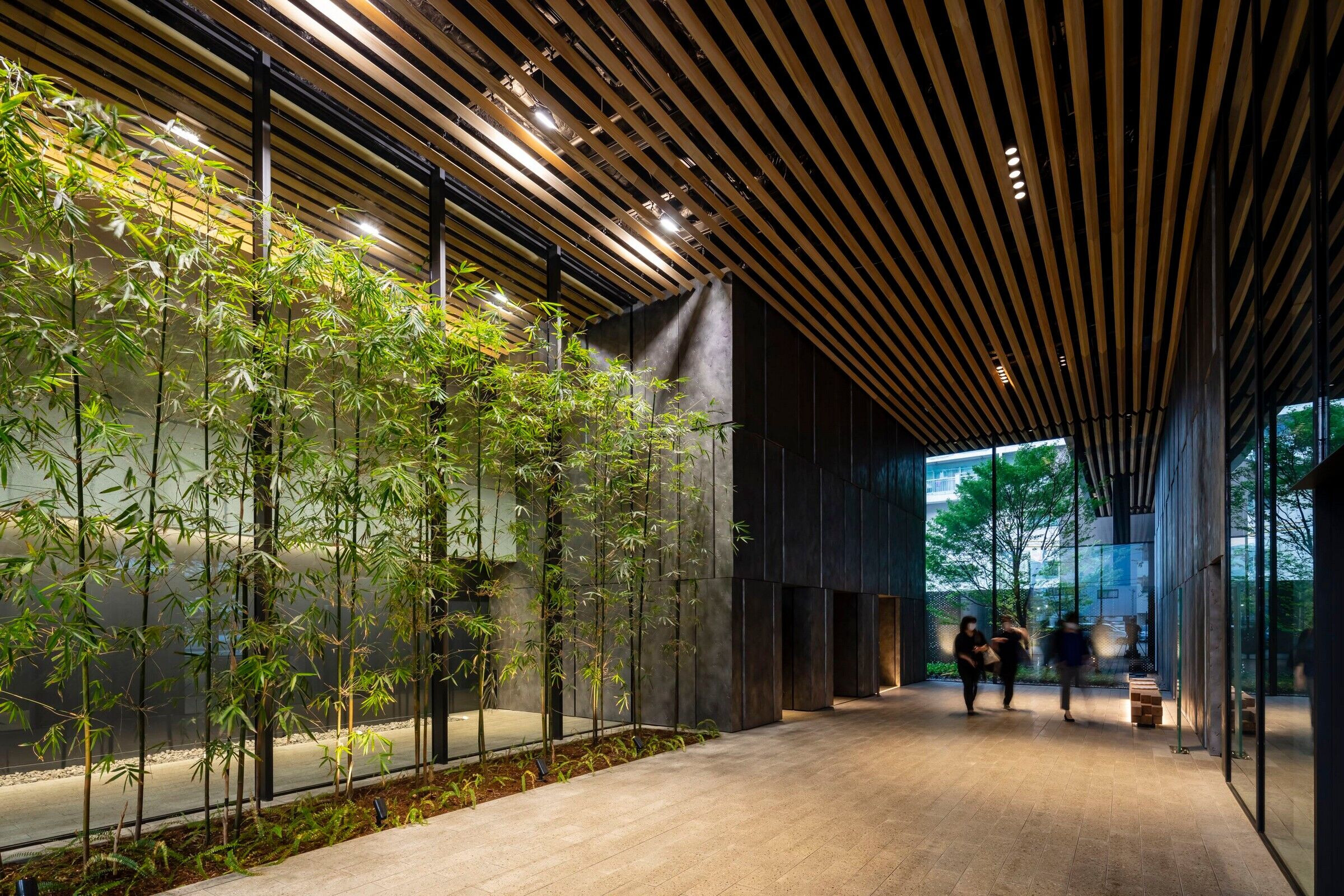 Due to sometimes intense seasonal sunlight, appropriate design countermeasures were built into the project. The south side eaves depth, for example, was set to prevent direct sunlight from entering the building from 2pm to 4pm in the summer. For the west side, diagonal shading panels were fitted to the outside of the vision glass to reduce the solar heat load.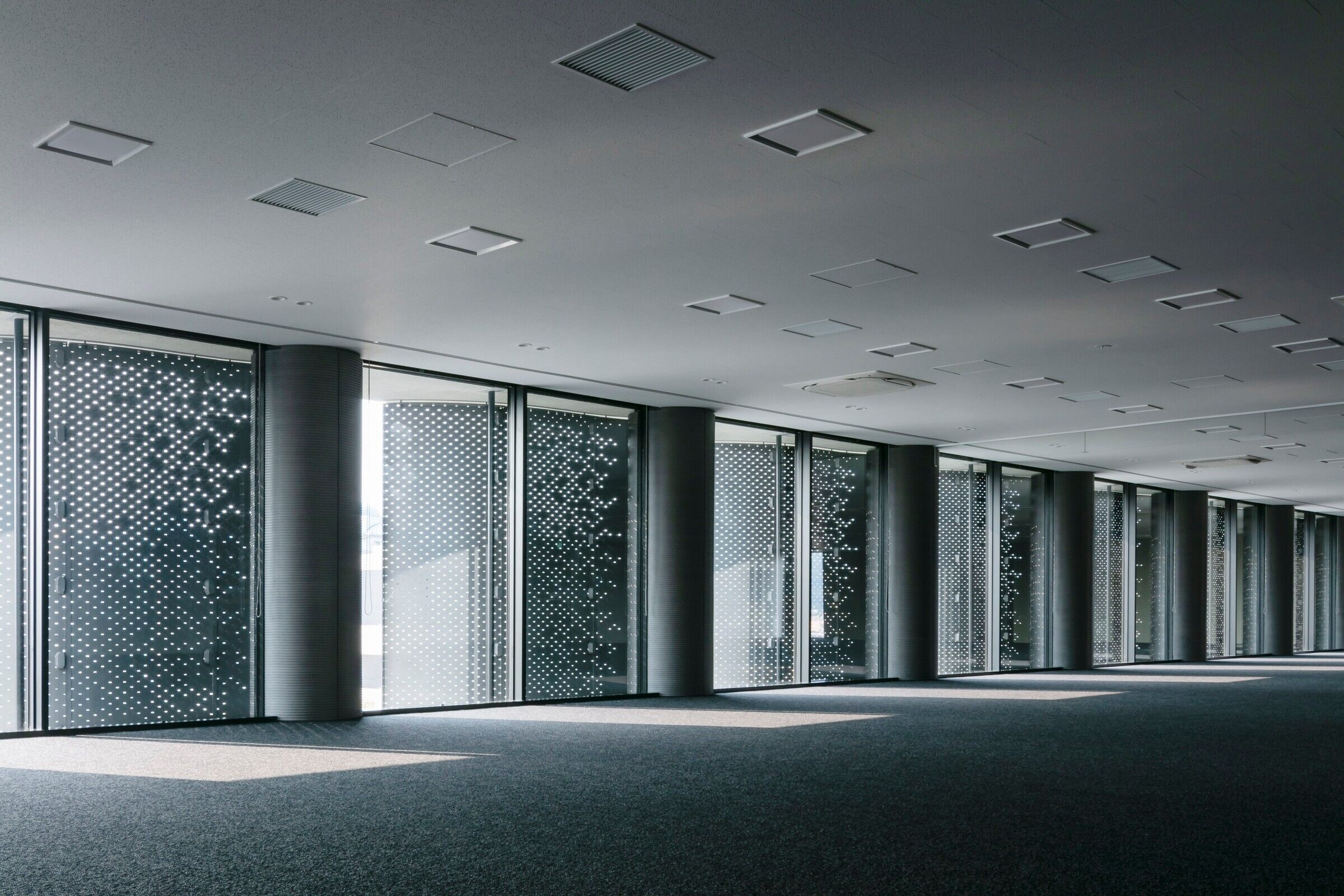 The site is situated in the fashionable Kamino-Ura district, at the nexus of the busy Kamidori and Namikizaka streets, as well as Niou-san Street. The project's theme, "Time & Space Connection," was based on these attributes, and aimed to portray continuity between the region's history and its peculiar features. The neighborhood's many alleys provided the grist for including a common area for meandering and discovery. Various components of the building's core that are typically placed together are intentionally dispersed, resulting in a structure akin to a town alleyway.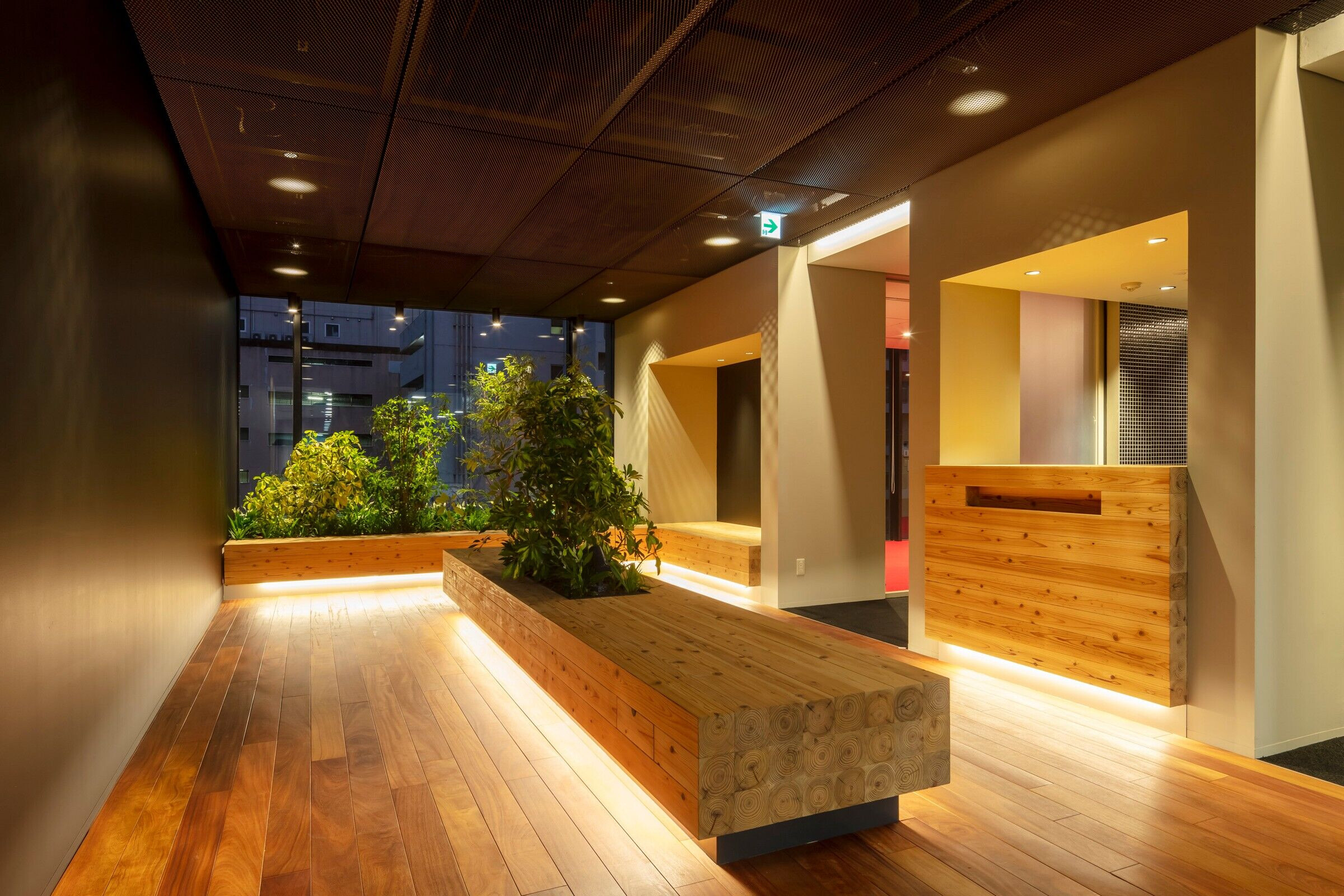 Kumamoto City is a car-centric region bustling with corporate branch offices and small tenants. SDK Kumamoto Building was designed with a high degree of flexibility to accommodate this demographic by allowing for liberal interior shape-shifting; even corridor boundary walls can be removed. This enables leasing office space in a variety of ways. A car rental business was incorporated into the first floor, and the 3F office floor can be accessed directly as an innovative "drive-in office."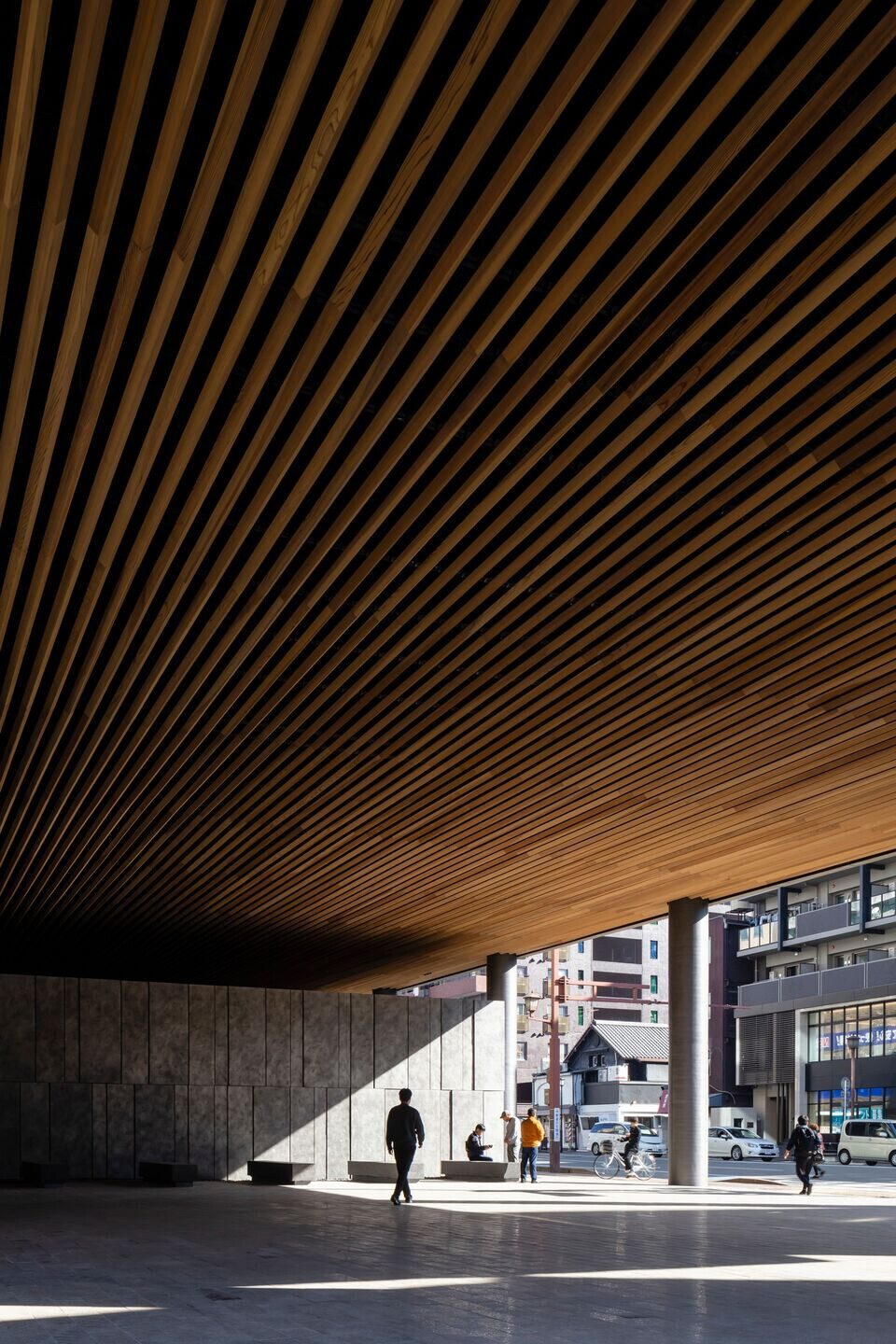 The facility is indeed user-friendly. In consideration of the slower work style due to distance from the city center, the building is also equipped with a commons area to support a plethora of activities. Here, the design approach entailed creating new work styles by providing a full range of support spaces, e.g. a refreshment corner with an open kitchen, high-counter equipped hallways, and free meeting rooms. Combined with natural lighting, seasonal plants and greenery, the effort yielded a more natural feeling office environment.