Adjustable blinds
An overview of projects, products and exclusive articles about adjustable blinds
Project • By Bailo Rull + add arquitectura • Residential Landscape
The health and wellbeing of people and their surroundings are the keys to HAUS. A responsible, creative way of approaching architecture with the aim of bringing added value to standardised construction. The construction project manager Marcove and architects BAILORULL combine their experience and reliability to create HAUS, an innovative proposal that applies healthy criteria to the spaces we live in with the aim of improving the lives of people and the environment.The international architecture practice BAILORULL has created Espai Natura [Nature Space], a collective housing development comprising 16 cross-ventilated dwellings –four per floor– of approximately 140 m2, designed to improve the health of their occupants and surroundings. Locat...
More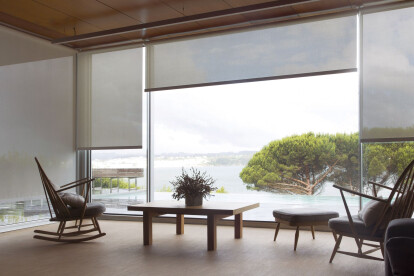 Product • By Bandalux • Premium Plus Roller Blinds
Sun protection for particularly wide or tall openings The Premium Plus roller shades without boxes enable the manufacture of extra wide and tall shades. Their extra thin covers minimize the gap between the fabric and the support. An easy to install system made with highly resistant and rustproof materials, which guarantee their durability outdoors. The system also features the "double fabric" option, which combines a blackout fabric with a decorative fabric, so that the user can choose between privacy and total darkness, for guaranteed maximum comfort at any time of the day.
More