Iroko
An overview of projects, products and exclusive articles about iroko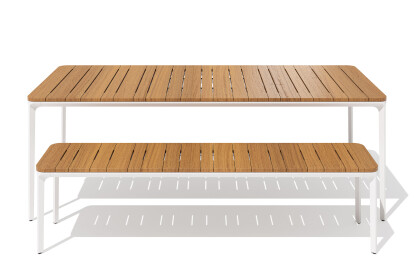 Product • By Sovet Italia • Slim outdoor
The versatile collection of tables, coffee tables, console and benches for the outdoor space, recognized for its design and technology, introduces a new way of interpreting outdoor furniture making it distinctive and functional thanks to its aesthetic minimalism and the fine finishes offered, ranging from iroko, teak wood to ceramics.
More
Project • By Gariselli Associati • Shops
An old gas station on the boundaries of the city to distribute fuel after a long journey or for who had to leave for somewhere. A skinny architecture, transformed into a macro advertising signs. Still performing its function as a distributor, no more fuel, but of poetry and emotions. The renovated building is located in the city of Reggio Emilia, on the main traffic street of the city, in a residential area. This area has the connotation of commercial axis, over time has become an urban fabric for the relationship between citizens. Like all buildings in this climate zone has to respond to the need for good quality waterproofing, thermal insulation and solar shading. The planning included an expansion and a change of use. Th...
More