Klus
An overview of projects, products and exclusive articles about klus
The LED INSPIRATION HOUSE in Lesznowola near Warsaw is an advanced showroom of lighting solutions, a place for workshops and a center of current knowledge and inspiration for architects, interior designers, contractors, installers and investors in the field of LED lighting. Bartosz Makowski The patronage over the project and comprehensive implementation of LED solutions was taken by KLUŚ, which located its headquarters in the building. Bartosz Makowski When designing our HQ, we tried to create not only a modern and functional office space, but also to integrate our LED lighting solutions into it. The corridors, offices and conference rooms are equipped with the latest LED lighting fixtures and interesting compositions made of we...
More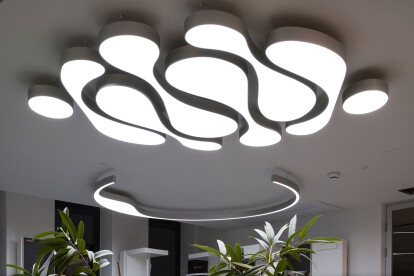 Product • By KLUS • MIFOR-70 System
Draw a shape! KLUŚ will transform it into a luminaire.MIFOR-70 is an innovative LED lighting system. It inspires you to play with its shape. What is MIFOR-70 in practice? MIFOR-70 is a system that allows you to easily build irregular lighting fixtures of almost any shape, including open, closed and openwork. The lighting fixtures can take the form of circles, "soft" arcs transforming into the shape of a luminous line or plane. MIFOR-70 can flexibly adapt to the design concept. The system does not only enable creating "soft" forms but also connecting the fixtures into strings and multiplying shapes. This allows you to create effective, polygonal, especially bent, "undulating" light compositions. MIFOR-70 fixtures are intended to be suspen...
More