Los Angeles architecture
An overview of projects, products and exclusive articles about Los Angeles architecture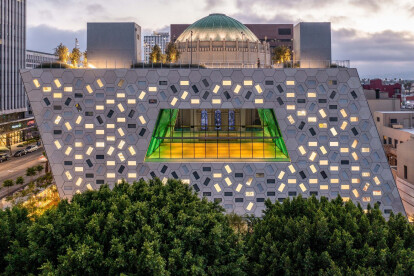 News • News • 10 Sep 2021
Renowned architecture practice OMA are nearing completion on the Audrey Irmas Pavilion, a 55, 000 square foot addition to the Wilshire Boulevard Temple's downtown Los Angeles Campus, L.A's oldest Jewish congregation. The project marks OMA's first cultural project in LA as well as OMA New York's first religious commission. Jason O'Rear Named for its lead donor, life-long congregation member Audrey Irmas who launched the capital campaign for the project in 2015 with a record breaking $30 million dollar gift, the Pavilion is expected to open in January 2022 on Hollywood's famous Wilshire Boulevard. Jason O'Rear OMA won the bid from a strong field of competitors in 2015 and spent the next six yea...
More
News • News • 27 Jun 2021
Apple has unveiled its newest retail location at the historic Tower Theater in downtown Los Angeles. The historic theater is now one of Apple's most significant building restoration projects undertaken to date. Courtesy of Apple Originally home to the first theater in Los Angeles wired for film with sound, the building was designed by renowned motion-picture theater architect S. Charles Lee in 1927. The theater however closed and has gone unused since 1988. It is perhaps fitting that the building's legacy of technological innovation is revived today with Apple's iPhone, iPad, and Mac, each of which has transformed modern-day filmmaking, photography and music composition. Courtesy of Apple Apple collaborated wit...
More