Fioroni is a company based in the heart of the Central Italian Alps on the border with Switzerland, surrounded by a natural environment of considerable charm, where original artisan woodcraft traditions still survive. In an ideal and inspiring place dedicated to the research and development of ideas, fioroni builds prototypes in its laboratory working collaboratively with a team of architects and designers. Its great craftsmanship is the result of over 50 years' experience in working with wood which started in the first family carpentry business. Fioroni is a new brand for the production of quality furniture and furnishings with a creative contemporary design inspired by tradition. This has consistently produced collections, which- far from being temporary trends - are both innovative and timeless. Ideal shapes in refined proportions, creative ability and high quality materials. A brand with an original philosophy, which opts for the exclusive use of solid wood and the finest raw materials. The careful study of detail, together with our production controls allows us to offer the customer high quality furniture combined with extremely affordable prices. Fioroni presents a collection of new products complemented by the comfortable and elegant reinterpretation of a design element taken from an anonymous tradition.
Other Furniture Products
Member Promotion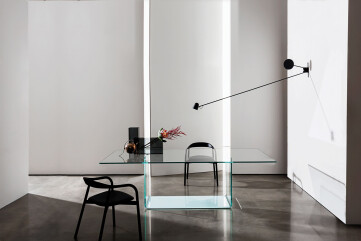 Valencia
Sovet Italia
Thanks to its transparent and aerial architecture the Valencia dining table creates original visual effects through the combination of the glass base...
lockers
werner works
lockers – locker cupboardPersonal privacy in open-space offices Lockable storage spaces – whether these be locker cupboards, clot...
Our Products are Used in Projects by
Projects with Products from FIORONI
Inspiration in Furniture
Member Promotion
Milena Villalba
Milena Villalba

Milena Villalba

Milena Villalba

JaeYoon KIM/ LISTEN COMMUNICATION

JaeYoon KIM/ LISTEN COMMUNICATION

JaeYoon KIM/ LISTEN COMMUNICATION

JaeYoon KIM/ LISTEN COMMUNICATION
Is this your brand and would you like to remove content from other manufacturers on your brand page?
Contact Archello