The newly opened Sara Cultural Centre in Skellefteå, Sweden is a mixed-use cultural hub and hotel complex which serves as a new cultural and aesthetic landmark for Skellefteå as well as an invitation for architects, designers and builders to reconsider the viability of timber as a sustainable and innovative material appropriate to highrise and complex builds.
Skellefteå, located just below the Arctic Circle in Swedish Lapland, is traditionally known for salmon fishing and gold mining, but has more recently become a hub for education, computing, and sustainability. The Cultural Centre is symbolic of the Municipality's focus on reviving its heritage and harnessing future development within the arts and culture sectors. Prior to industrialization, the town had a rich tradition of timber architecture, so in addition to showcasing the potential of sustainable construction, the use of timber as the primary material was also selected as a nod to Skellefteå's architectural history.
The 25, 000 sqm project contains unique dimensions and is one of the world's tallest timber towers. The complex incorporates a 20 storey, 70m high hotel and Cultural Centre, both of which fit within a 160m x 60m footprint. The Cultural Centre includes an art gallery, a museum to Nordic painter Anna Nordlander, the Västerbotten Regional Theatre, stage and performance spaces, and a new City Library. The aptly named Wood Hotel features 205 rooms with dramatic views over Skellefteå, and includes an onsite restaurant, wellness spa, skybar and roof terrace, and conference centre.
White Arkitekter won the project bid in 2016 from an international field of competitors, with their design reflecting the practice's vision for all of its projects to be carbon neutral or better by the year 2030. Given the diversity of programs within the Centre, specific engineering solutions were needed to be flexible enough to handle long spans, to manage acoustics, and to have high load bearing capacity and high shearing capacity. To accommodate such ambitious logistics, White Arkitekter collaborated with structural engineers DIFK (Dipl. -Ing. Florian Kosche AS) to create two different construction systems - one for the Cultural Centre and one for the hotel.
Prefabricated 3D modules made from Cross Laminated Timber (CLT) were used to build up the stories of the hotel, and these were then stacked between the tower's two elevator cores (also made of CLT). By contrast, the low-rise Cultural Centre used a combination of CLT for the cores and shear walls and Glued Laminated Timber (GLT) for a column and beam system which forms the bulk of the build. Regional forest industry knowledge and supply was crucial to the build process. All of the timber from the project was sourced and processed locally from regional sustainable forests. By integrating the structural design of the various elements, no concrete was required for the load bearing structures. Not only is this an impressive feat of design and engineering, it also allowed a much swifter and more efficient construction schedule and lowered the carbon footprint enough that the building is carbon neutral. The structure sequesters twice the carbon emissions accrued through operational energy and embodied carbon from materials production, transportation, and construction, making it carbon neutral.
Skellefteå Kraft, a municipality-owned power company and electrical equipment manufacturers ABB worked in collaboration with the engineering and design team to create a ground-breaking custom energy system for the building to further reduce negative environmental impacts. Roof-mounted solar panels provide renewable energy for use on site, and it is predicted that with the building's projected lifespan of 100 years, it will be carbon negative within 50 years.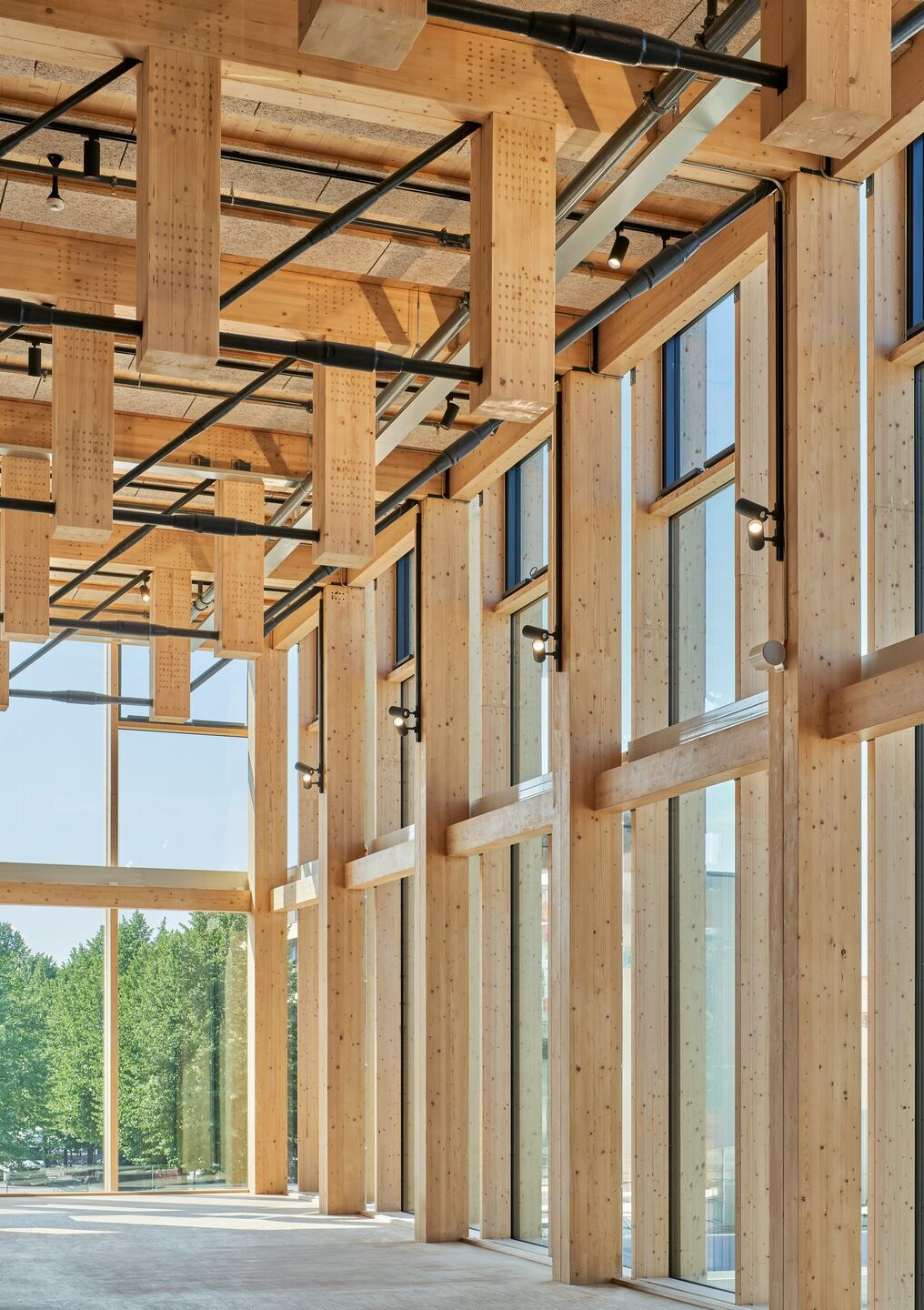 Adaptability and flexibility are pillars of sustainability, so leaving open areas in the floorplan allowed a degree of future-proofing to be worked into the project.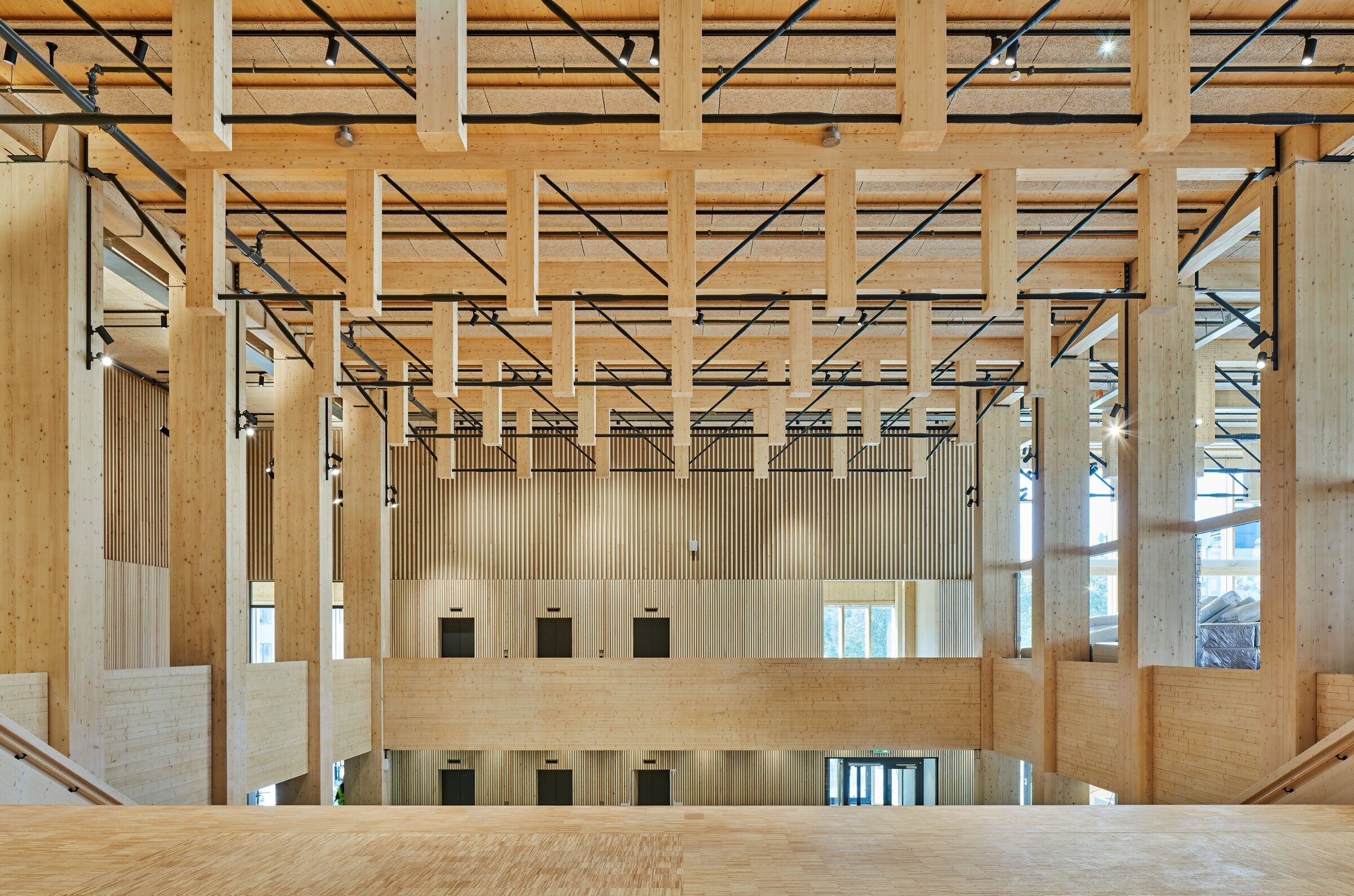 The grand foyers are overhung with GLT and steel hybrid trusses which allow an open plan space adaptive to a range of functions. Beyond showcasing the flexibility of timber, the project was also designed to function as a cultural community hub. At street level, timber volumes have varying degrees of scale and transparency, allowing a human scale to the project, with lower sized volumes adjacent to the narrow streets around the Centre existing alongside the grandeur of the hotel highrise which faces the town square.
Located centrally, the building features a double-skin glass façade which offers both literal and figurative transparency. This transparency serves as an invitation to the shared community programs within, as well as reflecting the Nordic sky. Multiple points of entry further enhance the welcoming atmosphere. The two ground floors are fully accessible and centre around an unprogrammed public 'living room' and stage for social engagement and performances with a number of satellite foyers used as gallery and exhibition spaces which can be modified according to future needs and uses.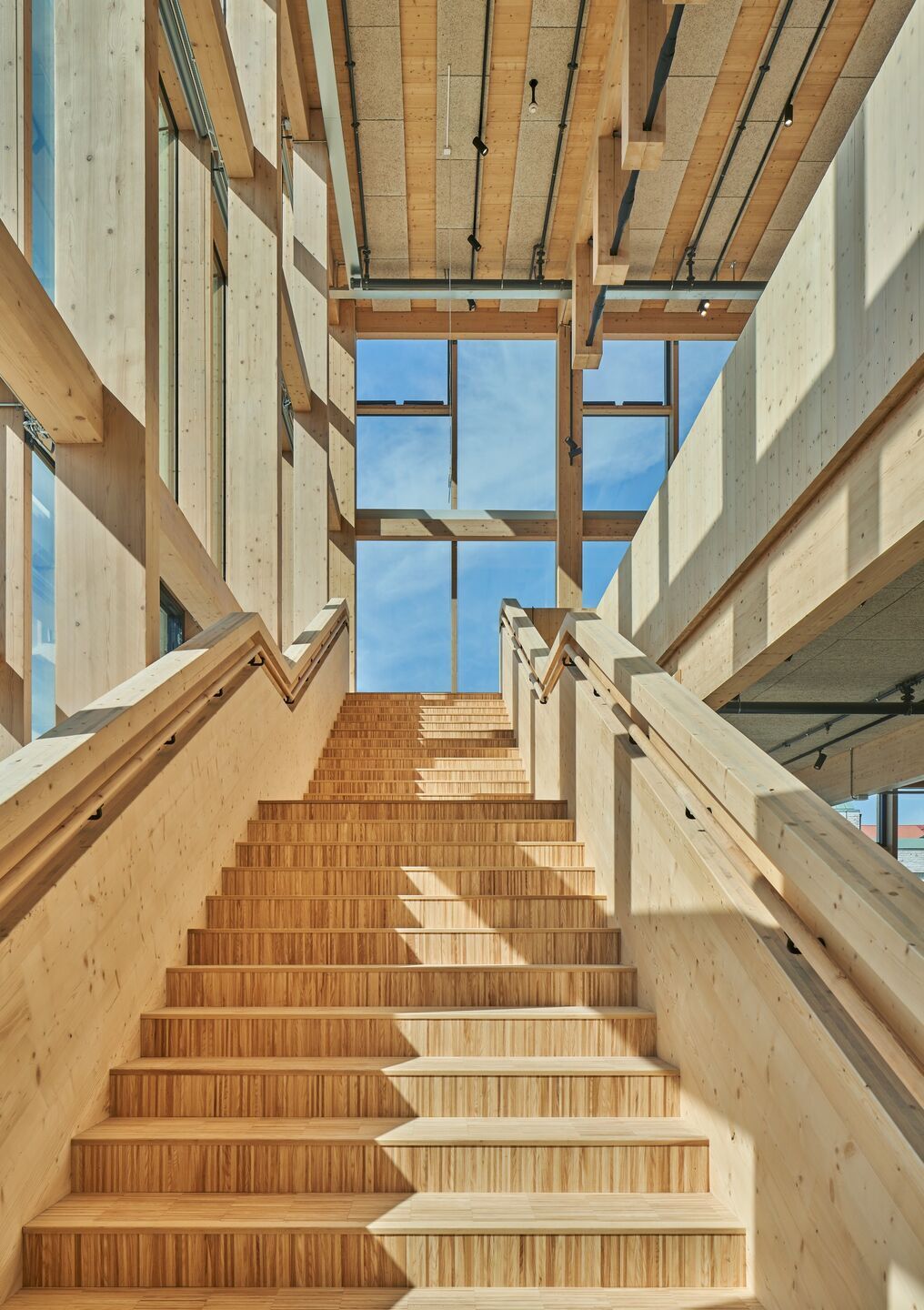 Robert Schmitz and Oskar Norelius, the Lead Architects at White Arkitekter explain the ideology behind the project:
"Mass timber has emerged as one of the most sustainable solutions for building structures known today. Realising a full timber structure of a complex building with mixed uses, mixed volumetry, and a high-rise of 20 storeys, Sara Cultural Centre broadens the application of timber as a structural material and proves that timber is a viable solution for virtually any building type. We hope that this project helps others in our collective transition towards carbon neutrality."
The end result is a striking and highly adaptive cultural and visual hub that showcases regional culture to visitors and locals alike. Through conscious design, the hybrid structure is able to meet a range of logistical and aesthetic challenges and break new ground in wood architecture and sustainable construction. Timber elements are core to the project's architectural, structural, aesthetic, and environmental expression. The use of this stunning natural material forms a sophisticated, dramatic, and sustainable iteration of the potential of wood-predominant builds and the Sara Cultural Centre complex serves as a new typology for creativity in Skellefteå.