Global design firm Handel Architects in collaboration with upscale property developers DM Development have recently completed Union House, a 7-storey luxury housing development in San Francisco. The mixed-use building comprises 41 residential units, a range of shared communal spaces, and 2,900 sq ft of ground level retail space. The boutique residences range from one, two, or three-bedroom floorplans, to multi-level townhouses and penthouse residences complete with private outdoor terraces. On the seventh floor, a rooftop Sky Lounge with sweeping views across the Golden Gate Bridge and San Francisco Bay is open to all residents. The Sky Lounge features patio seating, a fire table, and a communal kitchen and dining area for entertaining.
The project is built on a former gas station corner site in SF's trendy Cow Hollow district, with proximity to other chic dining, shopping, and residential neighbourhoods including Russian Heights, Pacific Heights, and the Marina. The architects' goal was to balance the heritage of the region with the latest in twenty-first century modernity, a 'contemporary but contextual' design philosophy. The clean, poured-stone panel and brushed bronze façade nods to the rich architecture of the surrounding neighbourhoods whilst situating Union House as a fully modern structure. Large picture windows add light and transparency, lending a sense of continuity between the residential spaces inside and the vibrant, bustling neighbourhoods beyond.
Union House stands at the corner of Union St and Van Ness Avenue. Union is a major East-West artery that starts near the Embarcadero waterfront and follows a steep incline upward through Russian Heights and Cow Hollow, ending at the Presidio. Van Ness Ave is a four-mile long North-South street which was once San Francisco's main thoroughfare and was used as a firebreak during the 1906 earthquake and fire that decimated much of the city. Together, these streets form an axis encompassing some of the most affluent and geographically desirable districts of the city.
When viewed from sloping Union St, the juxtaposition of bronze and stone façade elements of Union House lend the building a stacked, stepping style character, echoing the layers of architectural history of the region and anchoring the elements as a cohesive geometric whole within San Francisco's famously steep and uneven urban landscape. The building 'steps' on Union mediate the scale between the median density housing typical of the breadth of Van Ness and the more intimate building typology of Union St.
Russian Hill and Pacific Hill in particular are famed for their opulent mansions built for and lived in by icons of the region. Handel sought to capture the feeling of a grand home reminiscent of a bygone era and translate that aesthetic of grandeur and livability within a boutique structure comprised of multiple dwellings. The design palette focused on extending the warm tones, textures, and details of neighbouring architecture into the new space via a more refined, contemporary materiality expressed through clean, sophisticated lines. This palette allowed the architects to situate the local design vernacular within a hospitality ethos inspired by European boutique hotels, creating an overall mood of invitation.
A striking bronze grille canopy adorns the building's main entryway door, inviting guests into a sumptuously furnished double-height lobby and seating parlour complete with an Anatolian marble fireplace. The lobby interior sets the tone for the residences above, featuring Portuguese limestone floors inlaid with black Belgian limestone borders. Walls made of Eucalyptus wood (an Australian Native brought to the Bay area during the gold rush on the mistaken assumption it could be used for timber and now prolific across the region) on are inset with rich, dark leather panels. Bespoke artworks and lighting decorate the space. A large, custom deco-inspired chandelier by Lusive Design was envisaged as a lamp/beacon, illuminating the space within to passersby and drawing them in.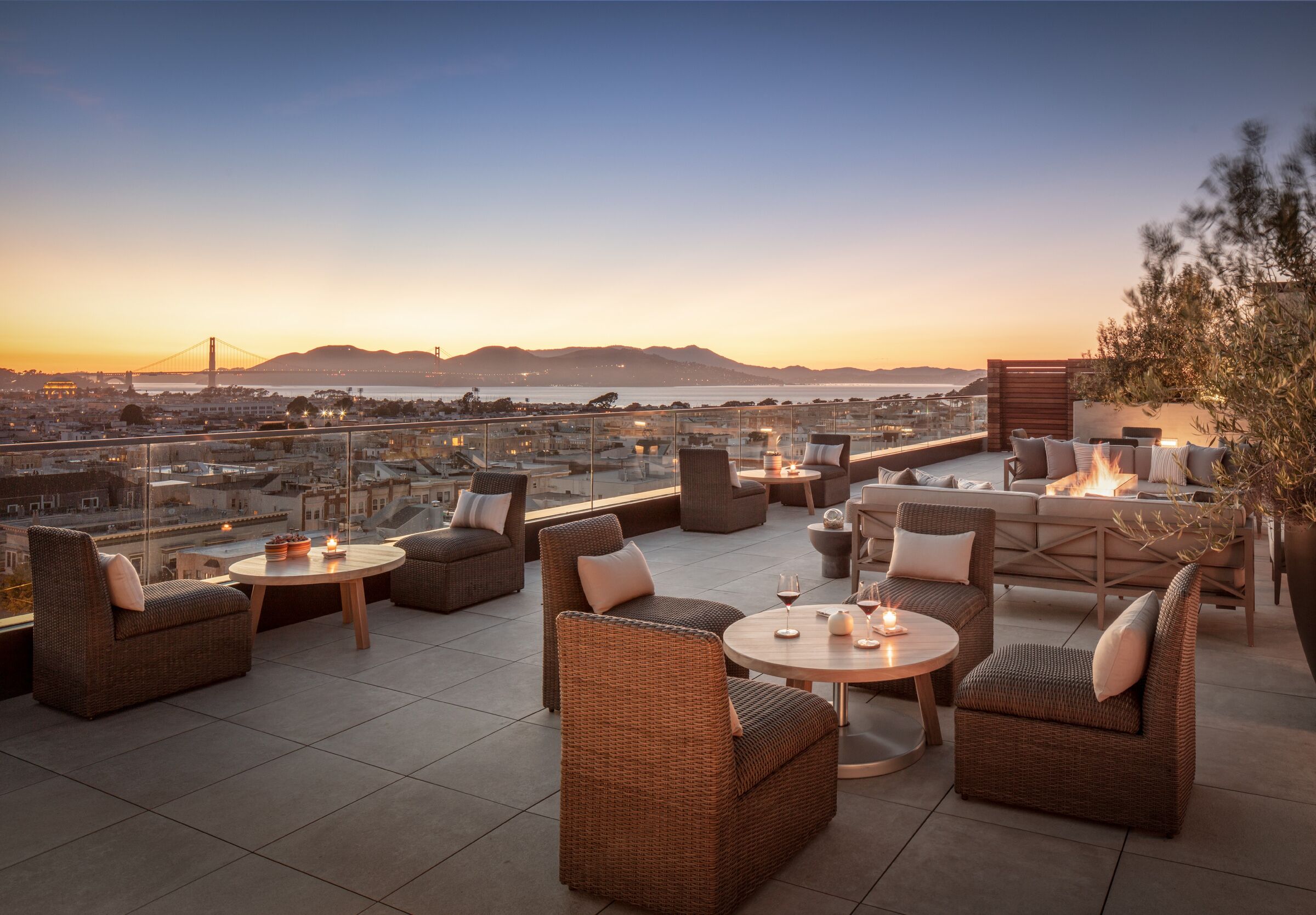 The open plan residences all feature oversized, acoustically treated windows, high ceilings, and wide-plank oak flooring. Interior materials match the façade palette. Kitchens are outfitted with dark oak cabinetry, Carrera marble countertops, high-end polished nickel fixtures and bronze-finished concealed range hoods. The old-world aesthetic of the overall design is also expressed in bathrooms featuring free standing centrepiece soaker tubs and custom white lacquer vanities.
Property developer DM anchor their projects in a three-pillar philosophy of design, living, and community. By collaborating with Handel Architects, this vision could be married with a sustainable building philosophy appropriate to the vital urban environment in which Union House is situated. The result of the collaboration is a contemporary yet historically redolent condominium complex which unites seven storeys of bespoke, custom, curated living spaces into one brand-new signature, bold, and timeless iteration.