What was the brief?
Full renovation and fit-out of an apartment in Hale House mansion, London Kensington. The property total area is 250sqm. It is a four-bedrooms apartment with wide main reception room and kitchenlooking towards the pedestrian Canning Passage and Family Room that can serve as a TV Room and Study. The Master bedroom is provided with walk-in wardrobe and en-suite shower-room, concealed behind pivoting doors.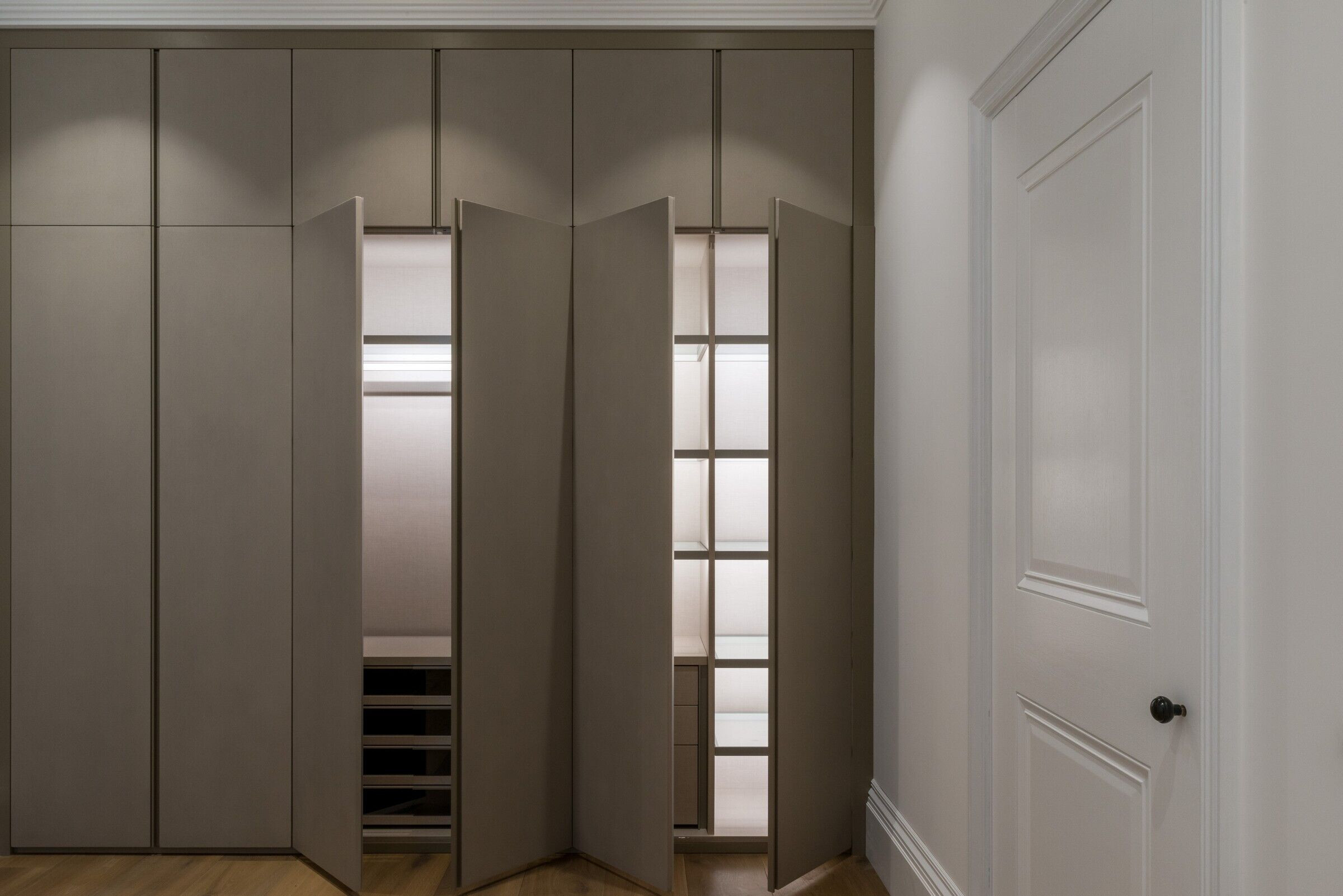 What were the key challenges?
It has been designed to meet the client's expectation of high-quality finishes and contemporary design in respect of the original features, as high ceilings and traditional sash windows.Because of the great complexity of the project and excellent standards expectations, it has been quite challenging to find and manage all specialist suppliers and consultants in order to achieve such a final result beyond expectations.
What materials did you choose and why?
The kitchen main feature in undeniably the Lucifero Marble that has been used to wrap the kitchen island. All units are in natural oak, made to measure in Poland and light grey washed and matt vanished on site. The combination of marble and wood gives a warm feeling and contemporary look. All bathrooms have been designed in different shades of grey, including black Crittall shower screens and doors and brushed stainless-steel tapware. All shower roomsdesign isinspired by luxury hotel-style, giving the feeling of light and airy interior. The master en-suite has been designed to host two comparted areas for shower and toilet room,a long bespoke white spayedvanity and worktop made of Airy Concrete man-made quartzwith two undermounted built-in basins.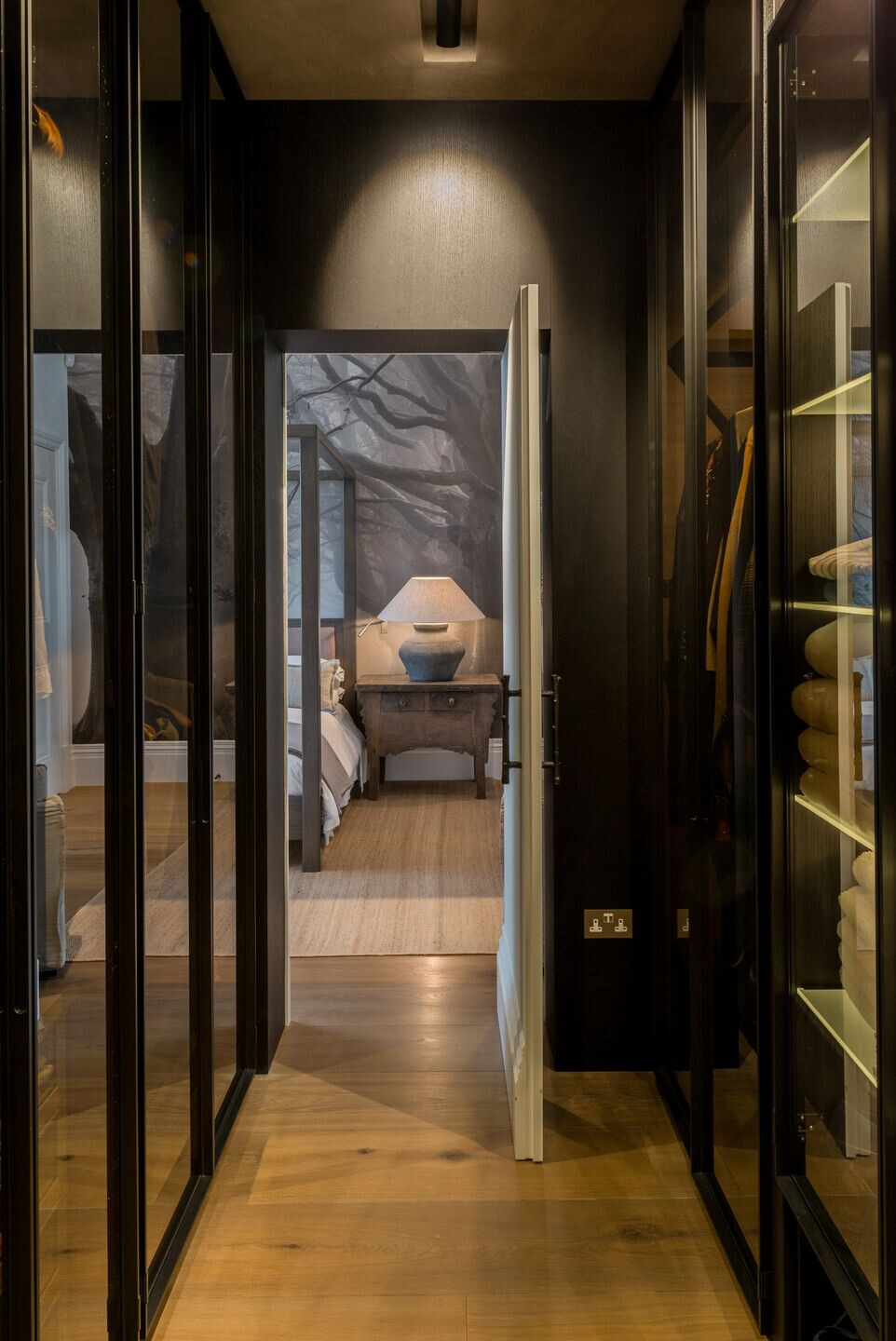 All wardrobes have been specially made by Lema. The master walk-in wardrobe has been designed with illuminated see through glass shelves and bronze aluminum framed glass doors. The ceiling has been made with Venetian Stucco with recessed track spotlights.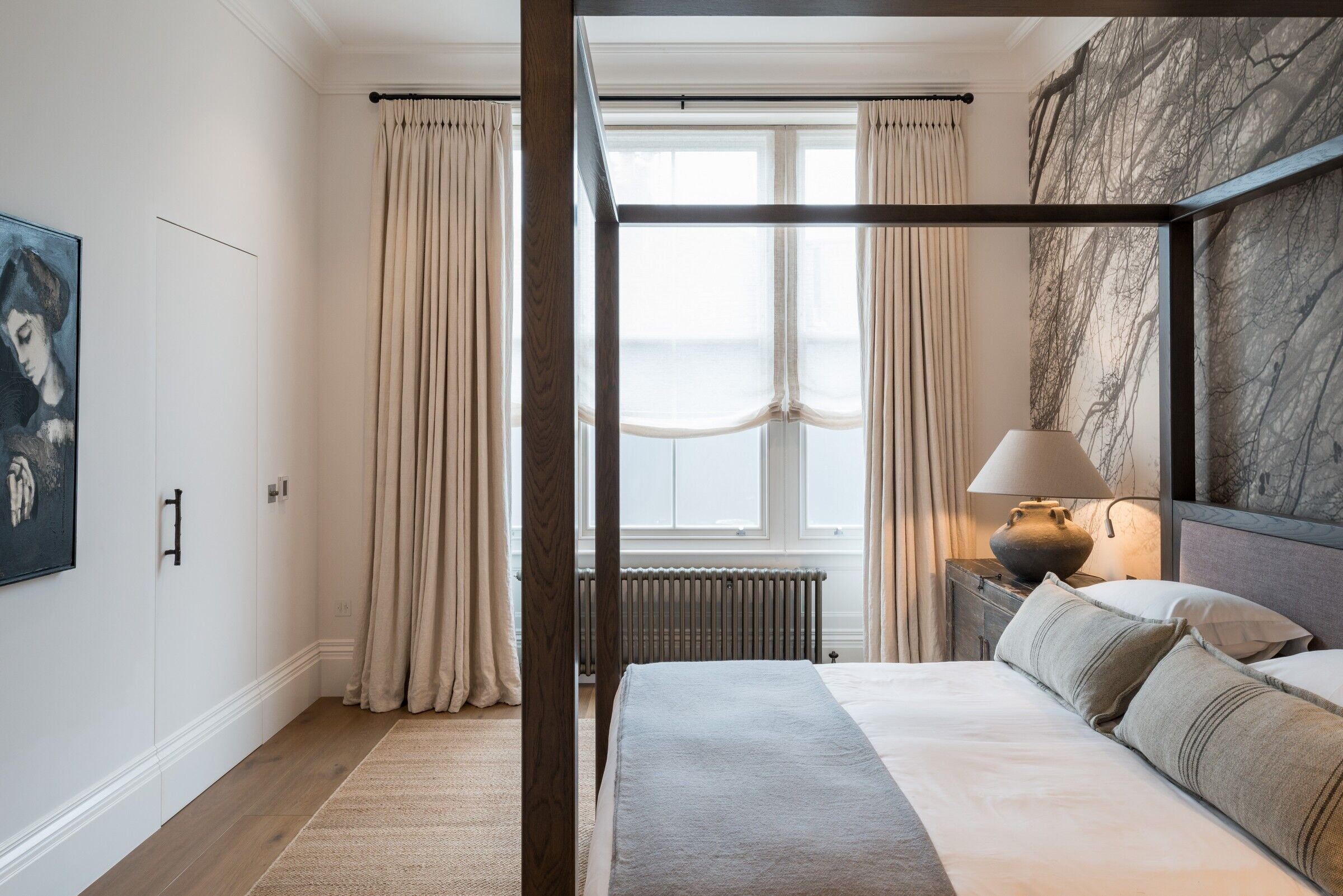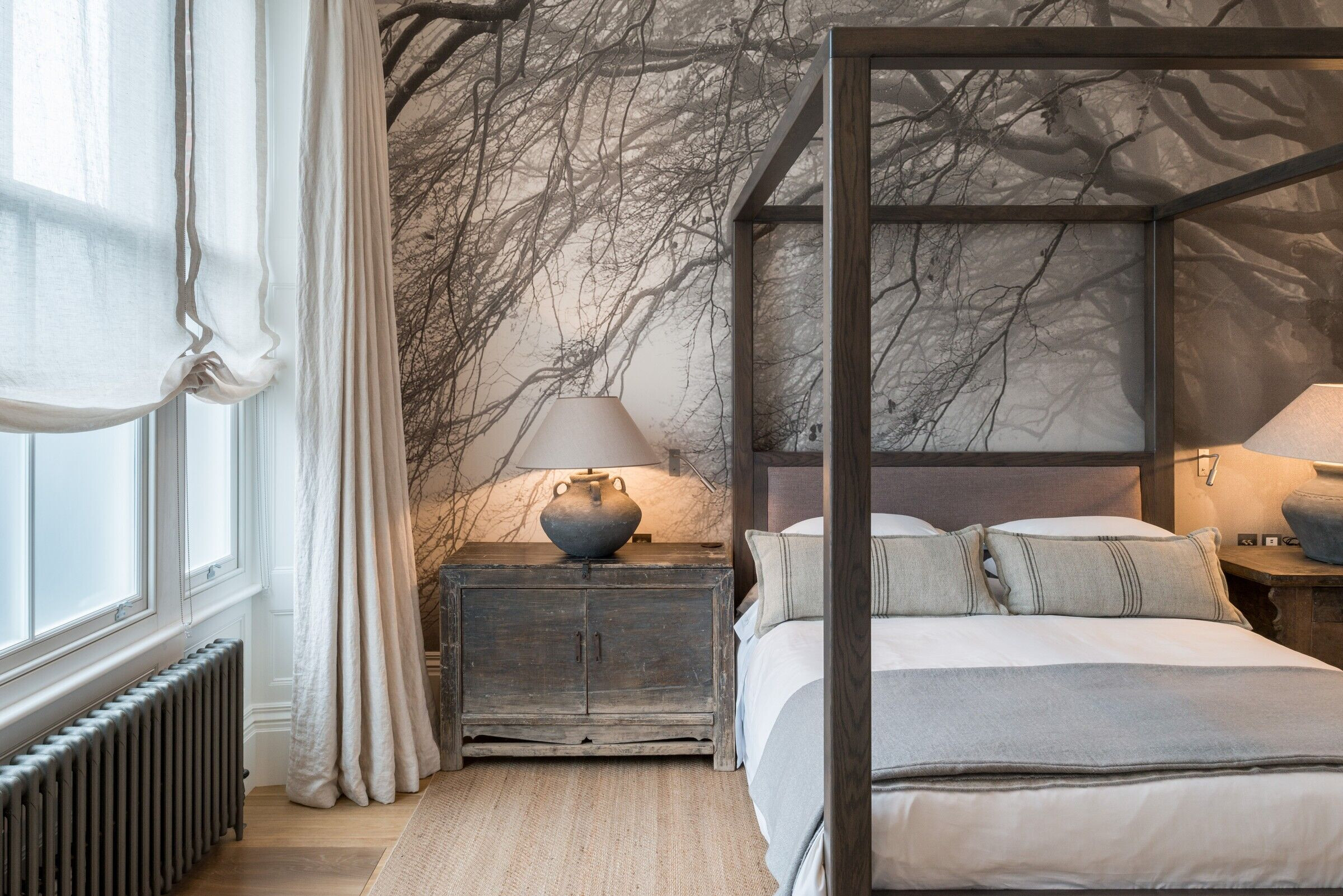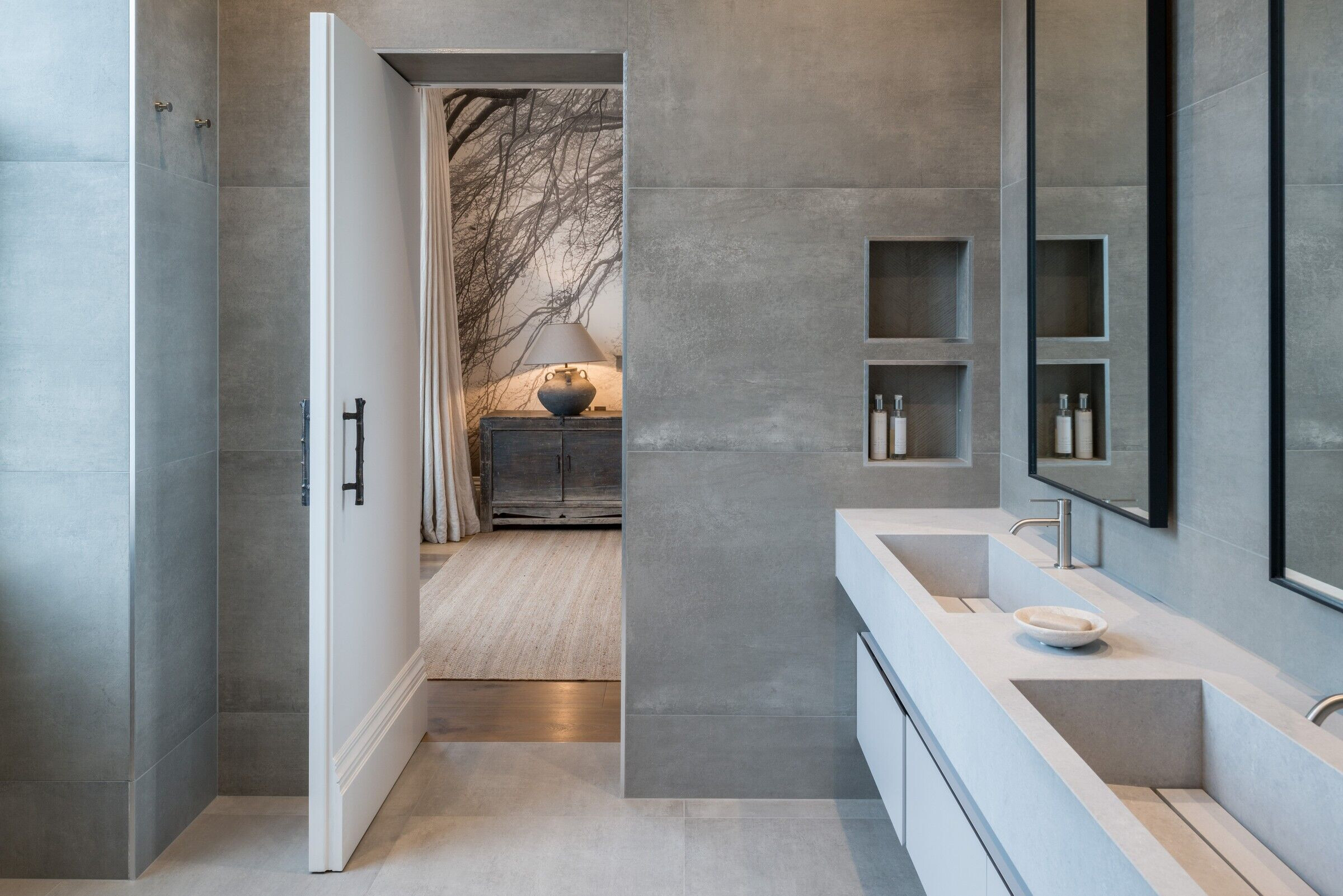 Material Used :
1. Bedrooms: Engineered, Nature Grade Plank, Ted Todd
2. Living area and hall: Special Aversley Panel Engineered, Nature Grade Panel, Ted Todd
3. Doors: Solid Wood Fire-Rated White Painted, Kensington two panels doors, made to measure by contractor's joiner
4. Windows: Timber, Sash Windows, Grabex
5. Kitchen: Black glass, Pendants, Penta Glo Lamps,
6. Walk-in wardrobe: Recessed black track, Spy Focus spotlights, Delta Light
7. Other rooms: White, Recessed downlights, Astro
8. Master walk-in wardrobe: Door frames, hanging rails and hardware in bronzed, Aluminium, Selecta storage unit in Carbone Oak with open top and lower shelves, Door front panels is bronzed semi-reflective glass, Dandy Wardrobes, Lema
9. Bedroom 1: External finish: Heat Treated Oak; internal structures in melamine Lino, Kyn Wardrobe, Lema
10. Bedroom2: Externally in matt lacquer col. Pepe 804, Door fronts in Clay Ardesia; Internal structures in melamine Lino wardrobe, Lema
11. Bedroom 3: Units finished externally in matt lacquer col. Ombra 803, Internal structures in melamine Lino, Flago Wardrobe, Lema
12. Kitchen: Oak, Kitchen units, made to measure by joiners
Lucifero Marble, Kitchen worktop, Paolo Interiors
Airy Concrete man-made quartz, vanity top with undermounted basins, Paolo Interiors