A memorable three-day event for Venice, and for the world of fashion and design. The spotlights are also on Barovier&Toso, with installations of amazing artistic impact.
A new leg on the Grand Tour of beauty by Dolce & Gabbana. The Venetian lagoon was the protagonist of a celebration in grand style of Italian authenticity and its exponents of excellence. The loftiest expression of craftsmanship Made in Italy, Barovier&Toso couldn't help but be on hand, presenting a preview of the home collection by Dolce & Gabbana. The journey unfolded in two spaces, iconic locations in the city: the Scuola Grande della Misericordia and the Arsenale. Both sites and their displays were enhanced by the surprising installations of Barovier&Toso, which for the occasion created a number of very special pieces.
Eccentric, colourful and passionate scenes have been imagined by Domenico Dolce and Stefano Gabbana, interpreting four of the favourite themes of the maison: leopard and zebra patterns, Mediterranean blue, and Sicilian carts. The Venetian crystal produced by Barovier&Toso brought these motifs to life, adding vibrant, luminous notes of colour. The compositions were sophisticated and elaborate, the result of intensive work on custom design made to measure, astonishing all viewers. These colossal creations required extraordinary labour, calling into play all the expertise of the master glassmakers.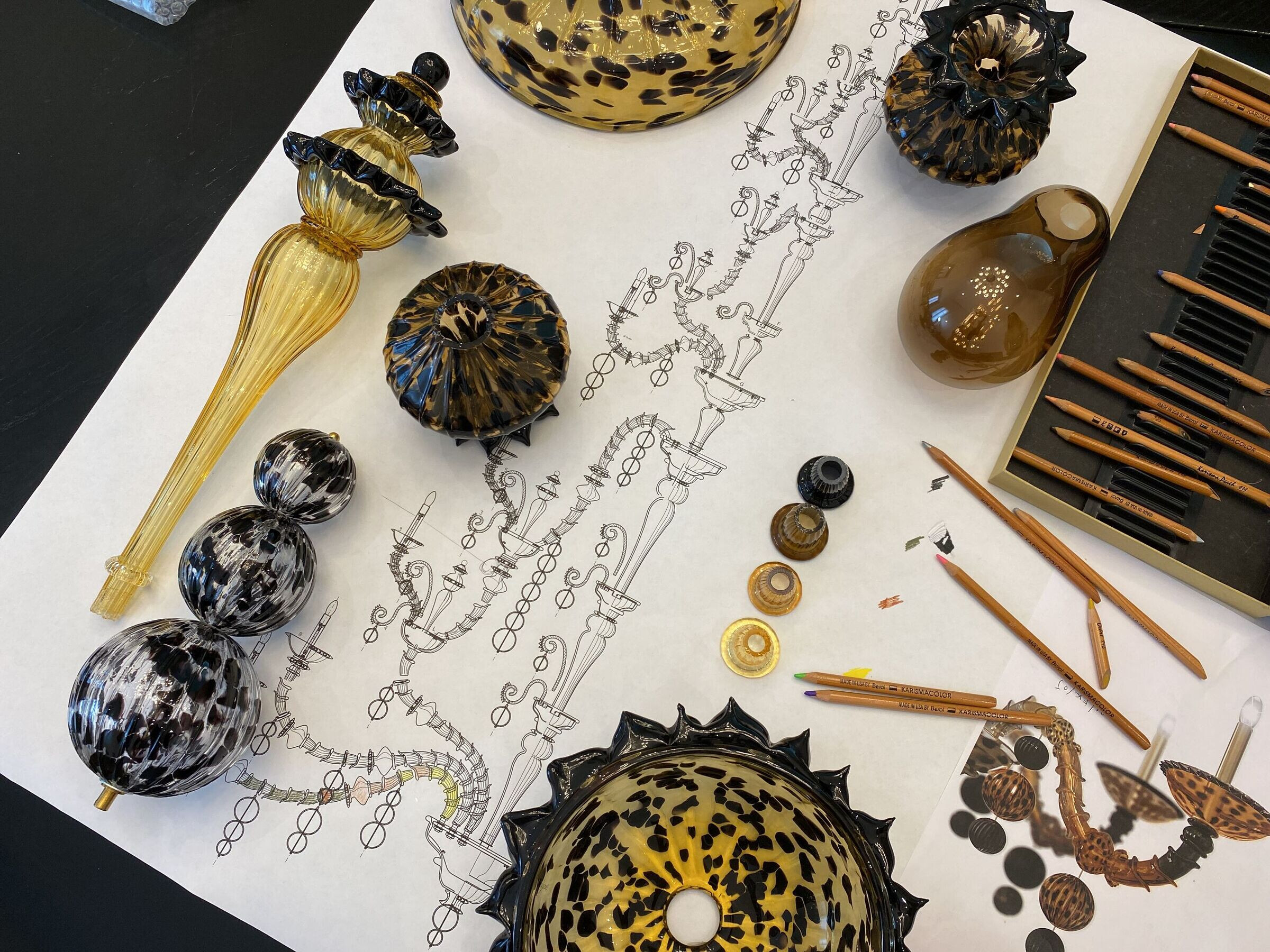 For the leopard pattern, Barovier&Toso has made five spectacular chandeliers with 56 lights, each over five meters in height, with leopard decorations and black rostrato effects. About 20,000 pieces were required to build these works of art, charging the atmosphere with sparkling and enticingly warm hues, for a truly majestic, theatrical experience.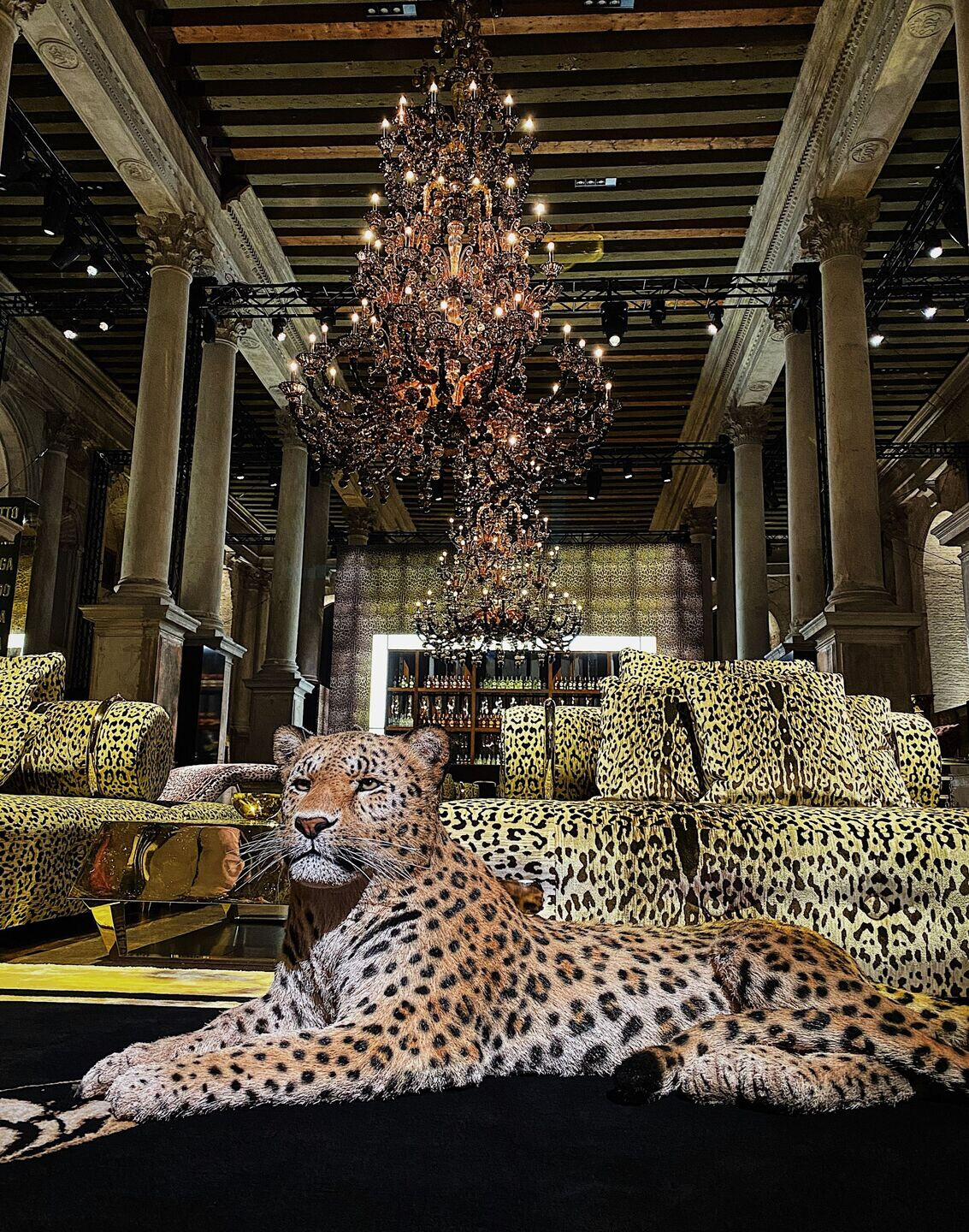 For the motif of the Sicilian cart, the two projects carried out by Barovier&Toso shared the lively outbursts of colour typical of the Sicilian tradition, a constant inspiration in the collections of Dolce & Gabbana. In tune with this fil rouge, Barovier&Toso has created five very special suspension lamps, each composed of six chandeliers mounted on cartwheels in handpainted wood: a festival of seductive colours of great magnetic charm. Red, Antalya green, blue, caramel and amber were also the protagonists of the other installation, a cascade of crystal composed of 14 suspension lamps arranged in space to create an intriguing, dynamic pattern, producing a striking three-dimensional effect. With a height of 7.5 meters, this creation contained as many as 3000 glass tubes with a square cross-section, crafted with a bark-like finish. Each suspension was formed by an enclosure of multicoloured vertical parts, balanced to bring out the intensity of one colour at a time. The final result was an extraordinary tableau of saturated colours and ample forms.

Lastly, Barovier&Toso interpreted the theme of Mediterranean blue, creating ten clustered suspension lamps entirely composed of square-section tubular parts, with a bark-like finish, arranged to trigger intense shadings from pale crystal to cobalt blue: 2450 tubes were produced in the glassworks for the structure of this enchanting wave of light and colour.Una tre giorni memorabile per Venezia, per il mondo della moda e del design. Sotto i riflettori anche Barovier&Toso, che ha sfoggiato installazioni di incredibile valore artistico