Building 228 forms the framework of DTU Chemical Engineering - a building for world-class research, innovation and teaching, with facilities of the highest international standard.
The building houses laboratories, classrooms, workshop facilities and a large-scale experimental facility, called PILOT PLANT.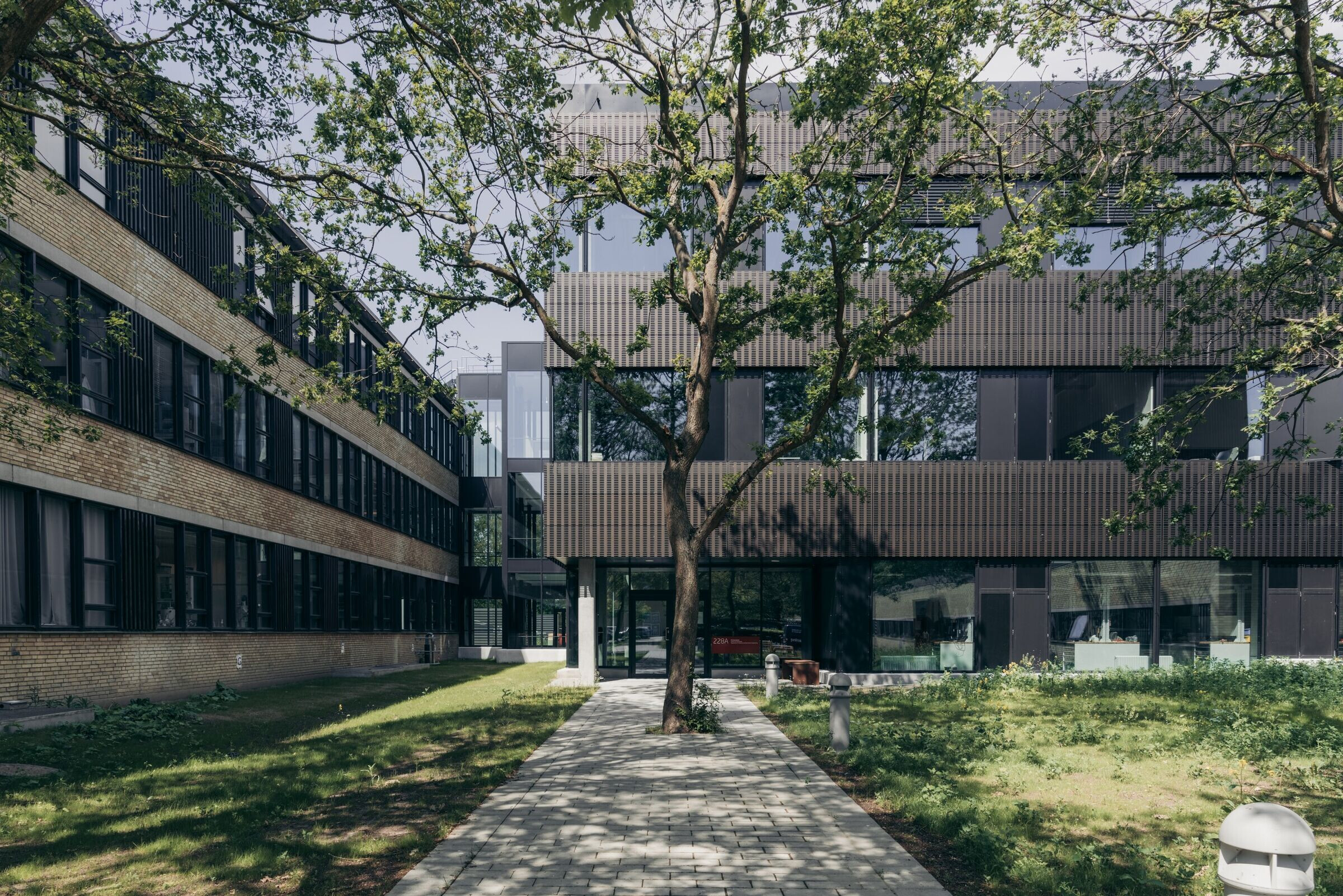 The building also houses common student facilities, as well as administrative areas. Mikkelsen's project entailed new construction and renovation and addressed DTU's need for teaching and research space. The client, DTU, expressed the desire to create open, flexible work environments that would inspire employees and students, and ensure more efficient, hands-on research environments and work processes. The client wanted the project to promote DTU Chemical Engineering's position as one of the leading university institutes in the Chemical and Biochemical Engineering field in the world, and emphasize DTU's focus on practical and viable research, education and innovation. Mikkelsen Arkitekter designed Building 228 to accommodate the learning and innovation environments of the future. In addition to creating new and better facilities, 228 also links the existing buildings together, creating better flow and synergy between research, teaching and knowledge sharing, where one can translate theory into practice, also with large-scale experiments. The research facilities are designed with a high degree of flexibility, so they can be easily transformed according to future requirements.
Mikkelsen Arkitekter facilitated the user process and assured that the project met the special learning environment requirements, in the way of training and educating students to work on a semi-industrial scale, and be able to transfer fundamental research from the laboratory to industrial use. The experimental facilities and laboratories are designed and equipped to be able to work with biomasses, biofuels, fermentation, pharmaceutical production, particle technology, organic solvents, high-temperature experiments and gasification experiments. The laboratories are GMO 1 and GMO 2 classified.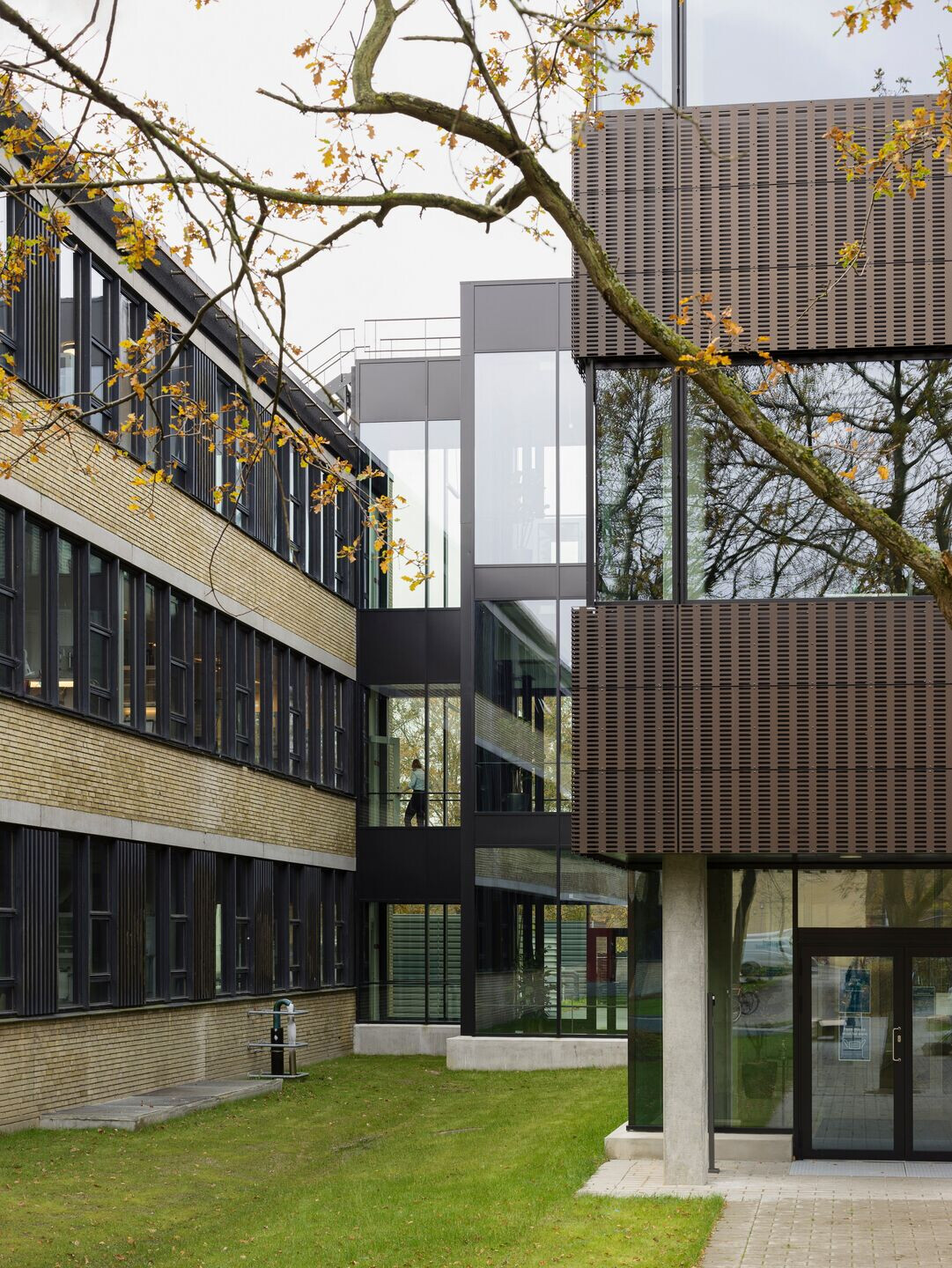 DYNAMIC AND AESTHETIC ARCHITECTURE IN COMPACT AND MASSIVE DIMENSIONS
To transform DTU's building stock and build according to high architectural requirements, the new rooms had to be multi-functional teaching zones and laboratories with extensive technical installations. With 228, it was Mikkelsen's goal to develop long-term, sustainable solutions for future research environments, supported by a design that strengthens the interaction between students, researchers, employees and guests, while assuring flexibility with regards to layout and multiuse. We worked with value-based optimization so that the spaces in Building 228 elevate the standard of DTU's student activities, for example with regards to promoting a more creative and synergic environment. We also worked with quantitative optimization, so space is utilised more optimally, for example, diversified use of the spaces. With the design of 228, Mikkelsen Arkitekter has contributed to creating connections, synergy and communication, by providing strong, spacious and functional coherence in the actual building. We defined the overall concept, by dividing the building up into the more technical area, with laboratories, halls etc. and the less technical area, with administration, conference rooms and lounge. The technical area is directly connected to the roof via shafts, and the less technical area is separated by skylights that bring sunlight into the building and forms coherence with the circulation space. Building 228 is connected to the existing buildings, 227 and 229 with elegant glass partitions and corridor connections on all floors.
SUSTAINABILITY
The sustainability methodology used in Building 228 was based on the certification system DGNB, and the completed building can be classified as DGNB Gold. Building 228 has been designed with a comprehensive focus on economic and environmental sustainability and has minimal energy consumption, a good indoor climate, has optimal conditions in terms of acoustics and daylight, and requires minimum maintenance. In the initial phase, the design team developed an objective and a sustainability strategy, based on DGNB and carried out an initial screening. The point of departure was to find interdisciplinary solutions, which could ensure that the building was optimal, from an overall economic perspective, and various comparative concepts were developed in the integrated design process, with focus on the economic and environmental aspects, including a prioritization of sustainability topics. Mikkelsen facilitated separate sustainability workshops and was a part of the decision-making process in relation to the building's sustainability status. The project was screened and quality assured on an on-going basis, including solution calculations, and for every project stage shift a measurable status was performed for the team's decision-making.