This apartment for four in Navi Mumbai, Maharashtra, India, spotlights a seamless confluence of contrasting styles. While the children preferred a contemporary design, the parents aspired for a classical look. Coalescing both, a unique aesthetic emerges, foregrounding a penchant for whites, blues, and greens. With wood being a designated limitation, bespoke furniture, ambient lighting, and the material palette with its easy-to-maintain, high-gloss finish sets the tone for the design vocabulary.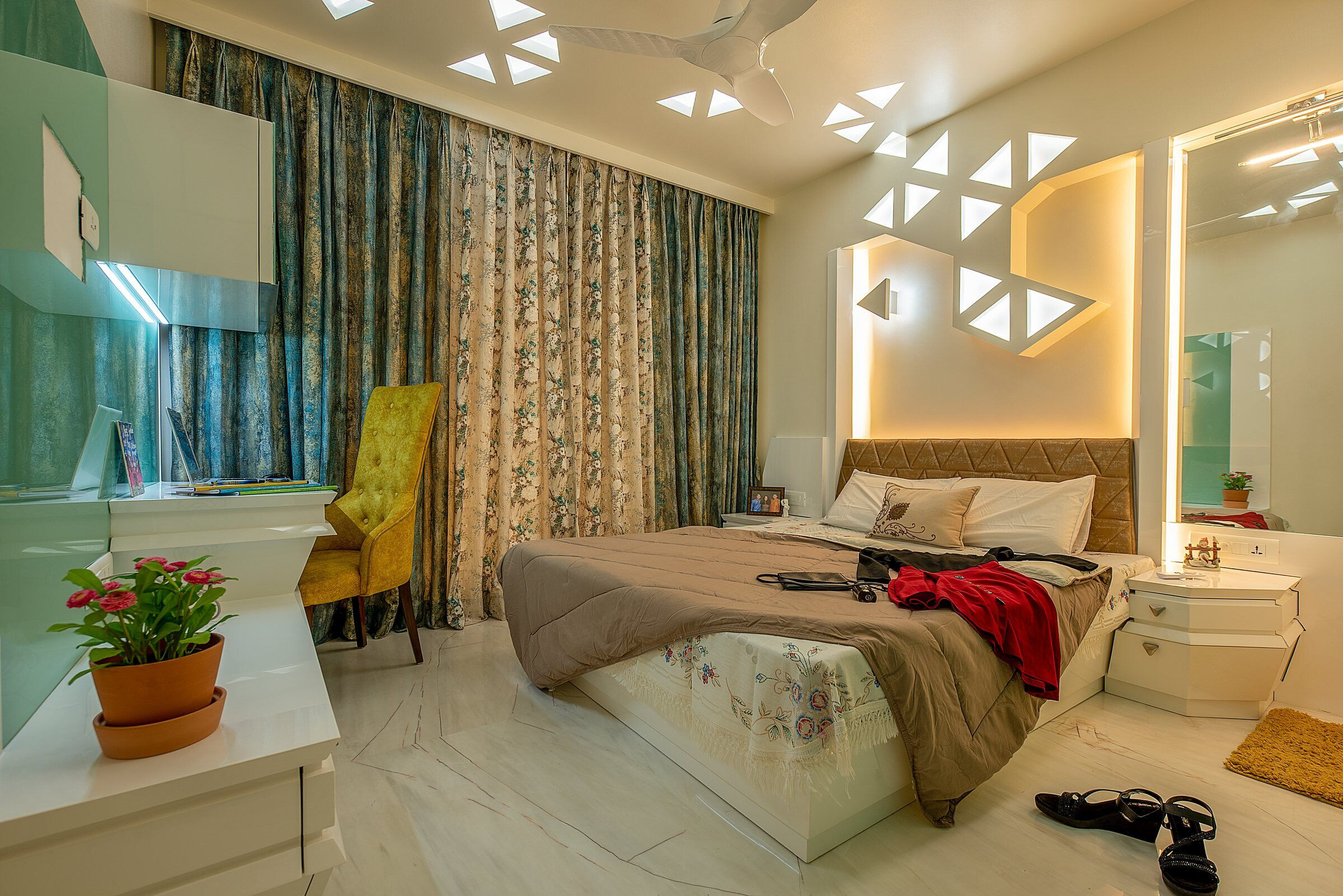 As always, Lalit Hira uses one-of-a-kind treatments and custom-designed furniture to define the home. In this apartment, the pièce de résistance is the dramatic ceiling, the all-determining fifth plane.
An elaborately designed seemingly double door (one part plays dummy) offers glimpses of the interior through its laser-cut grill. A combination of marble, wood, and metal, with a vertical garden close-by, the entrance heralds the apartment's language.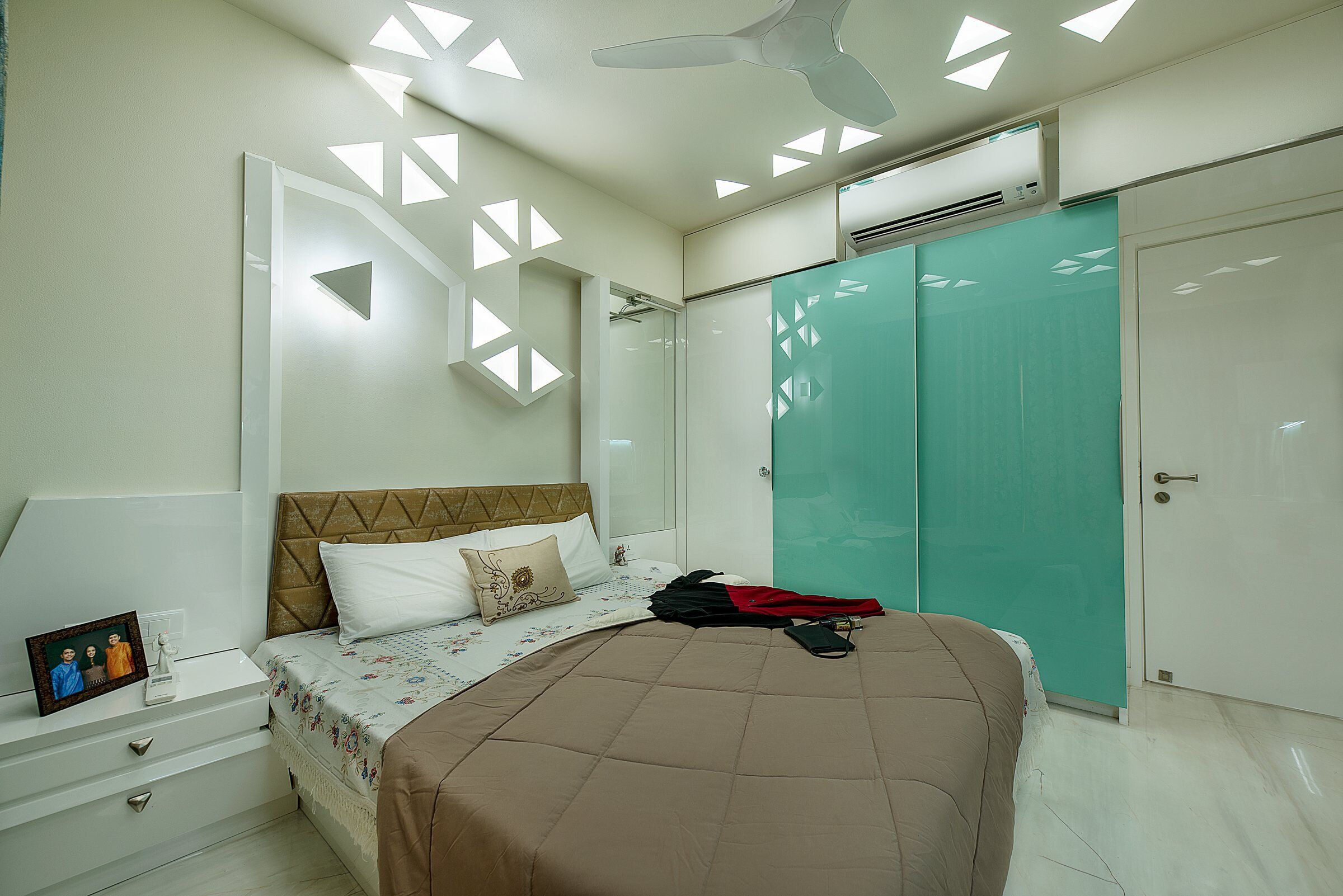 With a six-foot-wide run-along balcony circumventing the living, kitchen, study and bedroom, the L-shaped living-cum-dining area affords an open plan with a multi-layered ceiling demarcating zones. Frameless, full-glass sliding-folding shutters maximize views, crafting a breath-taking outdoor experience. A cove responds to a classical chandelier.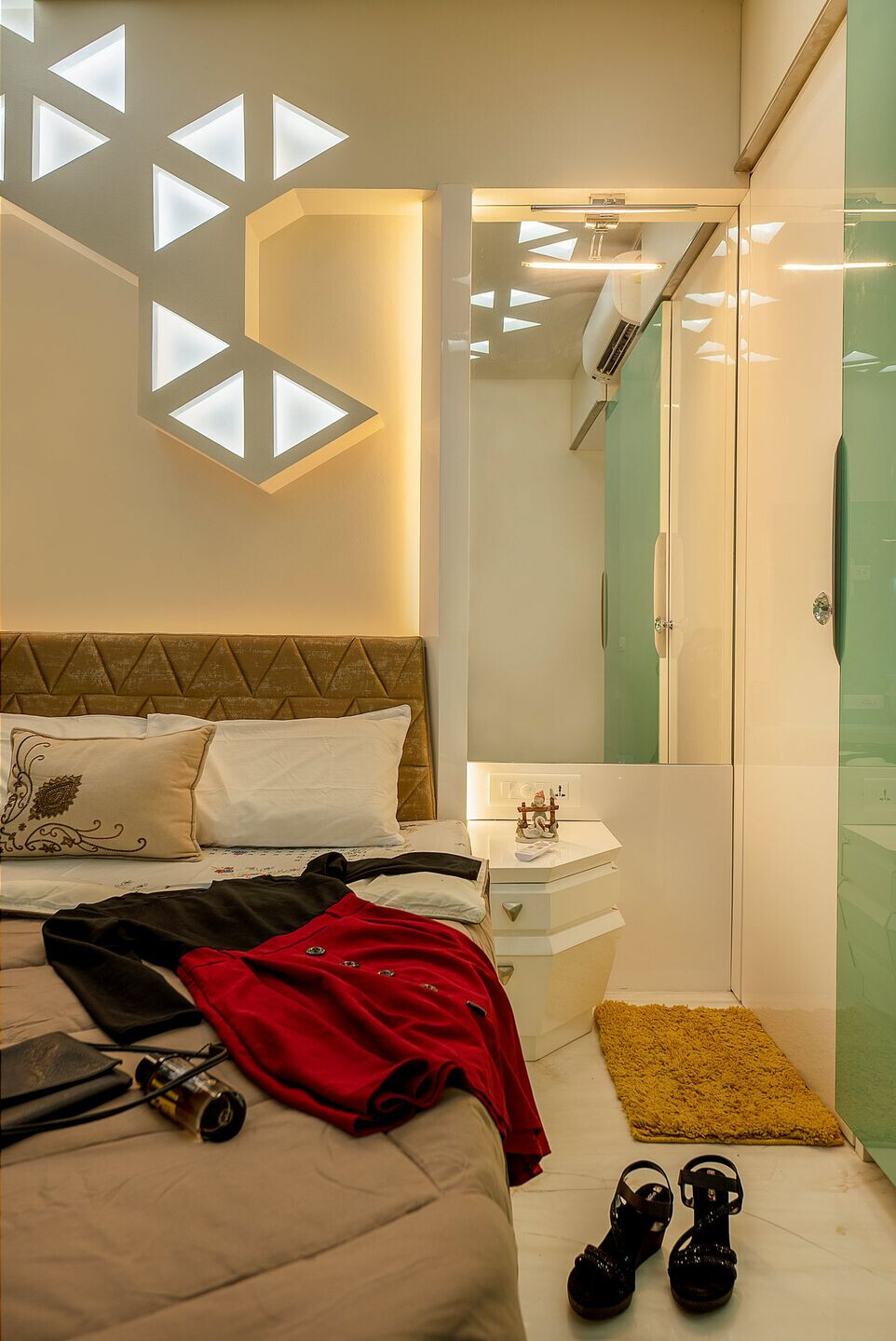 A semi-secluded kitchen, ingeniously cordoned off with roller-blinds, maintains both interaction and privacy as just a few pieces of classical furniture anoint the uncluttered living area, augmenting spaciousness. A mirrored backdrop visually lends a feel of infinite space in the dining nook. A gold-leafed, carved wooden piece placed in the scooped ceiling completes the nook and echoes subtle hints of Art Deco.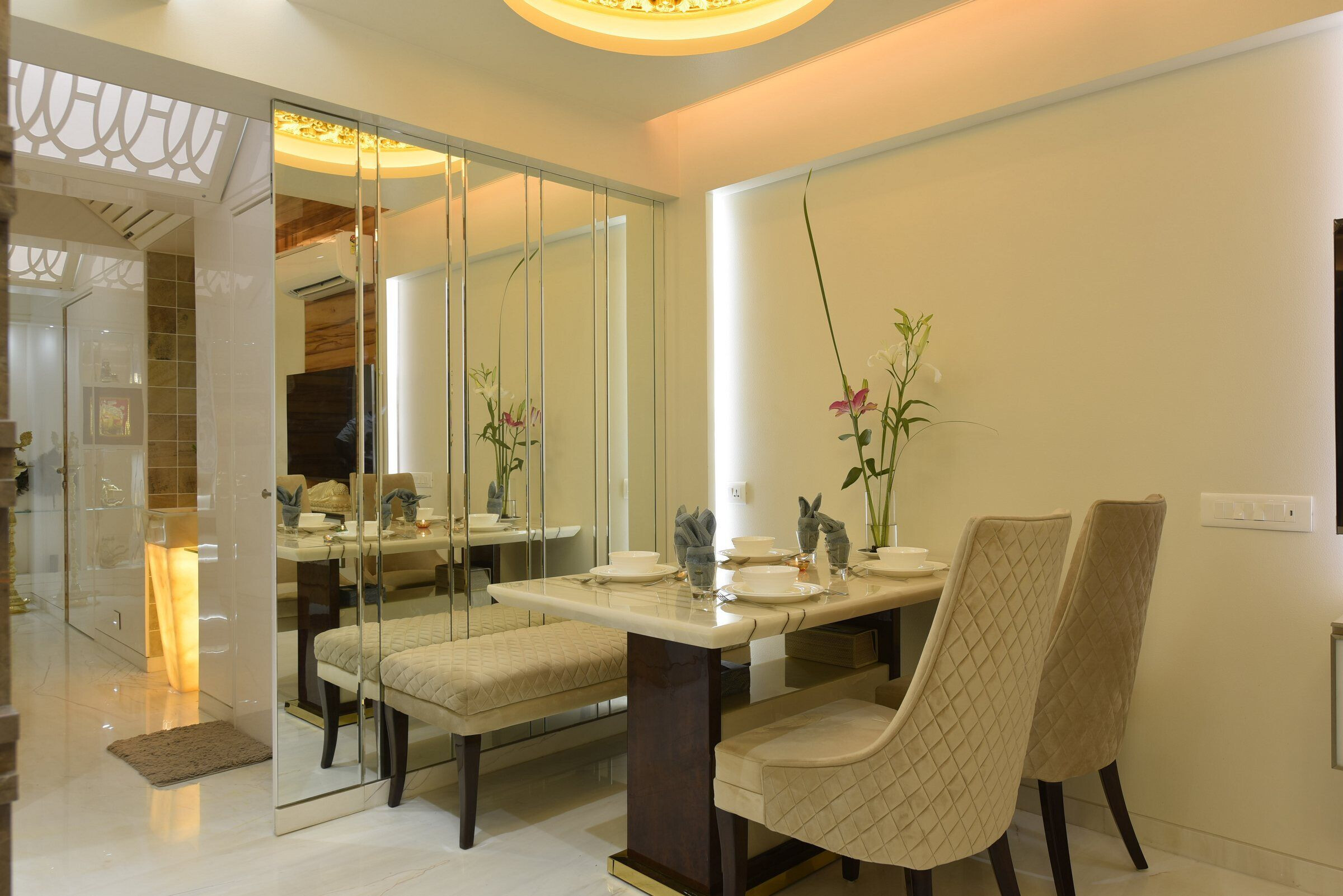 A stepped false ceiling announces the passage, where three of the four panels are backlit, resembling a sloping roof. A freestanding onyx washbasin with its fossil-stone backsplash cleverly dwarfs linearity. The bedrooms offshoot from this passage that further leads to an attic-like space – a single bedroom with an en-suite bathroom above.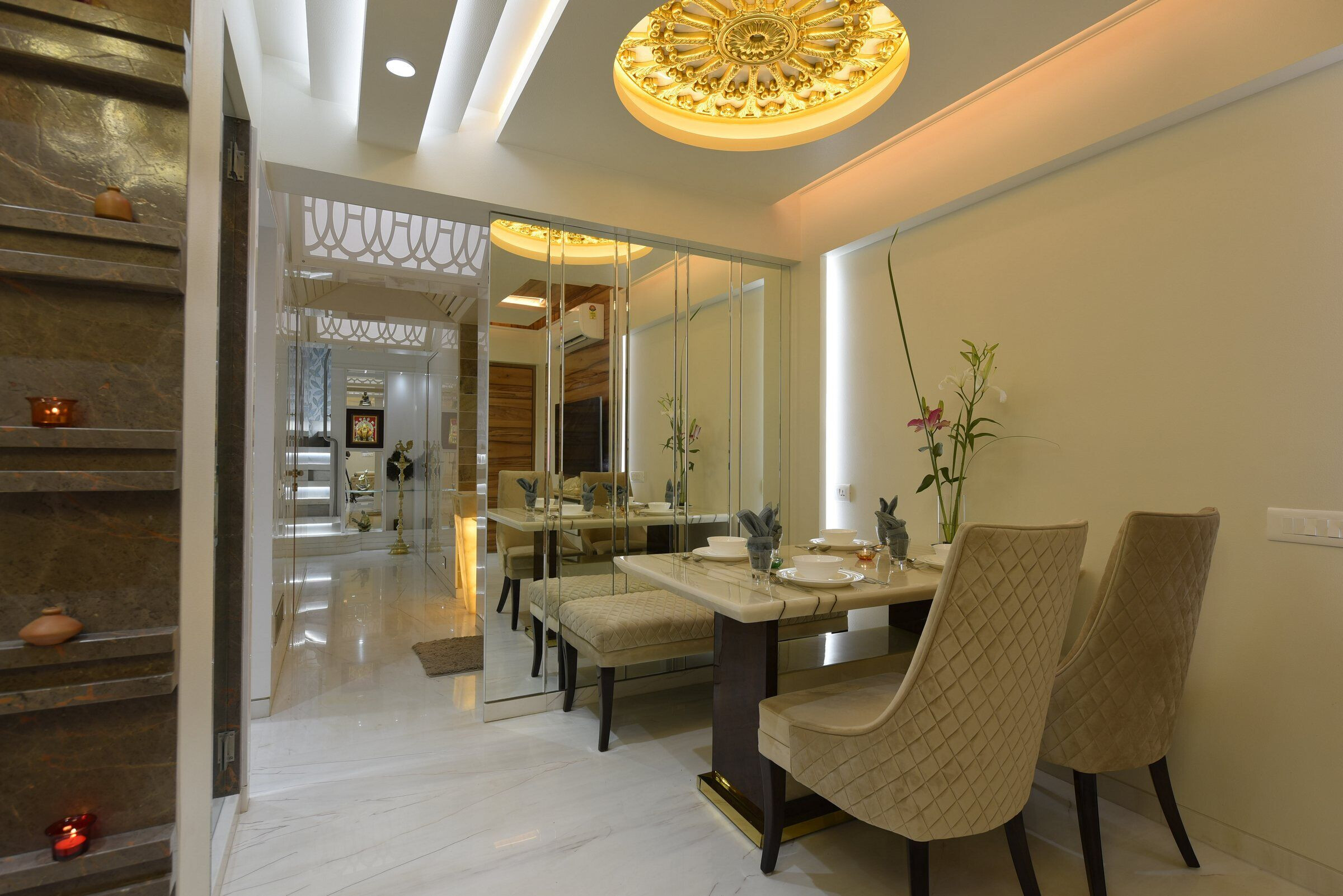 The study doubles up as a puja-room, guest bedroom and a space for entertaining with flexible furniture assisting multiple functions. Colourful cushions vie for attention. Soft florals juxtapose against solid hues. A simple cove ceiling finished in silver self-printed wallpaper excels while muted gold and silver accents in a delicate wallpaper offset the soft glow of LEDs.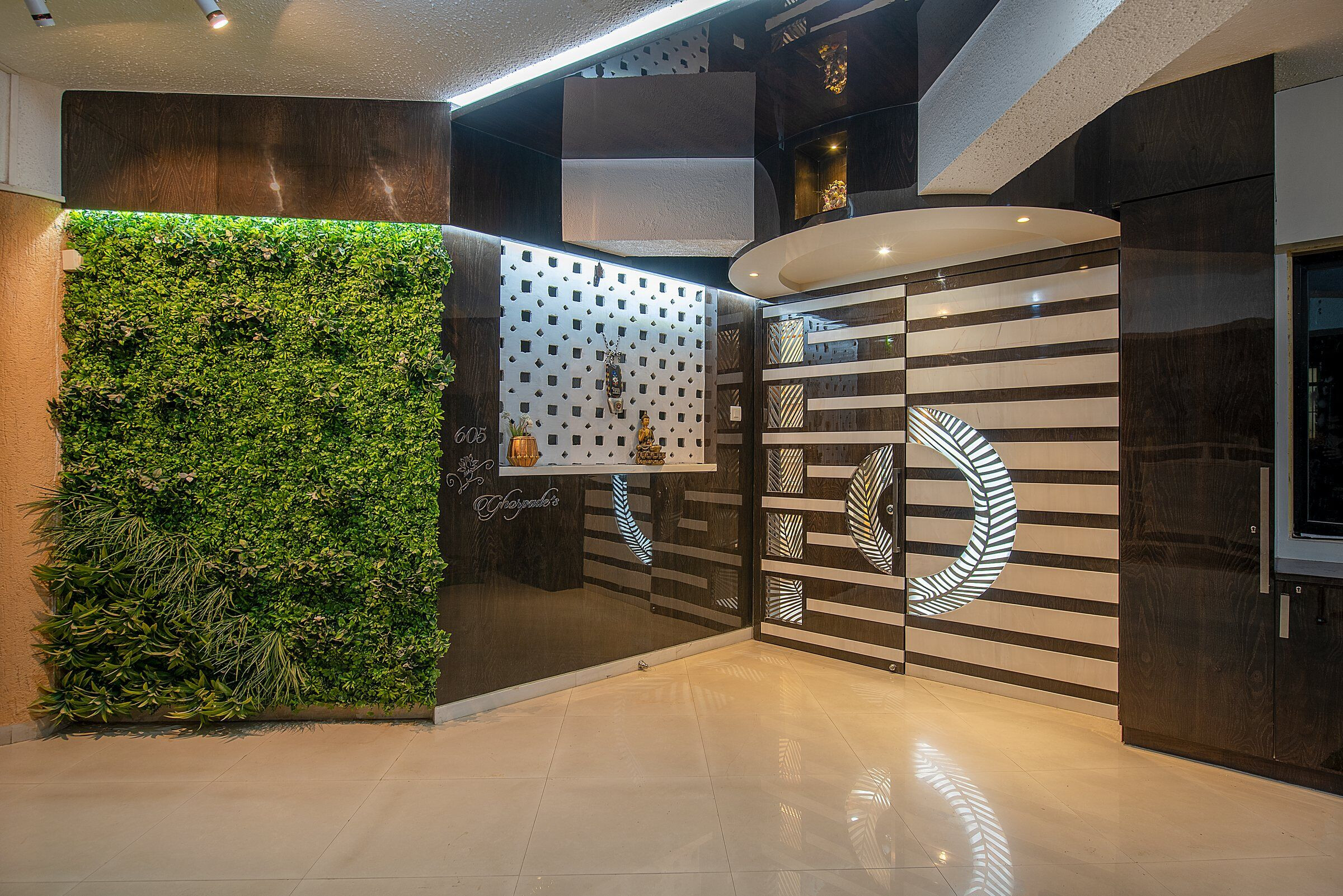 Mood lighting plays showstopper in this residence. The primary bedroom comes alive with built-in white and blue lights in the bed, side tables, wall unit and shelves, orchestrating myriad moods. Acid-etched classical design on mirrored shutters, exquisite lace embroidery on nuanced blue curtains emphasises understated indulgence. A flat false ceiling maintains balance, camouflaging structural aberrations.
The daughter's bedroom features a unique ceiling that drops dramatically down to form the headboard. Recessed geometric forms create an interesting play of forms highlighted by lights. The son's bedroom with its height limitation sports a louvered ceiling designed to stagger light, creating an ambient atmosphere.
Walls partially clad in grey marble, carved metallic-finish furniture, and delicate brass inlay strips in a marble tabletop, underscore subdued luxe appeal.
Maximizing space while introducing a captivating contrast, Lalit Hira crafts a warm abode, where the classic and the contemporaneous ebb and flow harmoniously.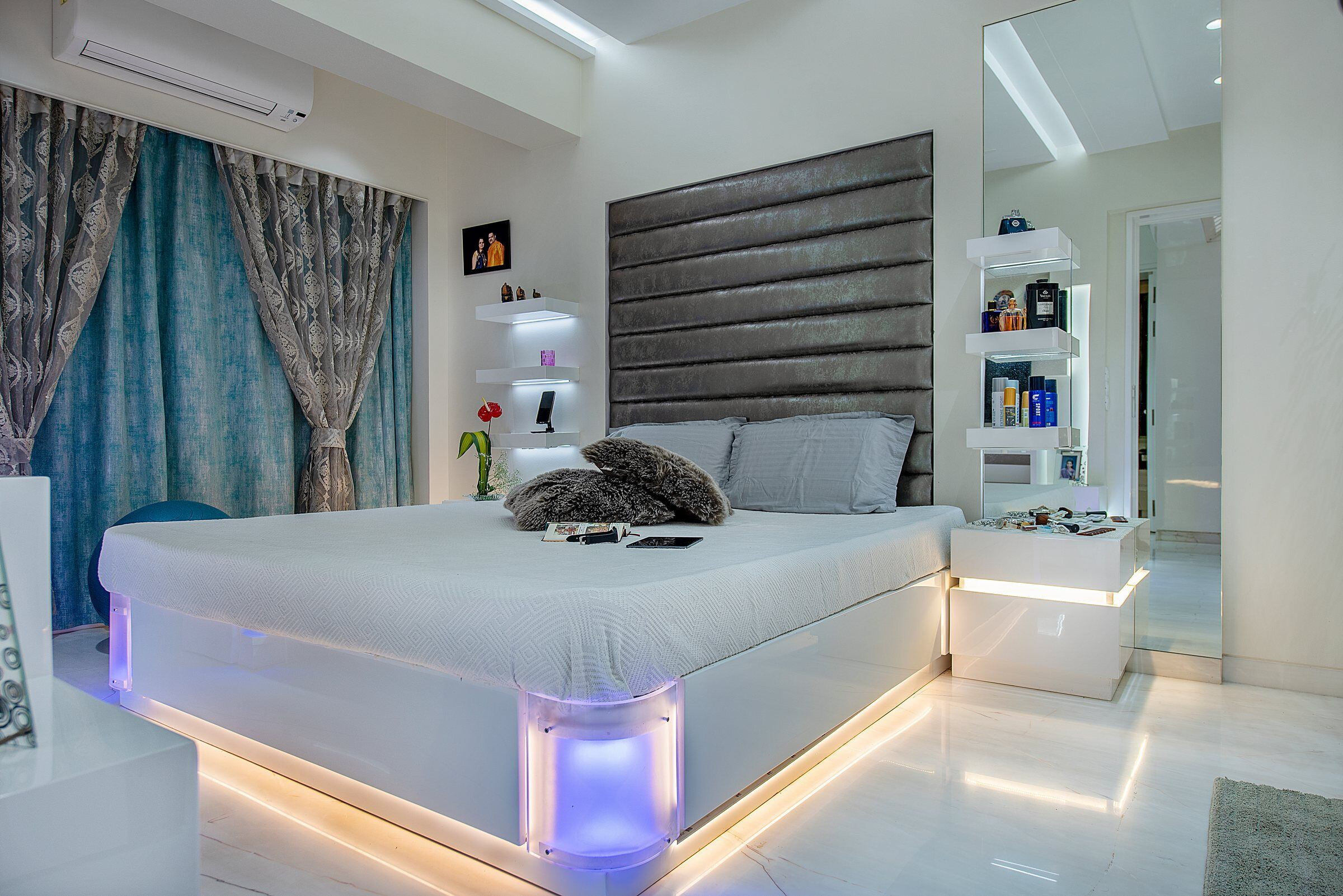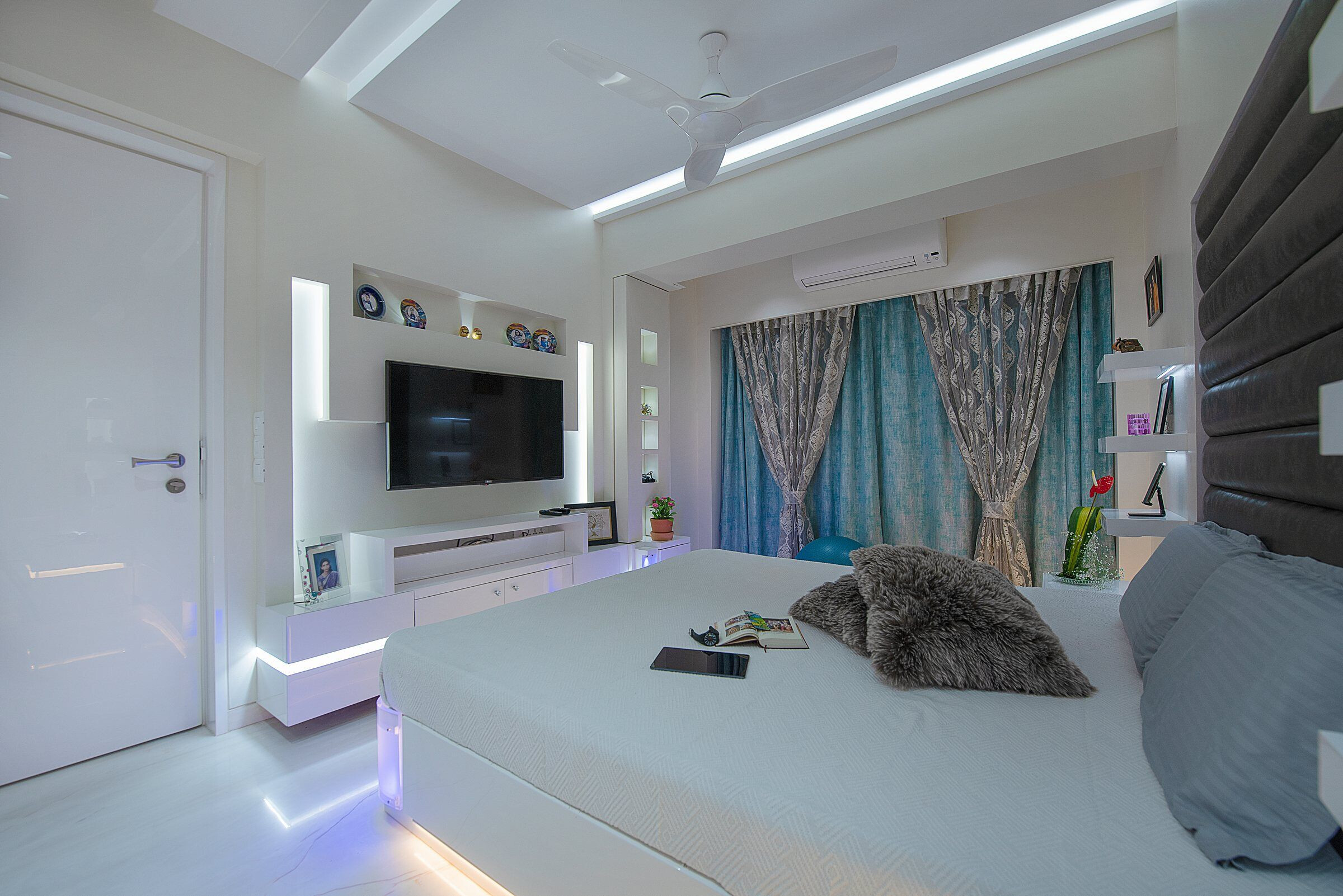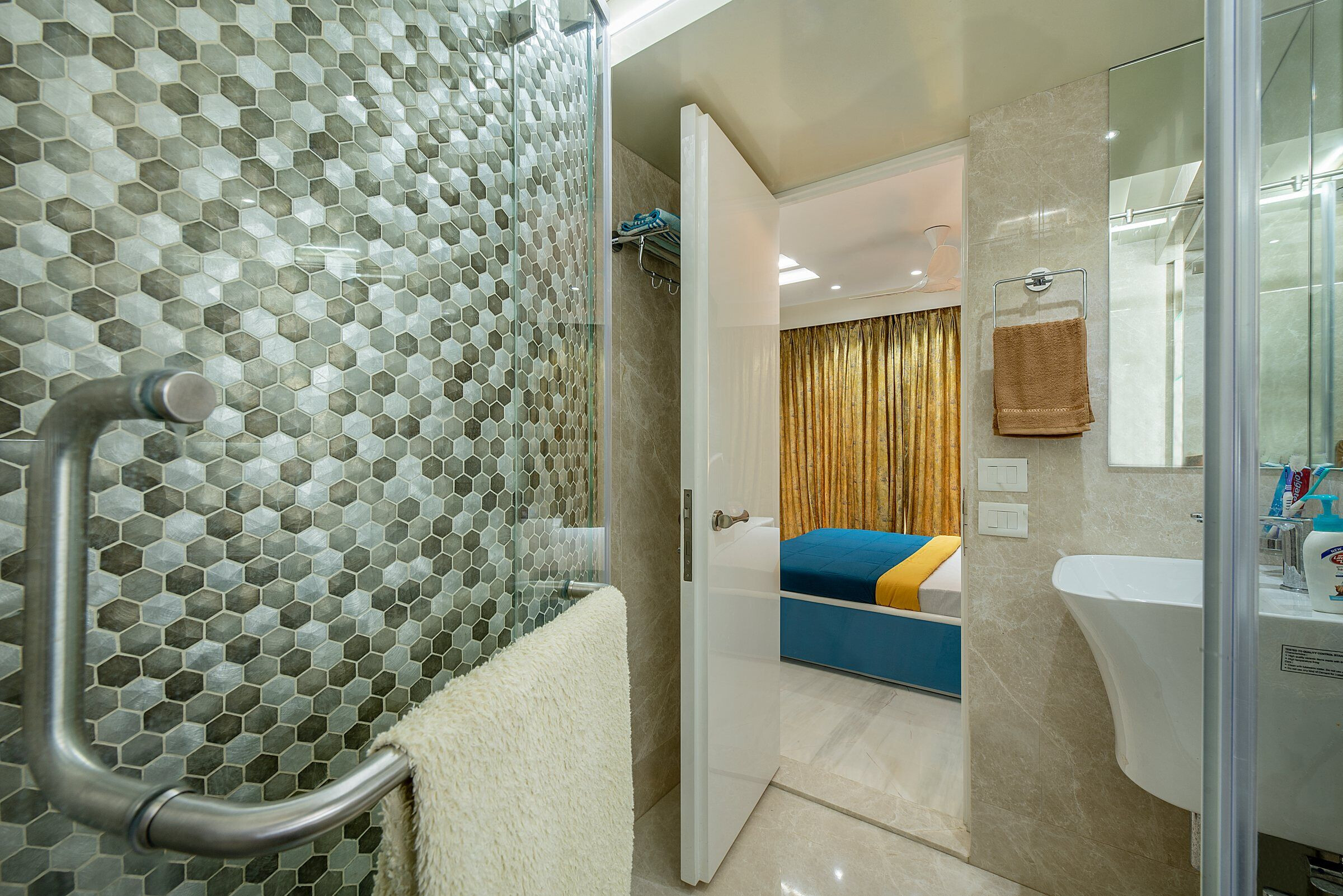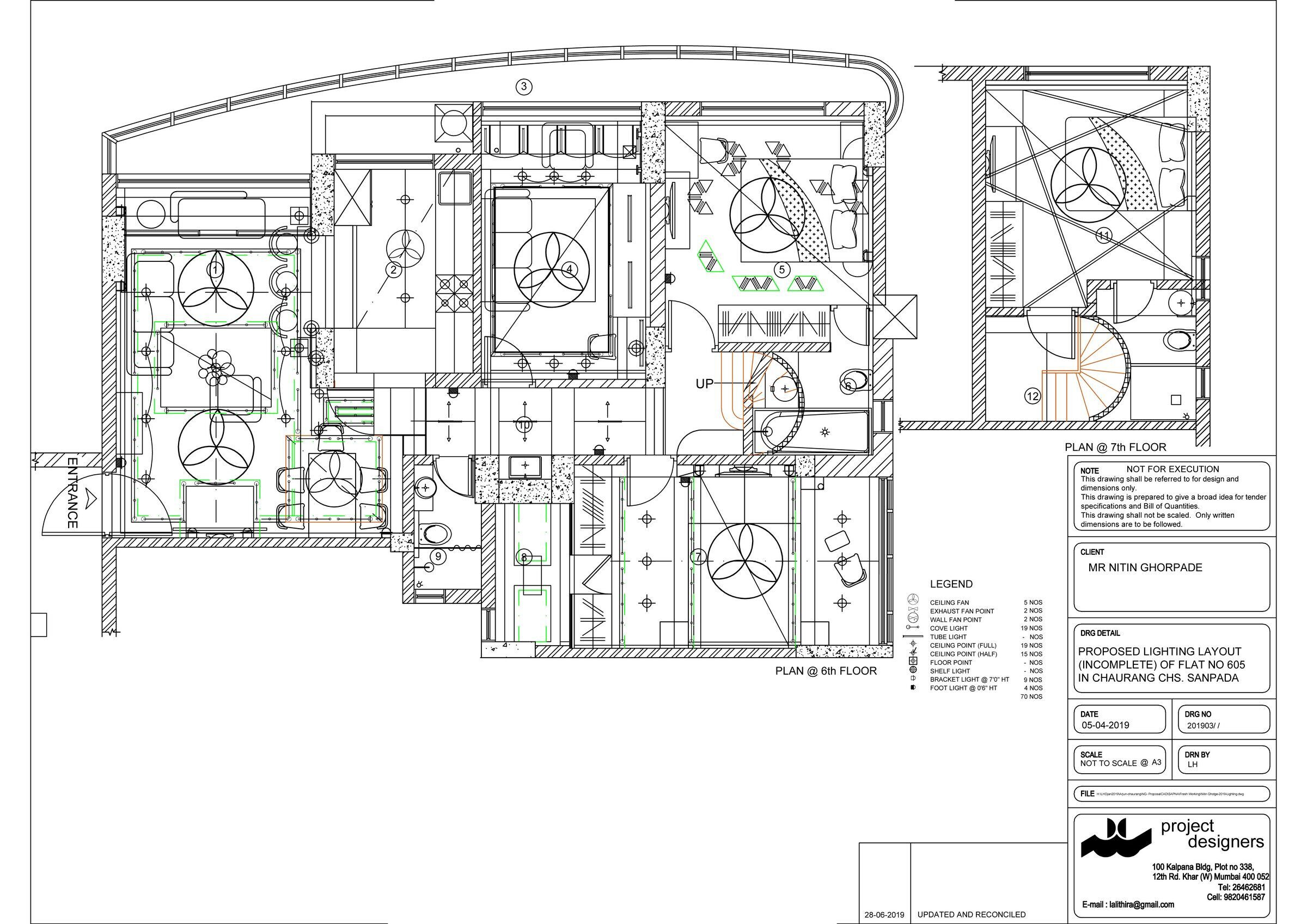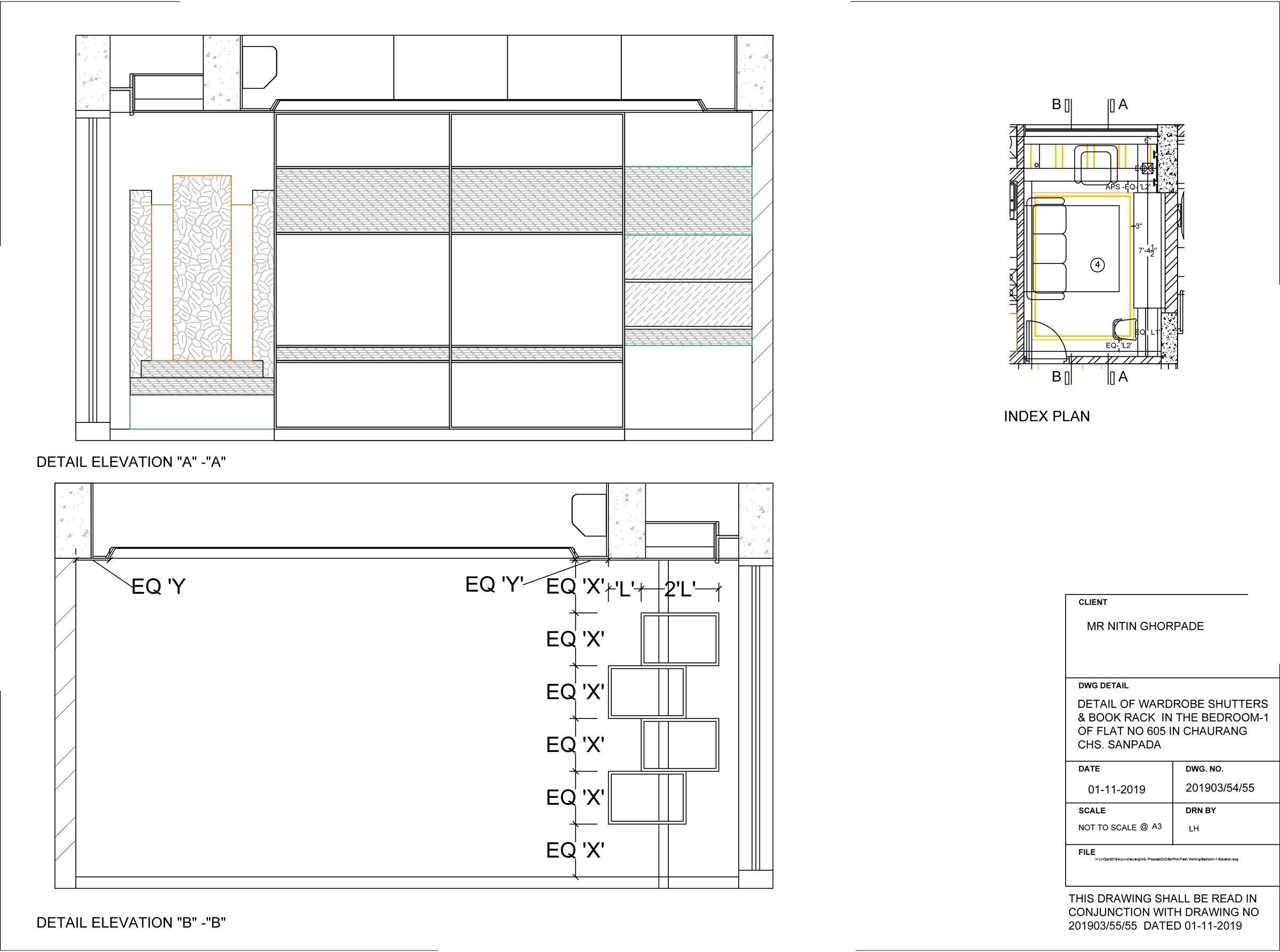 Team:
Client: Mrs. Prajakta Nitin Ghorpade
Founder & Principal Designer: Lalit Hira
Principal Contractor: Arjun Arts
Mr. Arjun Kadam and
Mr. Amol Phadtare from Arjun Arts
Material Used:
1. Flooring: Italian Marble, Stonemann Royale Ltd. India
2. Doors: Wood finished with lamination – custom-designed and custom-built
3. Windows: Aluminium - custom built
4. Interior lighting: Off-the-shelf; local purchases
5. Interior furniture:
Largely custom-designed and custom-built; some pieces were purchased from Empire Furniture, Mumbai
Hardware from Hafele, India and Blum, India
Soft Furnishings from D' Decor