The Discovery Centre is a new community hub along Mississauga's waterfront, serving as a community space and presentation centre for Lakeview Village. As the inaugural building for the master-planned community, the Discovery Centre sets the tone for the quality and design excellence to come at Lakeview Village. The building is envisioned as a landmark, with spaces for culinary, arts and cultural events, while offering an enhanced experience for the public to learn more about the future community.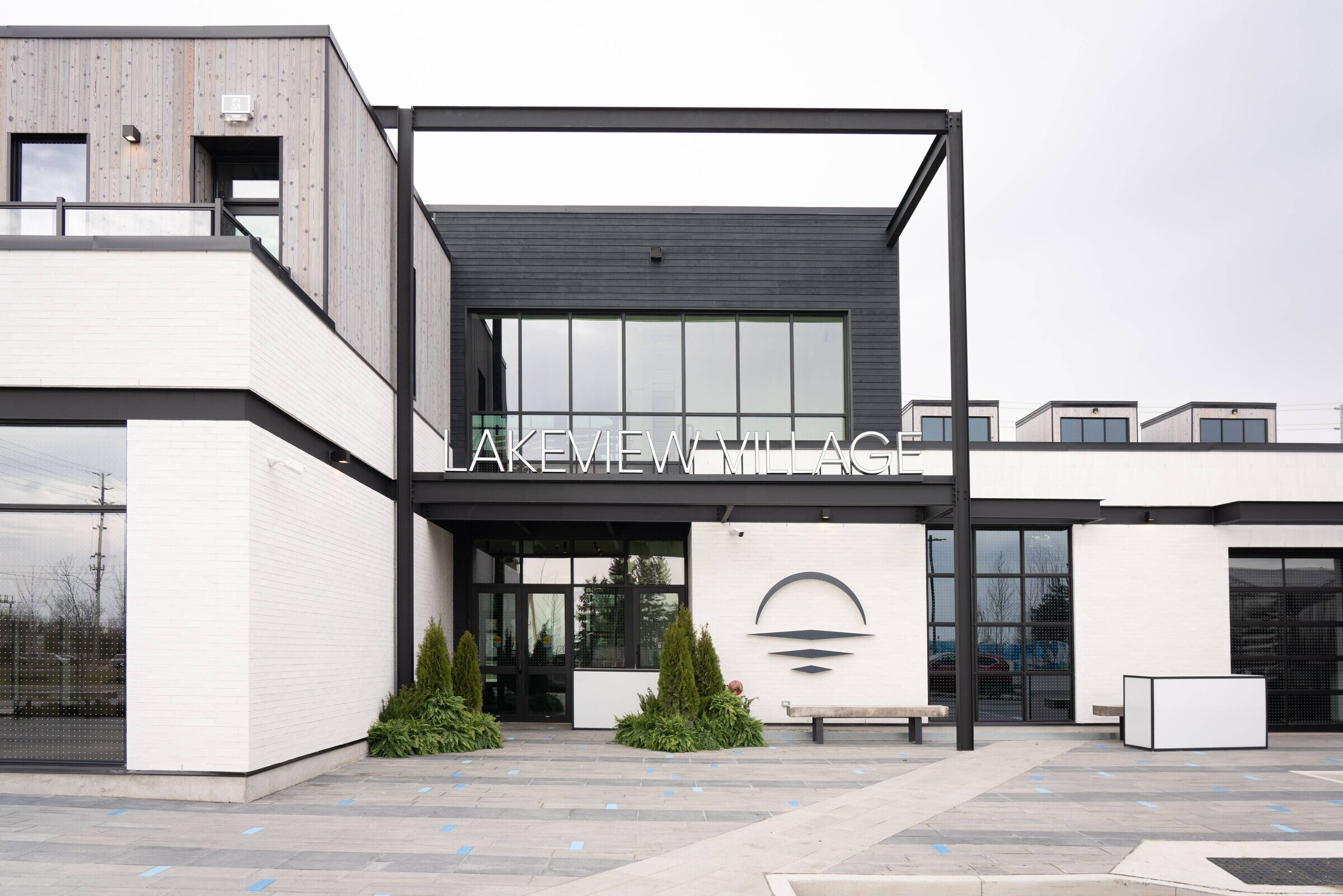 Q4 Architects (Q4A) drew inspiration from the site's past to inform its design, while fusing modern elements throughout to establish a 21st century waterfront community. The Discovery Centre's façade, featuring a mix of wood, brick and glazing, thoughtfully reflects the site's industrial past as a coal-fired station and the neighbouring buildings, such as the Small Arms Inspection Building. Four vertical elements reference the "Four Sisters" chimneys of the old Lakeview Generating Station, while a sloping green roof can be viewed from the street-level, exemplifying the team's commitment to sustainability. Other sustainable features include free EV chargers for the public and a water harvesting system for irrigation around the site.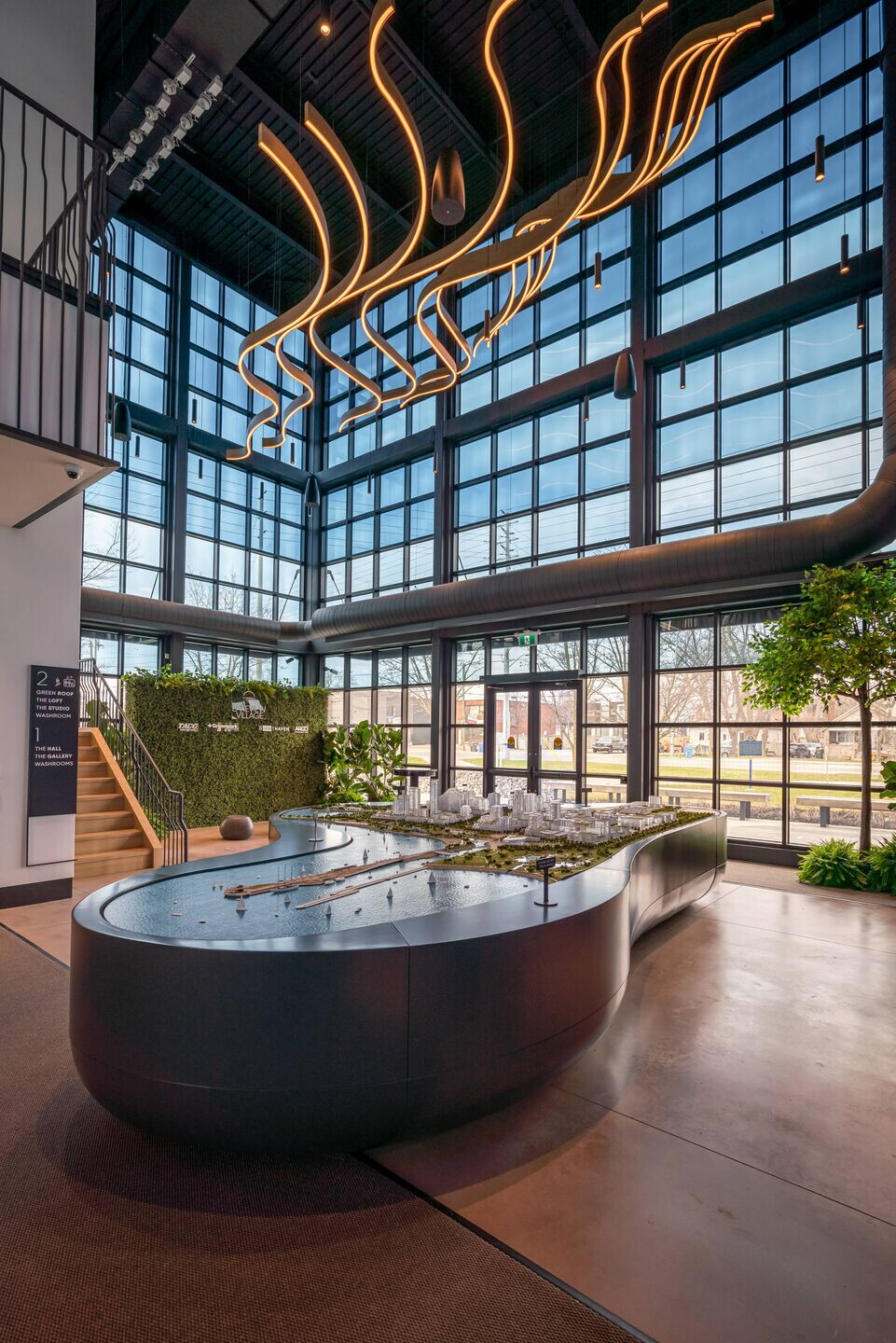 Upon entry, visitors are greeted by a stunning double-height pavilion featuring smart glass that refracts blue hues into the expansive space, creates seamless connections from the outdoors in. Rotating digital artwork by local artists is on display in the pavilion and a wraparound floor-to-ceiling green wall with native plantings becomes a crowning feature of the space.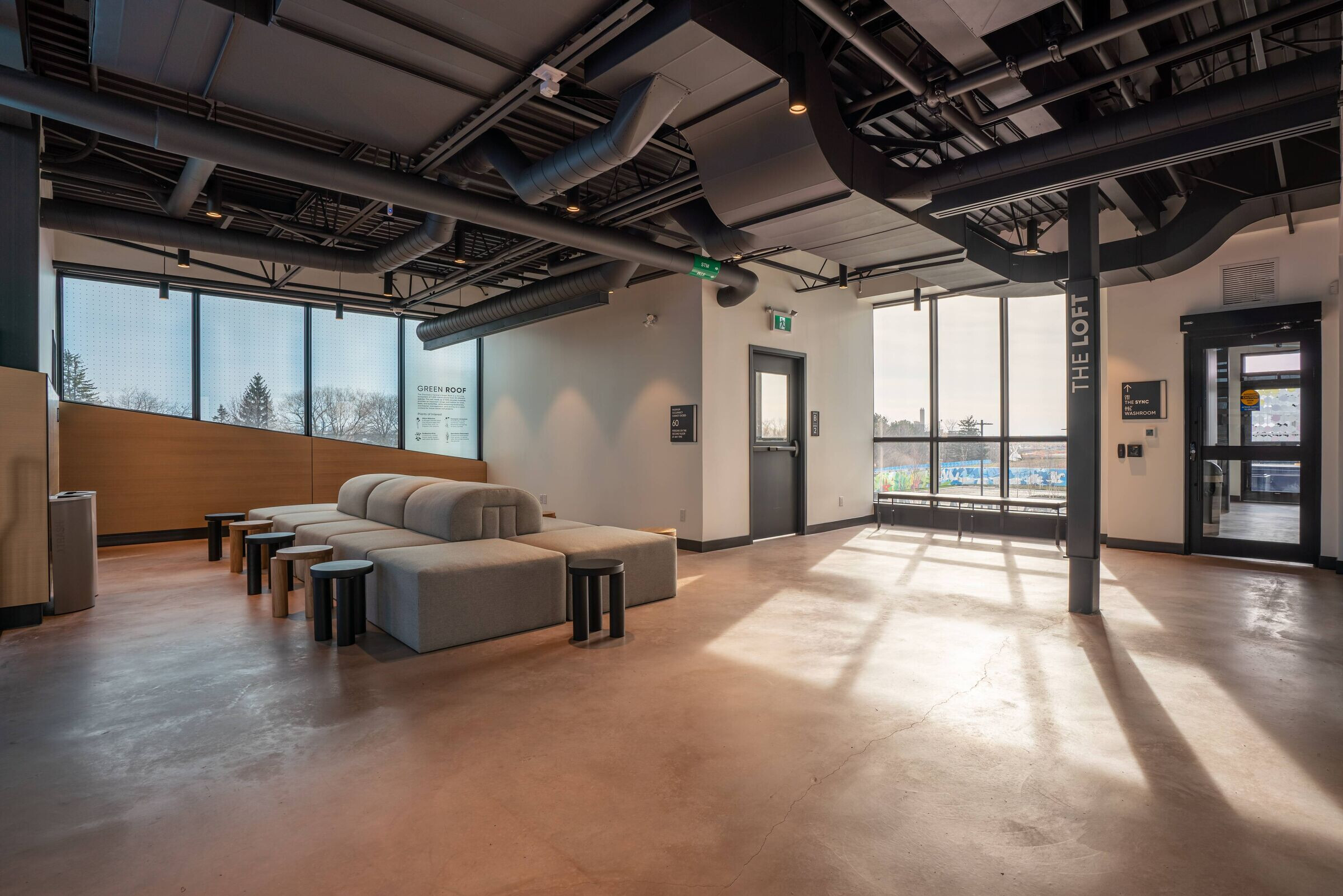 The Centre includes multiple flexible rooms that provide options for community activities, meetings, and sales galleries to support the various phases of the development. A lounge on the second floor and a dedicated community room creates endless opportunities for gatherings and events. An expansive outdoor terrace provides sweeping views of the adjacent green roof, the entire Lakeview Village site and Lake Ontario.
The Discovery Centre represents a thoughtful approach to designing a flexible and responsive space that can service both sales functions and community uses – serving as a model for placemaking and meaningful community infrastructure in master-planned communities.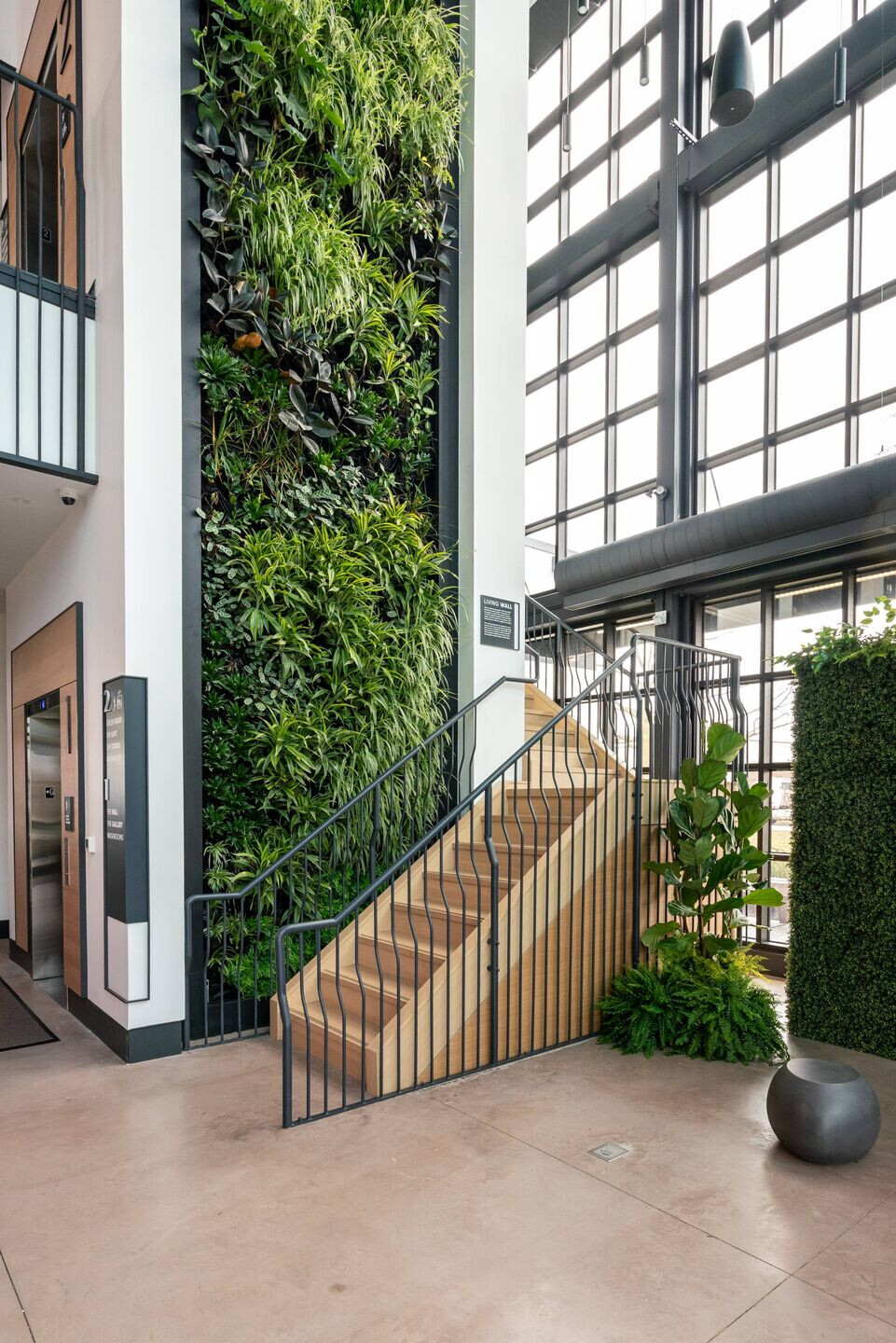 Team:
Architect: Q4 Architects Inc.
Interiors: II BY IV Design
Structural: Jablonsky, Ast and Partners
Mechanical & Electrical: Callidus Engineering
Urban Planning: Glen Schnarr & Associates Inc.
Landscape: NAK Design Strategies
Code Consultant: Matteo Gilfillan & Associated
Surveyor: J.D. Barnes Limited
Site Engineering: Urbantech Consulting
Site-Electrical: RTG Systems Inc.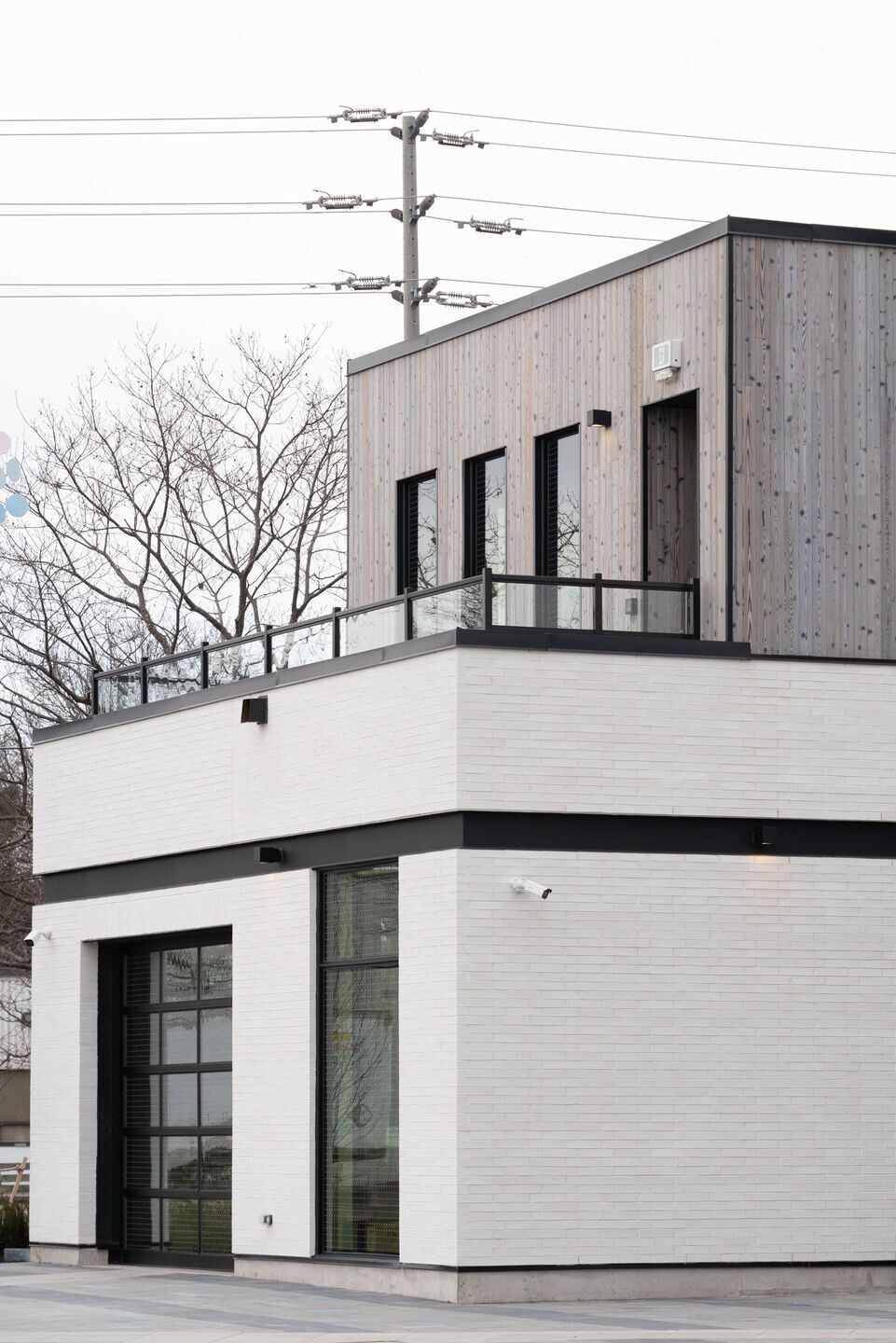 Materials Used:
Facade cladding:
Unit Masonry / Brick by Belden Brick (Alaska White Smooth)
Vertical Wood Siding by CFP Woods and Cape Cod
Horizontal Wood Siding by Cape Cod (Olympic Mystic Black )
Flooring:
Broadloom carpet by Tandus Centiva
Vinyl Wall Base by Johnsonite Mandalay
Hand Finished Concrete Floor
Doors: Glazed Sectional Overhead Door by Richard Wilcox
Aluminum Entry Doors by Commdoor Aluminium (Series 360)
Windows: Curtain Wall by Commdoor Aluminium (Series 5200)
Aluminum Windows by Commdoor Aluminium (Series 525)
Interior Glazing by Commdoor Aluminium (Series 1450)
Roofing:
Conventional Roofing by Soprema (SBS Mod-Bituminous)
Green Roof by Zinco
Interior lighting: Aline LED Pendant Cylinder by DeltaLight
Suspended Downlight by Liteline
Ceiling Surface Mount Spotlight by Delta Light
Ceiling Surface Mount by Delta Light
Recessed Downlight by Contraste Lighting
Green Wall: New Earth Solutions
Elevator: Delta Elevator
Glazing/Glass:
Clear Glazing by Guardian Glass (Sunguard SN68)
Electrochromic Glazing by SageGlass
Bird friendly Glazing by Saand (Ceramic Frit)
Exterior Lighting:
Exterior Wall Mount by WAC Lighting
Canopy lighting by Lumenpulse (Lumenfacade)