LLOVE HOUSE is a house that Jo Nagasaka fell in love with at first sight in Onomichi, fell in love with at first sight in Onomichi, inherited it, and created it with the help of everyone.Onomichi prospered through trade using the Onomichi Chanel which is long and narrow from east to west and is protected by an island and has a special topography.Merchants of the time built villas with a great view halfway up the mountainside for entertaining guests, and these buildings were called "SAEN. This building is one of them, built in the early days, and has a remarkably beautiful view.Not long after that, the railroad opened to Onomichi Station in 1892. At that time, there were no cars driving anywhere, thus the change was not of particular concern. However, as automobiles began to spread to households around the 1960s, and the town developed as a car-oriented society, the buildings in this Yamanote area were already densely built up, and the terrain was not conducive to cars due to the railroad, so the area gradually became an isolated island on land.As a result, the Meiji-Taisho era landscape remained just as it was.Now, with the aging of the population, the buildings on this hilly road, which is difficult to climb on foot, are gradually becoming vacant. In addition to the roads, the lack of infrastructure has also made it difficult for the younger generation to take over.Of course, the view from the building is spectacular, and the day is filled with nostalgic sights and sounds: ferryboats trotting by, shipyards building boats with a clanking sound, fishing boats running briskly, the sound of railroad crossings, the sound of insects, and so on.Nagasakka, with the help of his friends, has made it possible for LLOVE HOUSE ONOMICHI to preserve such scenery. Creators from all over the world and in all fields visit the house and enjoy the scenery and the house that Nagasaka has discovered. These creators include novelists, cooks, musicians, artists, architects, designers, film directors, and many others. Inspired by Onomichi, they share their ideas, works, food, and music with the people of the city and communicate with the local community. This communication is not a trade show concentrated on a single day, as is the case at the Milano Salone, nor is it a time-limited workshop in Tokyo or other cities. The "box" as LLOVE HOUSE ONOMICHI is naturally a part of the scenery, where you can visit creators who sleep there, enjoy their expression while looking at the beautiful scenery in a relaxing environment, and enjoy one-by-one communication without worrying about time. Nagasaka felt the need for the "box" to stand on its own as an exhibition space, so he dared not to add any new design elements, but rather to restore the existing structure.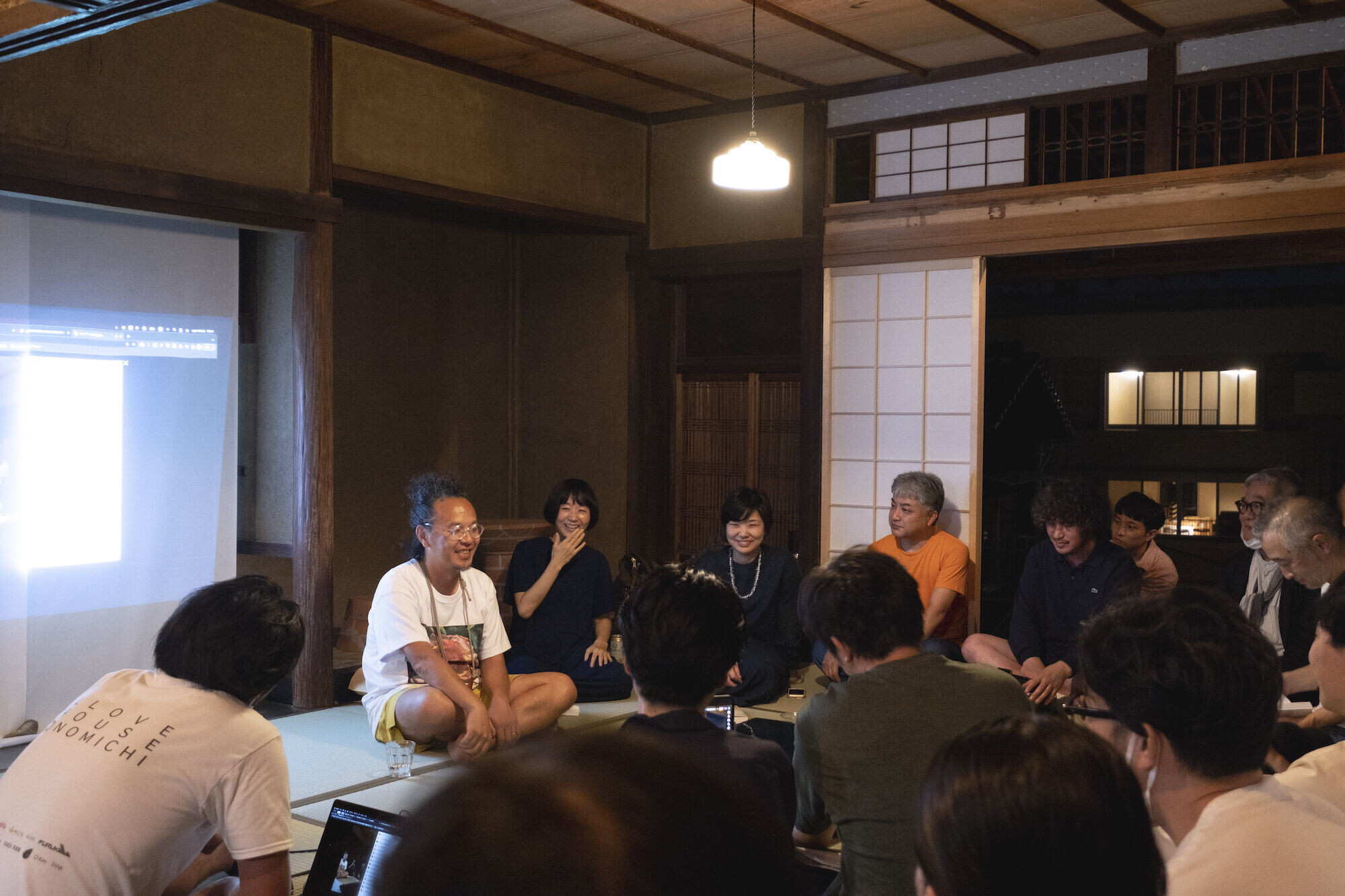 The LLOVE (HOTEL) with architect Jo Nagasaka and art director Suzanne Oxenaar held in Daikanyama in the past was a hotel full of love where individual rooms were created by Dutch and Japanese architects and designers in a single building, with a minimal front desk that could be freely chosen depending on the day. Over the next decade, the family has grown and bonded with each other.In 2018, to celebrate the 20th anniversary of Schema Architects, the entire staff traveled to the Netherlands to visit Amsterdam, Eindhoven, and Pingjum with Suzanne Oxenaar to create mobile LLOVE BEDs and LLOVE HOTELs to strengthen the bond with the Dutch families. Thereafter, there were several opportunities to create a permanent LLOVE HOTEL, but before they could be realized Covid came out. Also around that time, climate change made it impossible to accept the idea of mass travel over long distances in a short period of time, and communication and information transmission via social networking services (SNS) became a worldwide custom, deepening personal communication. Here is a need for a way of cultural exchange that goes one step further.It is a place for long-term stays, one-by-one communication, and interaction with the community. It is a place where you can visit as if you were visiting a friend's house and have a rich exchange with them. That is LLOVE HOUSE.At that time, LLOVE HOUSE, which used to gather in large numbers for a short time, will change its form a little, become a house, scattered all over the world. People who really wish to meet each other can gather there and take the time to communicate with each other deeply. Each house is a building that the creator has chosen to build in a particular location, and by spending time there and experiencing it, one can gain a profound understanding of the creator, which in turn leads to a network that slowly deepens the exchange.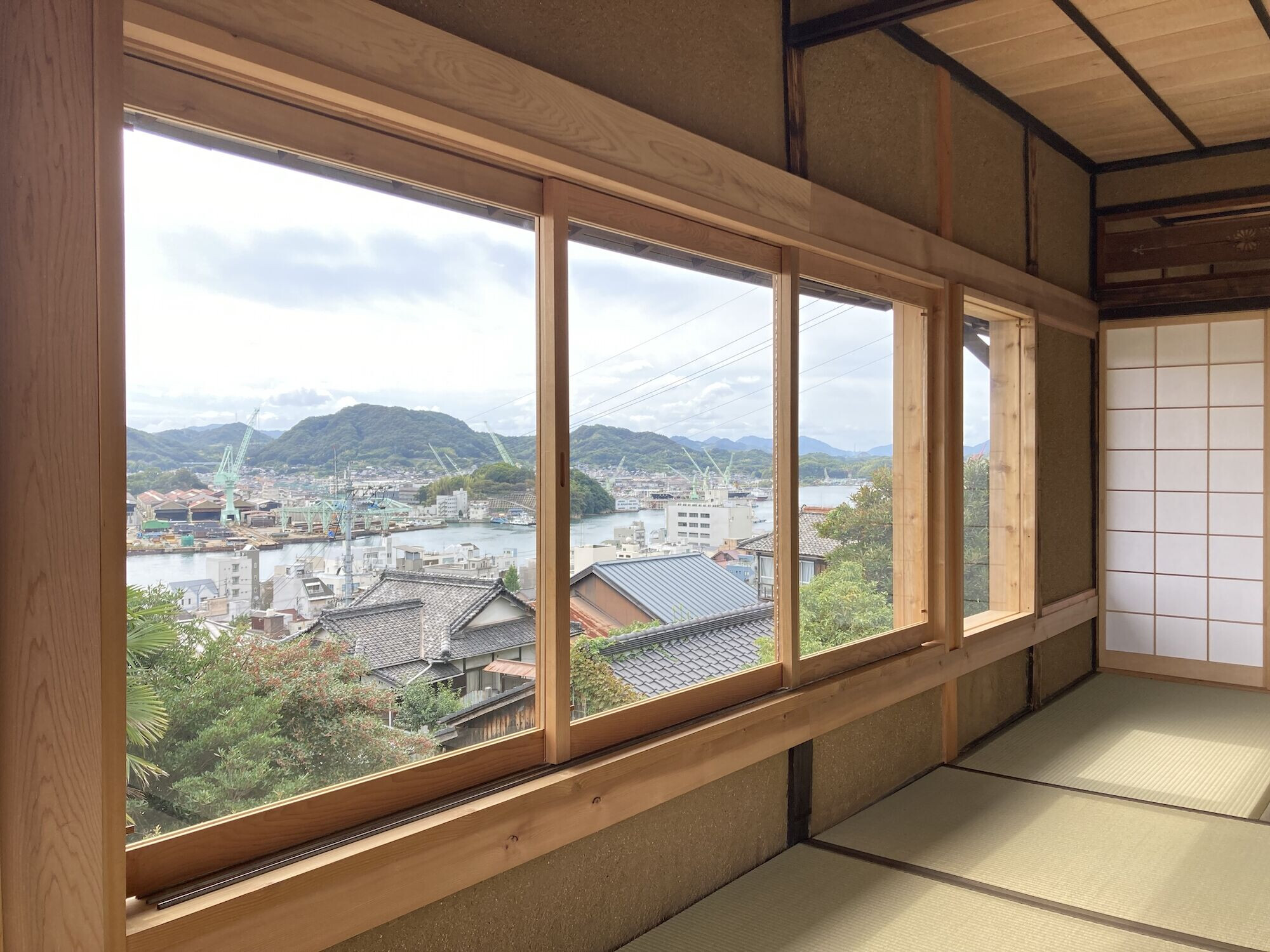 The first visitor to be welcomed at LLOVE HOUSE ONOMICHI is Suzanne Oxenaar, art director based in the Netherlands. Oxenaar became with Otto Nan known as the initiator of the famous Lloyd Hotel & CulturalEmbassy Amsterdam. Since then, Oxenaar has been involved in the art direction of many projects, including Hotel The Exchange and Sweets Hotel, a conversion of 28 Bridge Houses.Originally Oxenaar was a curator specializing in art in public spaces and also known for her deep connection with Japan. In 1999 she invited artist Tadashi Kawamata whom realized "Working Progress" an art project for addiction clinic in Alkmaar. 25 years ago Oxenaar started the FIFTH SEASON an artist in residence in the largest psychiatric Hospital in the Netherland, since 2020 The Fifth Season started an artist in residence in Japan working with psychiatric hospital Fukoroda in Daigo.Also regarding the relationship with Japan, Fair for Japanese Craft and design, called MONO Japan >https://monojapan.nl/jp/home-jp.html founded by Emiko Chujo, was hosted together with the Cultural Embassy. And It has created encounters with Japanese design and craftsmanship for people not only in the Netherlands but from all over the world. The way Oxenaar treats each of her projects as a stage that inspires and facilitates cultural exchange results in continuing to connect many people and create new cultural values. And from now on, Oxanaar will be curating the "Affiars" that will take place at LLOVE HOUSE ONOMICHI.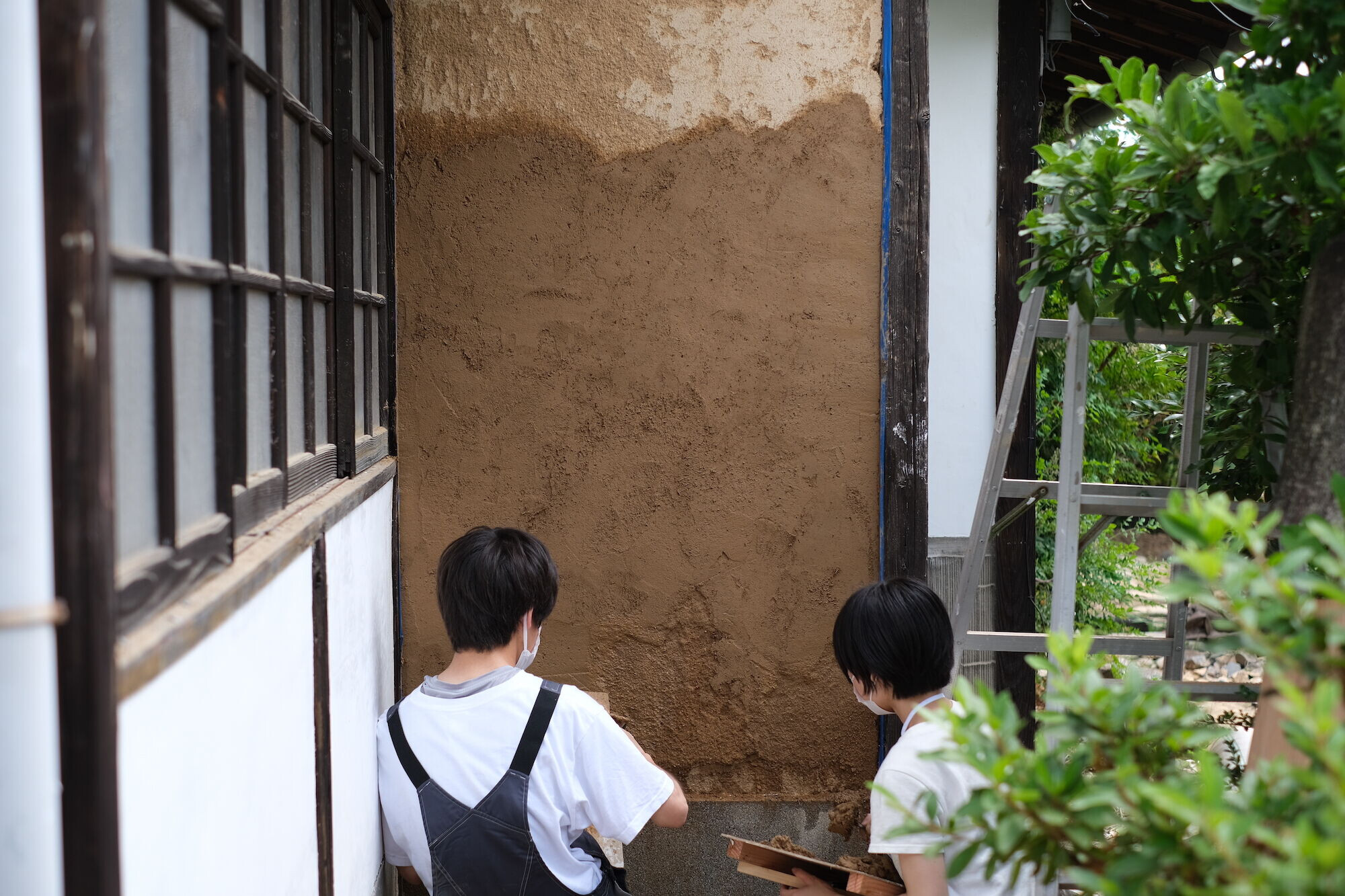 In 2010 to commemorate the 400th anniversary of the establishment of diplomatic relations between Japan and the Netherlands. The concept of the "LLOVE HOTEL" was created by Oxnaar, inspired by Japanese love hotels. The exhibition, which expressed (1) a minimal front desk, (2) a choice of rooms depending on the day, and (3) a hotel filled with love, was inspired by the question posed by Oxnaar, "What is 'LLOVE'? The exhibition was a combination of nine creators from both the Netherlands and Japan, including Richard Hutten, Joep Van Lieshout, Pieke Bergmans, Scholten & Baijings, Thonik, Yuko Nagayama, Ryuji Nakamura, Hideyuki Nakayama, and Jo Nagasaka, who expressed LLOVE from their own perspectives. It took a lot of hard work to make it a reality, and the result is still talked about today, but the strong bonds that were formed there have grown even stronger in the more than 10 years since.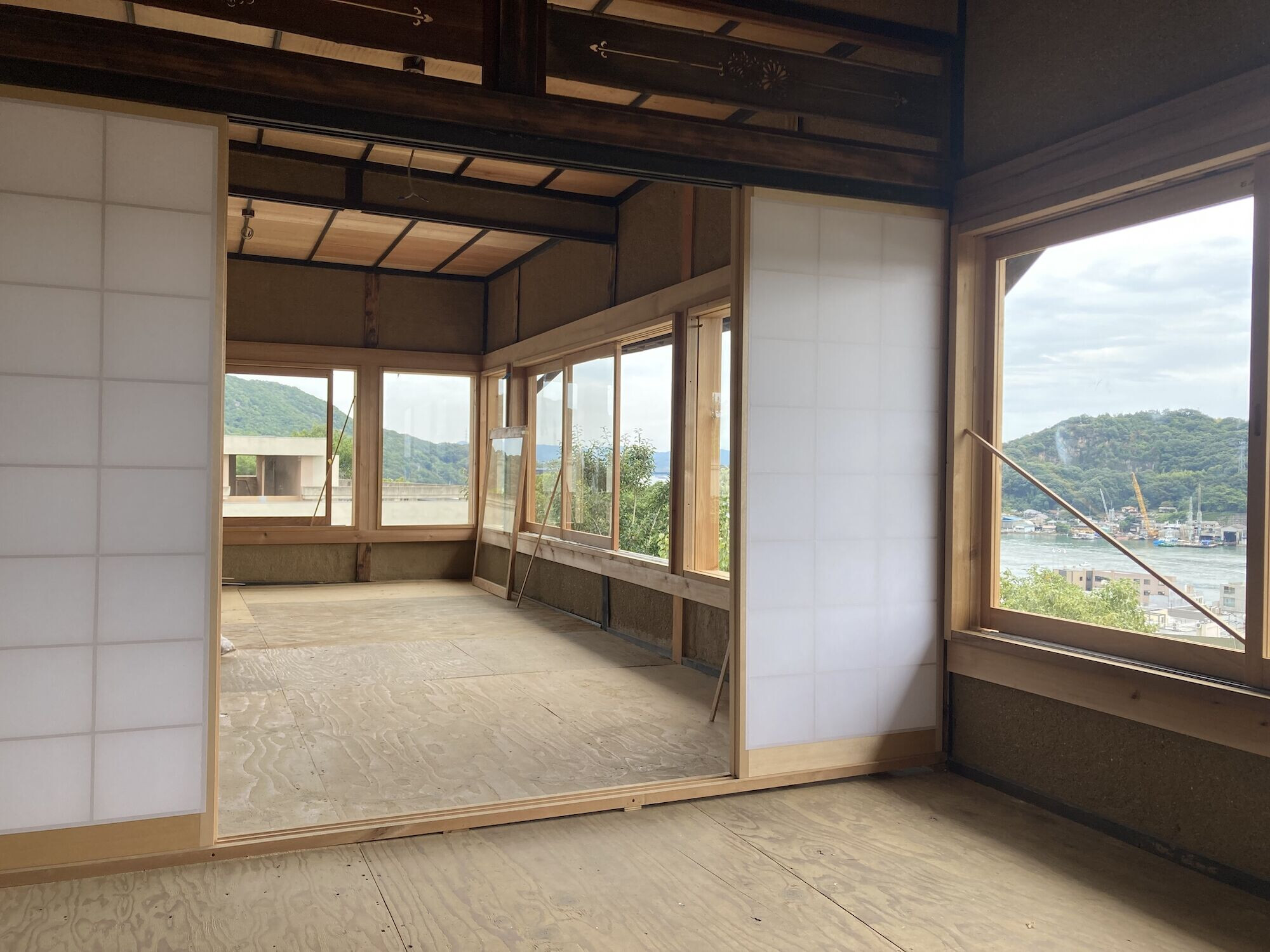 A multi-year program has been launched with the Embassy of the Netherlands to welcome six creators from the Netherlands to LLOVE HOUSE ONOMICHI by the end of 2024. Oxenaar will work with Nagasaka in the selection process. The aim is to create a deep communication with the local community and the world through the residency of diverse creators, not only from the Netherlands, but also from Japan and abroad, and regardless of genre.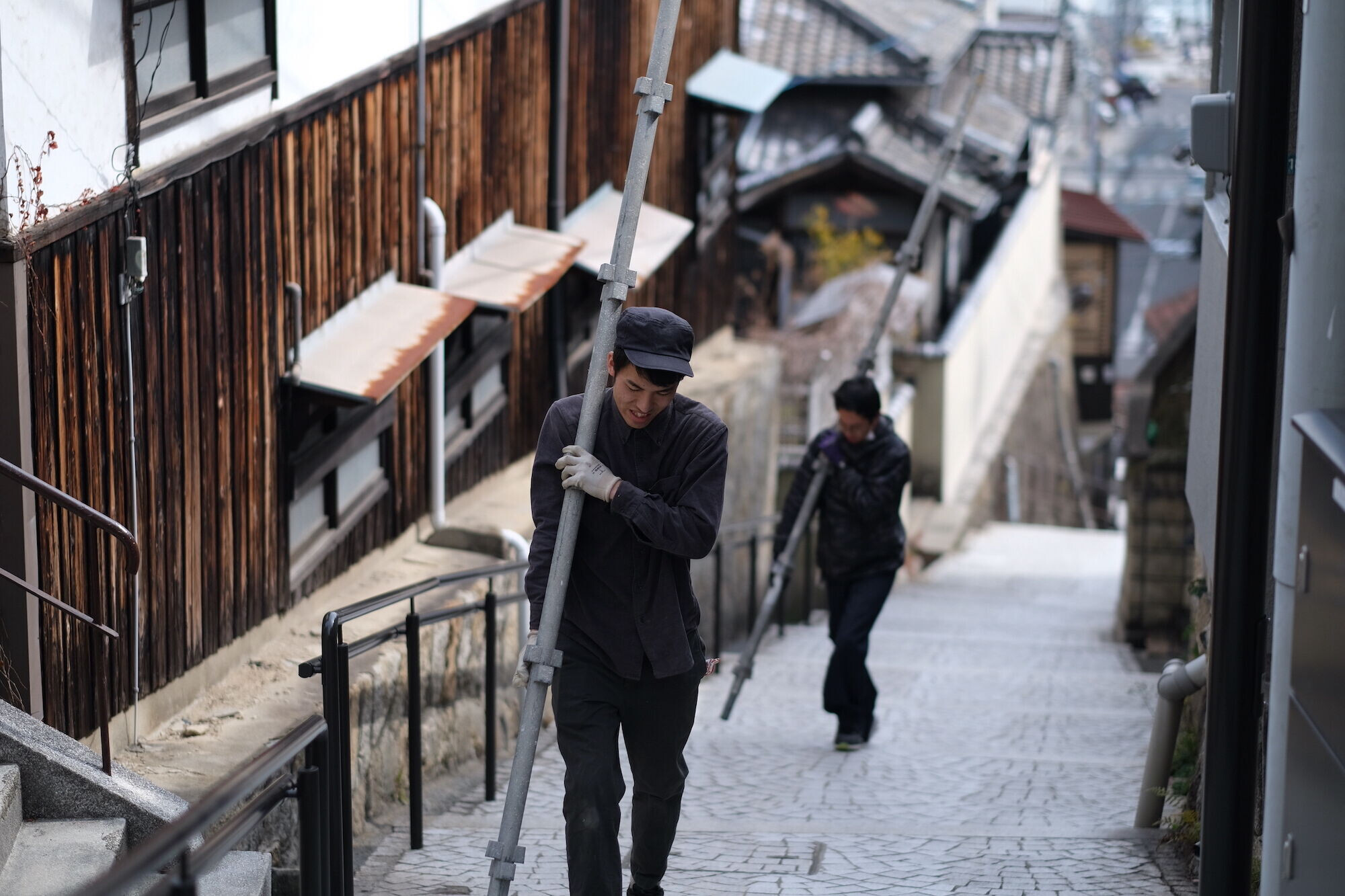 How to build LLOVE HOUSE ONOMICHI
Because Onomichi is more than 700 km away from Tokyo, where Nagasaka is based, and because the tea plantation became an isolated island in the 1960s with the development of the railroad, all supplies had to be brought in by hand, which was a matter of high construction cost.In addition, the trend of the Japanese government has been to spend funds to revitalize communities long before covid started but in the end, many of these projects were focusing on the building, and failed to attract the "people" who were the main purpose and were not able to maintain the business after only a few years. Nagasaka, however, considered it important to have not only a "bulding" but also "people" to actually run the project on the actual site.He then asked for former staff members and others who wished to join the project and move to Onomichi taking advantage of the "Hanare, detached house" space, which is a unique feature of this SAEN. And studio basket, co-chaired by Masami Nakata, a former staff member, and Natsuko Matsui, current PR manager at Schemata Architects, volunteered to be the realizers, working on from construction to operation. Now we would like to share about the construction hase, and report on the features of how LLOVE HOUSE ONOMICHI was built and managed by studio basket.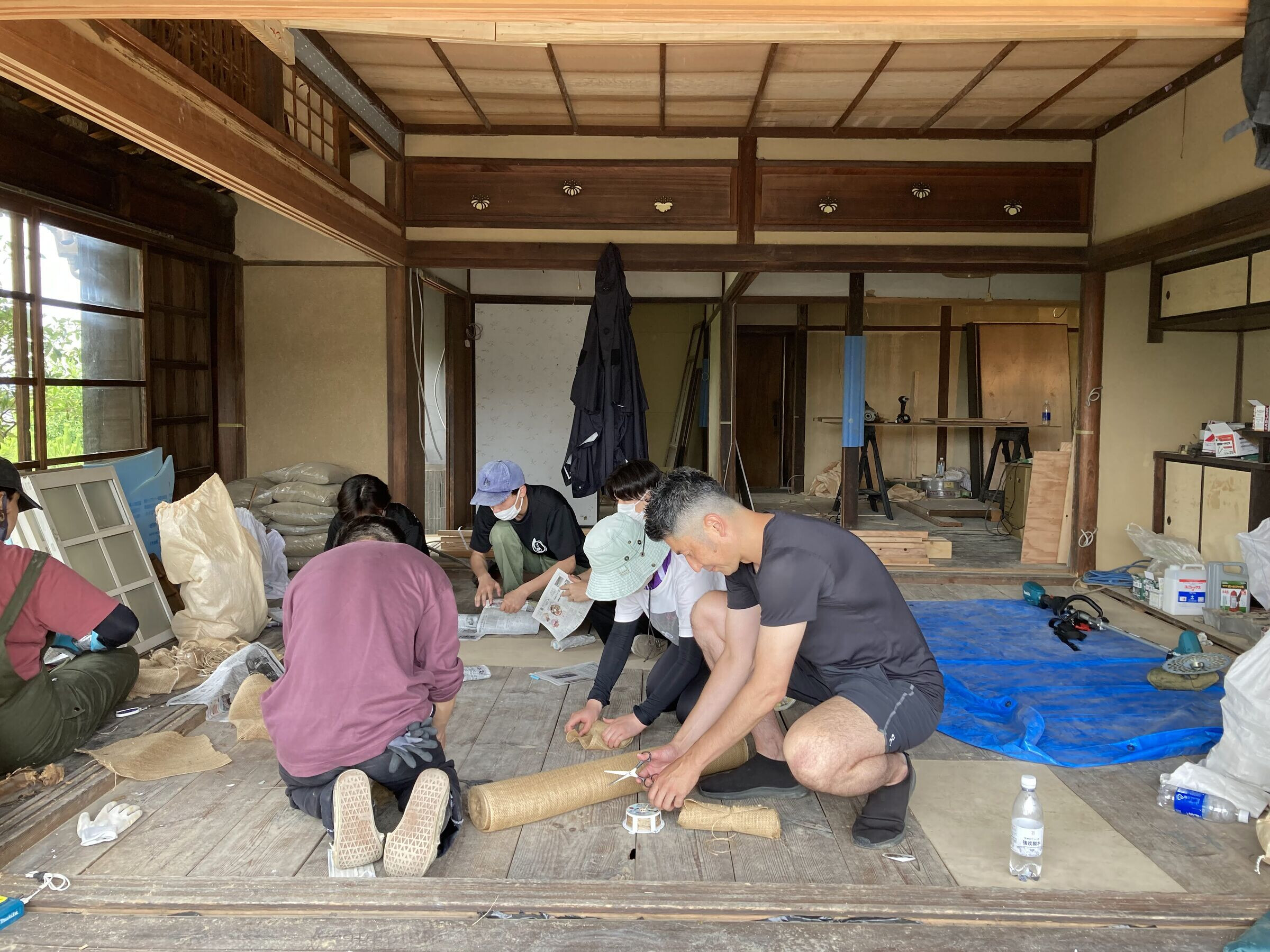 1 : The management who live on the site
This building is SAEN, which is a type of separate house unique to this area, and it has an annex for a maid to live and work in for entertaining guests. To coincide with the start of this project, studio basket moved into the "hanare" with its entire family to manage the site. The construction work was carried out by making the most of what they could do there.
2 : Separate Ordering
The next challenge was cost. It takes time and effort for amateurs to do DIY renovations. If the work is left to a construction company, it will cost more than one in the ordinary location. In such a situation, we decided to separate each construction work into separate orders, and by doing each type of work separately, we were able to cut down on costs. We also sought to reduce costs by separating out tasks such as transportation, which could be handled by anyone, and by getting support from ourselves, part-time workers and volunteers. We were also able to do this with the support of our neighbor HOTEL LOG, which already had full experience in construction, and with various kinds of support each time.
3 : Volunteer+Crowdfunding
The lack of funds was made up for by volunteers and crowdfunding by everyone who wanted to preserve the building and its scenery. This process of raising volunteers and funds has gone beyond the vague framework of the community to directly asking the members who want to protect and preserve this place, and has naturally played a role in raising a shared awareness of it as "everyone's home.
4 : Sharing Knowledge
How did the construction proceed with limited budget and with what kind of support? The manpower, number of days, arrangements, materials, and other support will be recorded in detail, and what can be called a recipe for construction will be made available to everyone. The operator will enter the community with the knowledge gained from this process and give back to the community, thereby expanding the scope of its activities and creating a cycle of sharing the knowledge gained from these activities.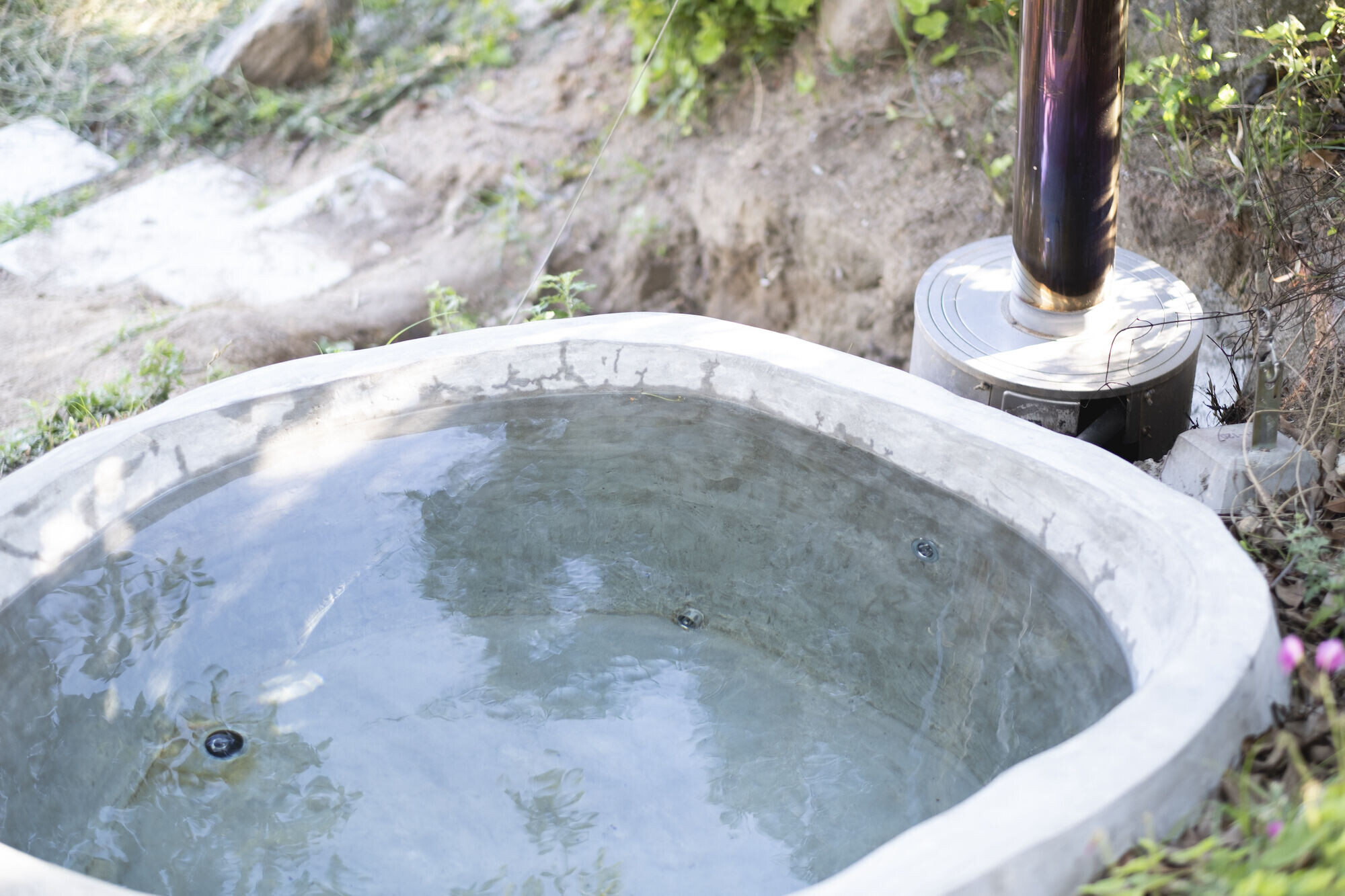 Team:
Architects: Jo Nagasaka / Schemata Architects
Curator of LLOVE HOUSE ONOMICHI: Suzanne Oxenaar
Realizer: Masami Naka + Natsuko Matsui / studio basket
Photographer: Ryo Takatsuka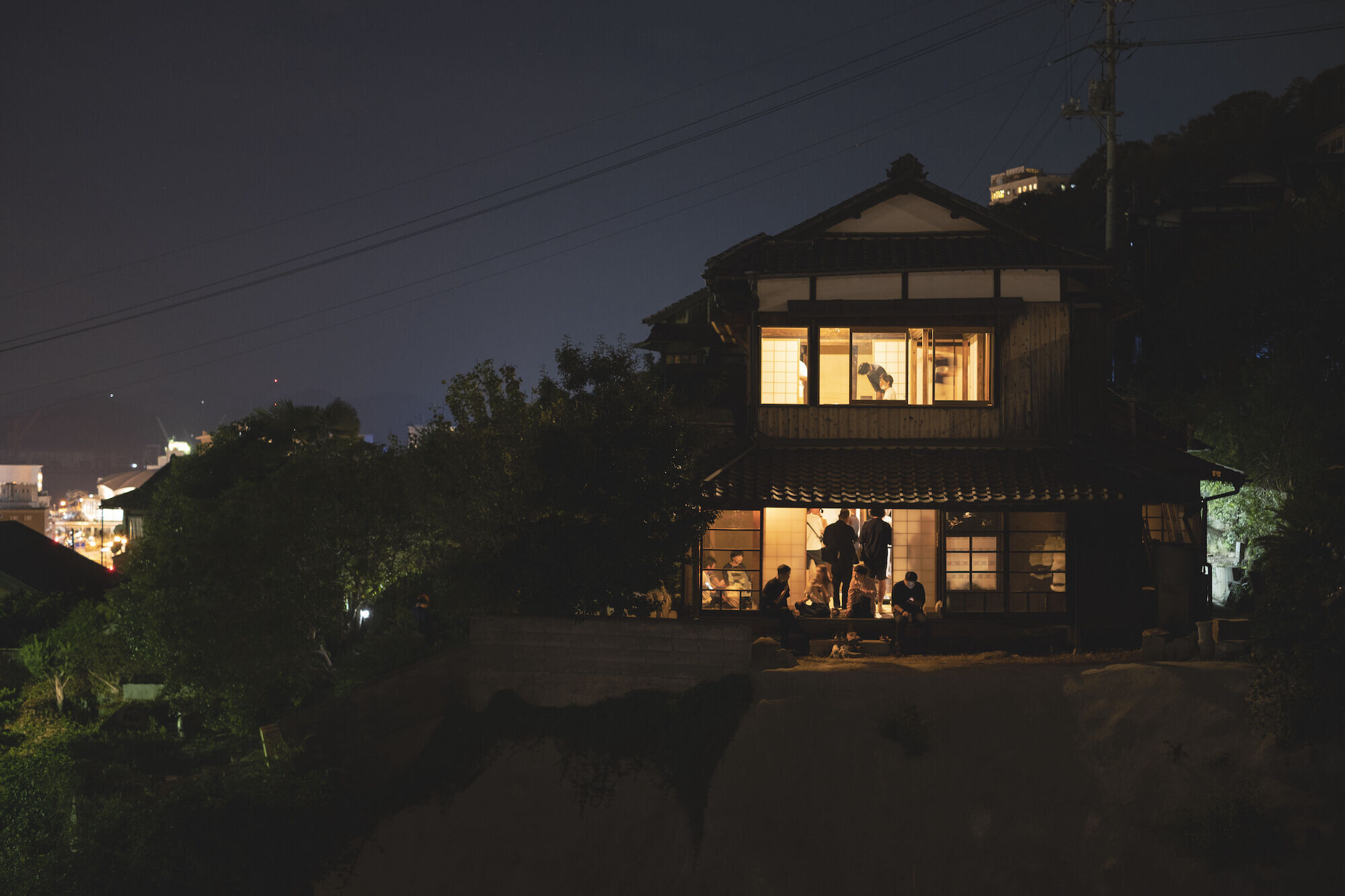 Works:
Sayama Flat/ HANARE / FLAT TABLE / ColoRing / BLUE BOTTLE COFFEE / Kuwabara Shoten/ OKOMEYA / DESCENTE BLANC / HAY / Signage and Furniture Design for the Museum of Contemporary Art Tokyo/Musashino Art University Building16.