The house is located in a pavilion ZAC, the garage/carport is placed in front of the street to make the rest of the plot intimate and create a built front. The house is adapted to the shape of the plot, very long and very stretched. The volume extends from North to South to bring in as much solar gain as possible.
The volume of the first floor is placed on the volume of the ground floor. The horizontality created extends to the carport through a covered outdoor walkway. The latter has the same materiality as the ground floor, all in wood cladding.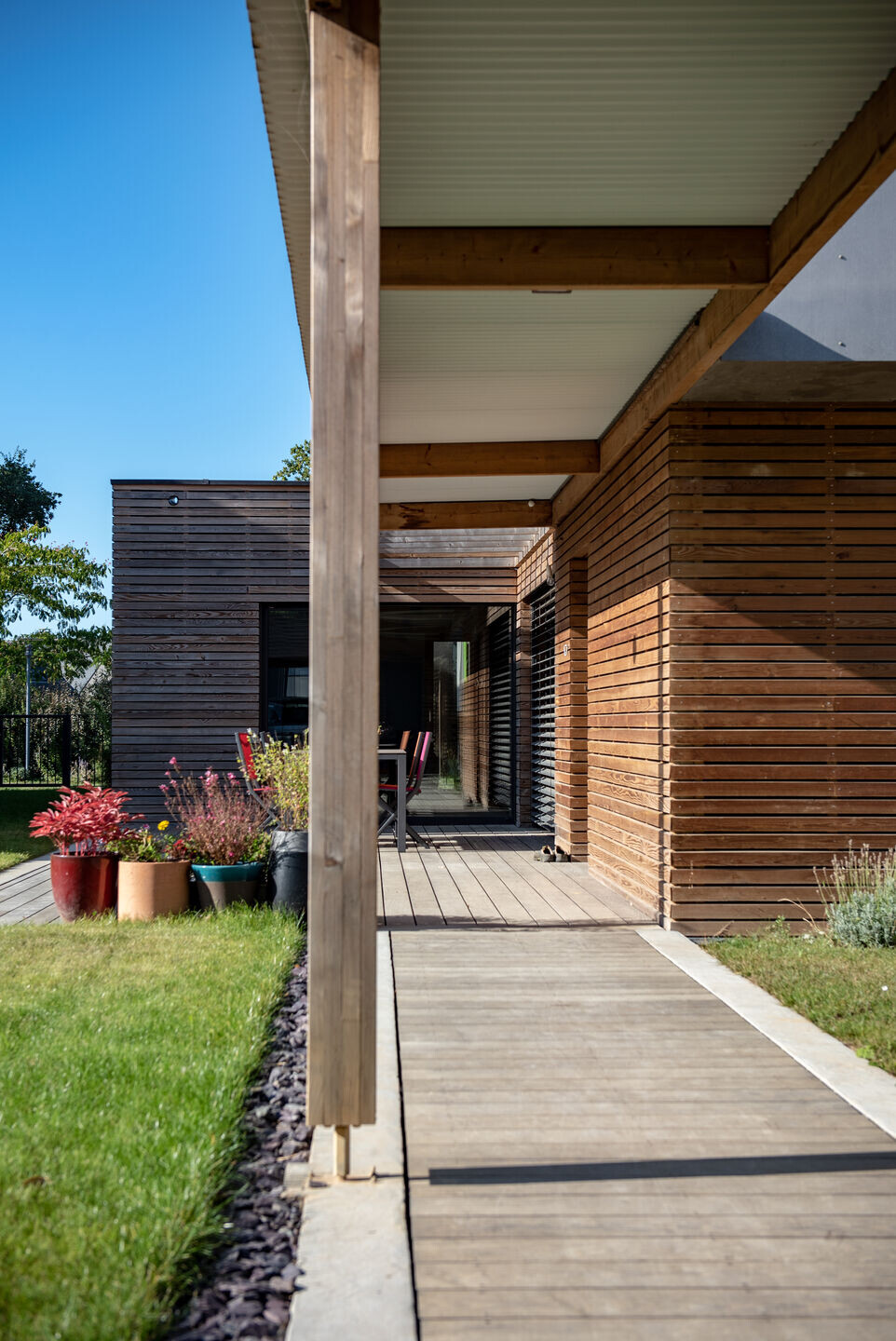 This corridor starts from the carport and marks the access and guides the pedestrian to the house at the bottom of the plot. The arrival sequence is guided by wood in the floor and ceiling.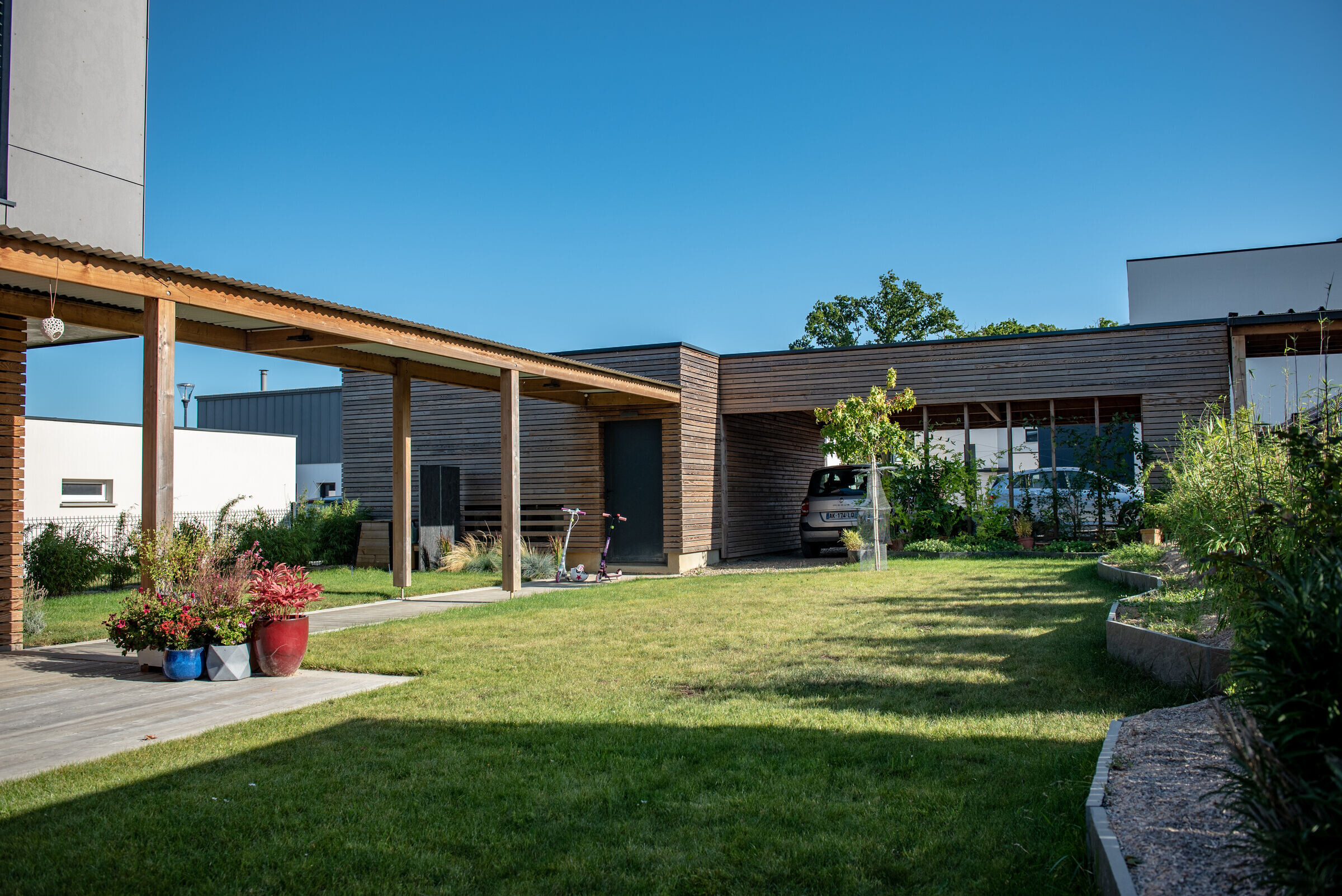 All the ground floor volume, the carport in wood cladding, the wooden walkway and the ground floor of the house is made of the same cladding treatment.
The volume of the floor in superposition on the ground floor volume is identified by the implementation of a contrasting cladding, chosen here in gray Copanel. The opposition with the ground floor is even more marked by the shape of the volume of the floor: a sloping roof in the direction of the length of the floor accentuates the difference from the ground floor and the horizontality created by the building.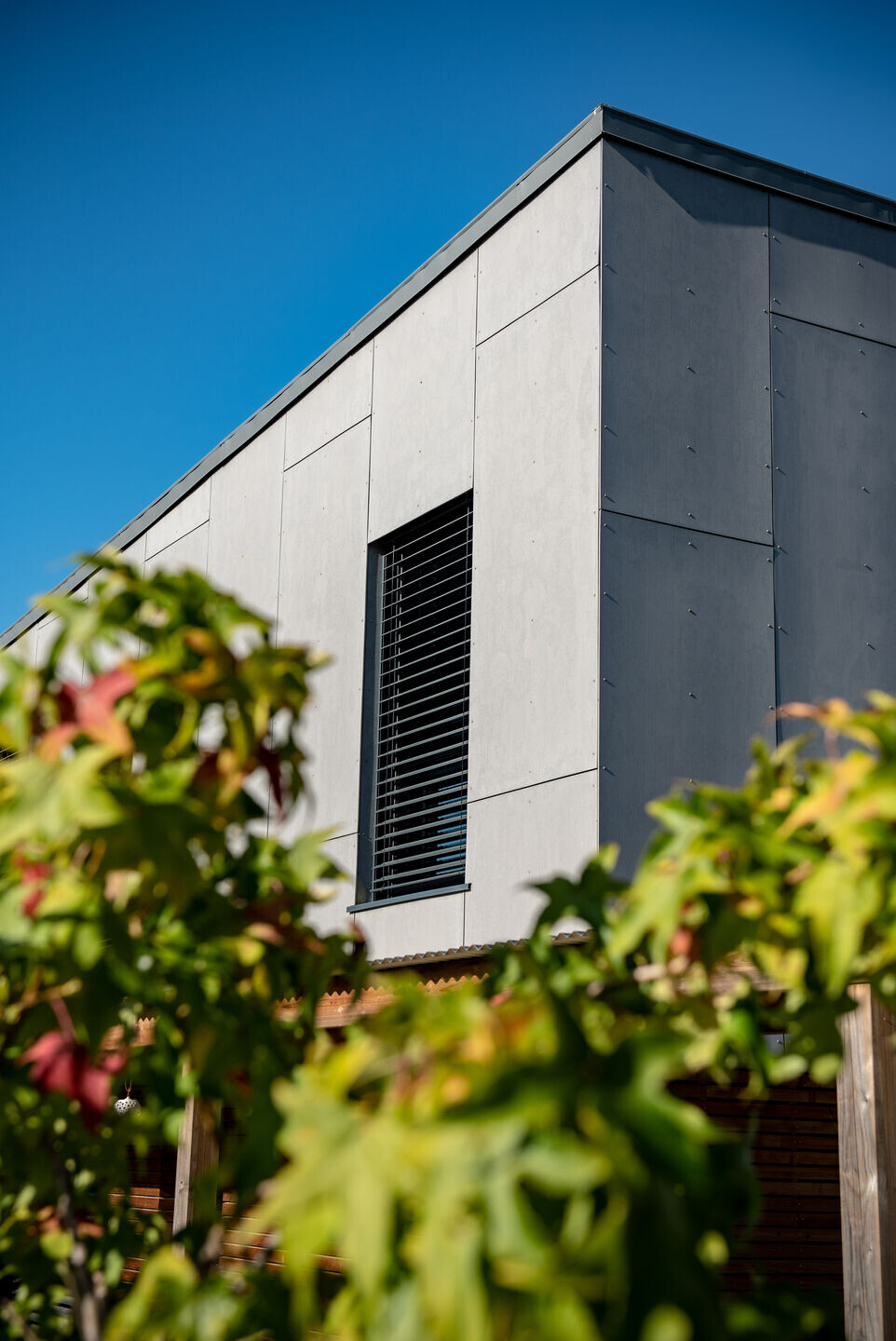 Inside, the views are turned towards the garden which remains intimate despite the proximity of the neighbors. This intimacy has been achieved by the architectural elements placed on the plot: the garage carport on one side, the passageway, and the house. The garden is framed by the buildings, which on the ground floor are clad in wood, creating a natural atmosphere to the outdoor space.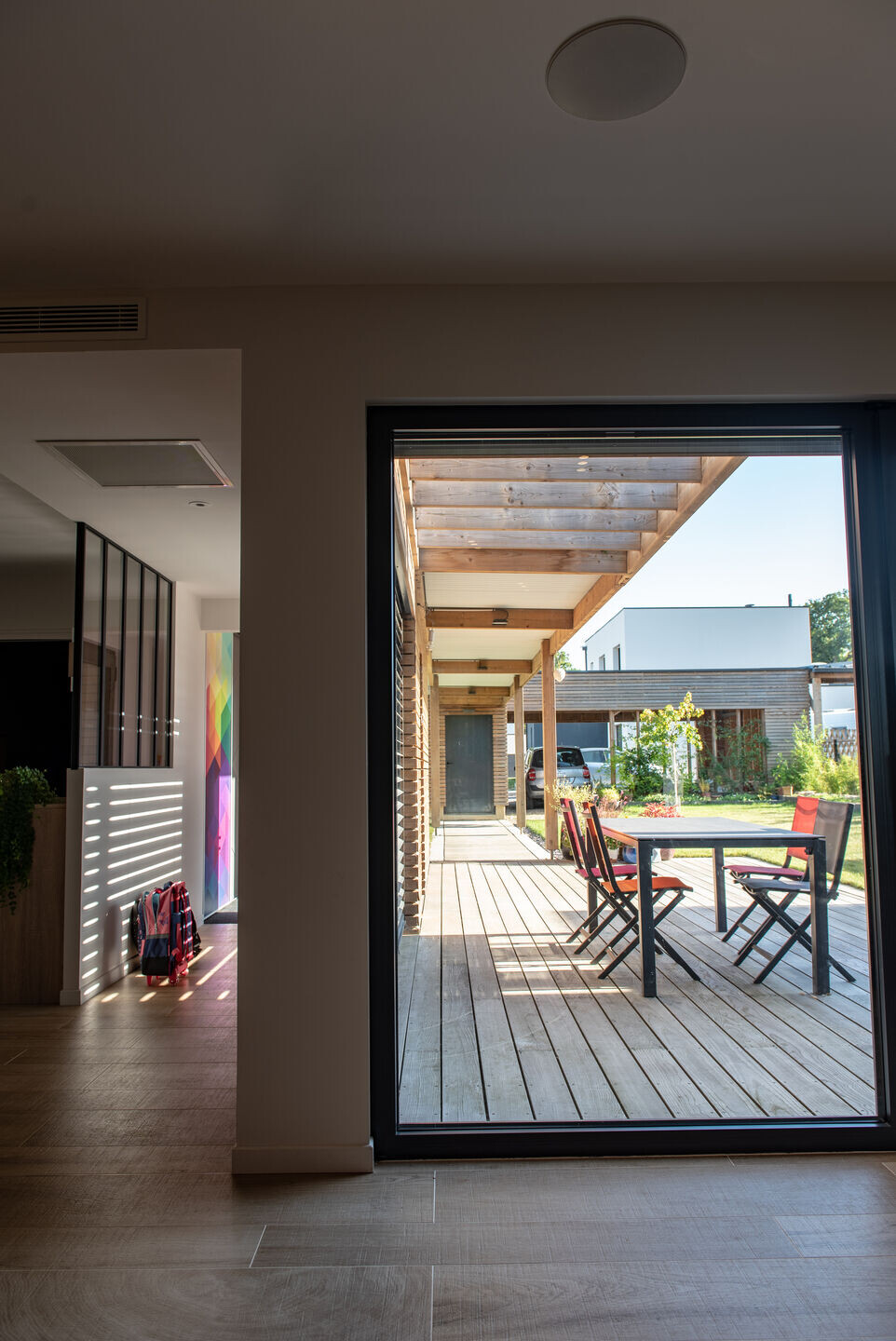 The main living spaces are oriented on this space and take place in the ground floor volume, wider than the floor. The main living space is bathed in light, not overlooked and visually stretched by the diagonal arrangement of the 3 spaces kitchen, living room and lounge. The wooden staircase, without riser, is integrated into this living space, which only makes it more dynamic.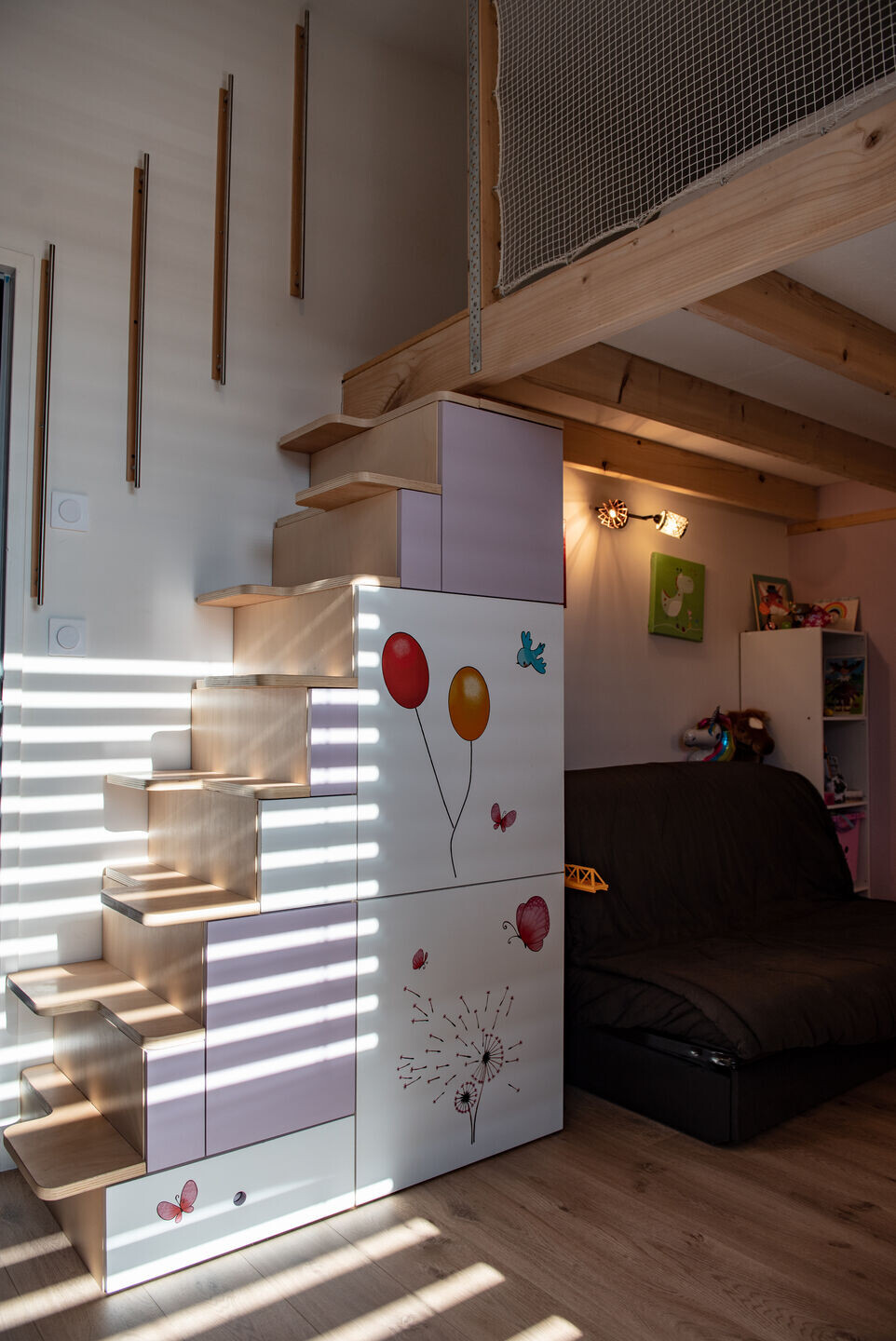 The sloping roof creates an original interior volume on the first floor, and the bedrooms have higher ceilings, allowing the creation of original mezzanines in the children's rooms.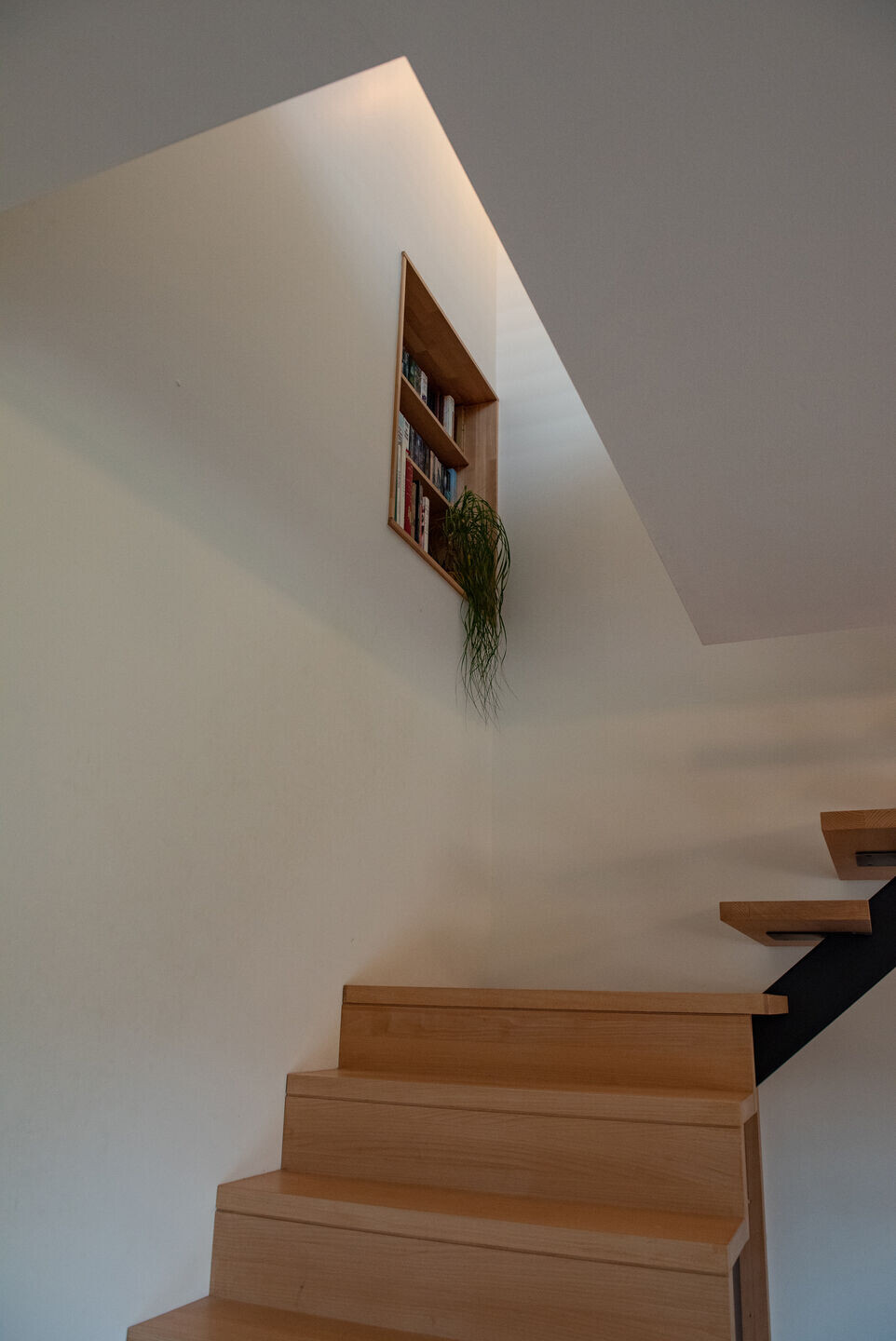 Material Used :
1. GRAPHISOFT: Archicad
2. PROCLIMA: Intello + airtightness membrane
3. UNILIN PANELS: Durelis vapourblock spano panels
4. INTERNORM: Triple glazing windows PVC / Alu, Solar X+
5. ZEHNDER: Double flow ventilation Paul Novus 300
6. DAIKIN: Air heat pump
7. STEICO: Wood wool, dense wood fibre
8. ISOCELL: Cellulose wadding
9. SIGA: Airtightness scotch
10. SCHNEIDER: Odace, electrical equipment
11. HELIOS: Air vents
12. METISSE: Recycled insulation from clothes