Palm Beach House is the transformation of an existing waterfront holiday villa in Palm Beach, Sydney. The project is a restrained approach to a traditional European vernacular, exploring bespoke quality detailing, materiality and architectural framing. With the existing house ineffectively dealing with scale limitations, the brief was primarily to explore how we could reintroduce a higher quality of spatial resolution.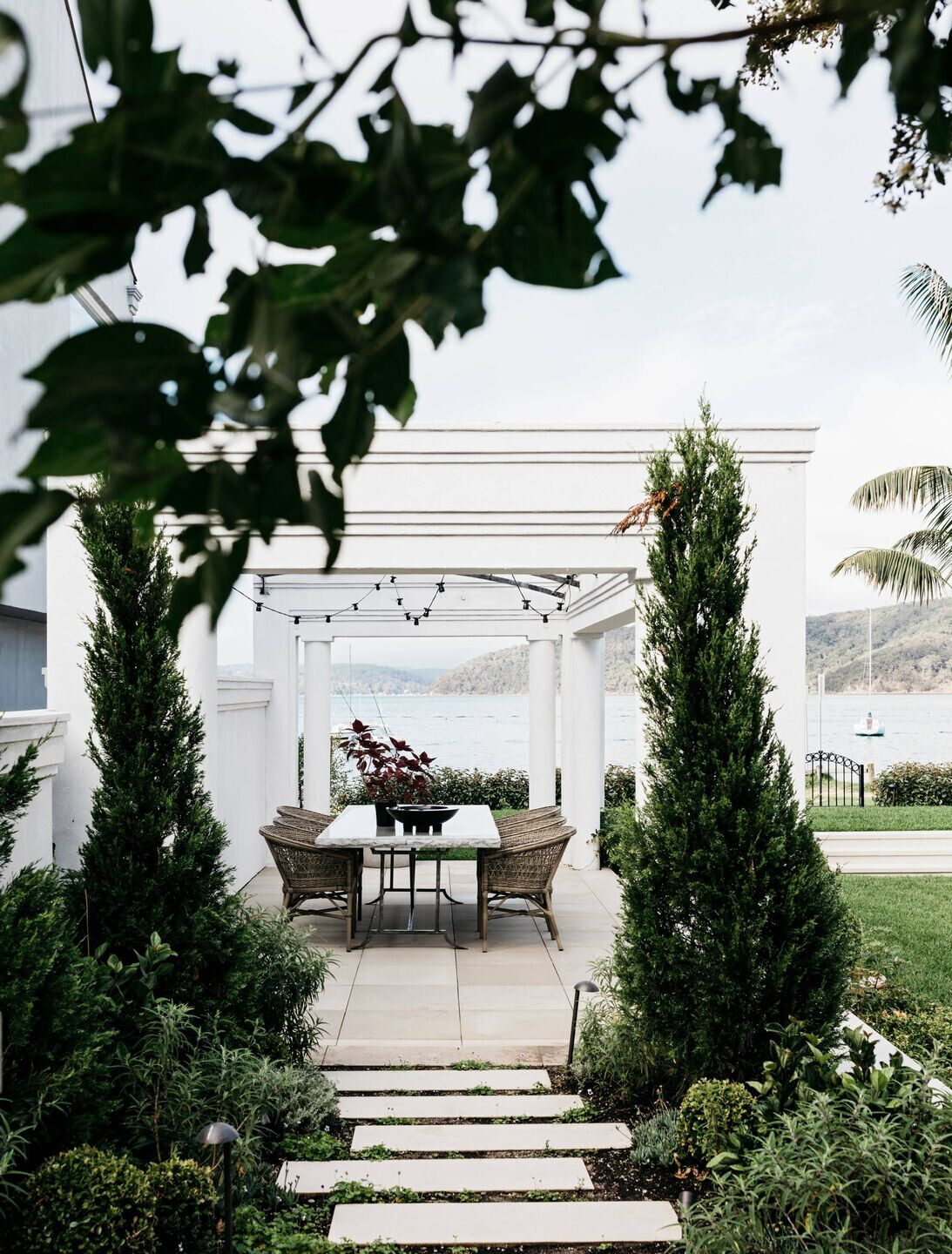 The plans and volumes were subsequently rationalised around better circulation, view corridors and access to the water. Emphasis was placed on architectural framing and the suitable transition from interior to exterior. The garden was refined, designed with proportion in mind in order to achieve a sense of privacy as well as maximize use of amenities for the client.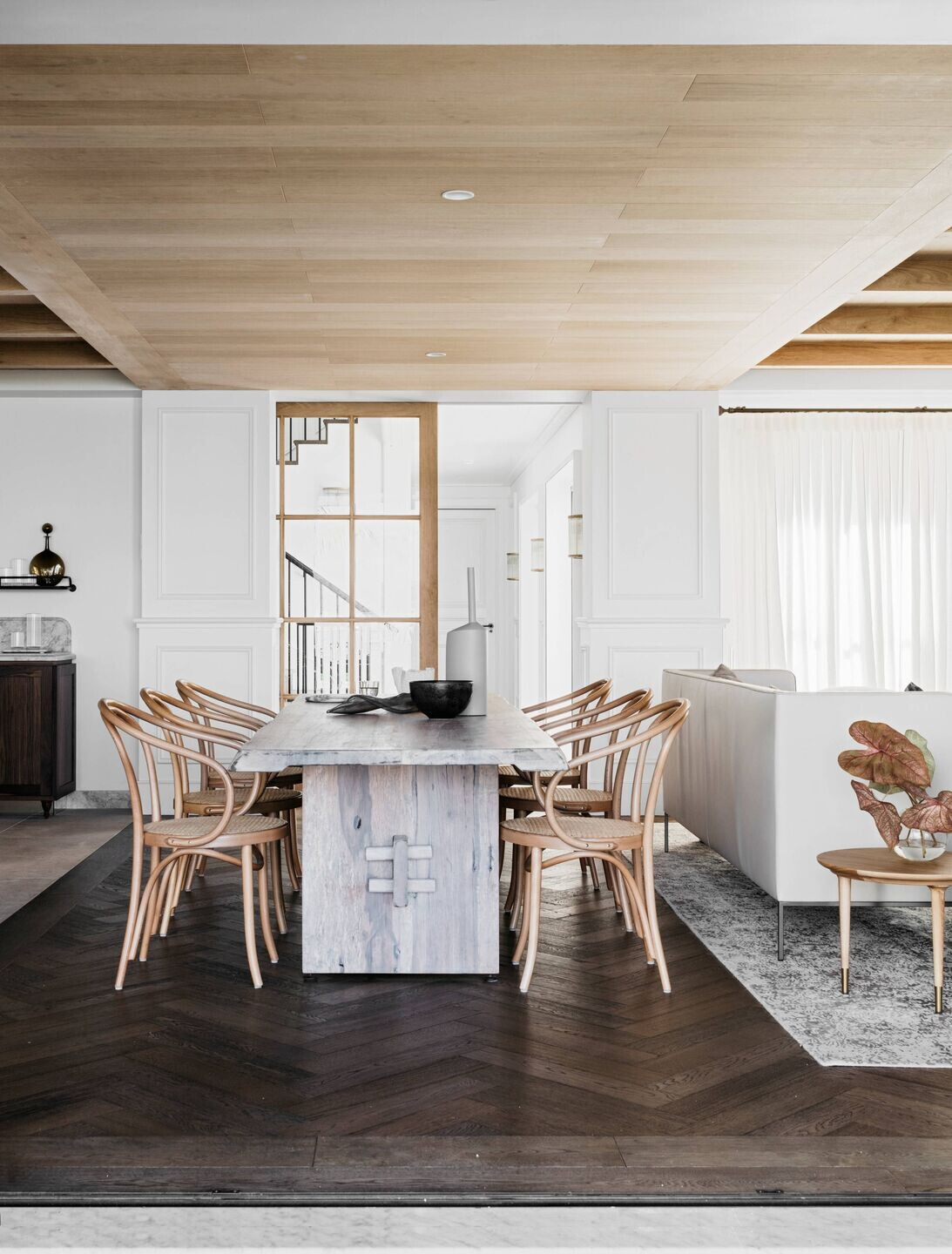 The large-scale opening explored opportunity for external living and dining areas, an integral aspect to the client brief addressing the need for entertaining spaces, essential for a 'home away from home'. The house is focused upon the 'handmade'; fittings, finishes, lighting and claddings all express an artisan reference point.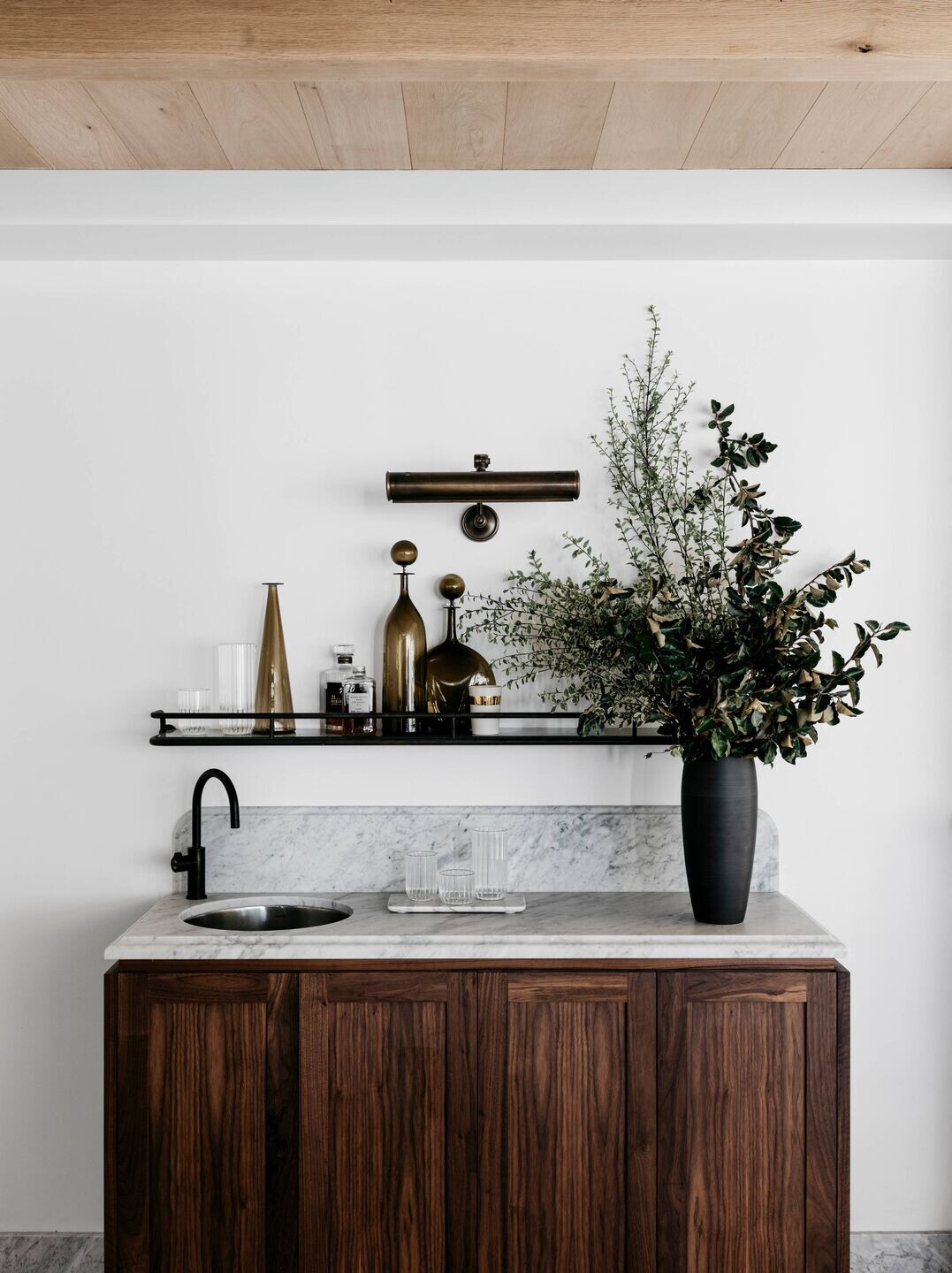 The paired back interiors, subdued palette and handmade quality create a 'lived in' atmosphere for the client, an important element for them to experience a sense of place and history. The dwelling, pushed back from the water's edge, presented challenges, due to this lack of physical connection that was evident in neighboring properties.
The core idea focused on neutralizing the exterior in a way that fits in with the landscape to avoid detracting from the beauty of the surrounding context. A contemporary and minimalist approach for the garden allowed for the view to become the main focus. Through the exploration, we were successful at creating an open space that spills out onto the outdoor garden allows for this connection between the building and waterfront.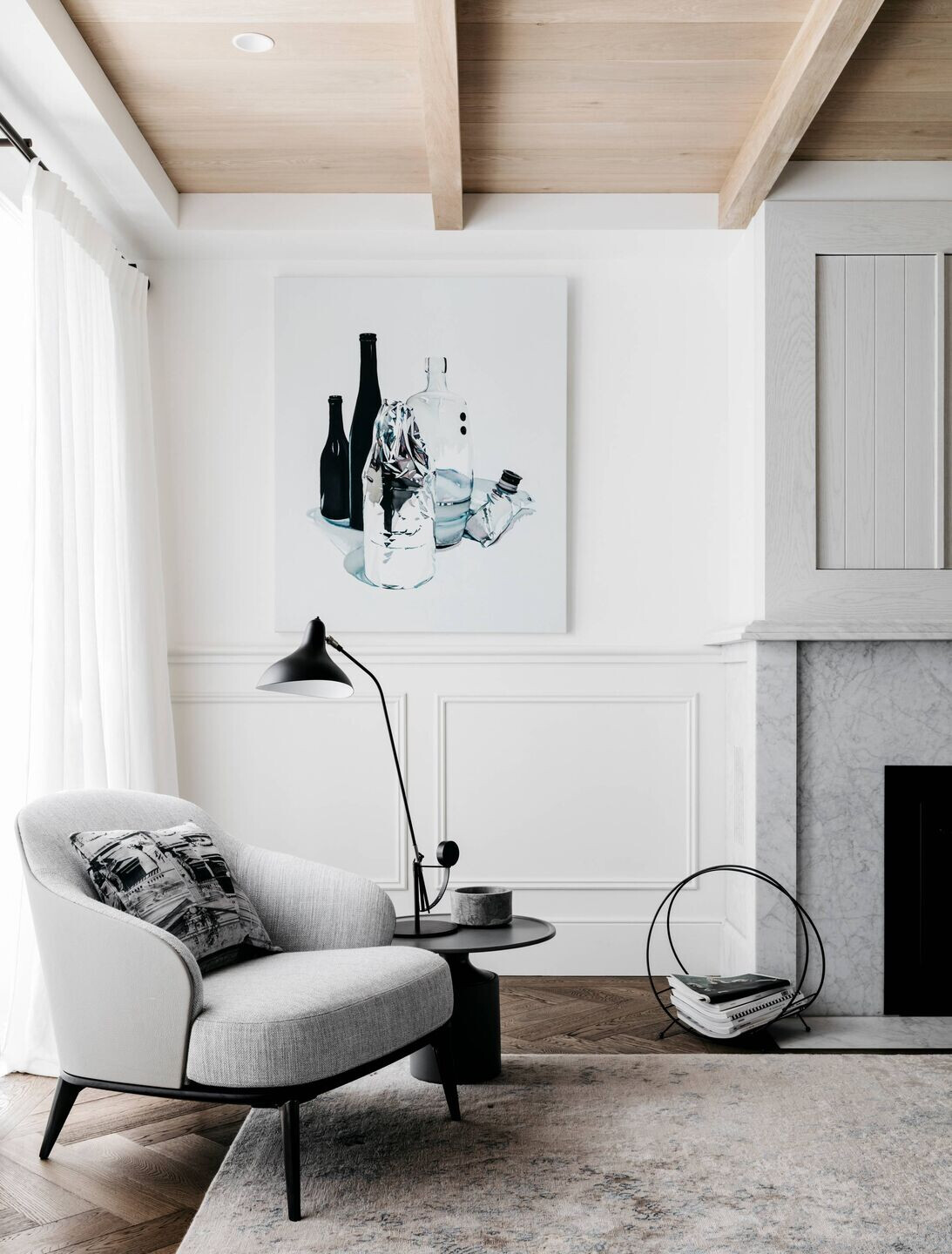 The design of the home as a holiday house meant that the open plan living space and garden were to become the central focus, as entertaining and hosting guests is a regular activity. Subsequent thresholds and vistas between the inside, the balconies/courtyard and the exterior provided the ability to open up out onto the garden area in such a way as to assist the need for flexibility.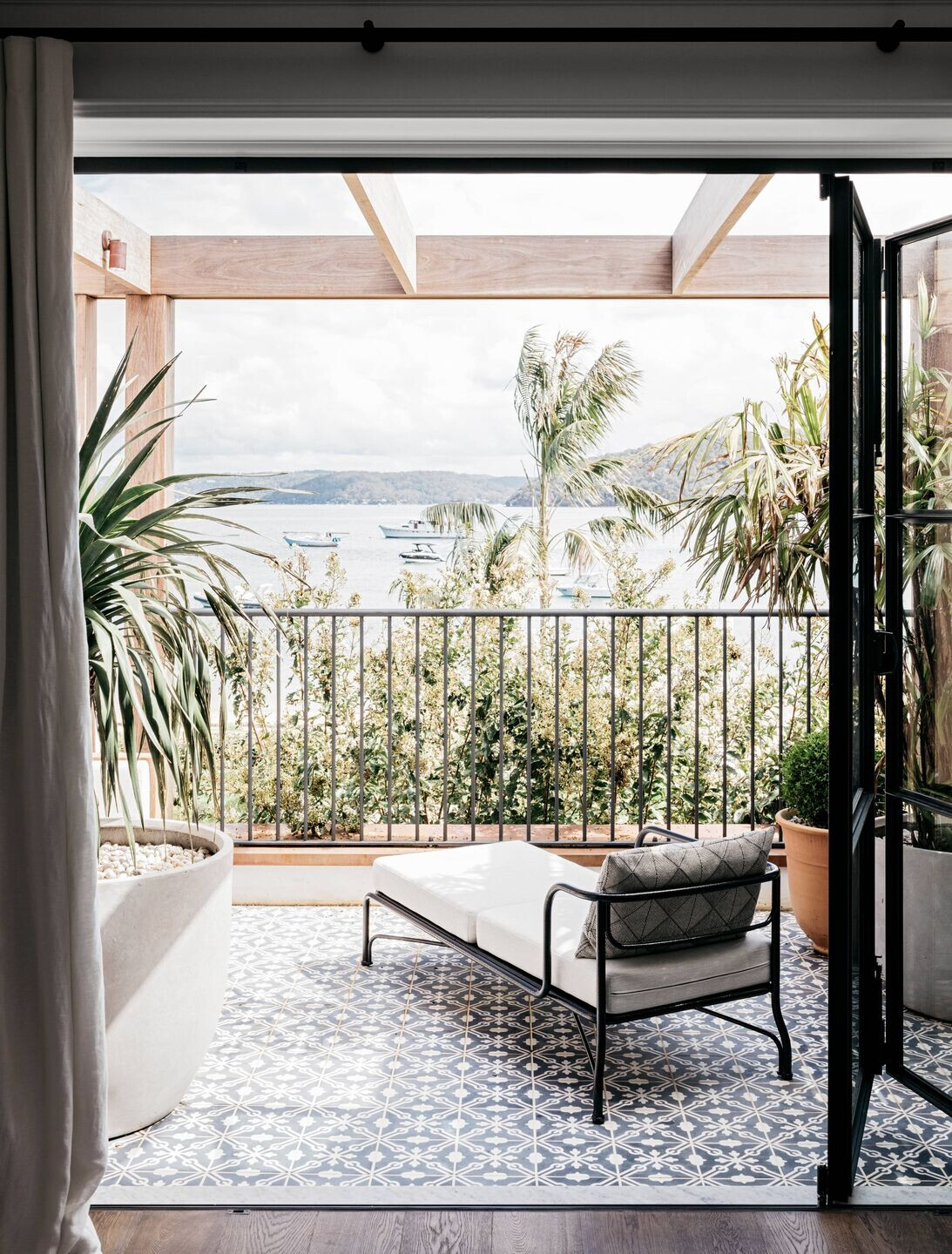 Material Used :
Kitchen
• Carrarakitchen marble bench and solid walnut and brass sidebar designed by Alexander&Co
• Joinery by Pittwater joinery and stone by Prego stone
• LVE freestanding oven and hood
• The brass gooseneck tap is from the English Tapware Company and Zip
• Thule Stools from Great Dane
• Butler's sink by Belfast Sinks
• Timber flooring: herringbone pattern with plank borders by Nash Timbers
• Rug custom made by Tappeti Rugs with Alexander &CO.
Bathroom
Master Ensuite
• Floor tiles: herringbone pattern with borders - Carrara marble tiles by Taplow Tiles
• Low height wall paneling: Carrara marble by Prego Stone
• Wall finish (upper): fine textured white set plaster by Creative Wall Solutions
• Ceiling finish: timber lining boards in white satin gloss finish by Nash Timbers
• Vanity frame: designed by Alexander &CO., custom made by Lovett Custom Homes
• Fittings by English Tapware
• Basin by English Tapware
• Mirror designed by Alexander &CO., custom made by Chunk Design
• Lighting designed by Alexander &CO., custom made by Chunk Design
• Doors custom made by Windoor
• Door handles by Mother of Pearl & Sons
Main Bathroom
• Carrara marble tiles by Taplow Tiles
• Grid pattern custom designed by Alexander &CO., consists of Pietra Grey marble by PDM Stone, with Carrara and Tundra Grey stone by Earp Bros
Bedroom
Guest Bedroom
• Bed by Coco Republic
• Side table by Stellar Works through Living Edge
• Lighting by Schoolhouse Electric
• Trouser length curtains & curtain rods by Simple Studio
• Rug by Tappeti Rugs with Alexander &CO.
• Wall finish (upper): fine textured white set plaster by Creative Wall Solutions
• Wall finish (lower): custom design by Alexander &CO. Carpentry by Lovett Custom Homes
Daughter's Bedroom
• Bed: designed by Alexander &CO., custom made by Timbermill
• Chest of drawers by Canalside Interiors
• Lighting by Schoolhouse Electric
• Steel bifold doors by Award Aluminium
• Trouser length curtains & curtain rods by Simple Studio
• Doors (timber) custom made by Windoor
• Door handles (for timber doors) by Mother of Pearl & Son
Outdoor
• Landscape design by Myles Baldwin Design
• Landscape contractor: Kyora Landscapes
• Pavers: white sandstone
• Gazebo: existing
• Table: custom concrete table with raw stone effect edge, made by Concrete By Design using Le Forge base
• Chairs in Gazebo by Domo Sydney. Chaise: Minotti "Le Parc" by Space Furniture on balcony