The project is located at The monument Thonglor condominium, an iconic high rise residential building in the heart of Bangkok, Thailand. The owner of the residence wanted to integrate his personality and design's taste into his residence and design. He wanted a home that represents himself and his lifestyle. 'Simple' and 'Uniqueness' are keywords from the owner. Due to the small space, lots of storage functions are required as well as aesthetic.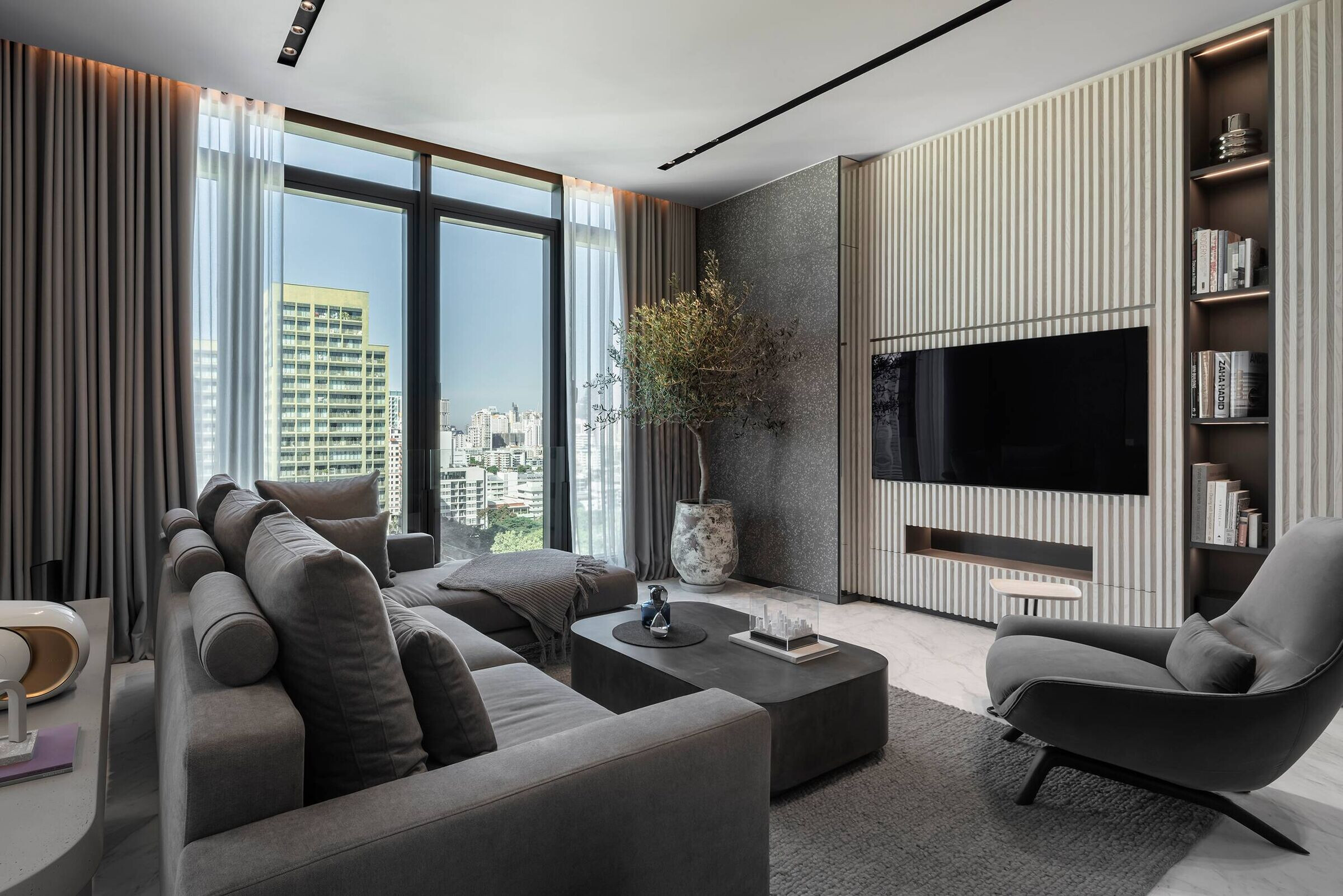 We decided to go with a minimal and clean interior style. Basically, we used bright and natural color palate including white washed Oak wood slats, white marble and light grey stone veneer. And put the stronger density color accent with dark grey terrazzo tiles and laminate. They are harmoniously combined in terms of color scheme, but their different textures helped room's interior become more interesting.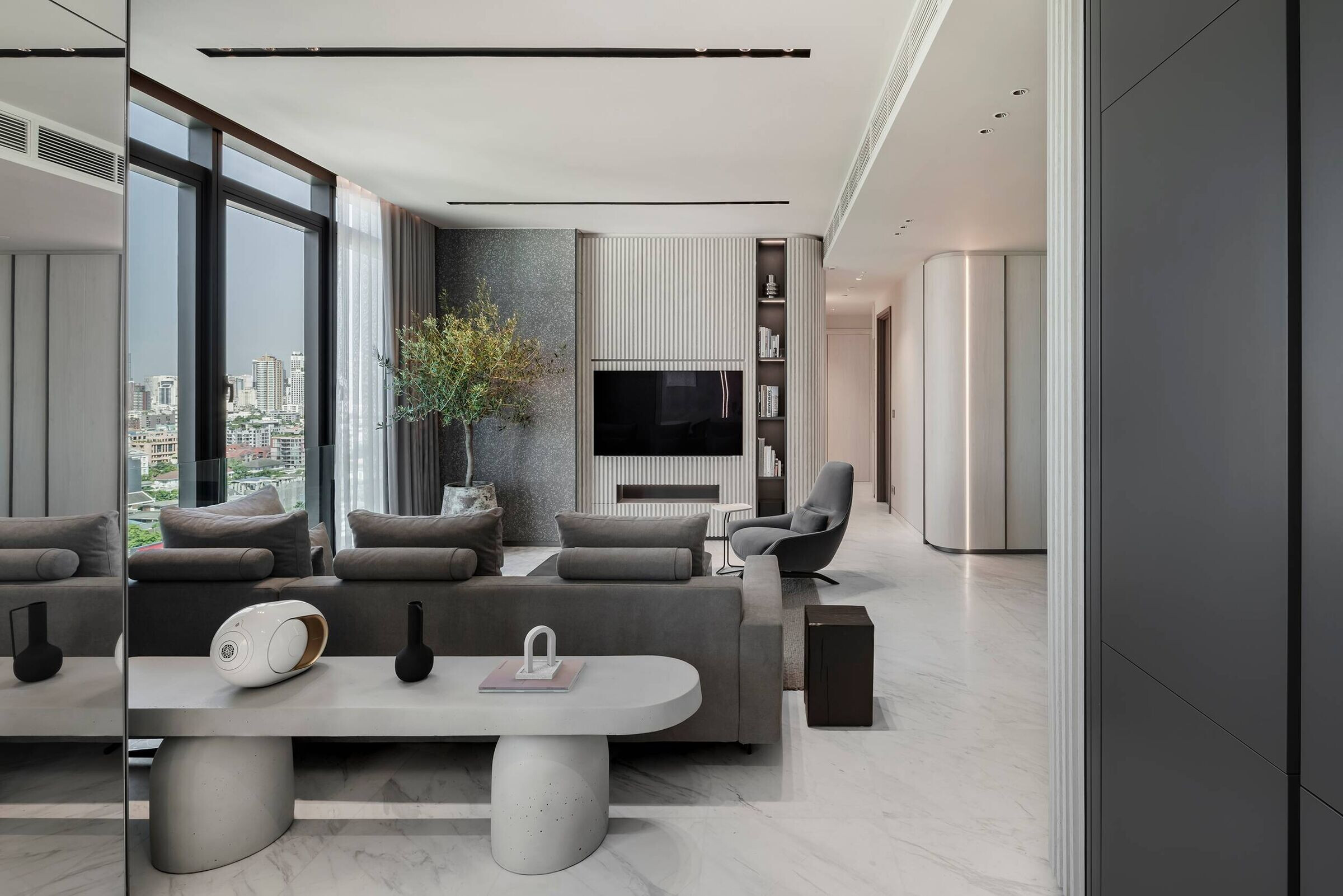 The layout of the main room is open plan, connecting foyer, living area ,dining area and pantry together. All storage space including shoe cabinets, washing machine and closets, were designed to hide behind the decorative cabinet door. Due to the high rise building structure, we decided to clad the enormous structural columns inside the space with Terrazzo ceramic tile and mirror. This helped somehow to conceal the bulky structure to be less seen.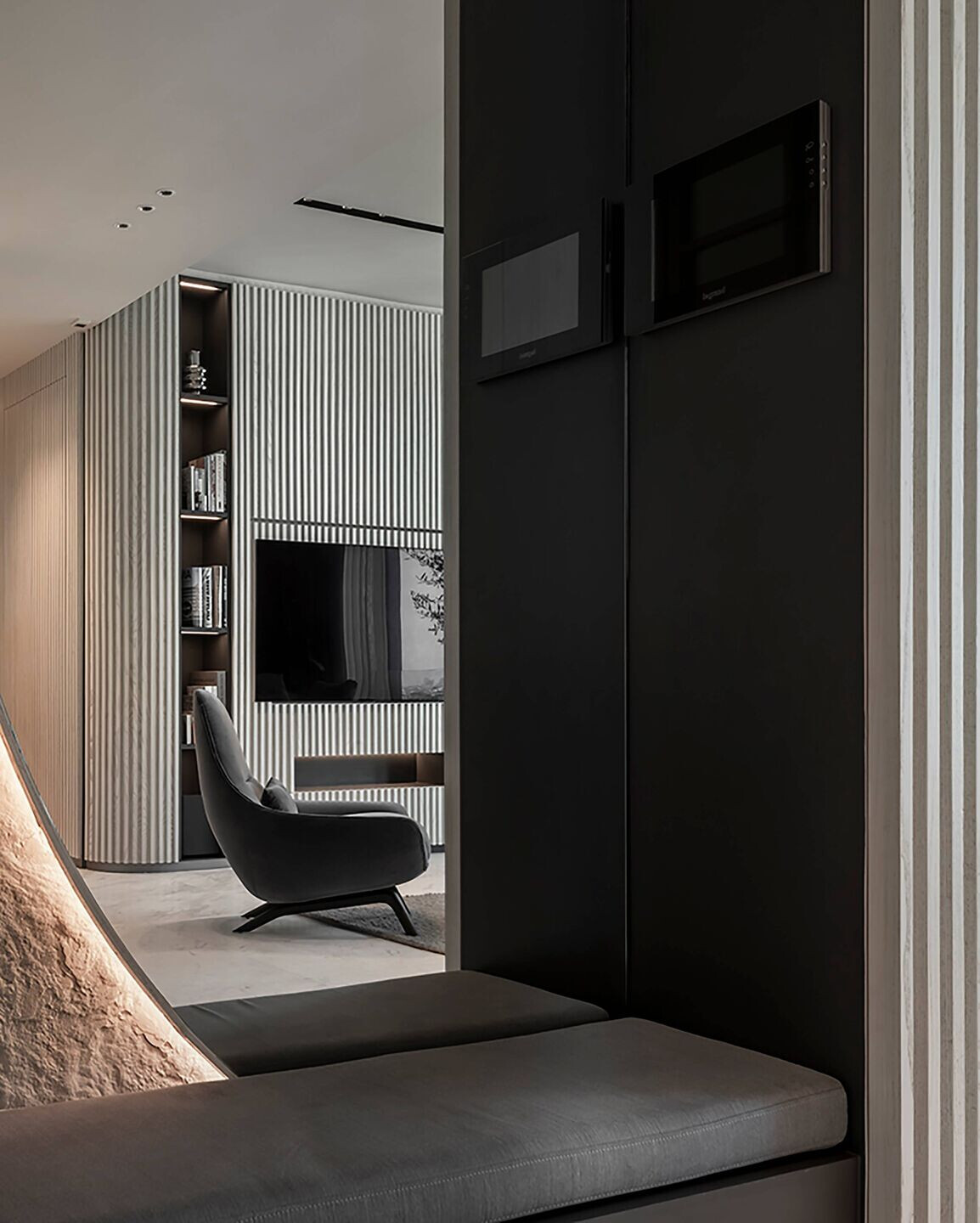 Another important element of the project is lighting. We change all lighting into dimmable LED to enhance the cozier environment and ambient to the house. Also, we designed indirect lighting such as on shelves and behind the mirror to give more interesting effects. Then we put LED light stripes as the decoration on the wall. These elements gave a futuristic and modern look to the house.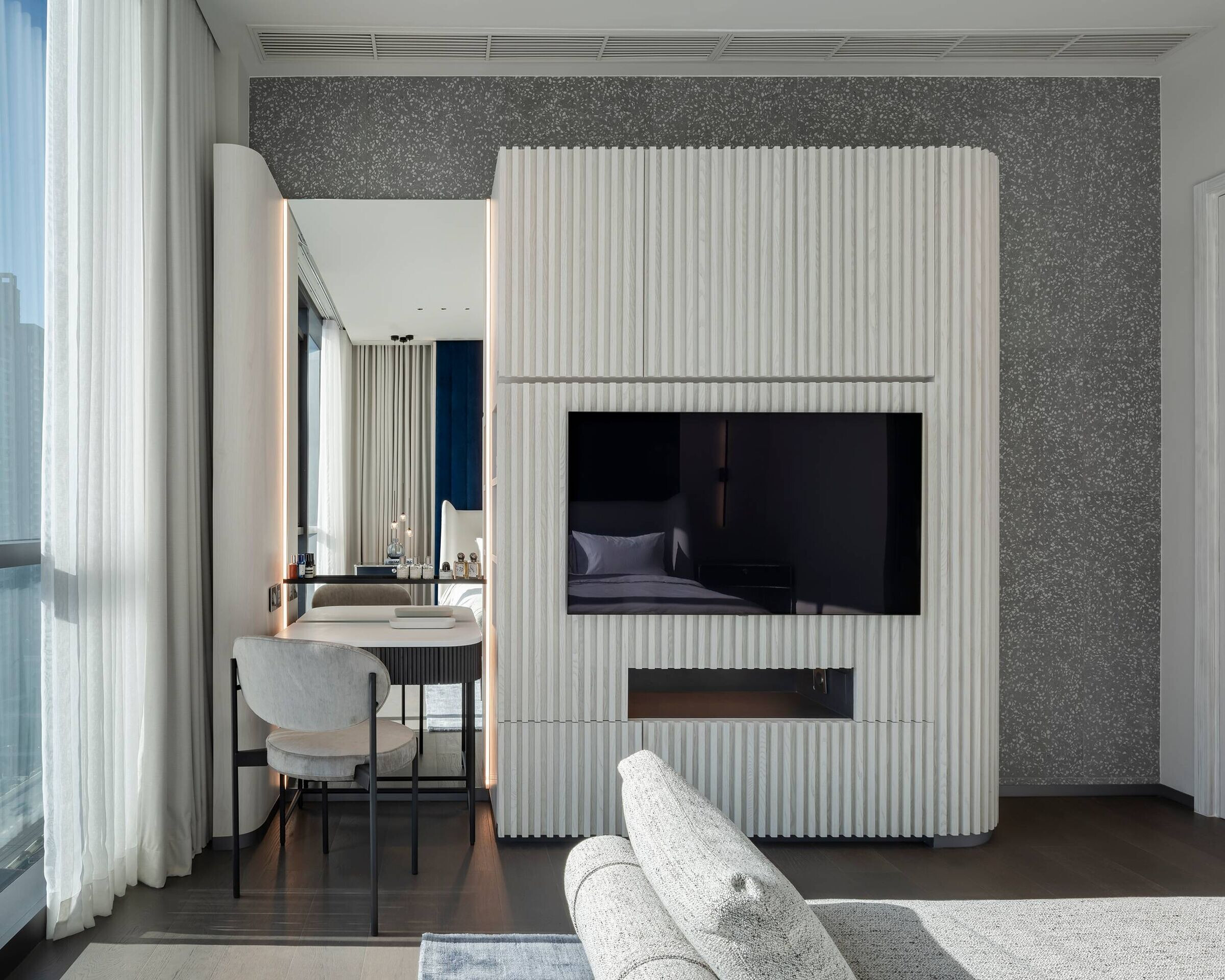 The master bedroom, we used owner's favourite color which is 'Ultra Marine Blue' as the hi-light. We put blue velvet fabric as bed headboard, accent piece of bedroom. While the guest bedroom, we worked with more neutral and bright color scheme.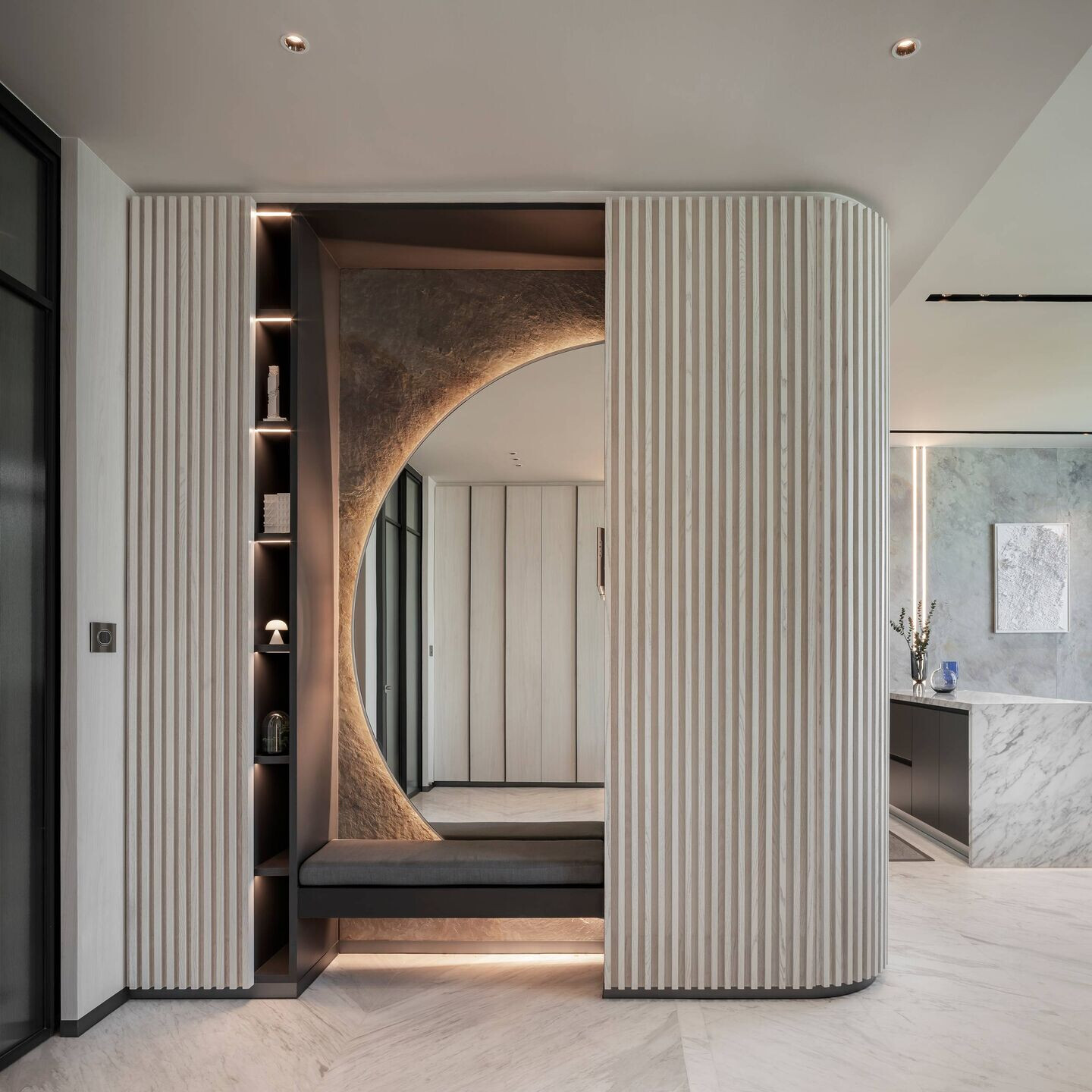 Although we used mainly neutral color materials, but each textures are totally different. For example, roughness of stone veneer and concrete matched perfectly with smoothness of matt white laminate cladding on the wall. This technique brought about uniqueness and interesting interior design for the residence.
Material Used:
1. Terrazzo ceramic tile- AMO
2. Laminate - EDL
3. Aluminium frame - Aluinch
4. Stone veneer - Stone surface