A San Francisco Bay institution for 97 years, the San Francisco Chronicle required a newsroom design that reflected the evolution of communication—bringing the past, present and future together. Anticipated for over a decade, the time was finally right for the major remodel of the Chronicle office in 2021, when most of the newsroom staff was working from home due to the pandemic. With an extensive background in historic renovation and adaptive reuse, HGA was the ideal choice to achieve the Chronicle's goal of creating a more modern, open and collaborative experience—infused with technology— while respecting its heritage as the city's oldest newspaper.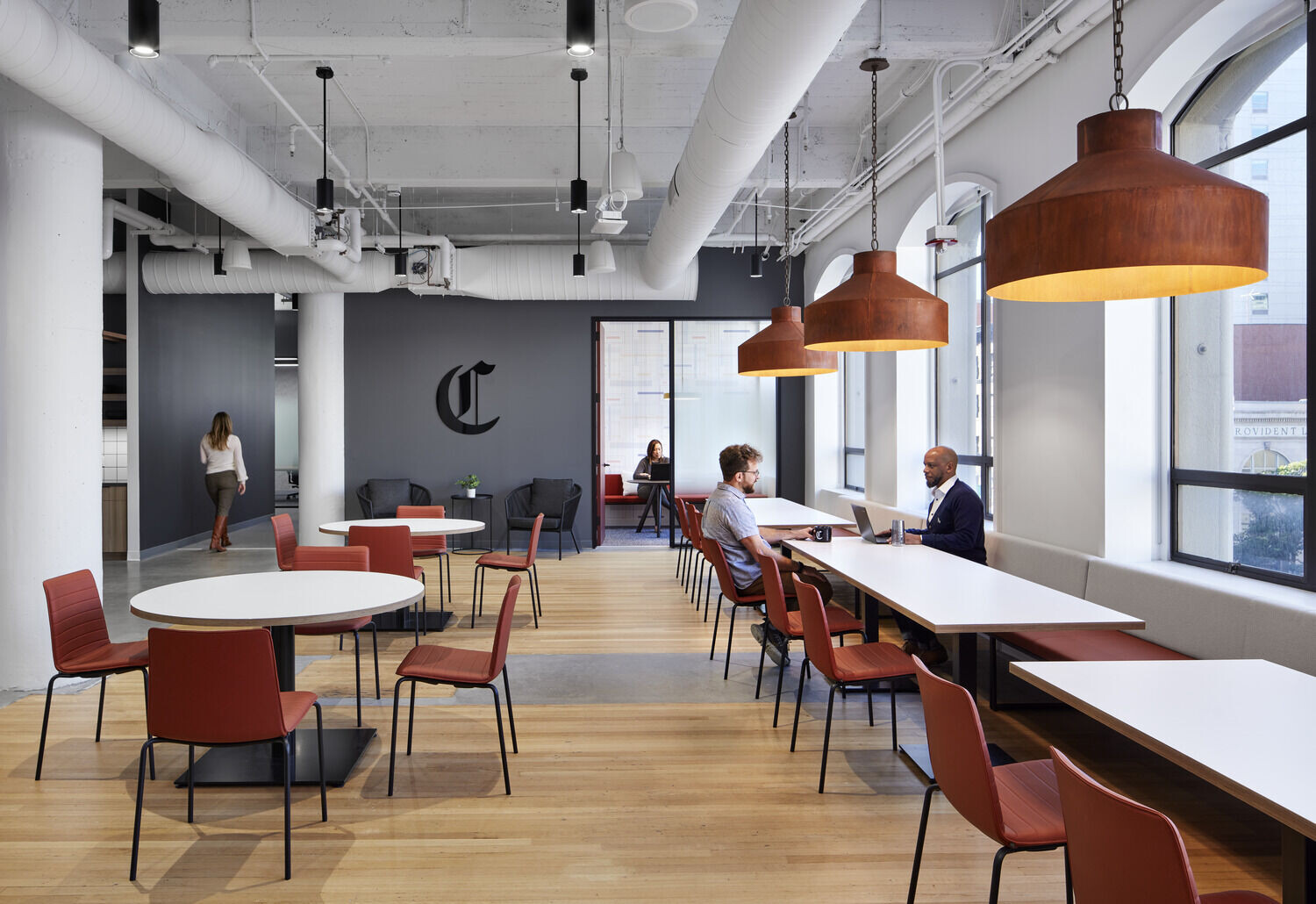 The complete overhaul brought the space down to the studs, and the process became a unique kind of archaeological dig through the storied past of the historic landmark. Unexpected elements that hadn't been seen for generations, including hardwood flooring, terracotta tile and even a shower, were unearthed. Some elements, like the hardwood floor, were decidedly kept and integrated into the new design. The team's ability to work through the various surprises the project presented is credited to the connection between the architect and SC Builders, staying nimble and problem solving on the fly, without ever missing a deadline.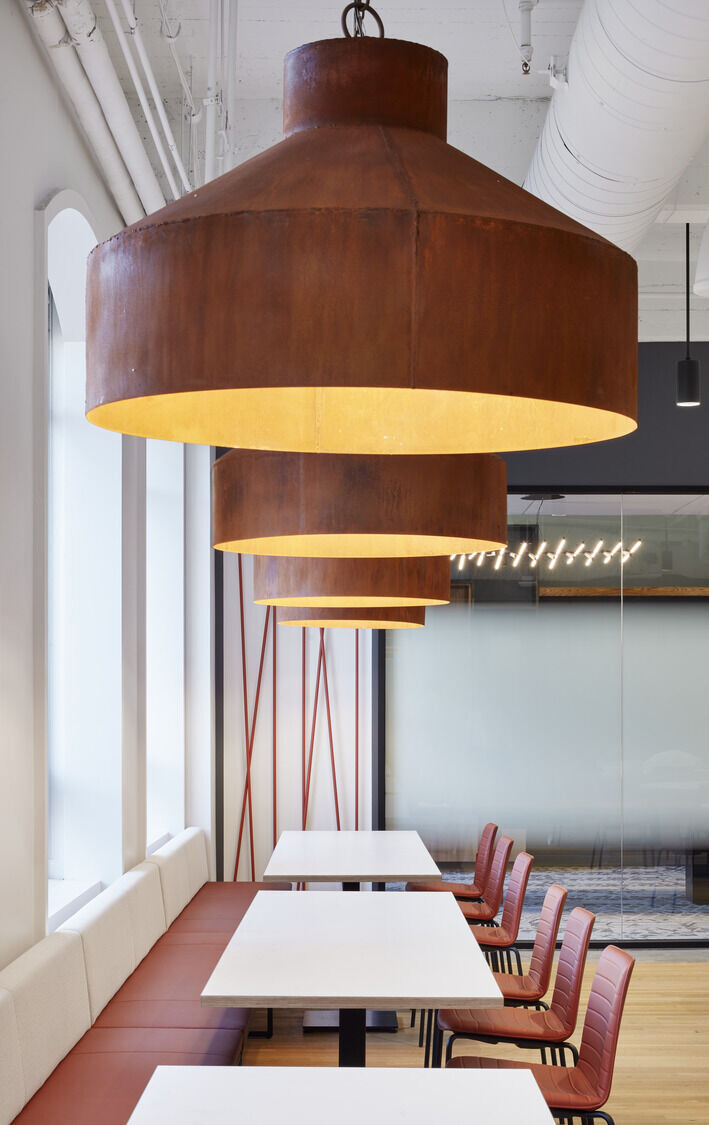 To achieve the Chronicle's goal of balancing a classical feel with a fresh, modern look, the HGA team took advantage of pre-existing elements while introducing new ones. Exposing the ceiling allowed more access to natural light through the high arch windows, while breaking up small, segmented workspaces gave way to a variety of desk configurations: hoteling, shared space and quiet spaces designated for independent research and writing. LED light and fresh signage juxtapose historic building elements. Enhanced technology and design reflect the evolution of immediate communication into the digital realm, while the lobby and third floor reception areas (designated historic landmarks), with their wood paneling and original stained-glass windows, remain untouched. HGA worked closely with CRI to curate the furniture selections to enhance the varied work postures to support the newsroom.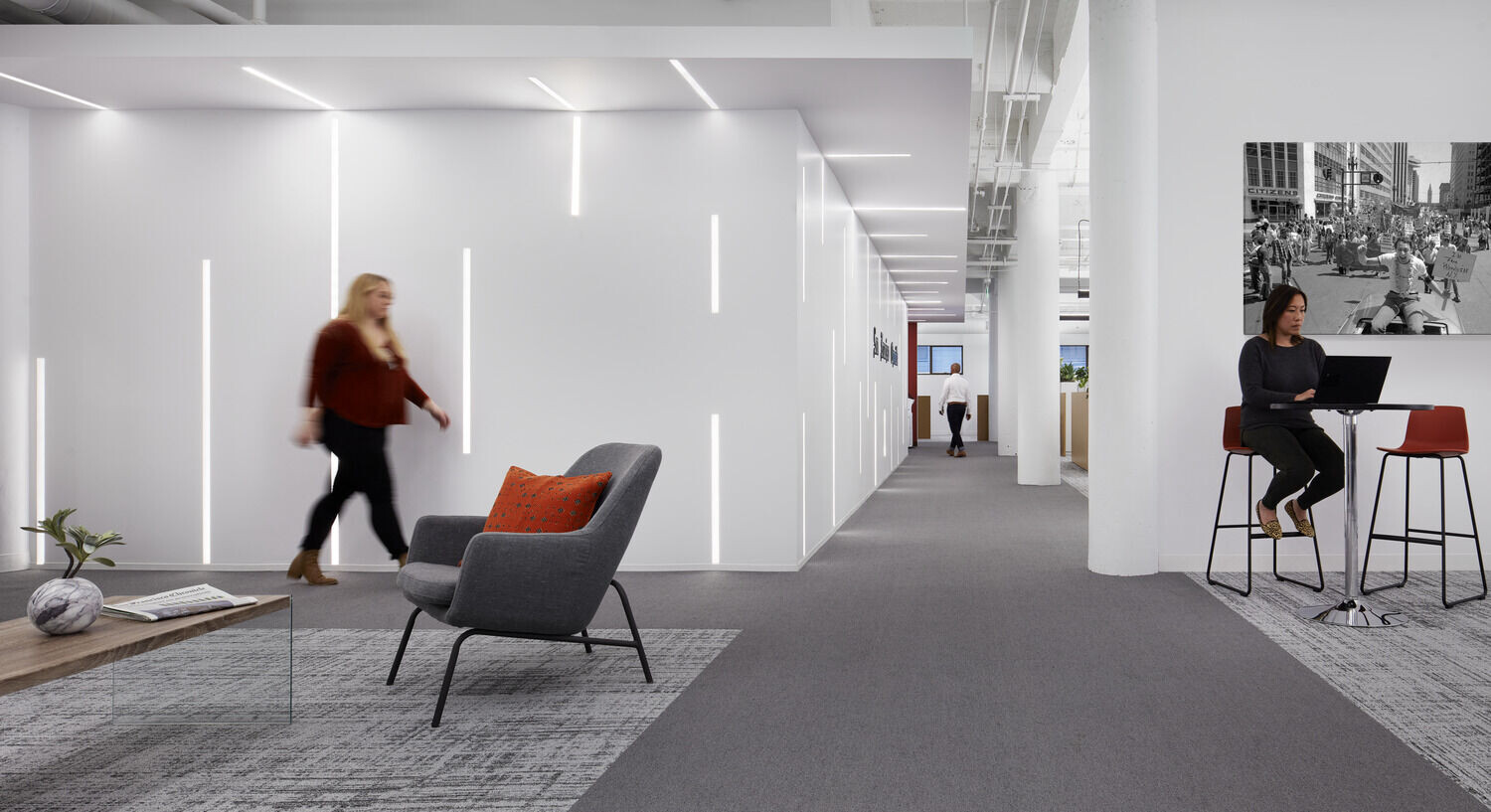 Many design elements throughout the Chronicle's updated office pay homage to the city of San Francisco and the greater Bay Area. The theme of "bridges and communication that connect the Bay Area" plays out in the newsroom, with artistic lighting paying homage to the Golden Gate and Bay bridges on the most prominent wall. Bay Area bridges play another role in the naming of conference rooms and in the design of the main boardroom. Even the San Francisco fog receives a subtle nod through the window film applied to the office and conference room glazing.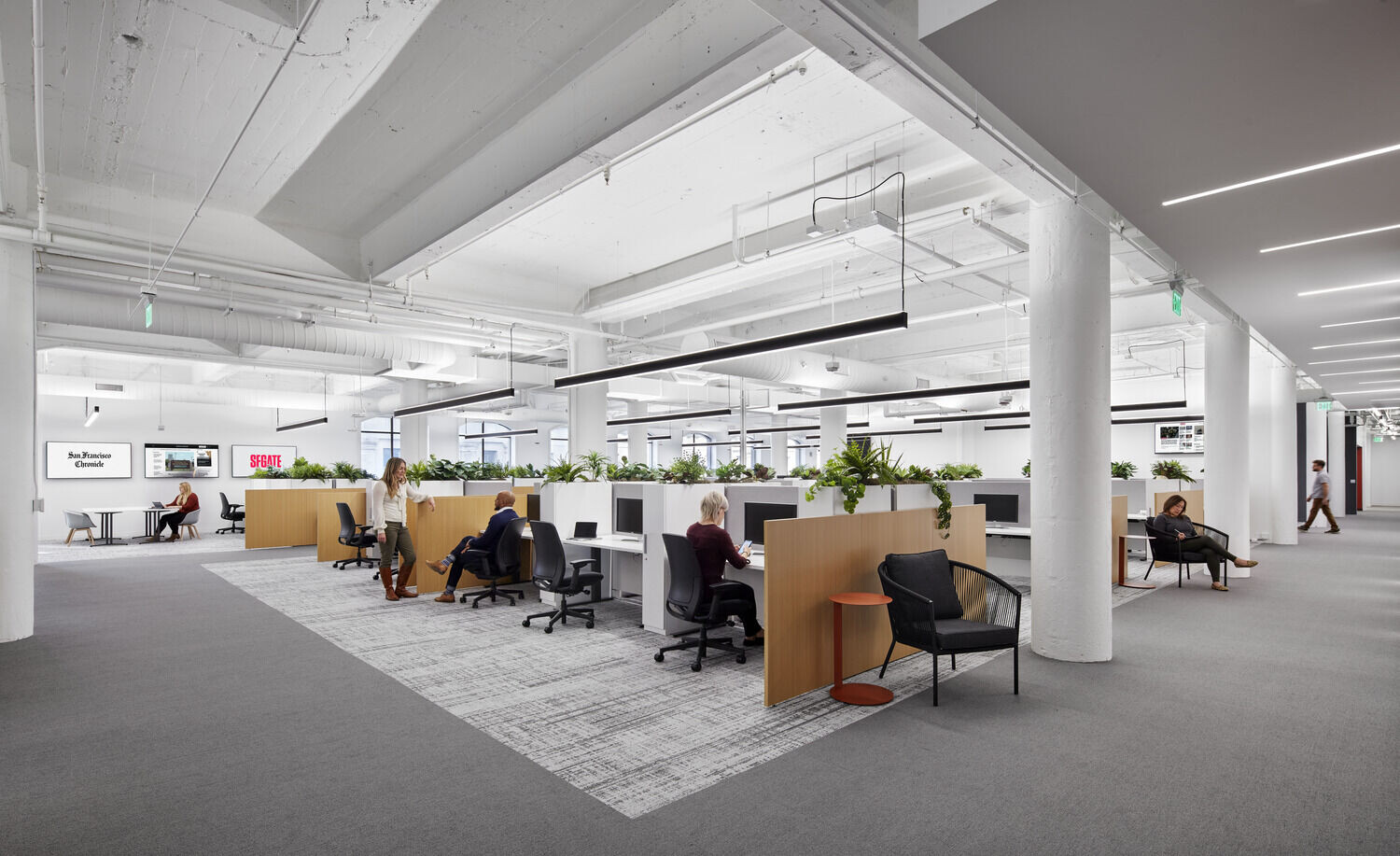 Team:
Architects: HGA
Furniture Dealer: CRI
Photographer: Corey Gaffer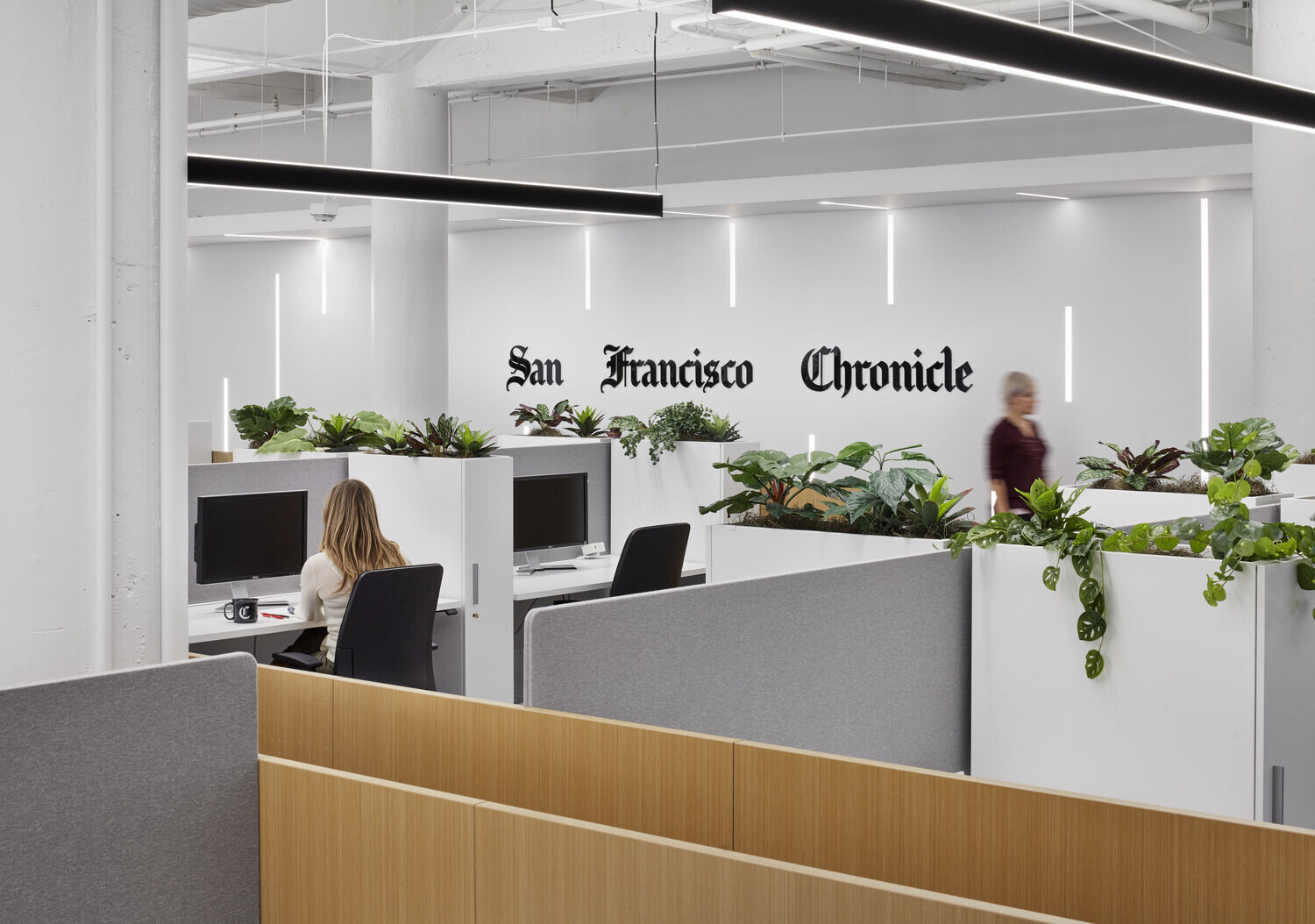 Materials Used:
Tilebar: Ceramic Floor Tile and Ceramic Wall Tile
Genrose Stone +Tile: Ceramic Wall Tile
Lapitec: Ceramic Floor Tile
Milliken: Carpet Tiles
Siena: Luxury Vinyl Tile
Mohawk: Luxury Vinyl Tile
Armstrong: Static Dissipative Tile
Benjamin Moore: Paint
Tarkett: Wall Base
Design Tex, Innovations, and Hygge & West: Wall Covering