Gently nestled into the tussock grasslands at the foothills of the Ben Ohau range sits the Skylark Cabin.
The clients brief requested a simple retreat with honest materials, a place:
to relax and retreat to
to watch the sunlight and shadows dancing along the Ben Ohau range
to watch the skylarks frolic, hover, and dance over the tussocks
to watch the starsand the night sky
to have a bespoke appeal as a potential rented luxury escape a place to literally soak up the landscape with a focus on effortless relaxation.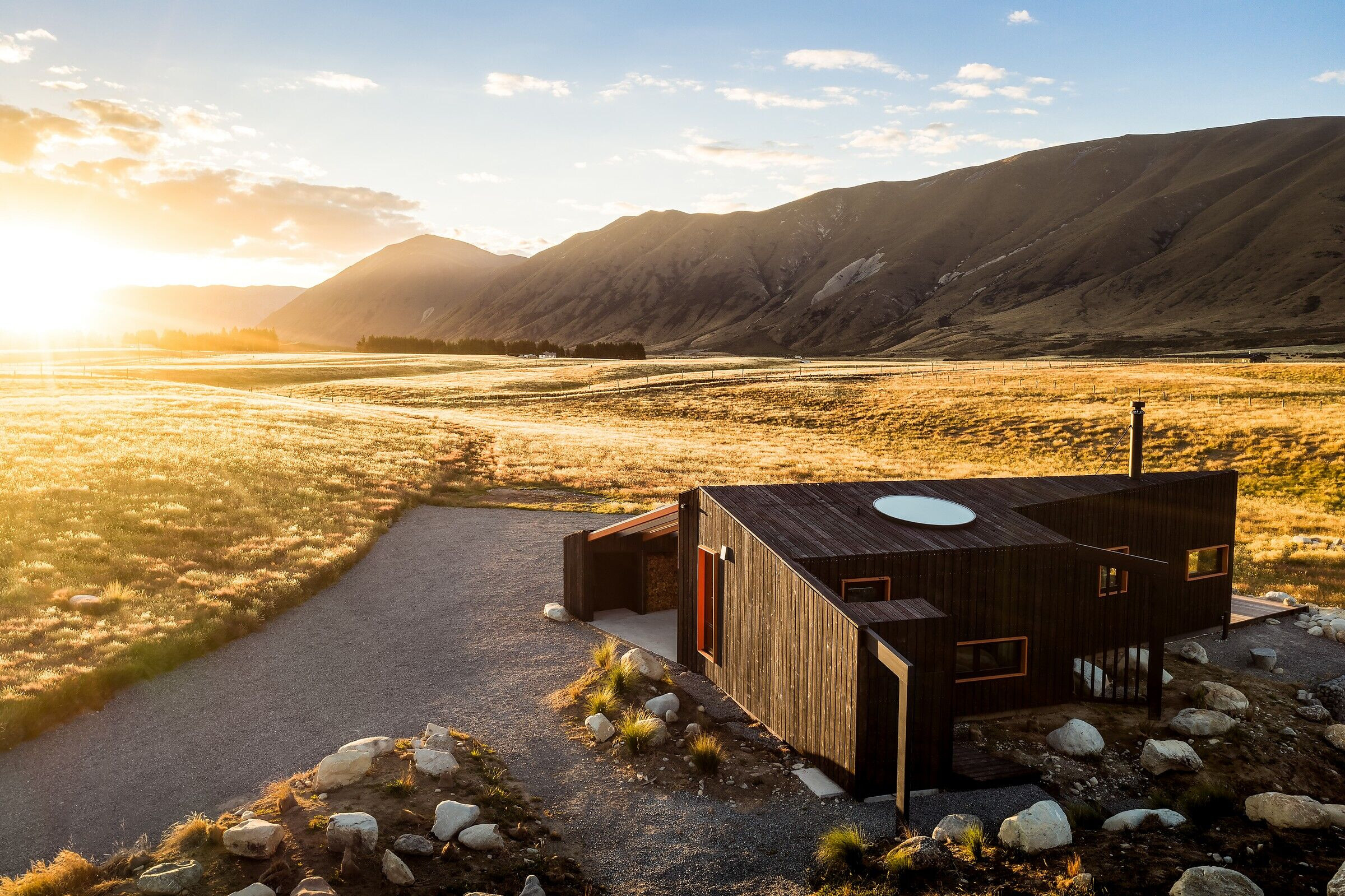 The underlying form is of two offset open plan spaces. One contains the bedroom and bathroom and is positioned to allow morning sun in both winter and summer to filter through. These spaces are orientated towards The Black Hills and Backbone Peak. The other holds the kitchen, entry and living areaswith closer views of the Ben Ohaurange. The angle of the offset was derived from plotting specific views from certain activities; lying in bed, washing the dishes, having a shower, sitting, standing. The folded form also nods to the distinctive aerial display of the local Skylarkswith their angular, precise, and purposeful acrobatics.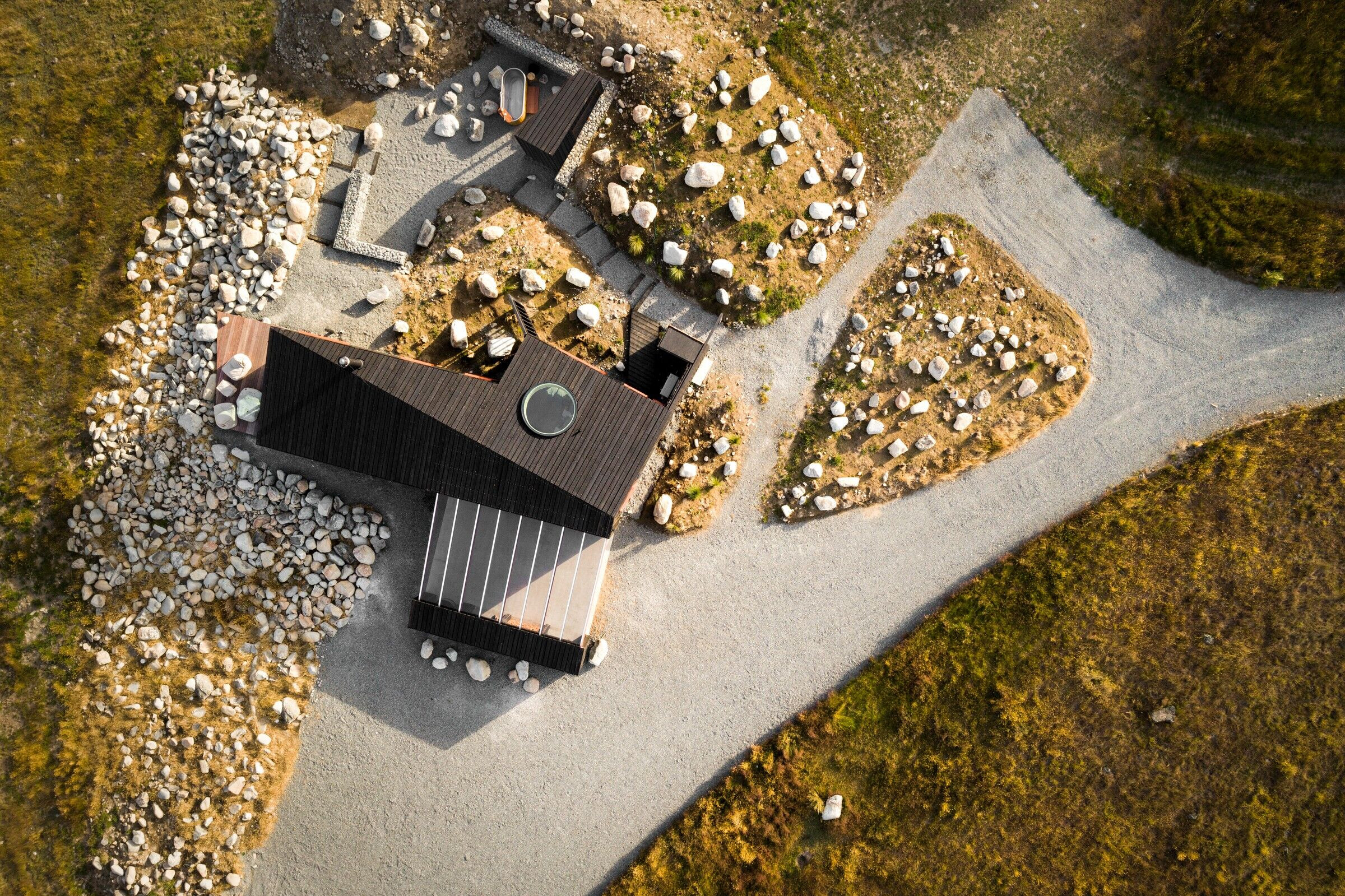 The entry porch connects to the carport which is a series of burnt orange structural framesextending down from the cabin roofline and is anchored at the other end to the hidden storage block, and bike racks. The burnt orange accents were a specific client request and were usedto emphasisethe main structural elements and view frames.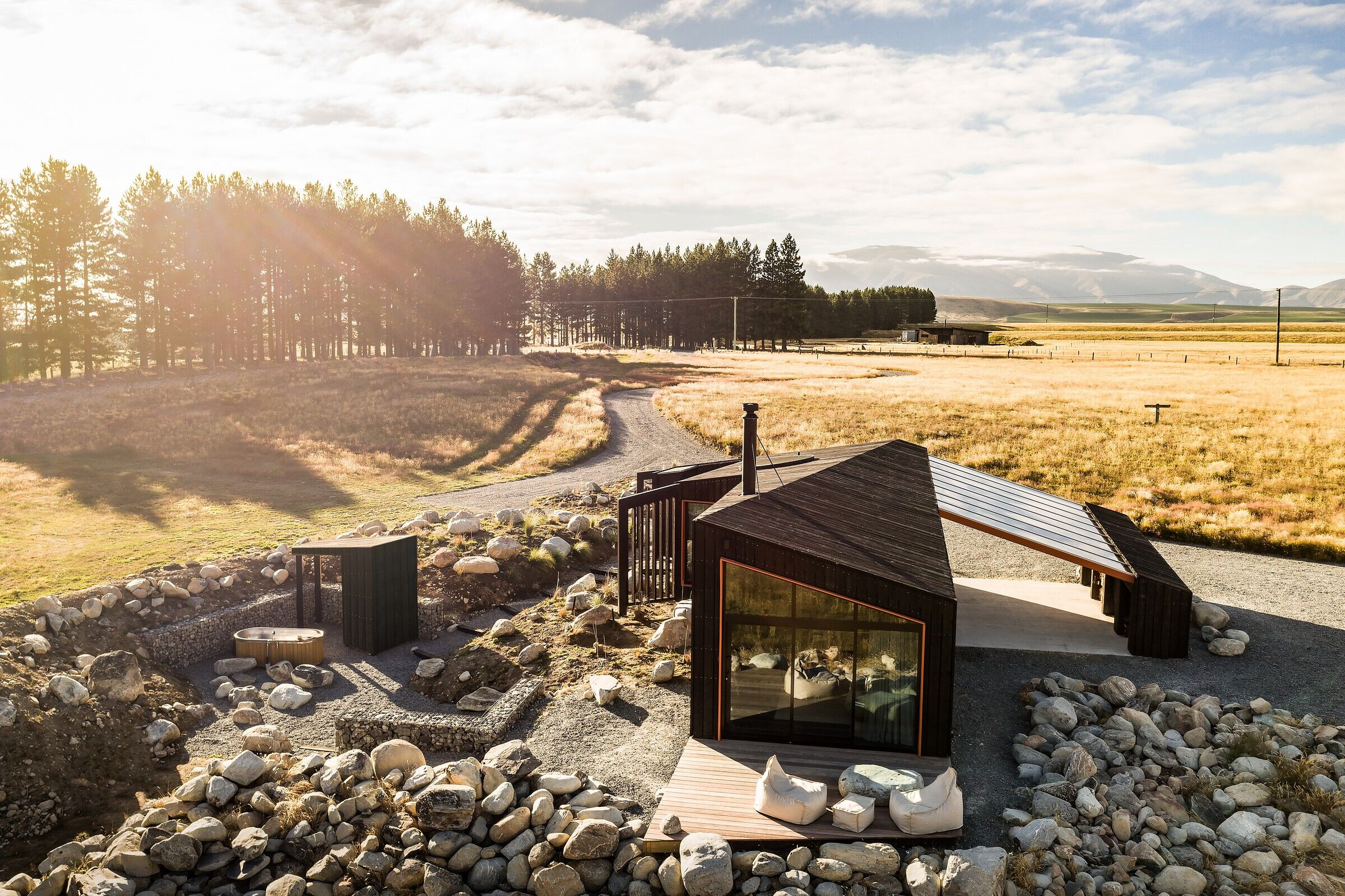 DESIGN FEATURES & CREATIVE SOLUTIONS
Natural stone boulders reclaimed from the site excavation created a nested plinth on which the cabin perches. Permeated with native tussock grasses and refined planting this allows the cabin to nestle gently in the land.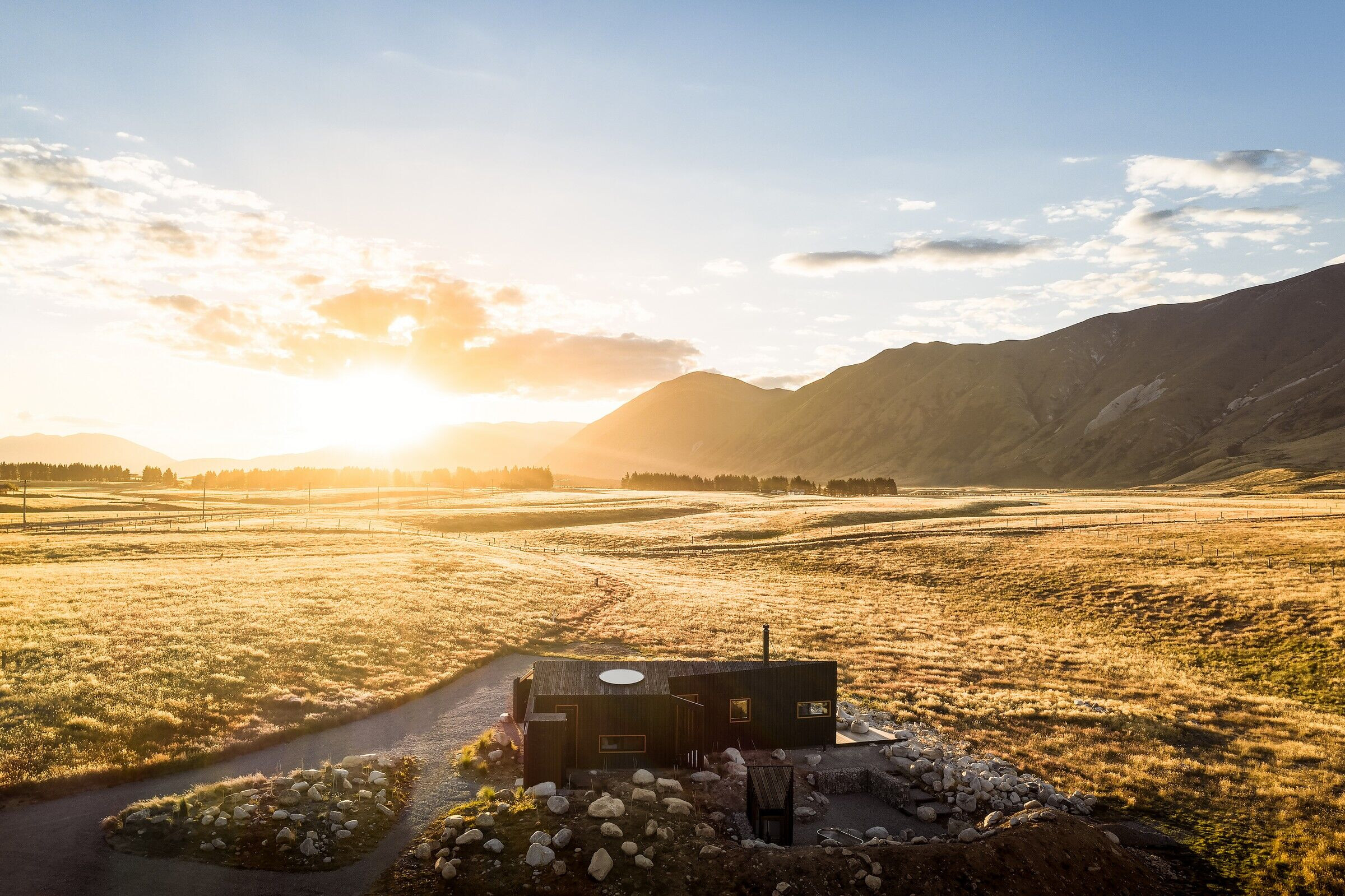 The exterior is cloaked in a rough sawn larch timber rainscreen and represents the idea of a bird's nest and appeals to the natural aspect of the project. Located within a harsh andextreme alpine climate the materiality needed to considerthe radical temperature shifts throughout the year. The rainscreen cladding was chosen as it will weather in overtime and can also be removed and replaced as necessary.
The seemingly random burnt orange window frames punctuate the band sawn larch shell, poised to accommodate the purposeful framed views of the mountains and the starsthatthroughout the day or night provide interest, perspective and scale.The circular skylight over the bed provides for views of the prized and protected Mackenzie Aoraki Dark Sky Reserveand lazy views of the vast hazy skies during the day.
A contrasting light Beech plywood interior reflects the warm cream tones of the exterior and blurs the thresholdwith the tussock grasslandcapturing the feeling of being nestled right in the landscape. Black edged ply rib detailing represents the "cradle" of being inside, protected, safe and private.
Conceived as a place for relaxation and retreat the intention was to provide for only the essentials: a place to cook, sleep, reflect and bathe.
Contemporary yet curated ……. a pure space as a bedrock of relaxation