What was the brief?
Studio One Eleven transformed an abandoned department store into a new development – The Exchange– furthering the revitalization of downtown Bellflower, the city's main commercial throughfare. The Exchange adapts the 1952 JC Penny store at 17434 Bellflower Boulevard into creative office, co-working and food-maker space. The 41,000-square-foot Exchange houses the new headquarters for construction and development company Howard CDM on the third floor, a co-working facility on the existing mezzanine and a future brewery/restaurant at the ground level.A new mezzanine was constructed at the front of the building to provide private dining with an outdoor patio visible from the street. The public/private venture also includes street improvements, including traffic calming, to bring economic vitality to the neighborhood.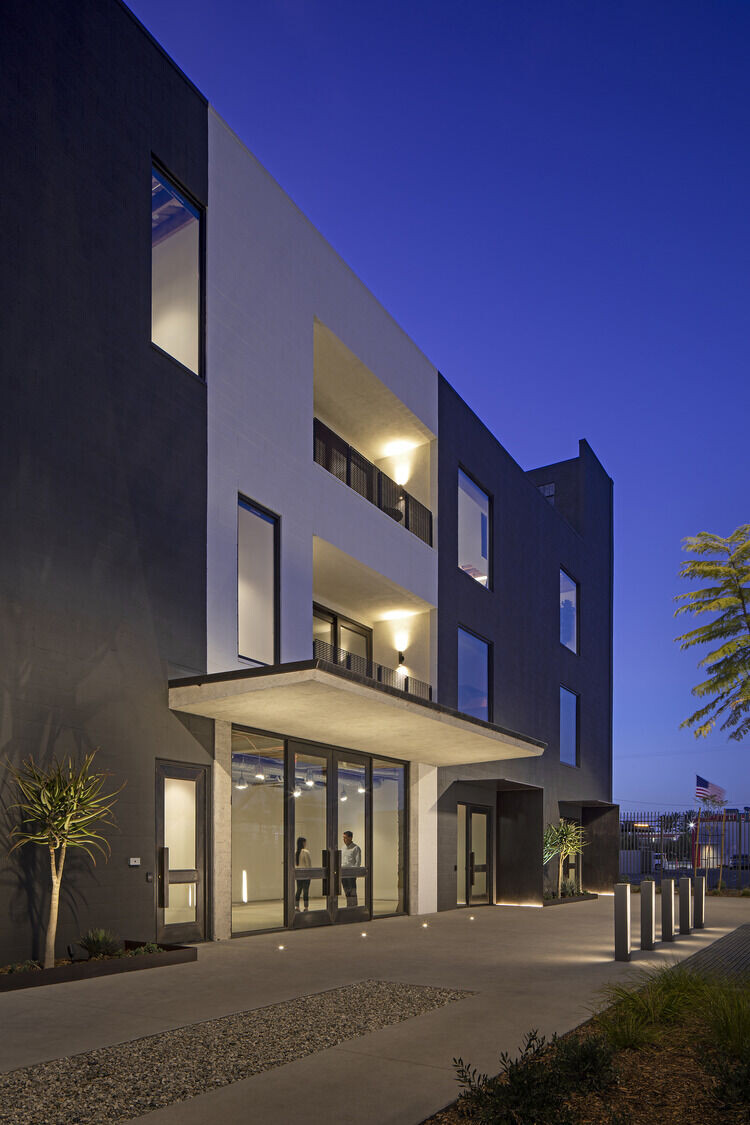 What were the key challenges?
With The Exchange, Studio One Eleven and Howard CDM further partnered with the city of Bellflower to bring vitality to this city south of Los Angeles. There is tremendous potential in recycling classic buildings such as this. It was scheduled for imminent demolition before the team rescued it with a viable adaptive-reuse plan. This re-imagination as a retail and office destination is a crucial step in uplifting the surrounding community.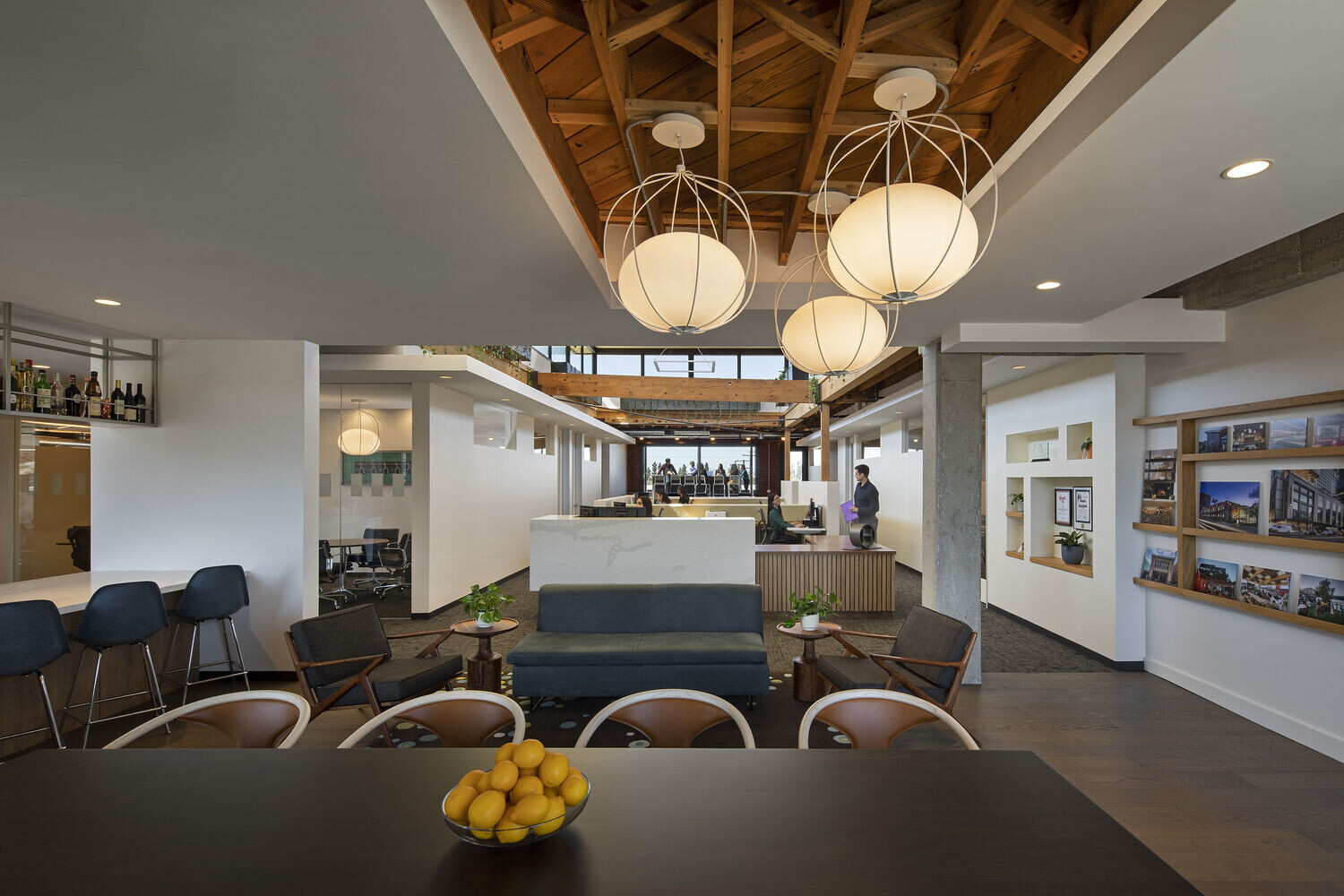 What materials did you choose and why?
Part of the process of bringing the building back to life was exposing its original concrete structure, red brick and wood ceilings, and incorporating a complimentary material palette that created a healthy and uplifting work environment.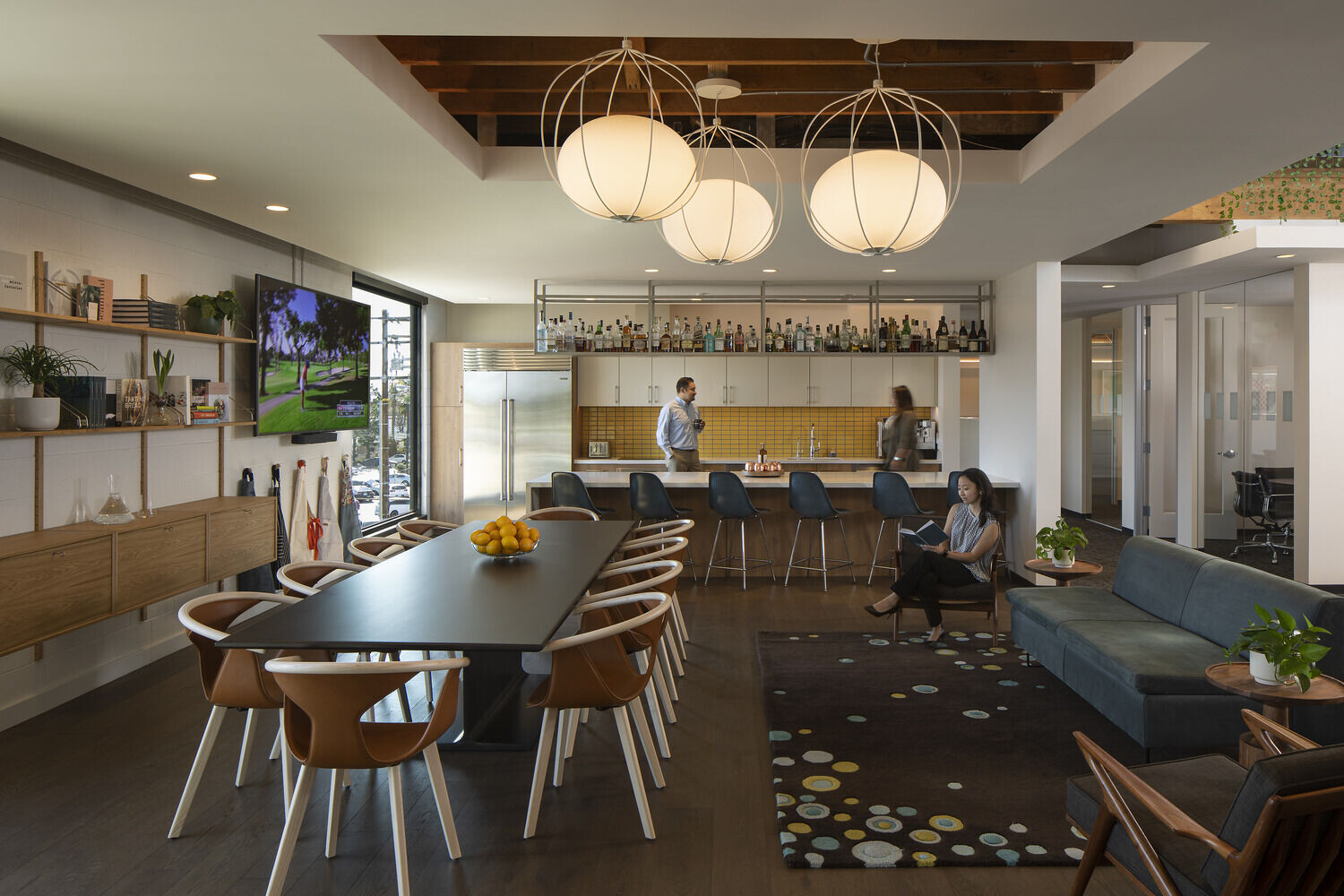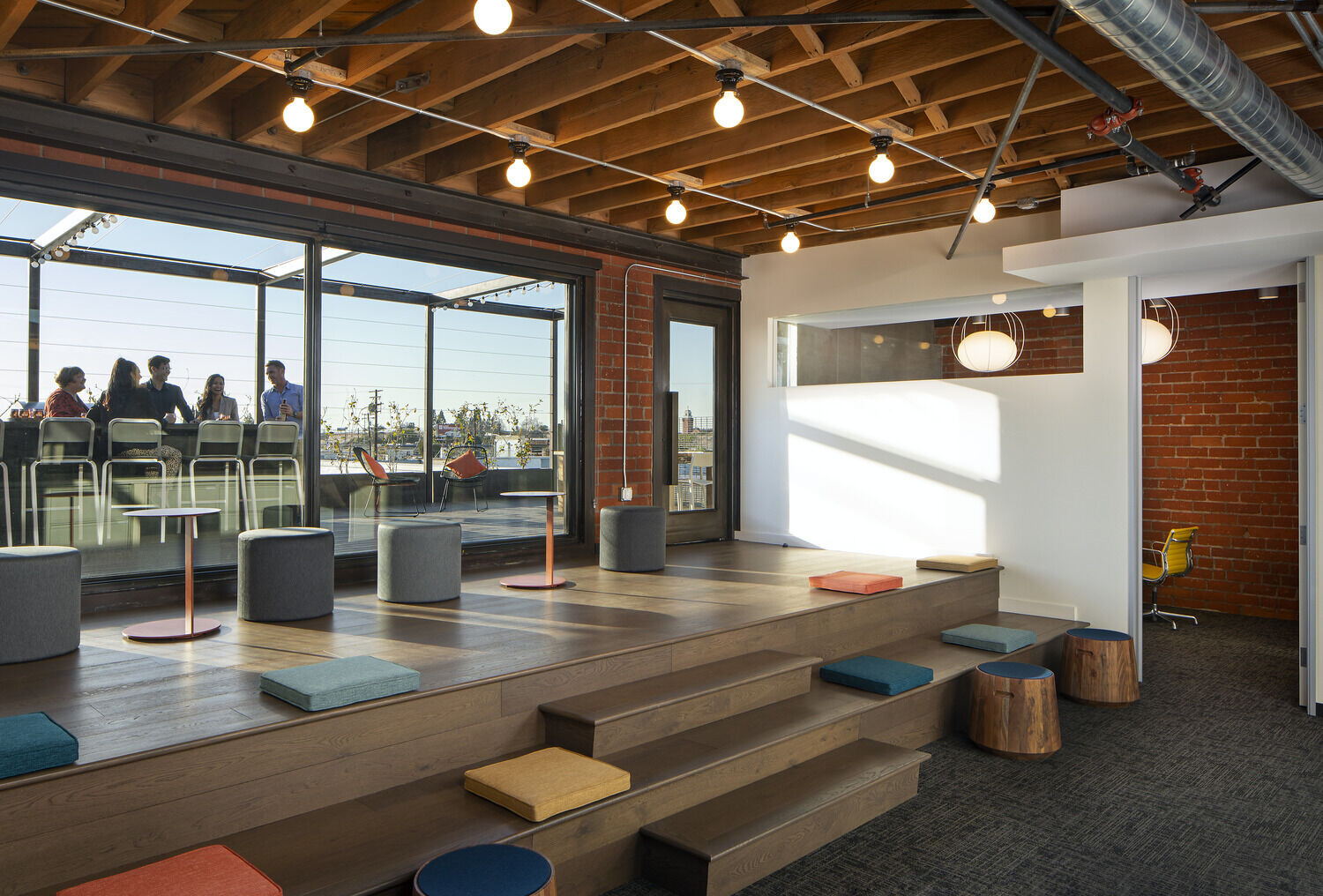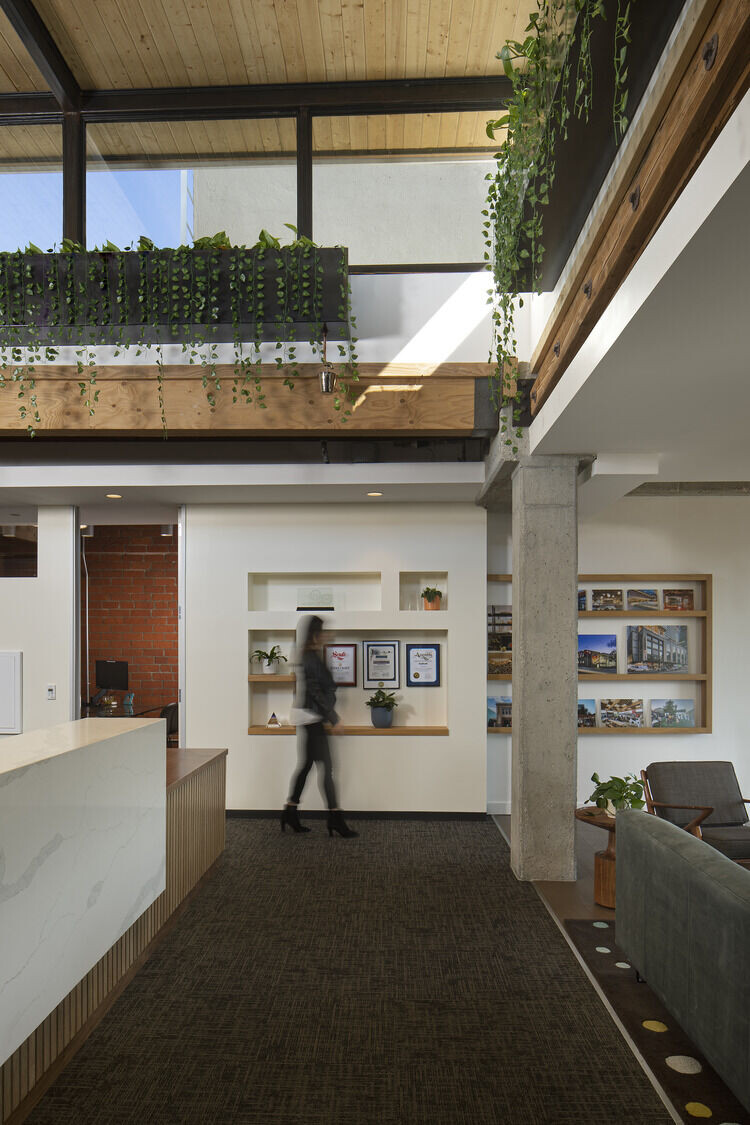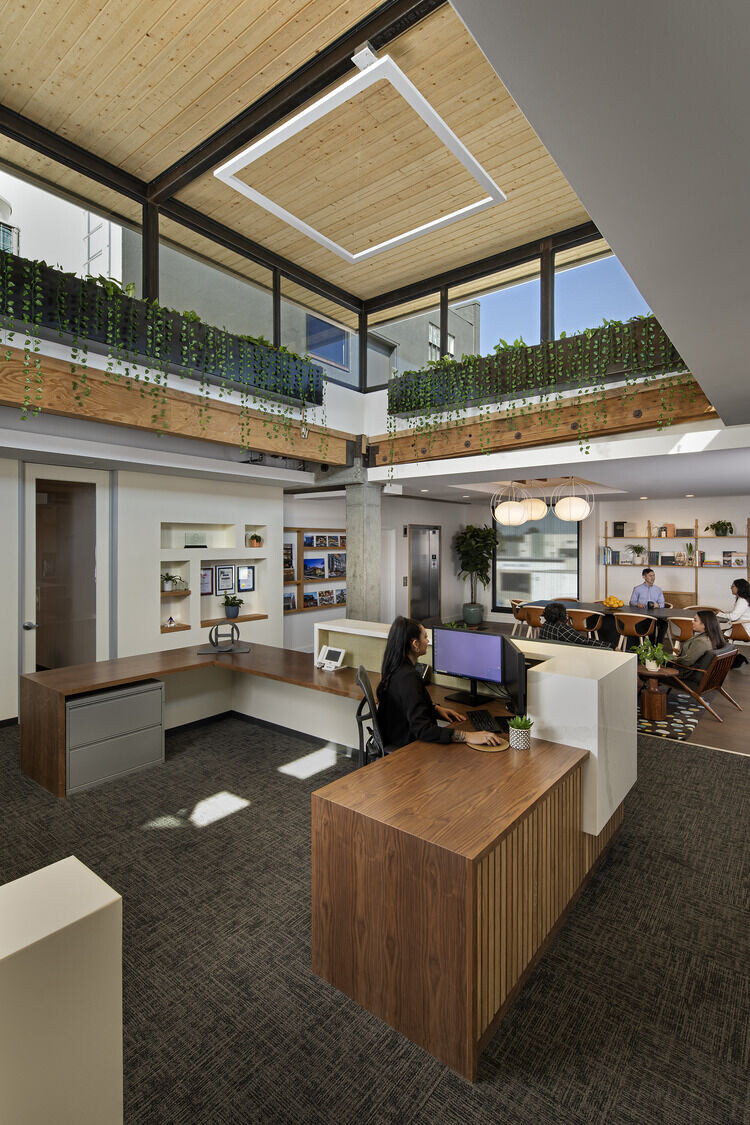 Material Used:
1. Facade cladding:
Front: Metal Rainscreen, A18, Bok Modern
Rear: CMU
Sides: Brick Infill Concrete Frame
2. Flooring:
Level1: Porcelain Tile, Cliff, Negro 24 x48", Roca Polished Concrete
Level 2: Wood Floor, European White Oak, Pravada Polished Concrete
Level 3: Wood Floor, European White Oak, Pravada
Carpet, Nordic Stories, American Techtonic 120 Flume, Milken
Carpet, Walk the Line, American 120 Memphis, Milken
Porcelain Tile, Cliff, Negro 24 x 48", Roca
Recycled Decking, Transcend Spiced Run, Trex
3. Doors: Steel Windows and Doors, MDSS Inc., dba Midway Glass
4. Windows: Steel Windows and Doors, MDSS Inc., dba Midway Glass
5. Roofing: Foam Roofing, SWD Urethane Spray Applied Polyurethane Foam Roofing System, Air-Thane Foam Rooming
6. Interior lighting: USAI, Lumenwerx, Zumptobel, Luminii, BK Lighting, Tokistar, Molo Design, BuzziSpace, LightArt
7. Interior furniture: FF&E