Monolithic architecture
An overview of projects, products and exclusive articles about monolithic architecture
News • News • 10 Jun 2021
On the Greenwich Peninsula a hectare of 16 buildings is planned to become a new creative hub for London. The first of many planned to open this summer, Ravensbourne University's new Institute for Creativity & Technology is designed by Barozzi Veiga. The institute is the first project in the UK for Barozzi Veiga. Taran Wilkhu Known for their monolithic designs Barozzi Veiga shaped the institute like a polished aluminium factory hall punctured asymmetrically with large industrial floor-to-ceiling windows. The building is one of two the architects designed for the district. A darker version of similar design will be located on the other end of the creative community. Taran Wilkhu "When developing this project, we ha...
More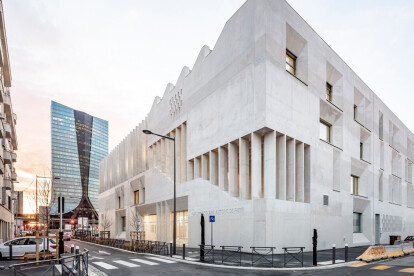 News • News • 20 Apr 2021
Located in Marseille, the Antoine de Ruffi School Group by TAUTEM Architecture and BCM2 Architects accommodates 22 classrooms along with common areas within a strict, monolithic geometry with spectacular volumes. The building occupies a strategic sport between the new Méditerranée district and its 'inhabited park' conceived by urbanist Yves Lion. Luc Boegly The eastern of the building offers views over a developing suburban fabric, with scattered warehouses, silos, soap factories, and large-scale housing estates from the 1970s. The reverse view, towards the west, overlooks the port and large towers by iconic architects such as Zaha Hadid and Jean Nouvel, as well as a highway viaduct. Luc Boegly A grand...
More