The Bharat Floorings Group (an ISO 9001:2015 Certified Company) is the leader in quality cement floorings - a reputation held for over 90 years. In 1922 Bharat pioneered the cement tiles industry in India as part of the Swadeshi movement as a contribution to India's economic independence by producing tiles of international quality to replace imports. The best European technologies were brought and modified to create a unique product suited to Indian conditions. Recognising that a good floor is only achieved with a good product that is installed correctly and maintained properly, the company has sister companies which do high quality installation of all types of floorings, a range of civil work, floor maintenance and general cleaning. Over the decades Bharat has laid some of the best-known floors in India's landmark buildings: from palaces of Maharajas and Raj Bhavans to prominent residences, hotels, hospitals, clubs, offices, factories, co-operative housing societies, educational and religious institutions, airports, railways etc.
Bharat Floorings & Tiles Product
Heritage Range
Bharat Floorings & Tiles
Bharat Floorings and Tiles (BFT) manufacture hand-crafted cement tiles for 3 specific segments of the market: decorative floors, industrial floors, an...
Other Floors and Stairs Products
Member Promotion
Holistic Thrive
Patcraft
COLLECTIONHolisticSTYLE NUMBERI691VCONSTRUCTIONCommercial Homogeneous SheetOVERALL THICKNESS0.079 inches (2 mm)FINISHExoGuard™INSTALLATION TYPED...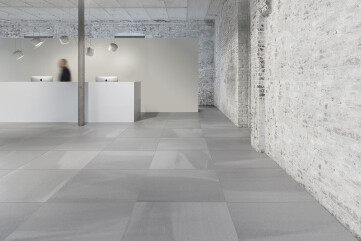 Core Collection Solids
Mosa
The Solids tile series is characterized by a pronounced depth effect thanks to the grain combination. The tile is both layered and luxurious, offering...
Our Products are Used in Projects by
Projects with Products from Bharat Floorings & Tiles
Inspiration in Floors and Stairs
Member Promotion

Alberto Chiggiato Ph

Alberto Chiggiato Ph

Alberto Chiggiato Ph

Alberto Chiggiato Ph

Alberto Chiggiato Ph

Alberto Chiggiato Ph
Alberto Chiggiato Ph
Bharat Floorings & Tiles Offices
HQ
Bharat Floorings
Mumbai Samachar Marg, Fort, Bombay, Maharashtra, India
Is this your brand and would you like to remove content from other manufacturers on your brand page?
Contact Archello