Metal Tech Global is the nation's premiere fabricator and distributor of coil, sheet and finished architectural metals.
Our core value system is focused first, on building relationships with architects. Not only do we seek to educate architects on the value and efficacy of metals in architectural applications, but also on the unlimited applications made possible by our production facilities. One of our main goals is to infrom our partnering achitects on all of the technological capabilities of our products and CAD program that allow us to durn their designs into reality
We invision that home and commercial construction will be committed to using only durable and resusable products - our area of expertise. Look to us for a range of reliable and sustainable products.
MetalTech Global Product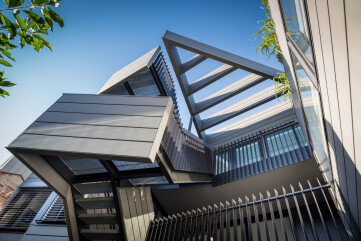 elZinc Slate
MetalTech Global
elZinc Slate is a pre-patinated matte grey colored zinc which gives a very similar appearance to naturally weathered zinc. The pre-weath...
Other Facades Products
Member Promotion
Our Products are Used in Projects by
Projects with Products from MetalTech Global
Inspiration in Facades
Member Promotion


Bert Machiels
Bert Machiels

Bert Machiels
Bert Machiels

Bert Machiels
Bert Machiels

Bert Machiels
HQ
MetalTech Global
385 Highway 74 South, Suite 300, Peachtree City, GA, USA
Is this your brand and would you like to remove content from other manufacturers on your brand page?
Contact Archello