A family living abroad commissioned this renovation, with the intention of creating a meeting place for themselves and to welcome friends.The project has two primary objectives: to completely review the distribution of the interiors and reconnect the interiors with the surrounding landscape. The house was in fact little related to the large terraced garden, and the interior spaces were dark and fragmented into small, unconnected rooms.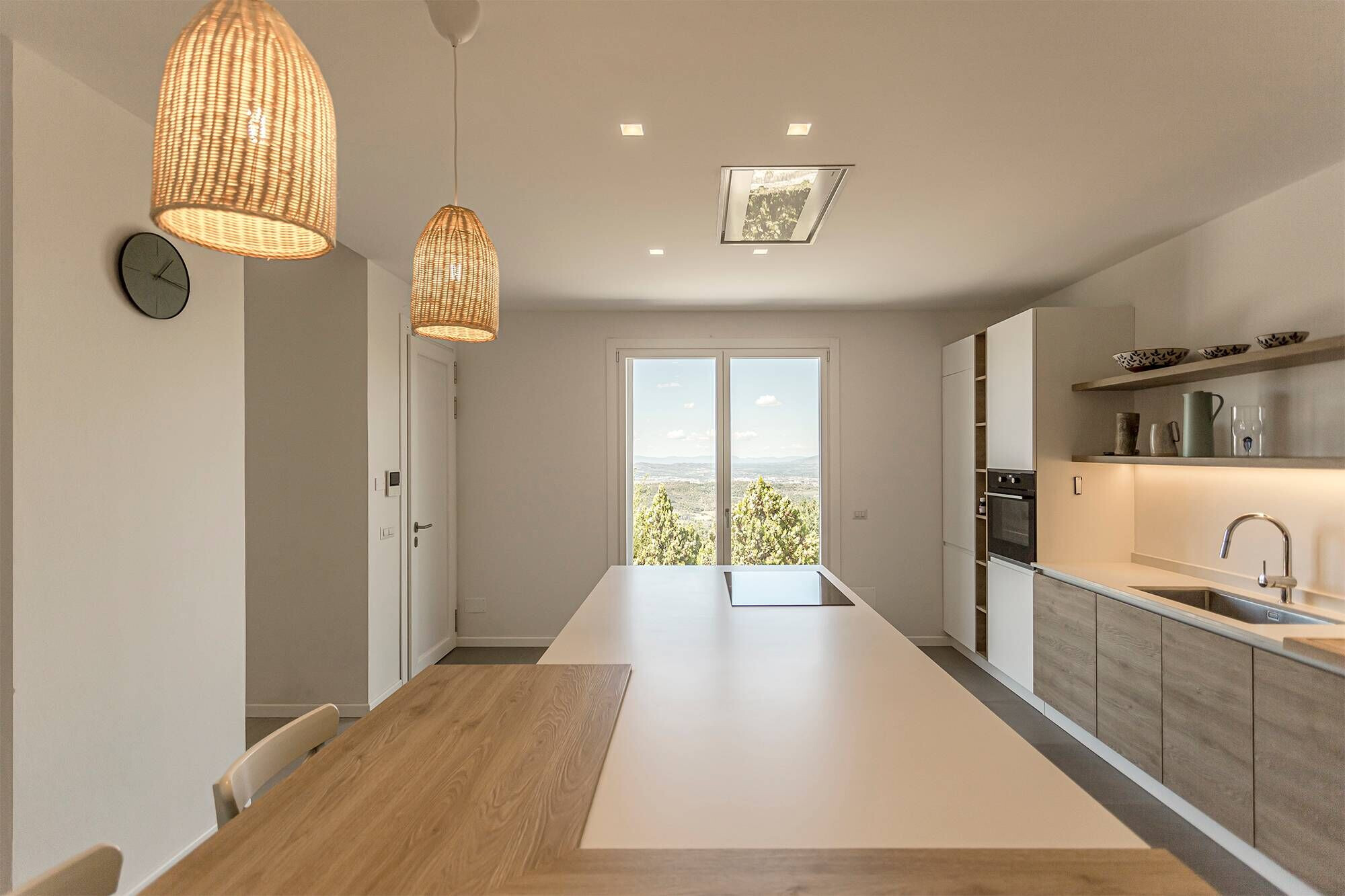 On the west front, therefore, two new large French windows have been created that open the interiors to natural light and the landscape, opening the view of Arezzo and the Pratomagno.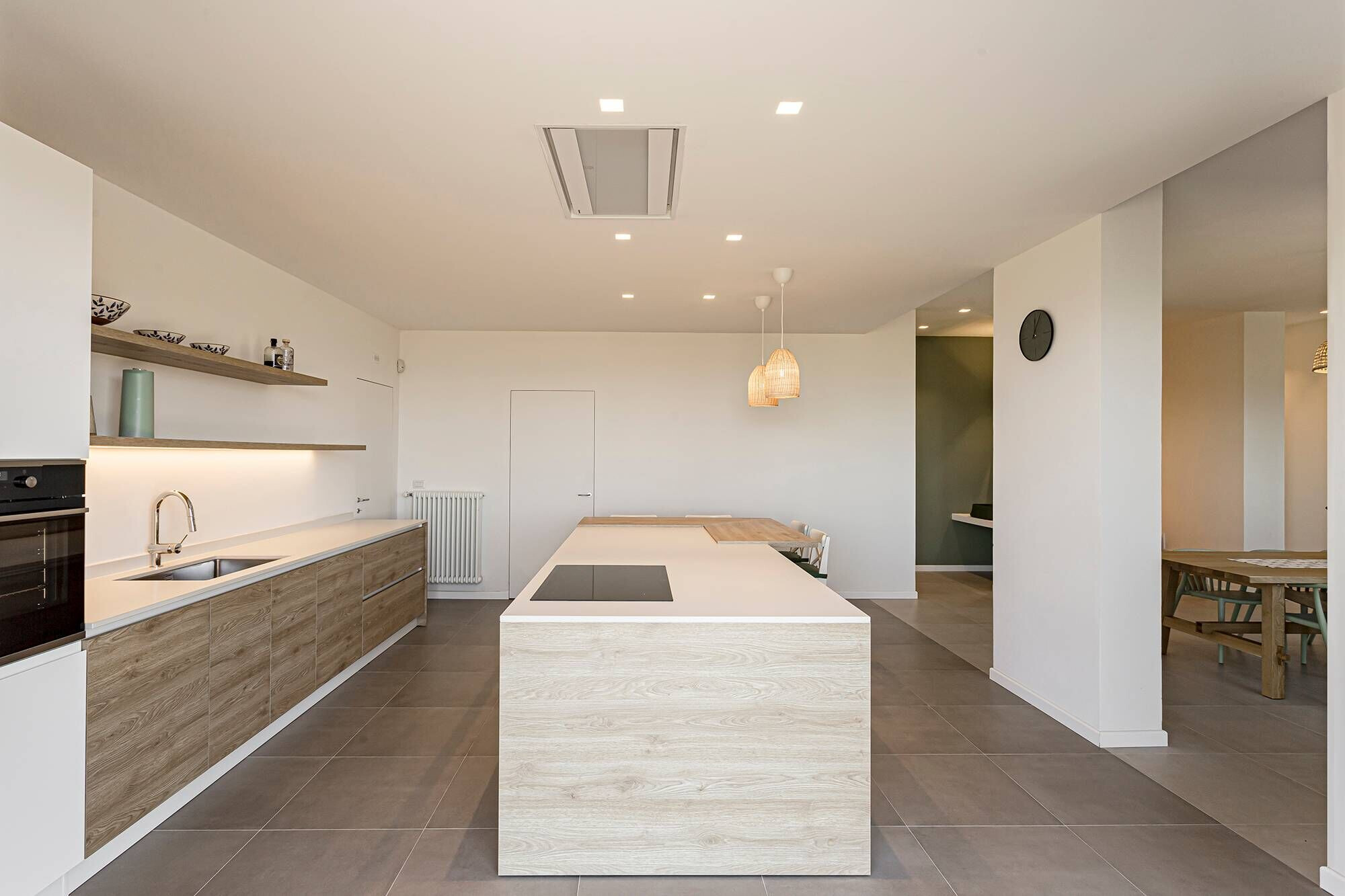 While as regards the distribution of the rooms, a large open space has been designed that has 2 focal points: the large kitchen with island and the fireplace on the opposite side, which divides the living room into 2 rooms, one of which is dedicated to the TV space and the other, brighter and directly open to the garden, for reading and conviviality.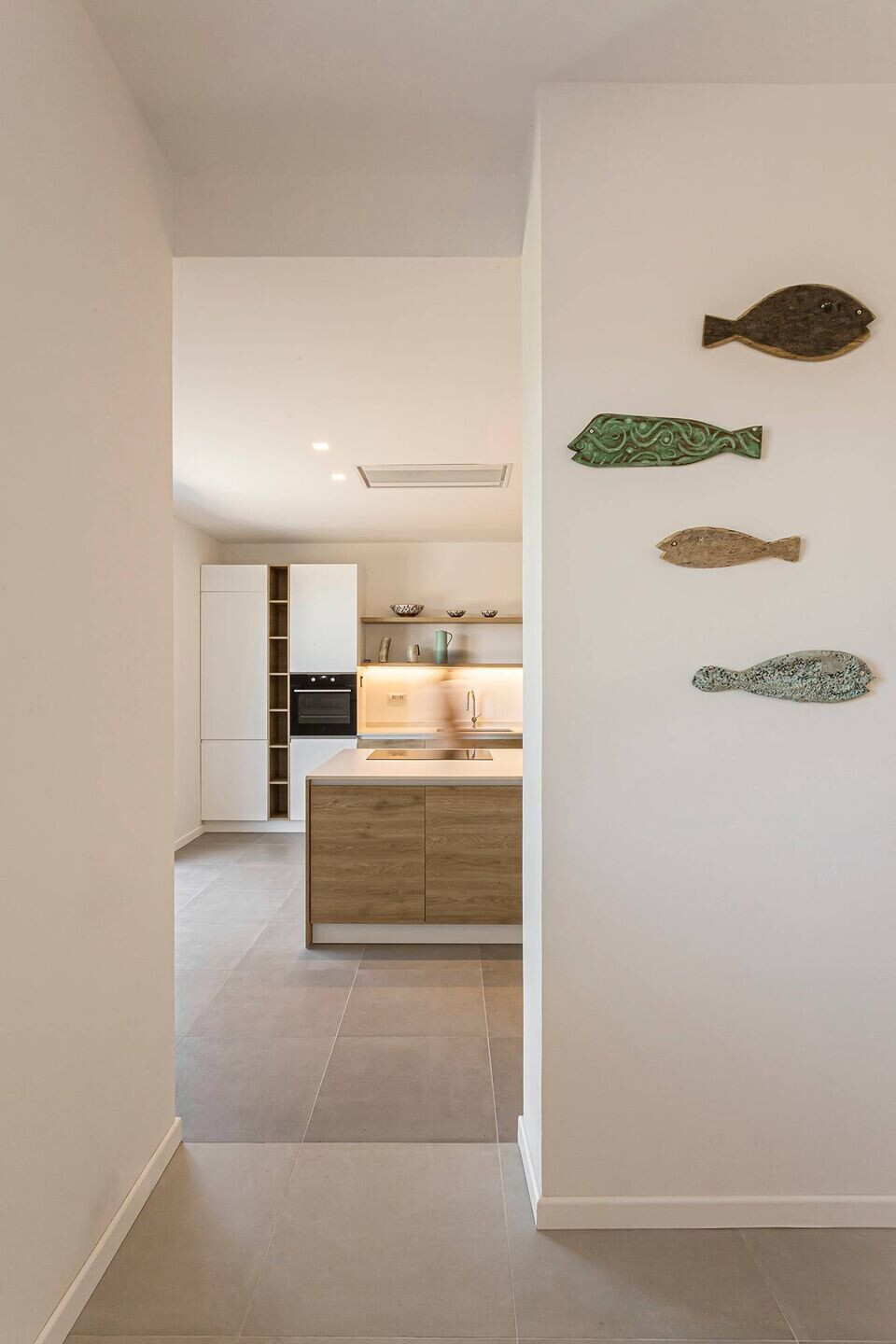 In the central part of the space, in place of the old entrance, the dining area was placed, framed by the partition walls that delimit the service block.The service block, on the other hand, was positioned upstream and completely reorganized to make it more functional.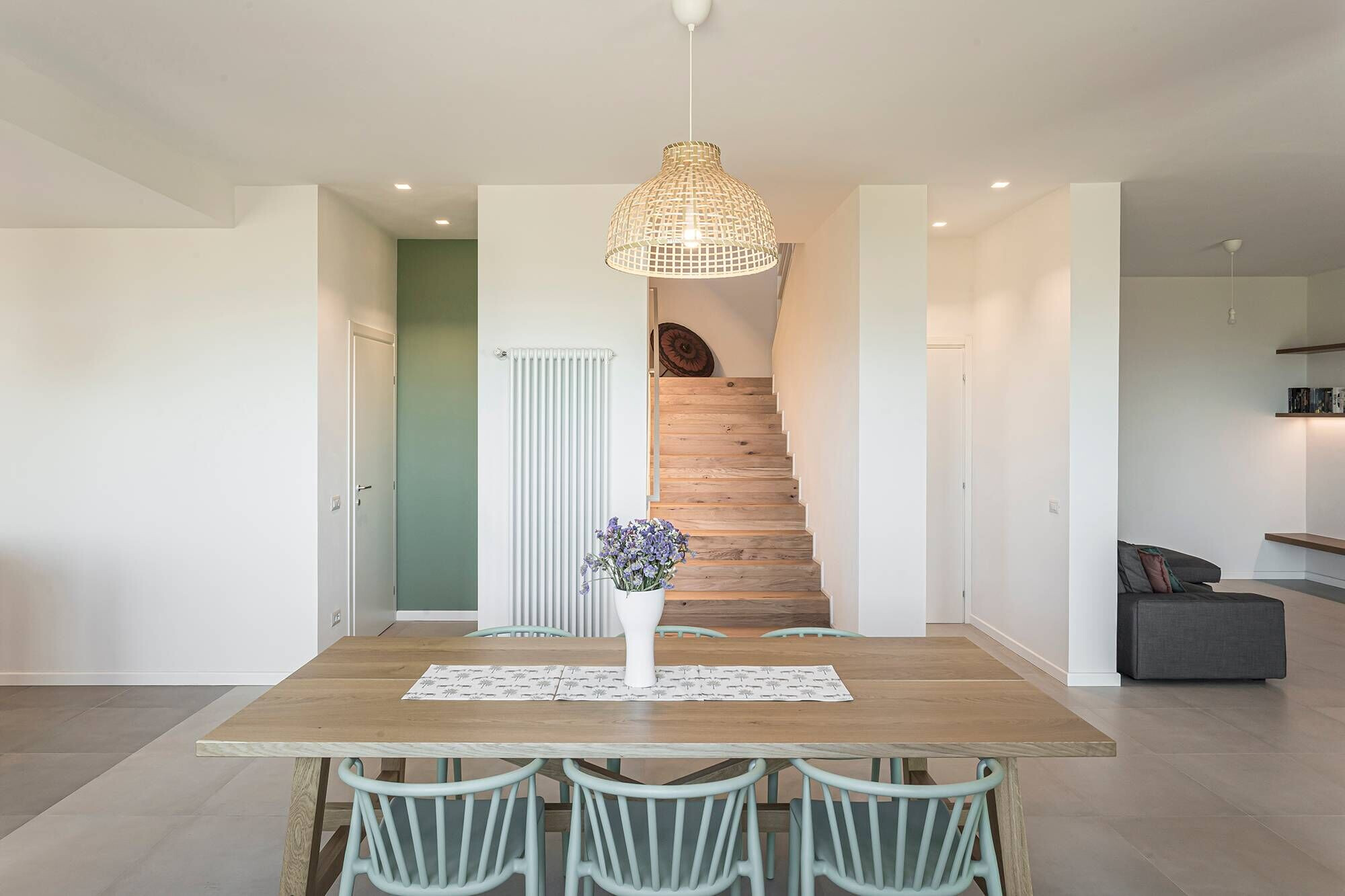 The openings leading to the stairs and the bathroom are interpreted as large portals and emphasized by the use of wood and the color green. The other service areas, on the other hand, are hidden by retractable doors flush with the wall.The internal staircase leading to the sleeping area on the first floor has been redesigned and covered in wood, creating a continuity with the first floor floor. The basement was recovered and used as a service space.
On the first floor there is a master bedroom with ensuite bathroom. The master area is characterized by the light blue and green color, recalled by the bathroom coverings and by the details of the room furnishings. On this floor there is also an area dedicated to children and guests. This area is characterized by the light blue color. The room for the girls has a bunk bed, which allows you to leave a lot of free space for play, as well as for hosting friends.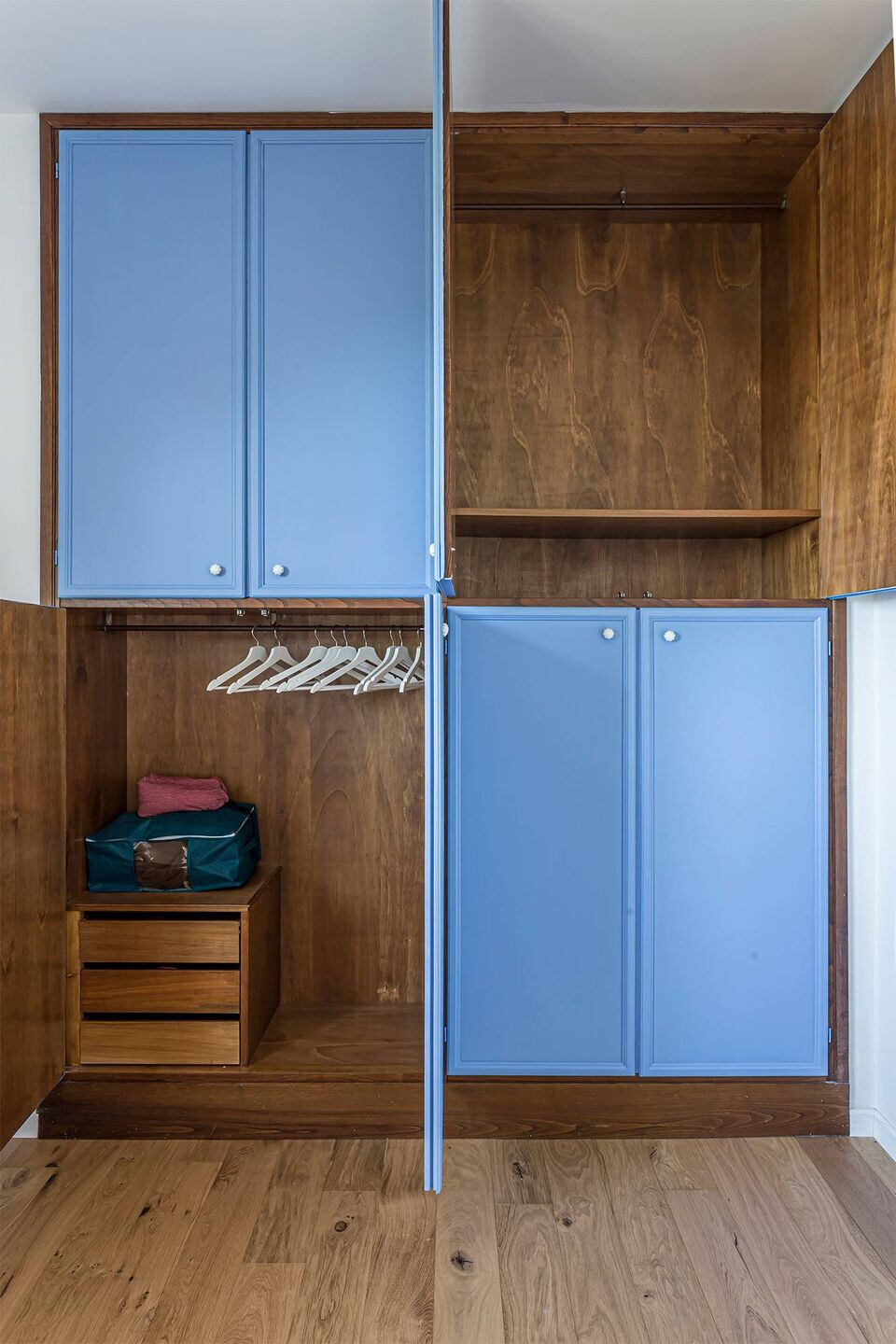 On the opposite side of the room from the bunk bed, inside a niche, there is a large built-in wardrobe also painted in light blue. The large bathroom with tub is central to this area on the first floor and serves the guest bedroom, the library and bar and the children's room.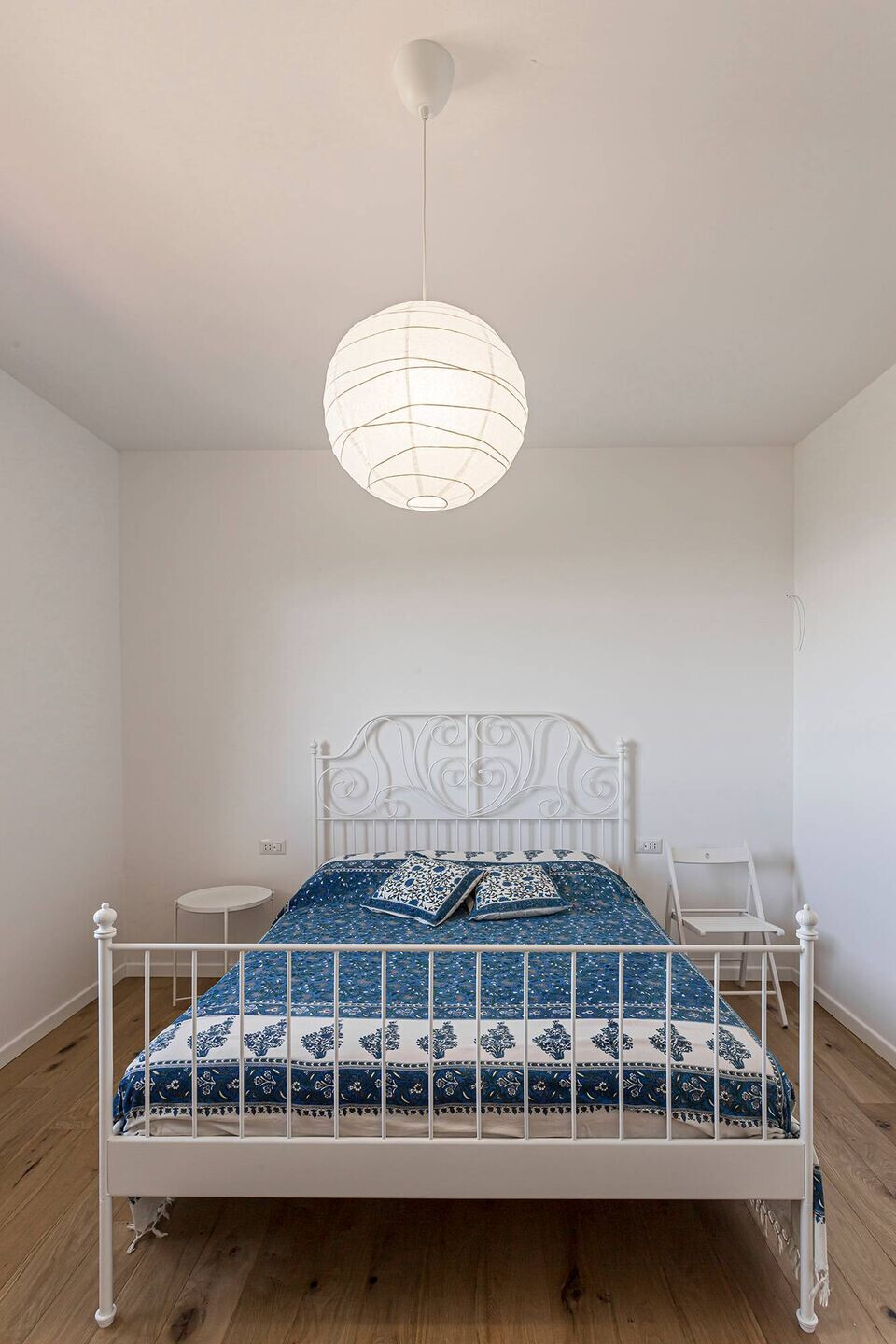 The light blue color is also found in the details of the furnishings of the guest bedroom, located on the opposite side of the house from the master bedroom.The whole house is characterized by large openings onto the landscape, the colors of which enter the interior through the choice of upholstery, colors and furniture details.