Located in Shanghai, the théATRE tea shop and pastry bakery by Studio Ramoprimo is a small project characterized by a curved handmade ceiling by local artisans. Made of folded steel sheets this large art piece creates a recessed void that opens up like a theatrical stage to the public.
The design is informed by the concept of a young 'tea bakery,' one that sells cakes, pastry, food, and pottery in a contemporary way. The simple plan is limited in floorplate area but offers interesting elements in the vertical elevation as the program is distributed over three floors.
The top-level is dominated by the sinuous sculptural roof which is intended to evoke the movement of large water drops that form at the moment they become tea, resulting in interesting reflections of material, colour and light.
The upper level is dominated by the sculptural roof: the sinuous and dynamic shape of the ceiling surface resembles the movement of large water drops in the very moment before they become tea, creating interesting reflections of materials, colours and light.
The middle level features simple and minimalist lines. In the background, a large glazed window reveals the process of making cakes within the exposed kitchen lab, thus making visible to customers the brand's cleanliness, efficiency and attention to detail. Key materials are brushed stainless steel and white glossy ceramic tiles from Italian producer IMOLA.
The lower level of the shop is dedicated to interaction with customers. The same brushed stainless steel alongside white finishes is extended here, along with the addition of marble to enhance the retail experience. The main front bar presents two solid boxes made of 'dream blue' marble from China. The sugar-like granular porosity makes its colour change slightly according to light intensity. The same marble is used to define the entrance gate above the shop façade, the shape of which is meant to resemble the shape of tea hills landscape.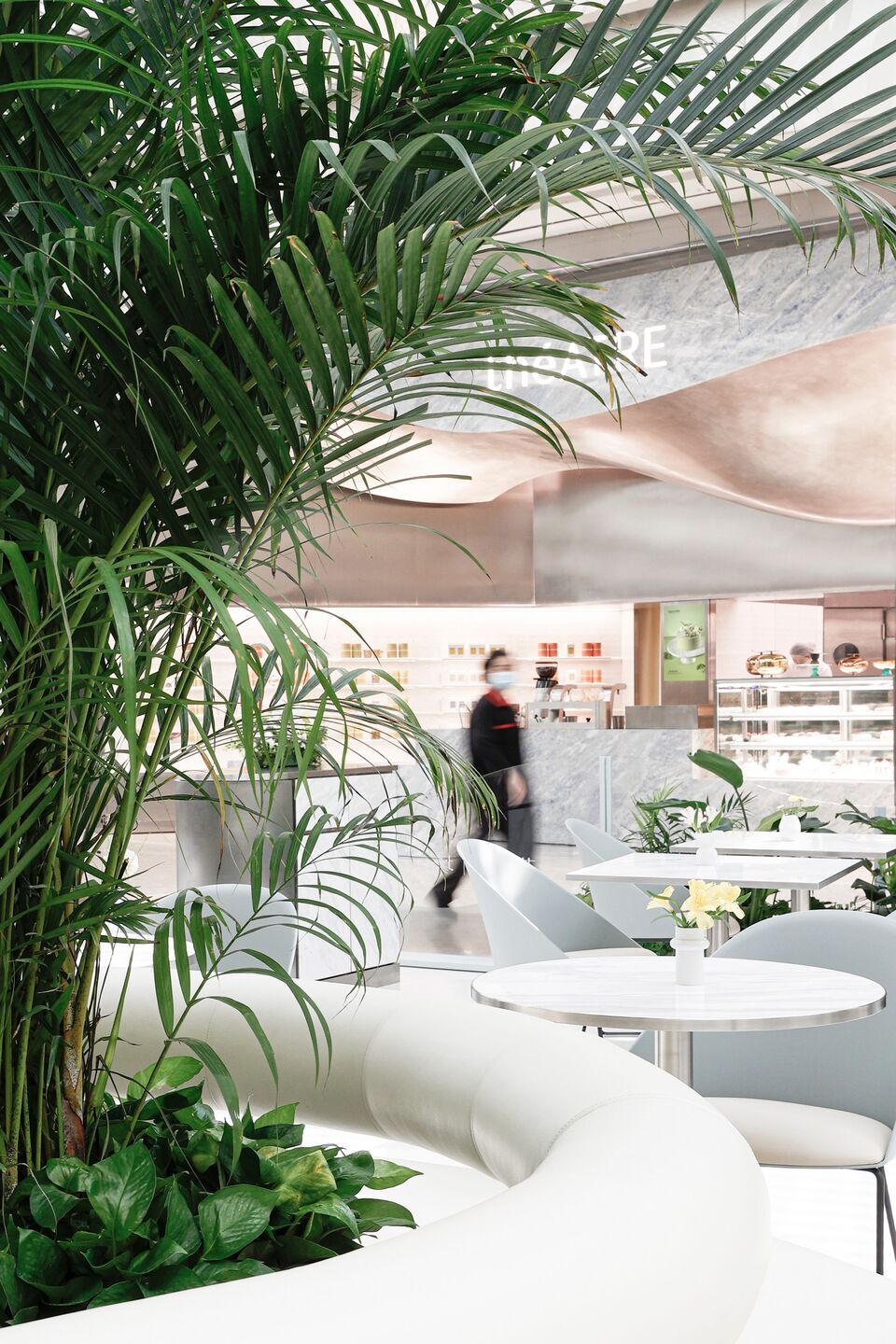 Finally, théATRE store offers its customers a little patio space outside. Plants in concrete pots and a custom-made system of soft sofa benches and small marble tables define the layout.