This studio is a combination of industrial style features and the love of the owners to Austria and its natural tenuity, green Alps, skiing and chalets. This is why the interior features partitions of glass and metal neighboring the bio-fireplace and concrete surfaces complemented with wood and green accents. The apartment looks spacious and bright owing to the minimum amount of partitions. A carpet painted on the floor is a truly creative solution: the customers were against textiles, and without it the concrete floor would risk looking minimal and boring.
The carpet painted on the heated concrete floor is a perfect alternative to a classic solution. In addition to fireplace, the living room features a comfortable modular sofa, wooden easy chair with a slight "country" touch, resonating with firewood under the fireplace.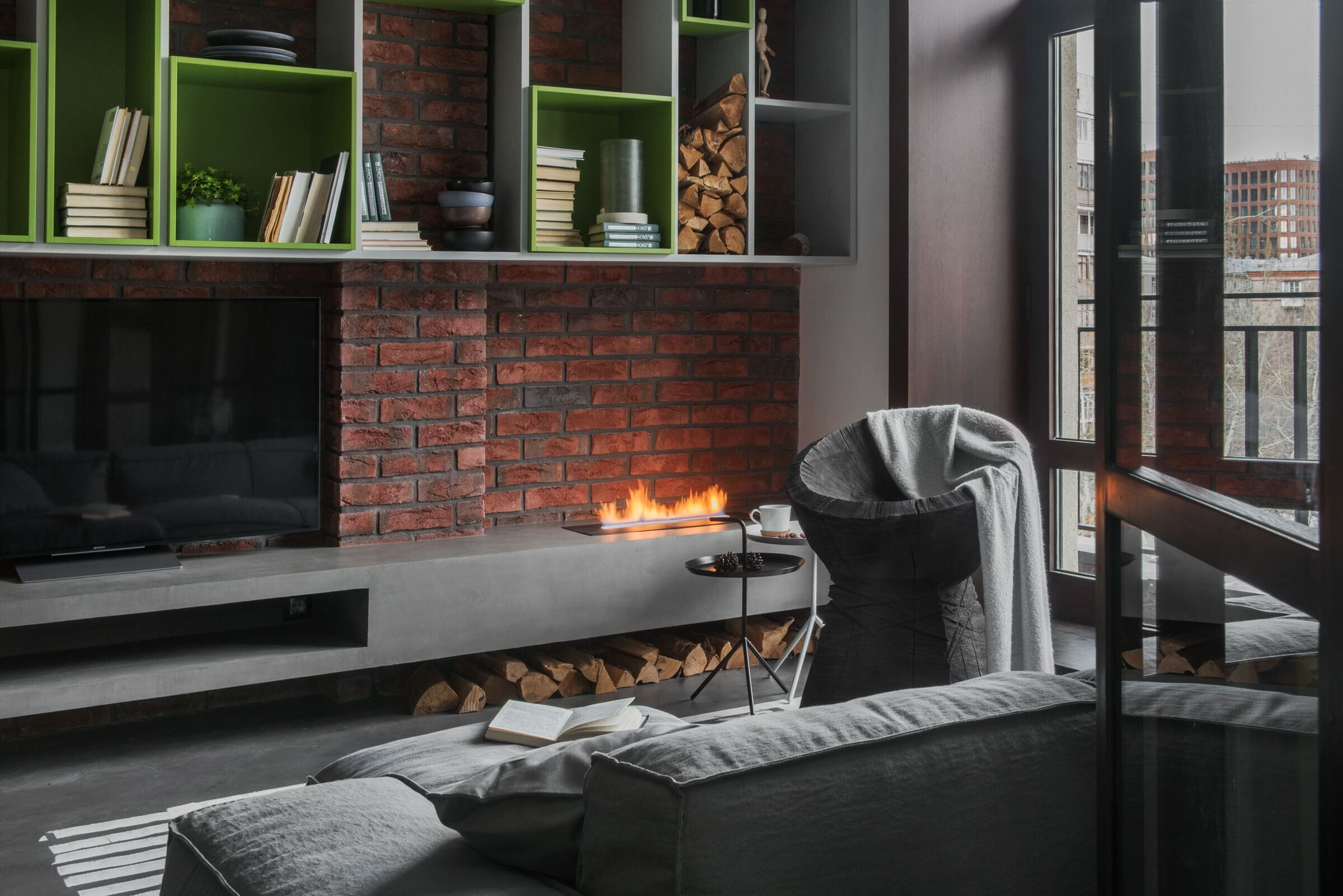 Bio-fireplace is built in a concrete shelf, creating warm and comfortable atmosphere of a country house in the middle of a modern metropolis. An easy chair by Denis Milovanov is a testimony of an excellent taste of the hosts.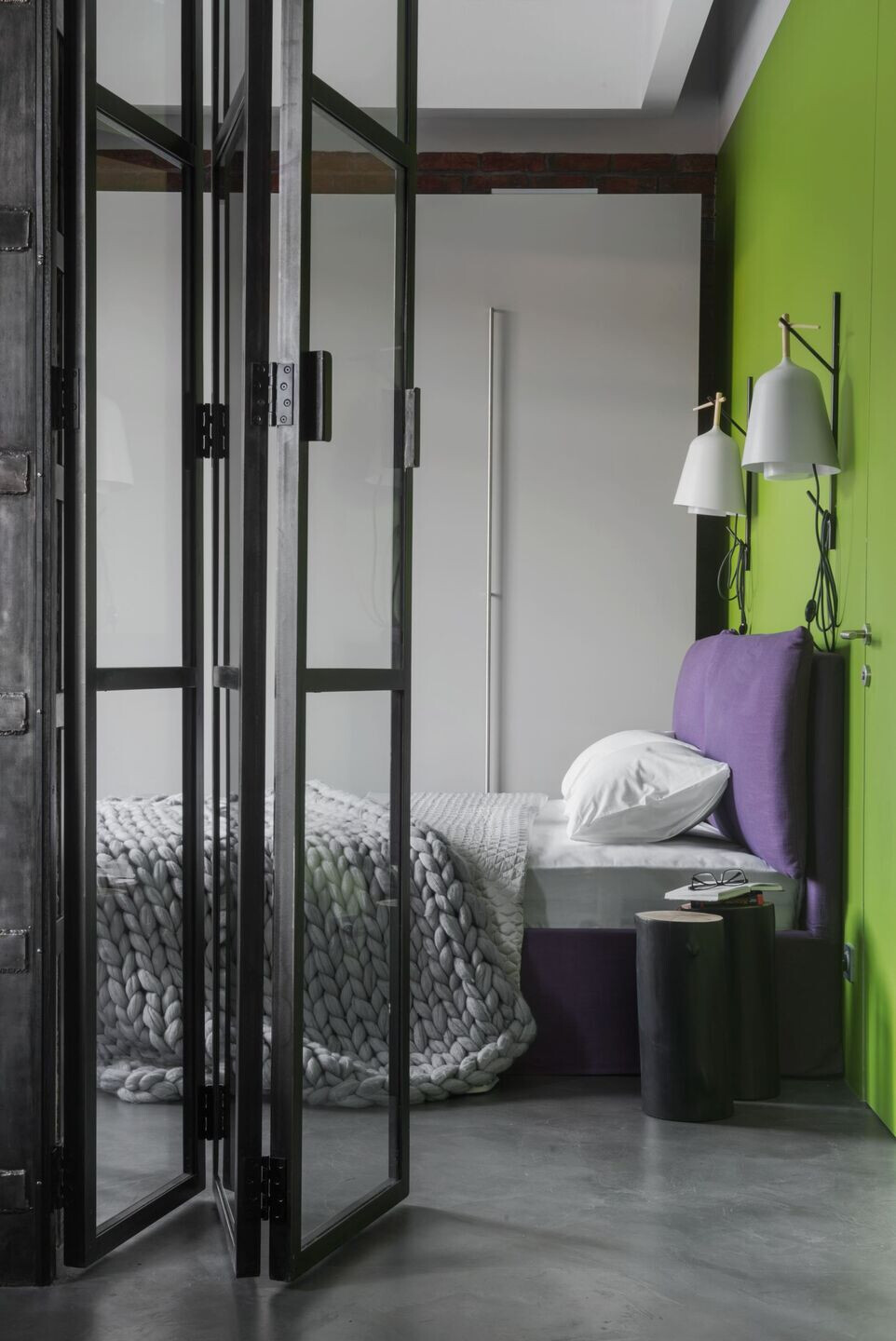 Shelves above the fireplace, painted with house Alpine colors and kitchen with cooking island with concrete surface are visible through the glass. Bedroom is hidden behind the folding glass partitions set in "industrial" metal frame. Concrete pillar has kept its original look and is constricted with metal for better stiffness.
Green, the comfy and fresh color of the Alpine meadows, is the keynote of the entire place. The bedroom is covered with a cable-knit bed spread, and the larch stool serves as a bedside table. High cascade of grey blinds contributes to the privacy of the bedroom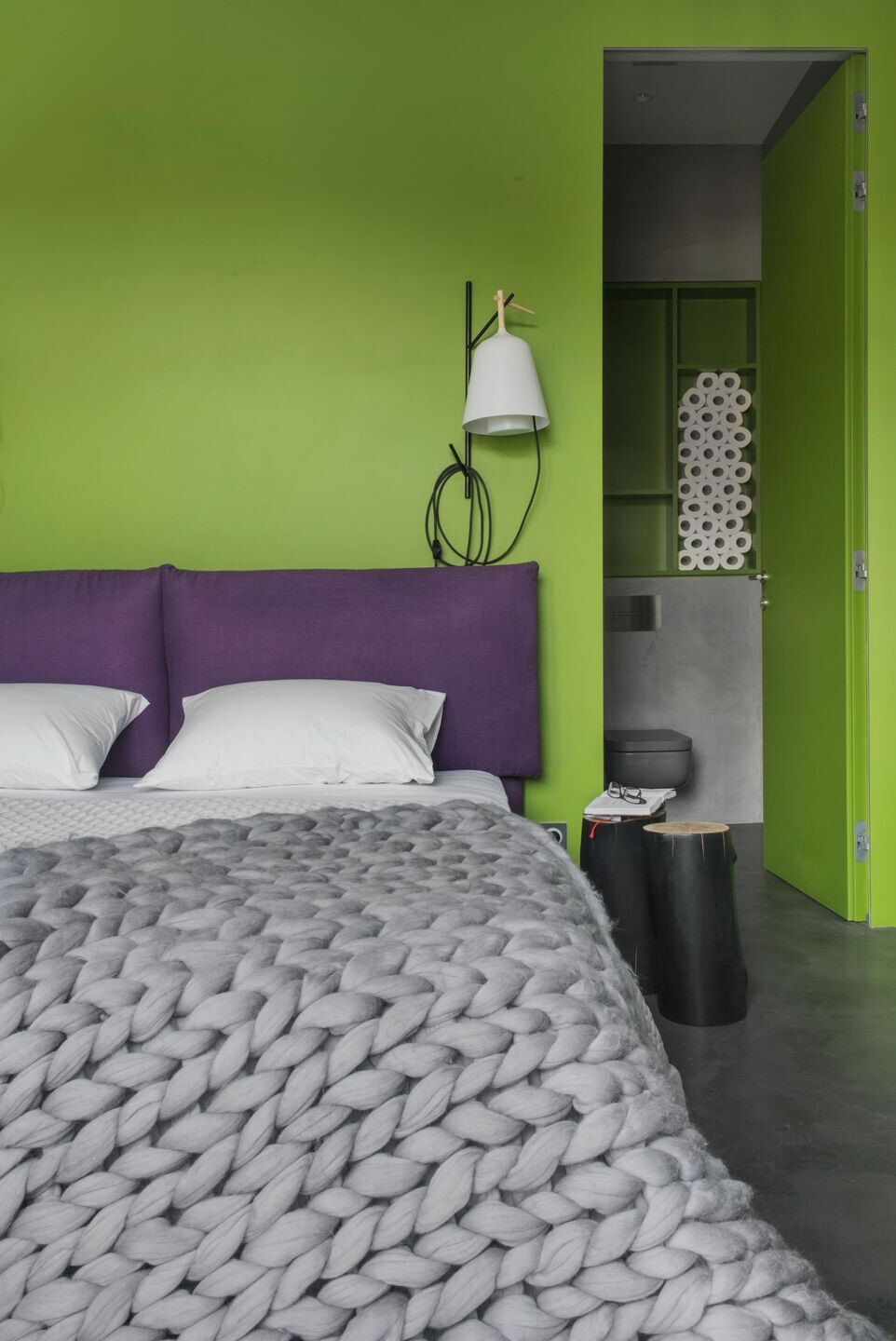 A concrete shelf and wood grain porcelain stoneware on the wall join together the shower and sink area. These two areas are separated with a glass. Walls are finished with concrete imitation plaster.
Material Used:
1. Flooring: Concrete
2. Doors: Rimadesio
3. Interior lighting: Molto luce, Ligne roset, Delta light, vintage
4. Interior furniture: Cesar cucine, Bonaldo, HAY, Ikea, Denis Milovanov
5. Fireplace: Planica
6. Bathroom: Flaminia, Zehnder