The project is the interior design of the second floor of a building owned by Goryeong-gun, which was left in the Modeumnae Campground. Goryeong-gun supports the space and construction costs, and the Balgre Cooperative, which consists of residents, runs it. And in the process, Gyeongbuk Tourism Dure provided business consulting.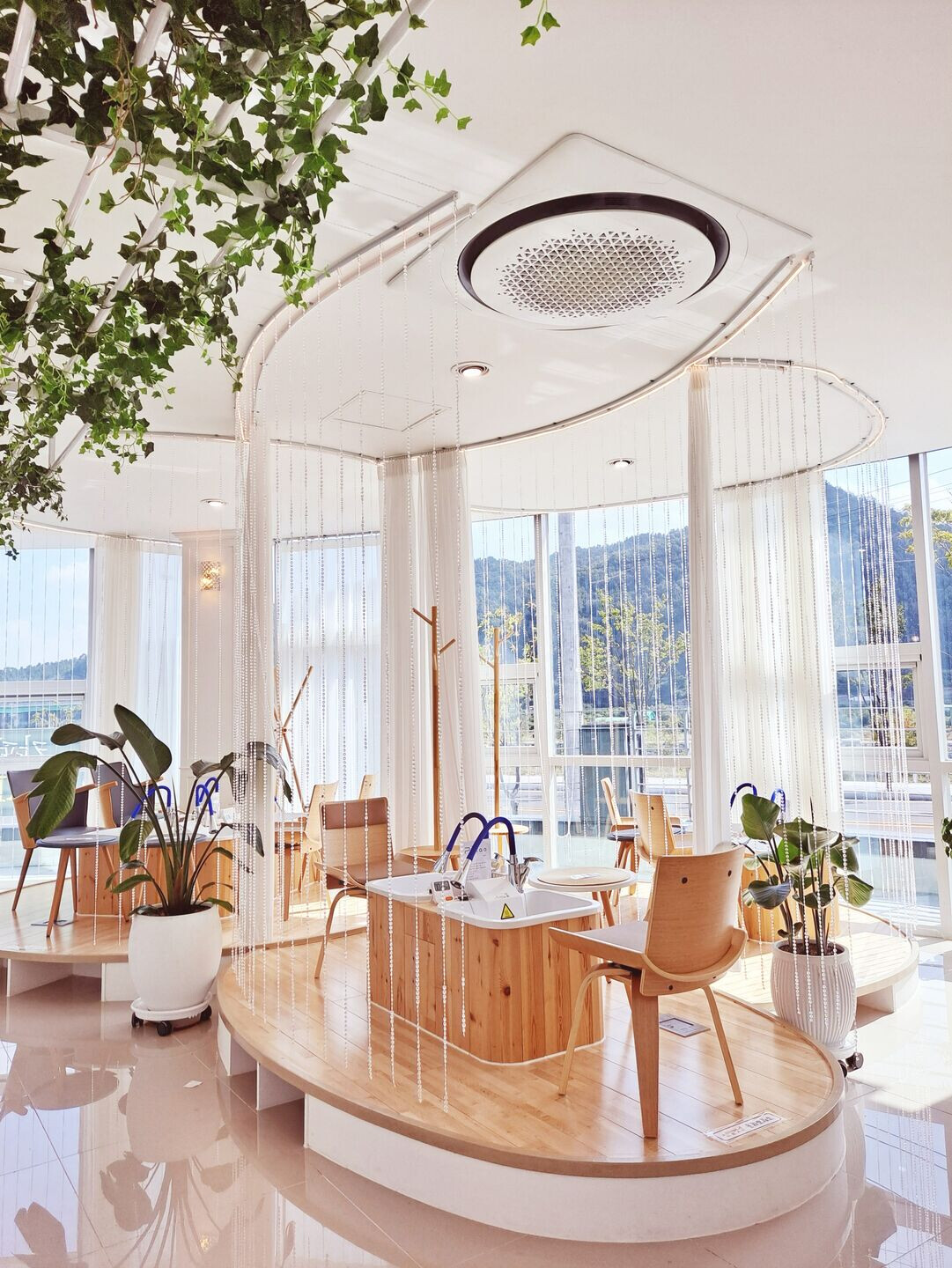 Café PokaO is an aroma footbath cafe with the theme of "rest and fragrance".
PokaO was created by combining three words, "POK(Korean:폭) meaning "to dip" the feet, and the goddesses of the forest, Artemis and Oasis. With women as the main customer base, the space concept is to allow visitors to feel like a goddess of the forest in this space and to enjoy "rest and fragrance" in their shelter.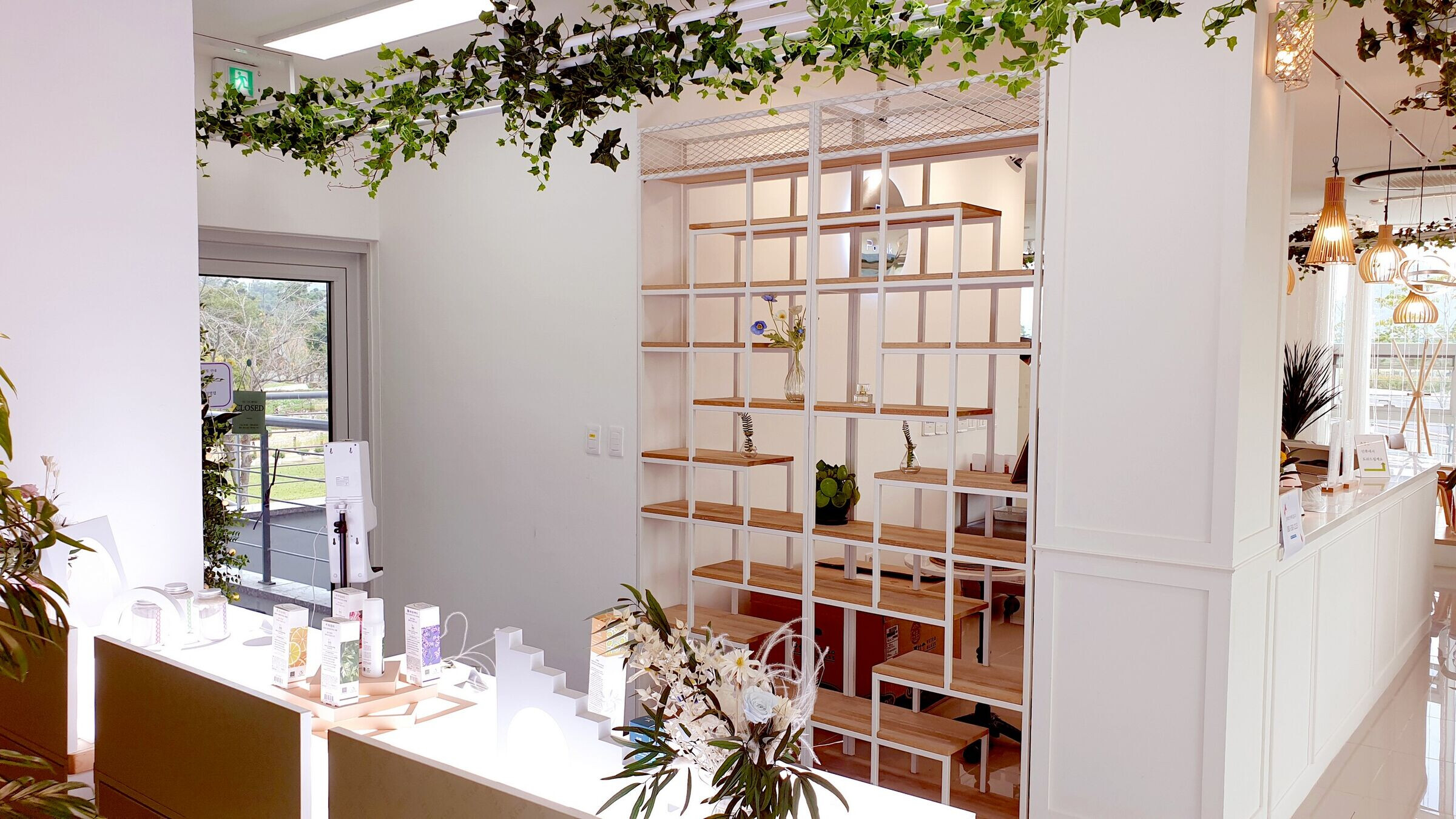 The existing building is composed of a semicircular plan. The design starts with the idea of creating a space composition as a "forest" and "shelter" while taking advantage of the existing semi-circular space. The space of this unit is a small "shelter" type of small spaces that can accommodate 3-4 people, and these spaces form a cluster. Through the double curtain composed of chiffon material and bead curtain that only the user's silhouette can be seen, it makes customers feel a small private space from the outside when taking a foot bath, and at the same time creates a mysterious atmosphere that surrounds the user's space.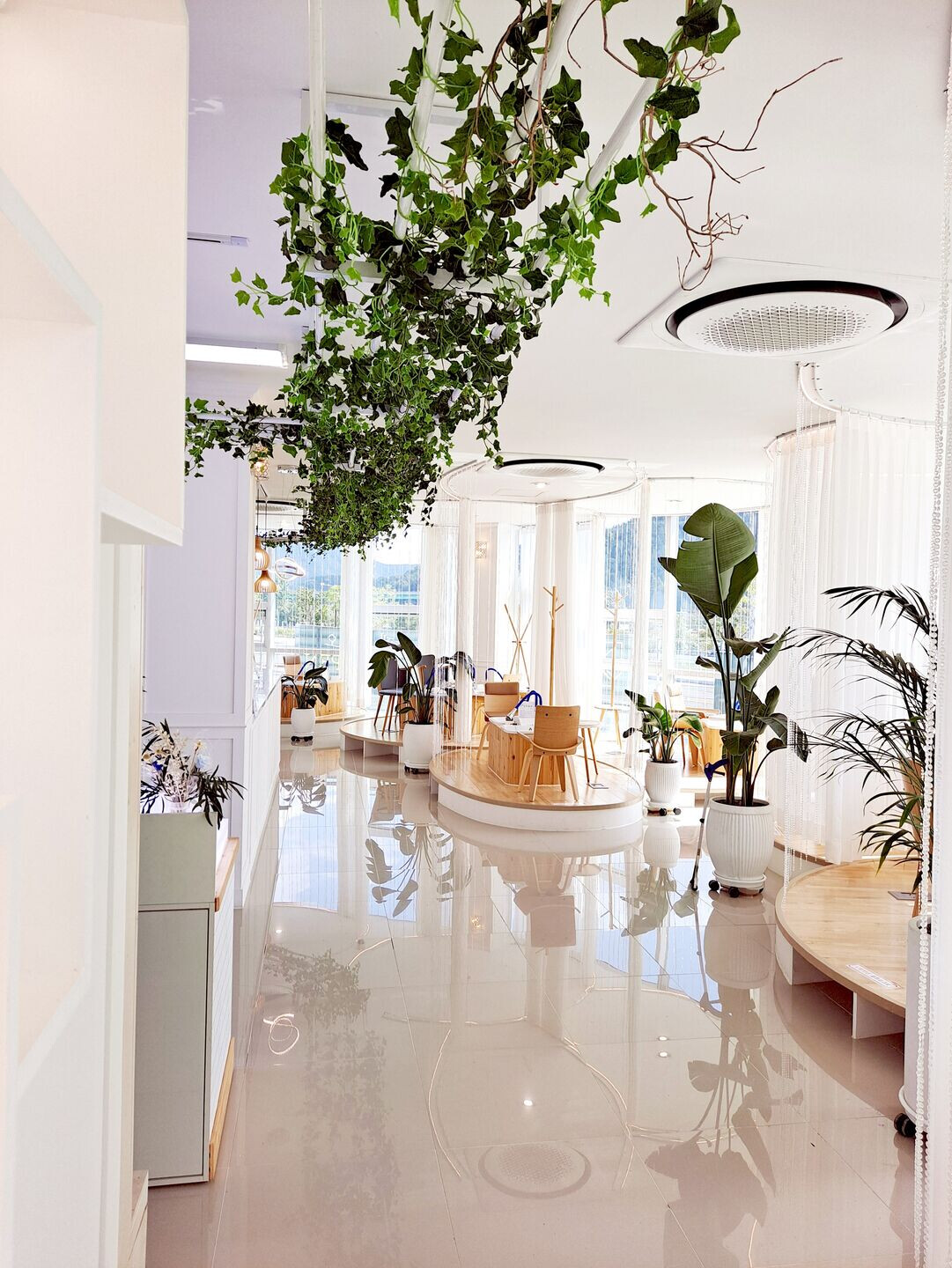 In order to represent the space of "forest", the main concept of space, a biophilic design in which nature and space coexist is applied to the interior space. Biophilic design refers to a design derived from Biophilia, a combination of the words bio, meaning nature and life, and philia, meaning love.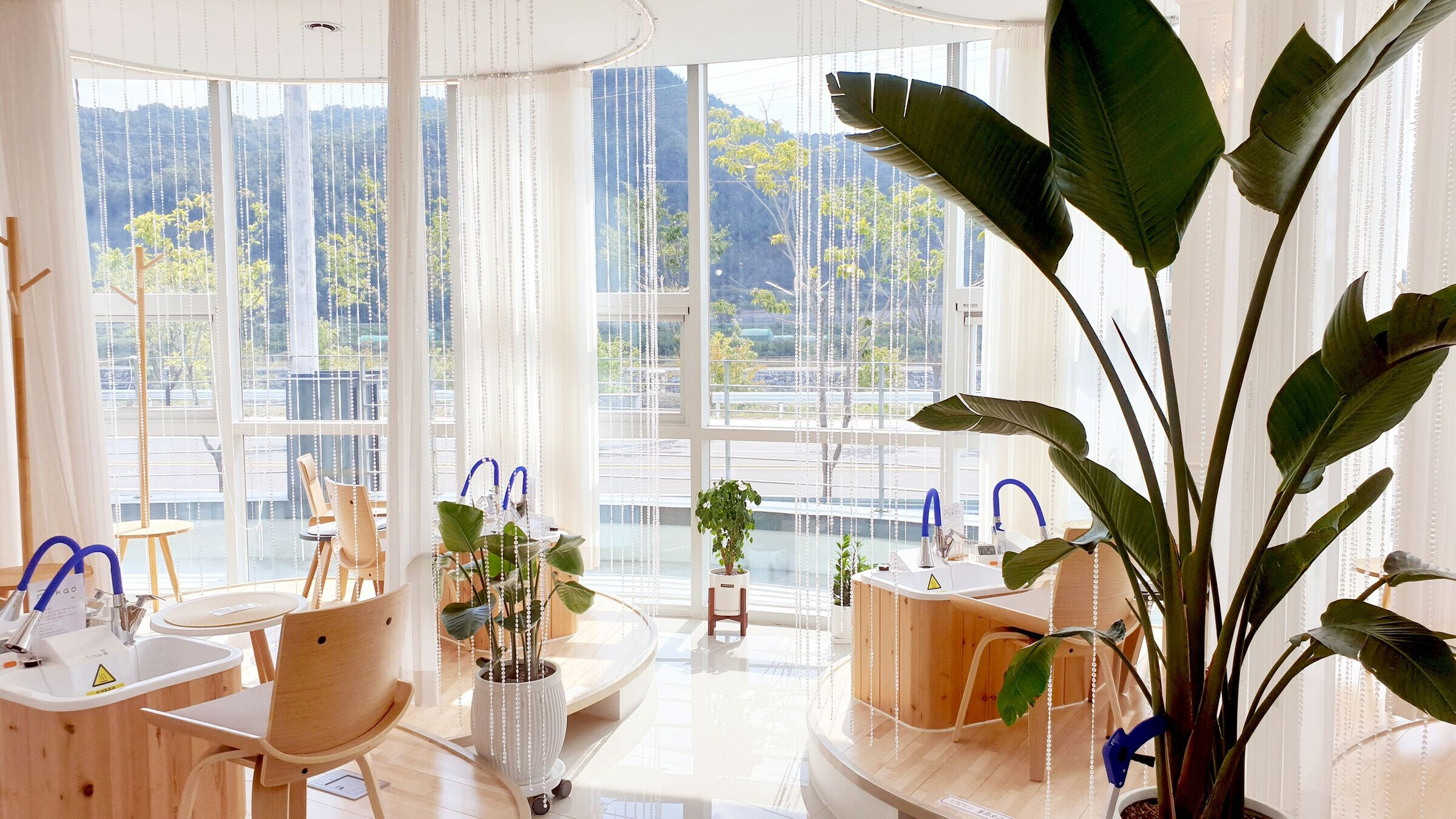 By bringing the sensibility and patterns of nature into the space, you can create a comfortable and mysterious atmosphere of nature.
First, at the entrance, aroma-related product display stands are displayed along with a green wall that represents the concept of Café PokaO, giving users a sense of space and freshness that leads them to the entrance of the "forest".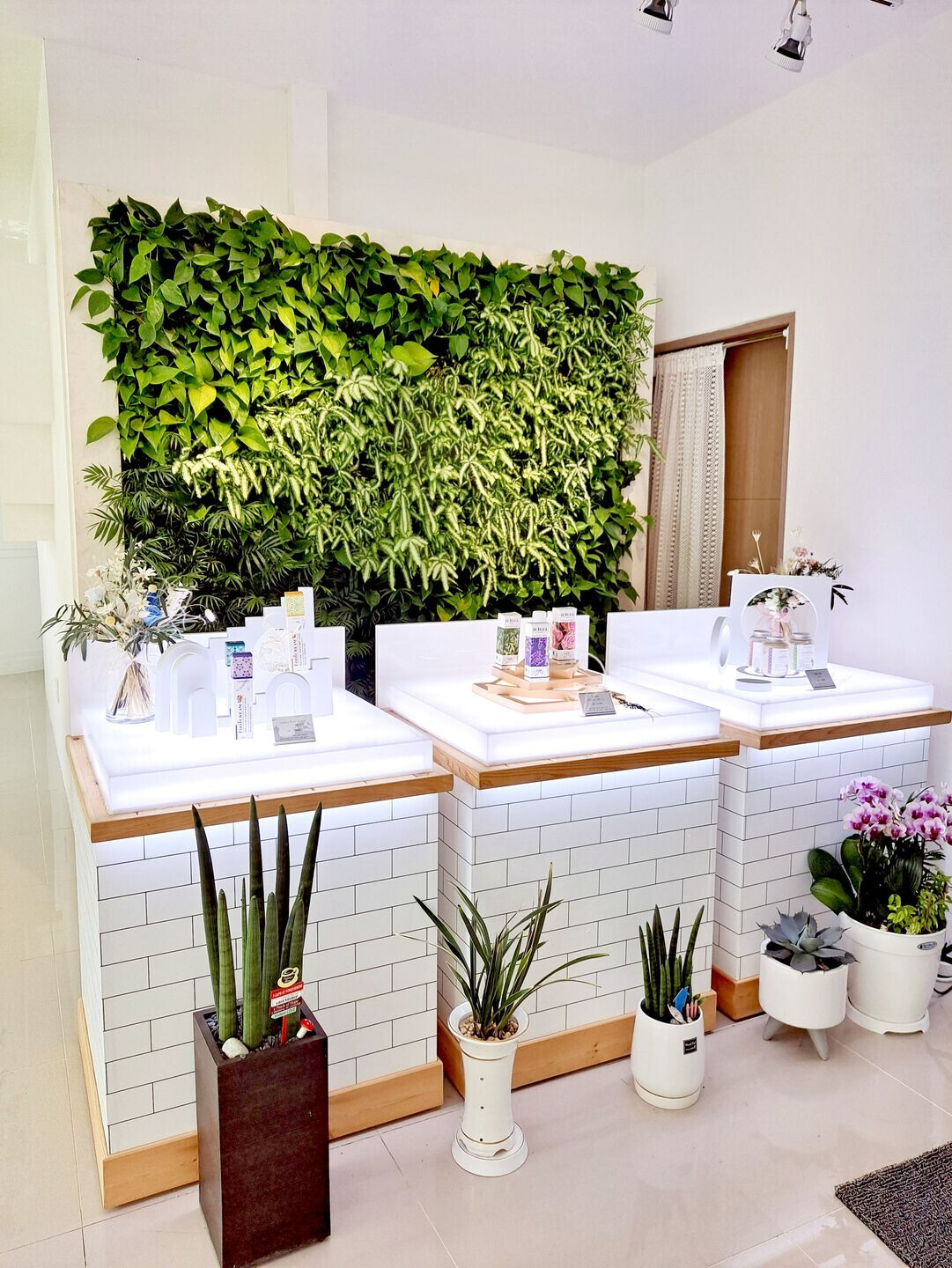 The footbath space, which is made up of small shelter units, emphasizes the cohesiveness of the space with flowerpots and indoor greenery, and the green display on the ceiling induces users' movement. If the foot bath spaces are arranged in the first half of the space, a cafe space is formed on the east side, so you can simply enjoy drinks and bread before or after the foot bath.
A resting place for the goddess Artemis, Café PokaO (Pok Artemis Oasis)! We hope that all users will be able to feel and enjoy "rest and fragrance" in this space, and we wish the Balgre Cooperatives a wonderful operation.