Isacco Brioschi Architects Milan base studio was commissioned to design the renovation of 80s building near Milan (CassanoD'Adda), 1700 sqm and head quarter of D'Adda 27, a new communication district that brings together in a unique site 5 communication agencies and a team of over 100 professionals.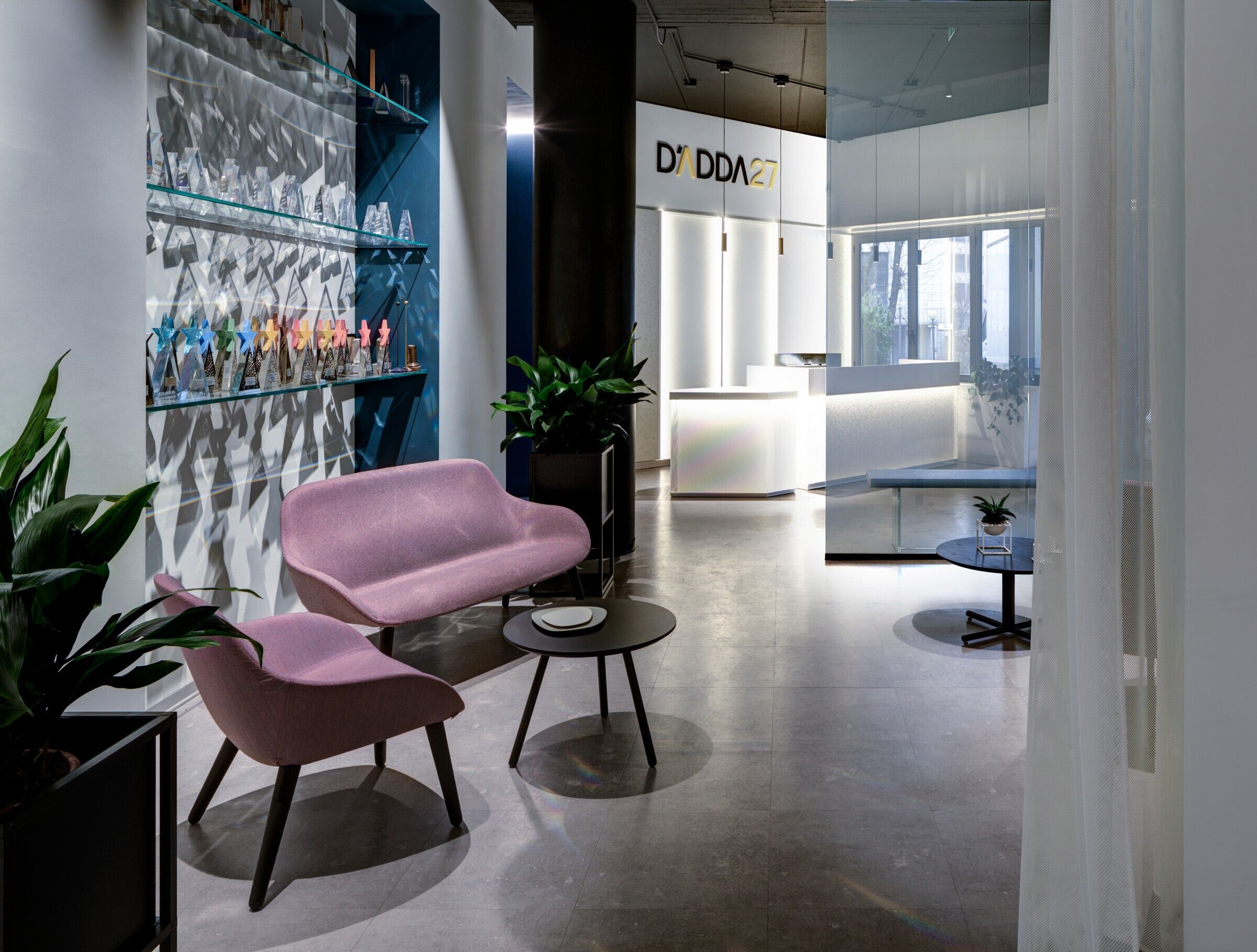 With the aim of optimizing renovation costs and realizing a project careful to sustainability, the most significant conversion of spaces involved the functional aspect, calibrating the division between assigned work spaces and areas dedicated to sharing and connecting different realities but integrated, such as marketing, sales and customer success consultancy companies and a laboratory of multidisciplinary skills for digital communication.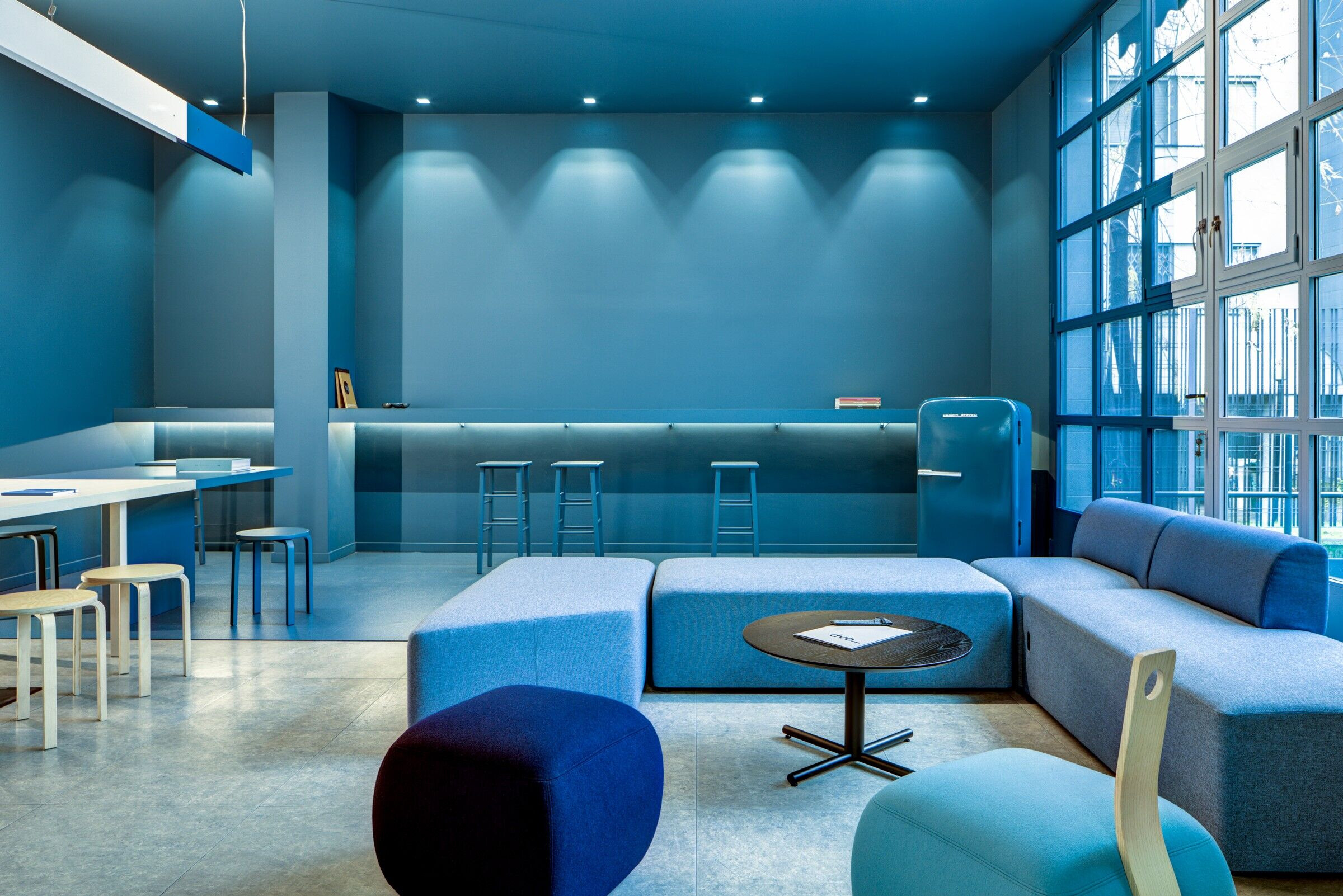 The leitmotives of the project, signed by Isacco Brioschi Architects, are the use of perspective illusions, the use of color to create the paths between the interiors and the playing with contrasts, in the name of a "tangible" lightness, almost to underline the substantial concreteness of the creative work that stays behind communication.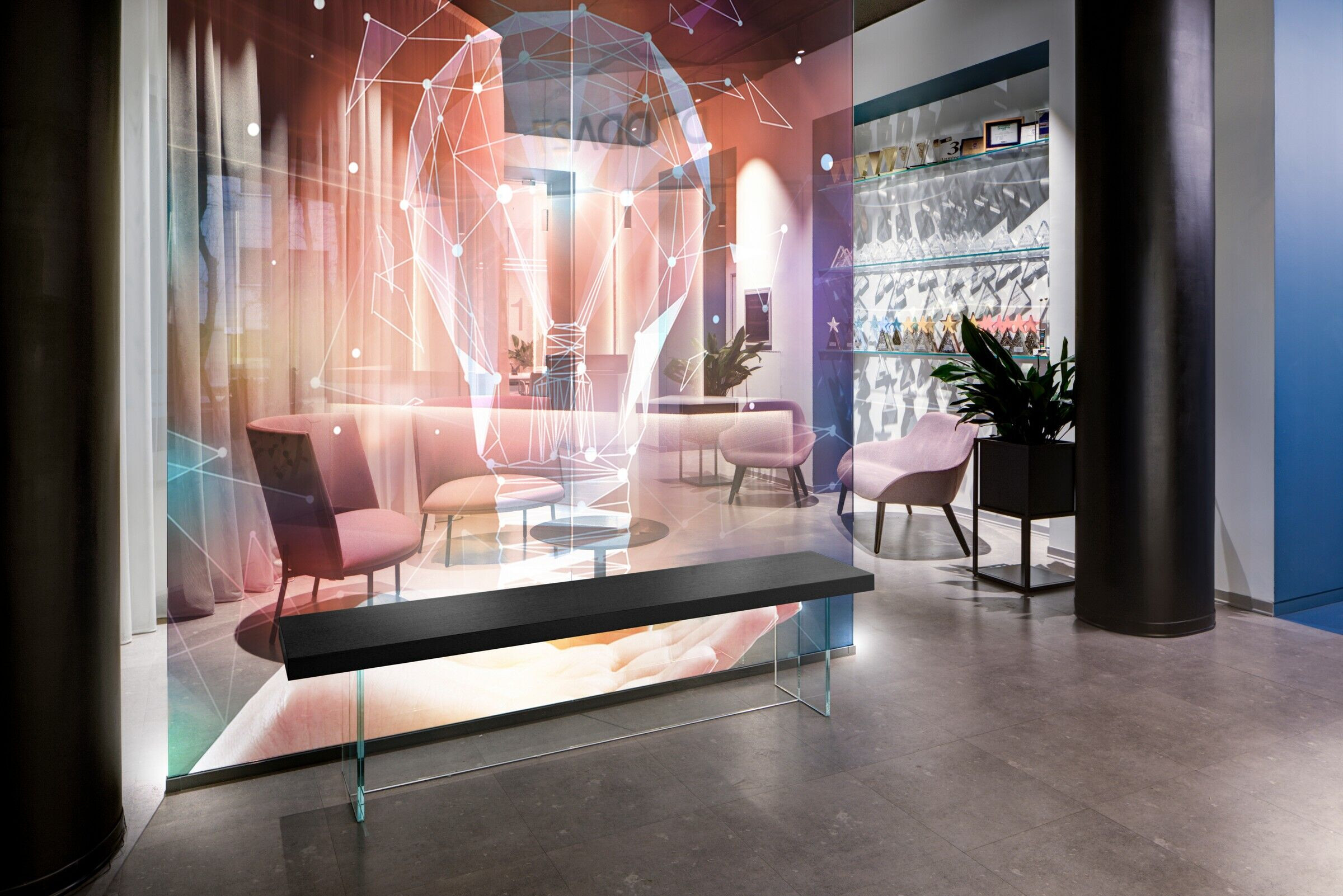 Many pre-existing elements of the building have been preserved, making small changes that would allow the harmonic integration with the new ones.
From the large hall that welcomes us with a long white lighted and geometric desk in backlit perforated sheet metal, you can sit in the waiting lounge, leading to the agency's meeting rooms, offices and pantries.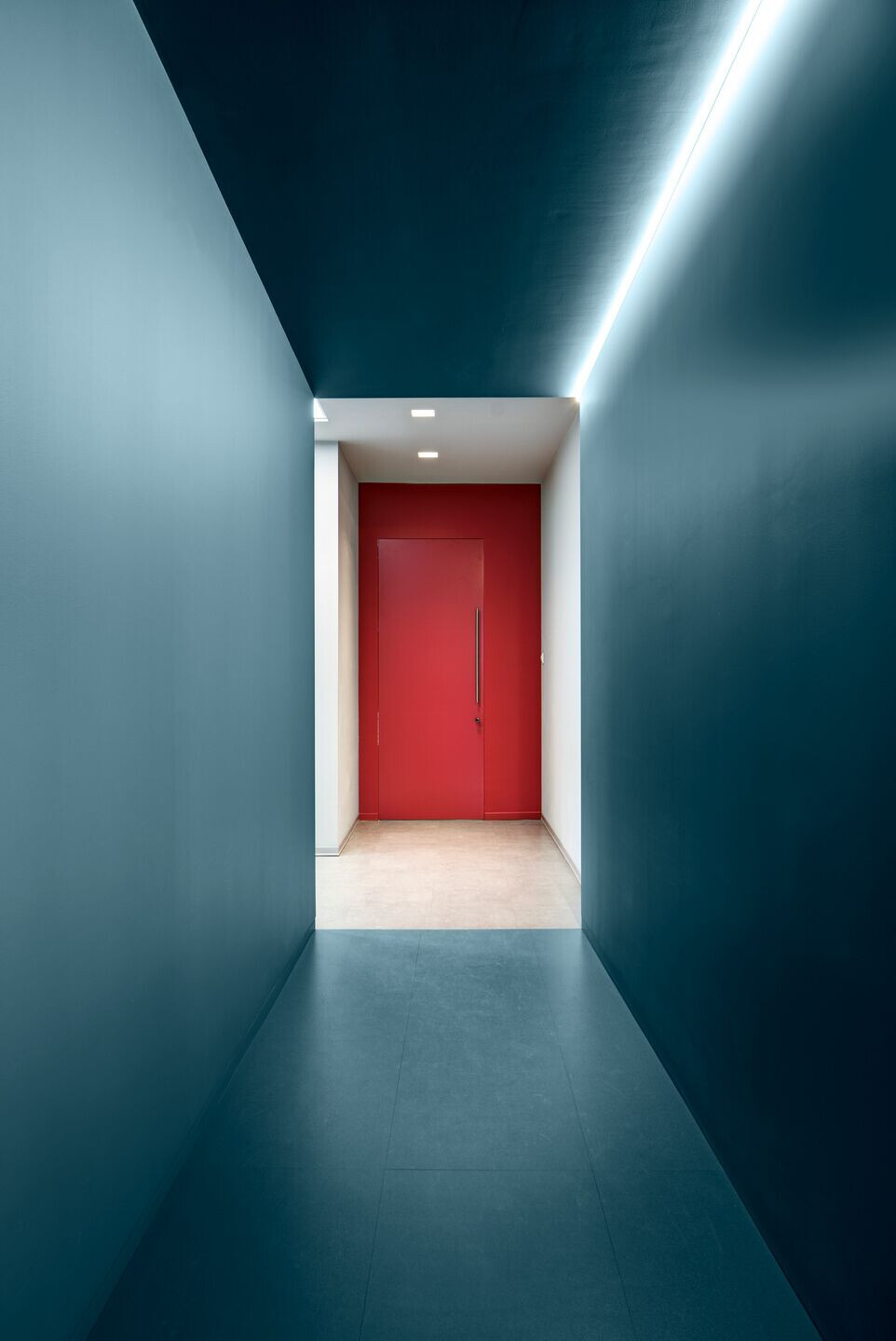 The two areas are virtually distinguished by a large single back-to-ground transparent glass window, on which evocative and ethereal images alternate, thanks to the hologram effect allowed by a particular projector. The ceiling, the walls and the large column have been painted in black, to enhance the points of light and the projection on the screen by contrast. The lounge area is furnished with pieces in soft pastel pink tones.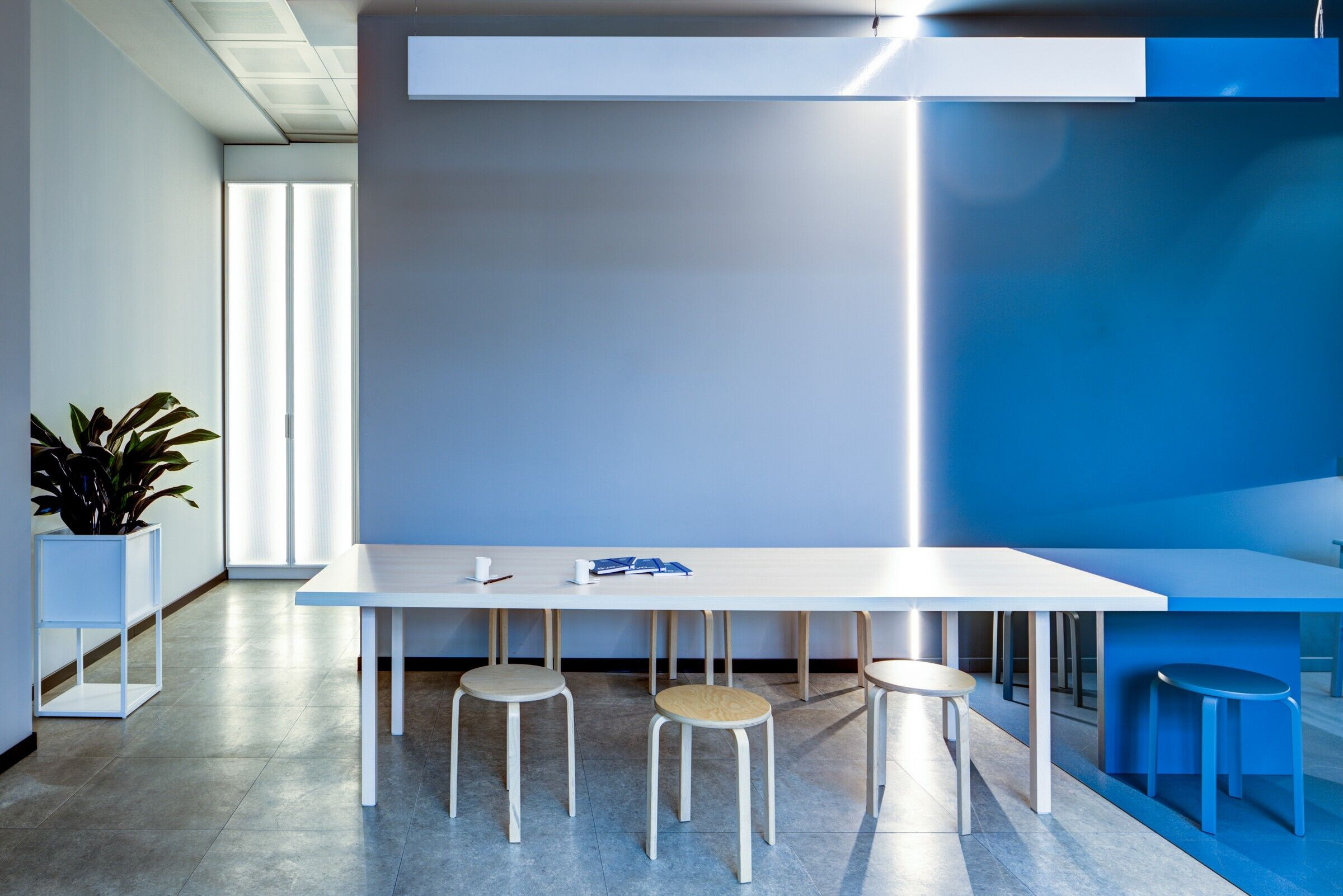 Once crossed the waiting lounge, the entrances to the meeting room, characterized by white and gray colors with a touch of blue. The sliding wall that can separate the large space into two distinct areas is also covered in felt.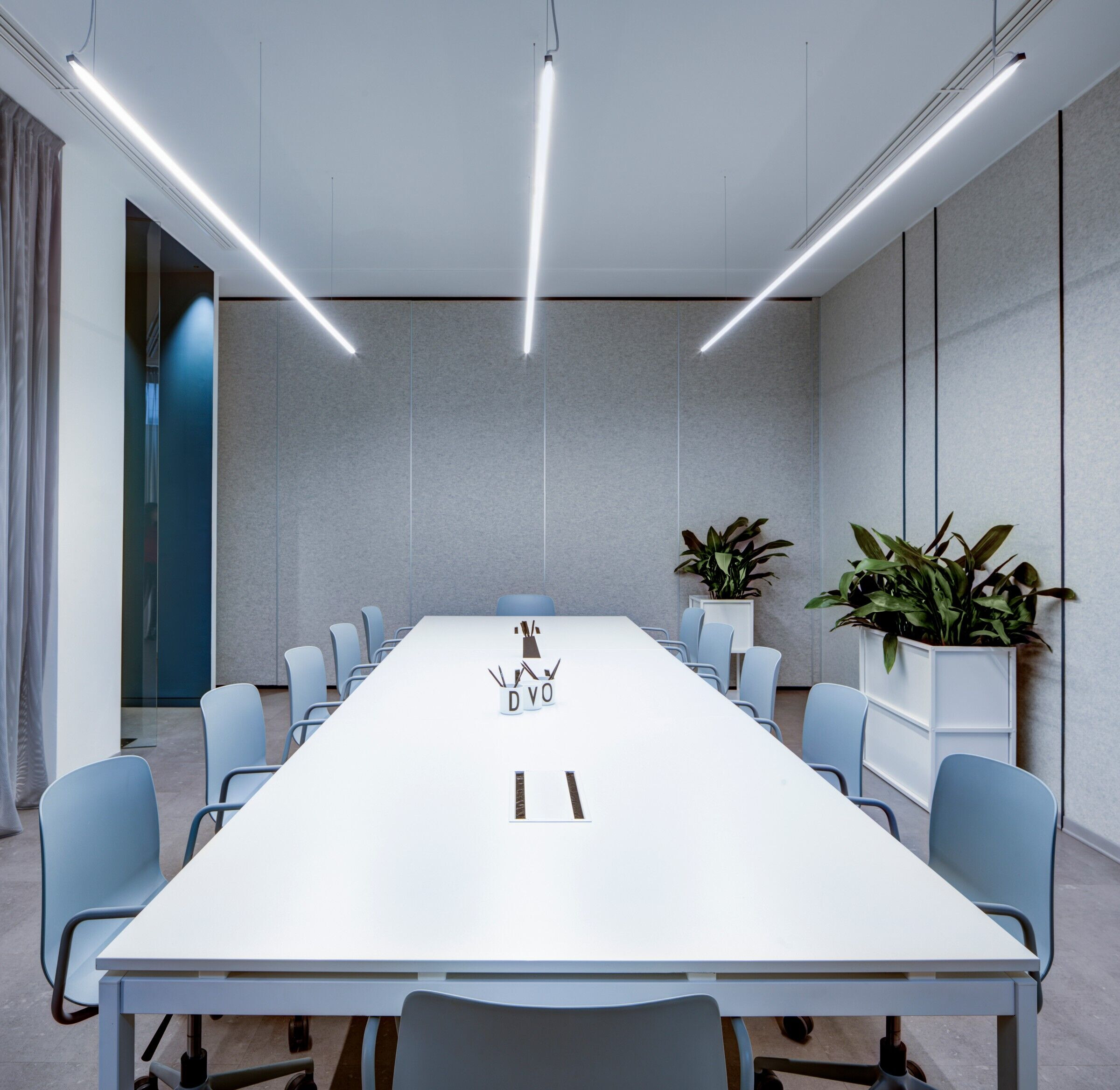 Coming back to the hall, a passageway, whose walls have been painted blue with a very scenographic corner neon, inspired by the paintings of the neo-conceptualist artist Peter Halley, leads us through a purple-red door to the open space of the offices.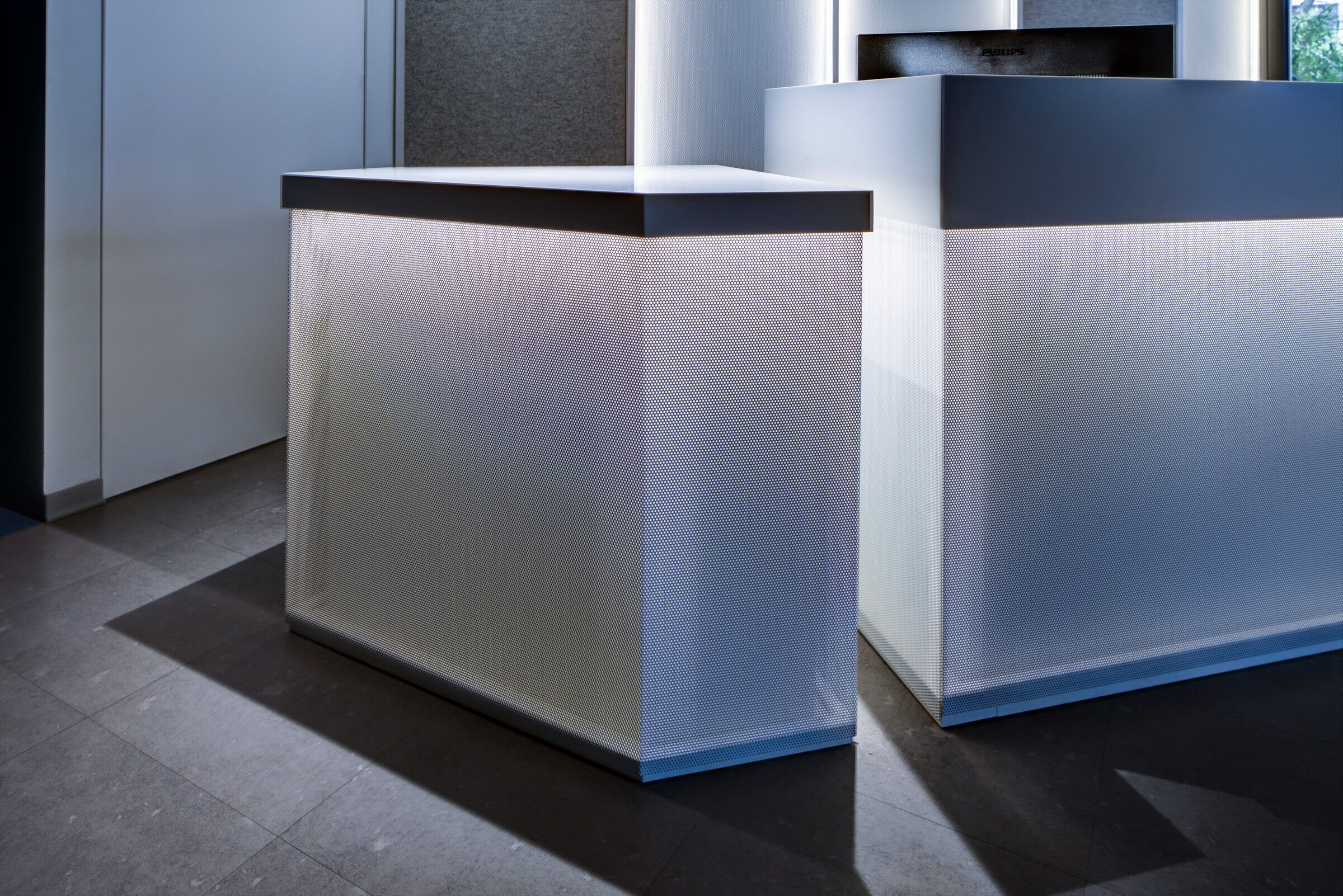 In this area, color was used to build a visual path, from the black and white of the corridor to the red door to a large room in shades of white with important touches of blue.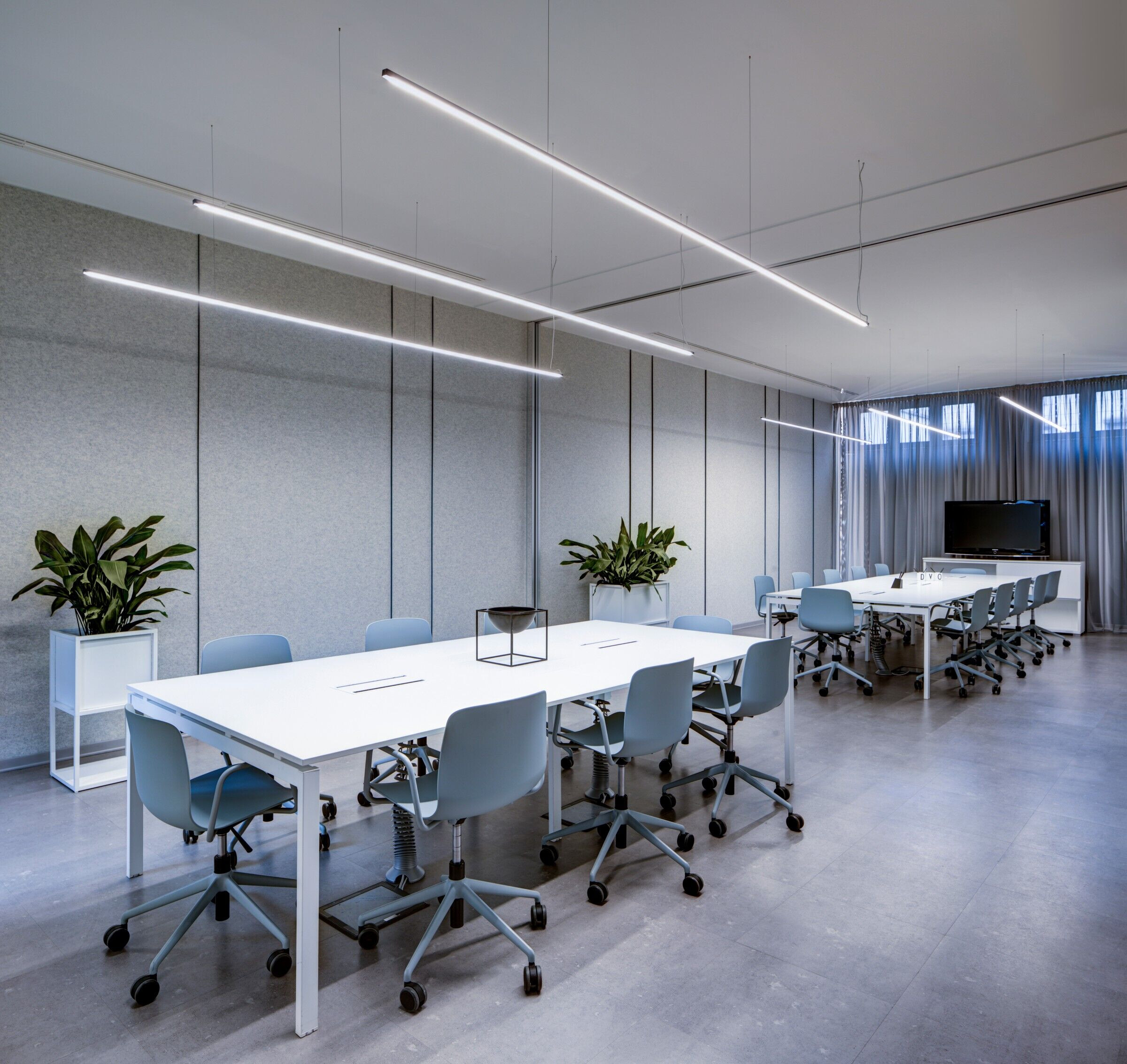 Floor and ceilings are the original ones of the 80s, the work areas set up with high-performance remodeling workstations, meeting tables and total white furniture are delimited by self-supporting and mobile acoustic panels, coordinated in blue withacoustic panels hanging from the ceiling and dividing panels of desks.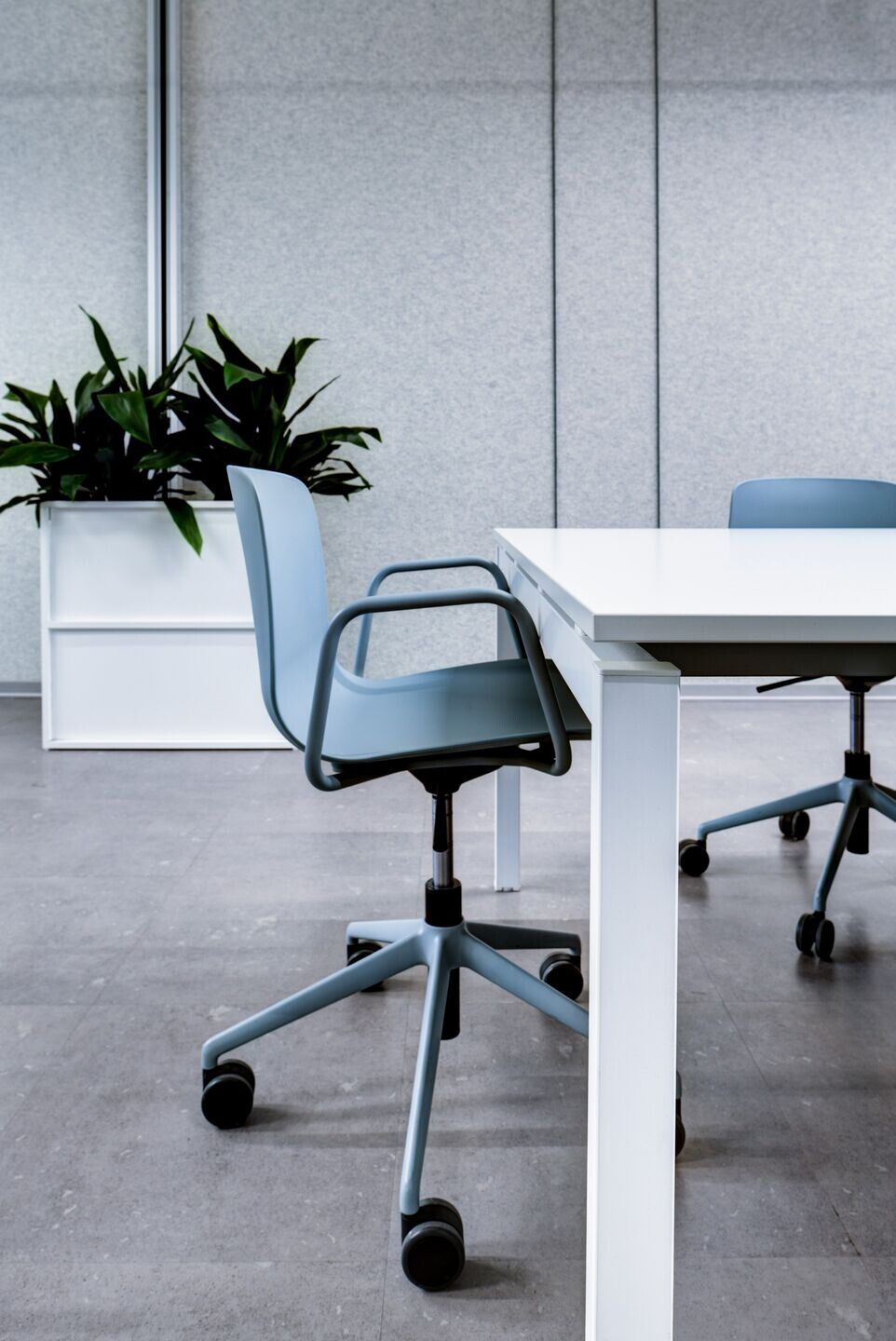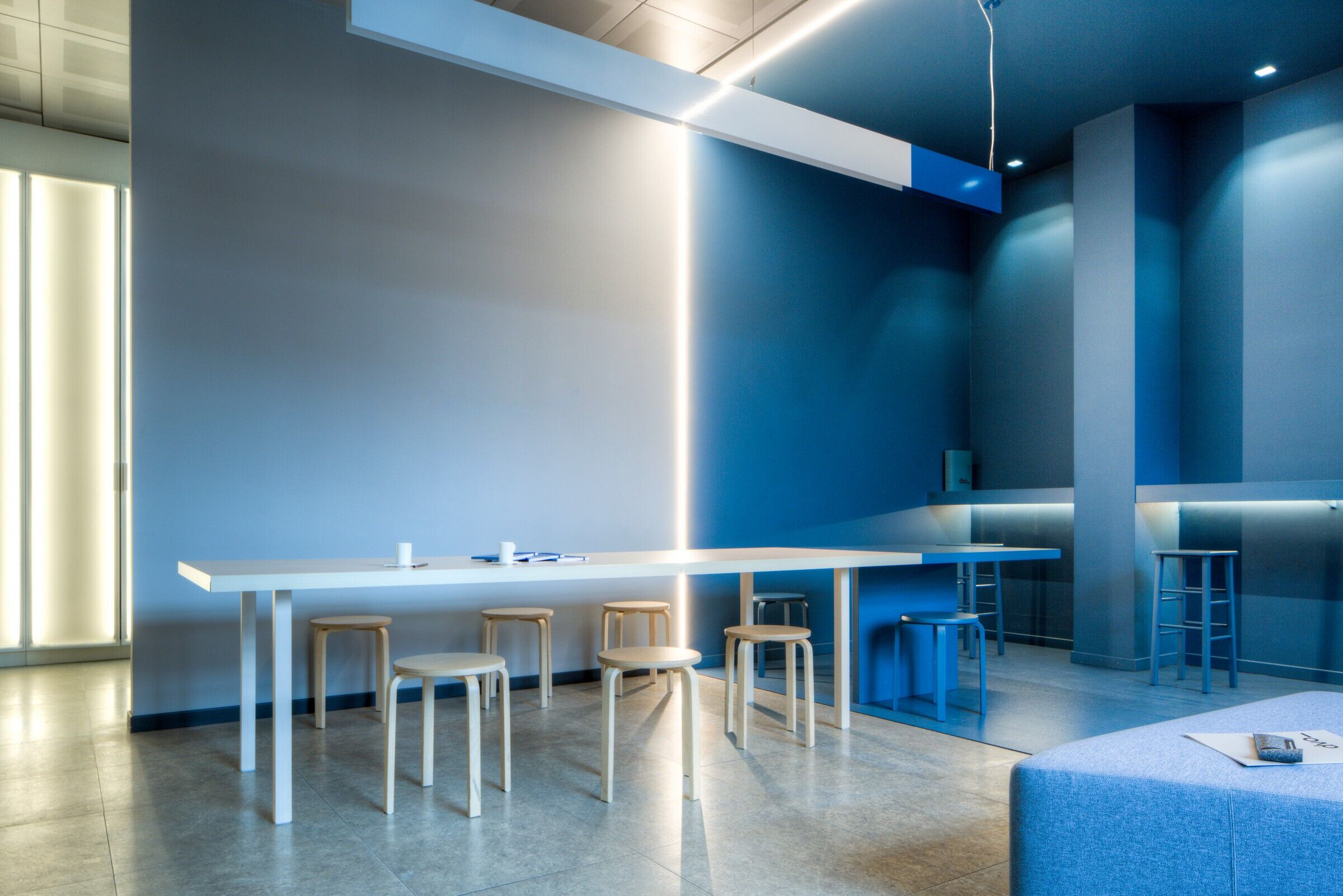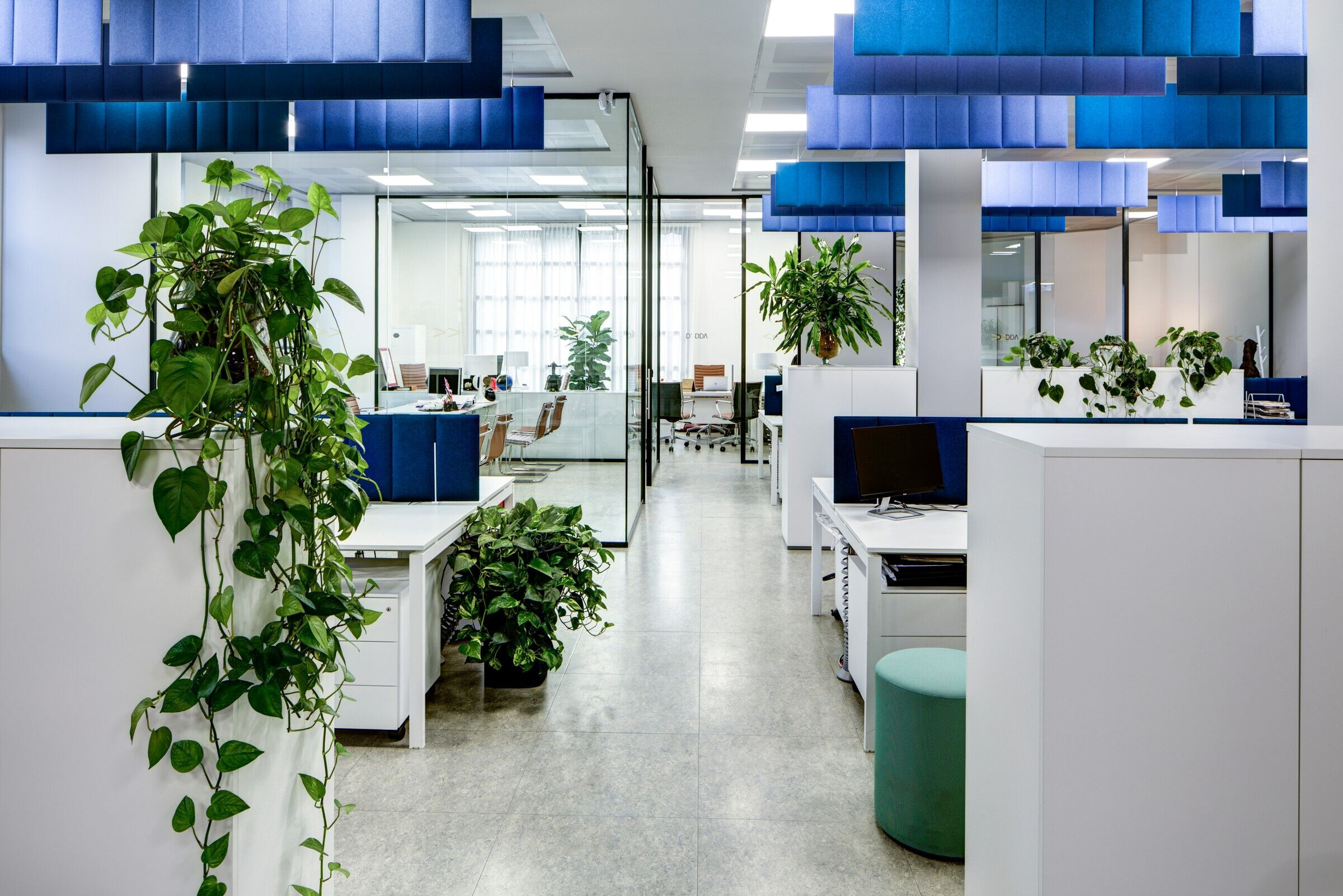 Material Used :
1. Flooring: Existing
2. Windows: Existing
3. Roofing: Existing
4. Interior lighting: Suspension Lighting, Essential, LuceTu
5. Interior furniture:
Acoustic Panel, ECOFelt, Slalom
Partition System, ECOFelt, Slalom
Workstations, DV802, DVO
Office Tables, DV503, DVO
Sofas, DV650- Refuge, DVO
Office Chairs, Alfa, Marte Srl
Chairs, Dilmun, MarteSrl
Armchairs. Finn, Marte Srl
Coffee Tables, Sostenuto, Marte Srl