What was the brief?
The main idea of the project was to create a space that would inspire the team working in the studio every day, as well as the customers coming to discuss their interior design. The whole team took part in the discussion, and we implemented the best ideas.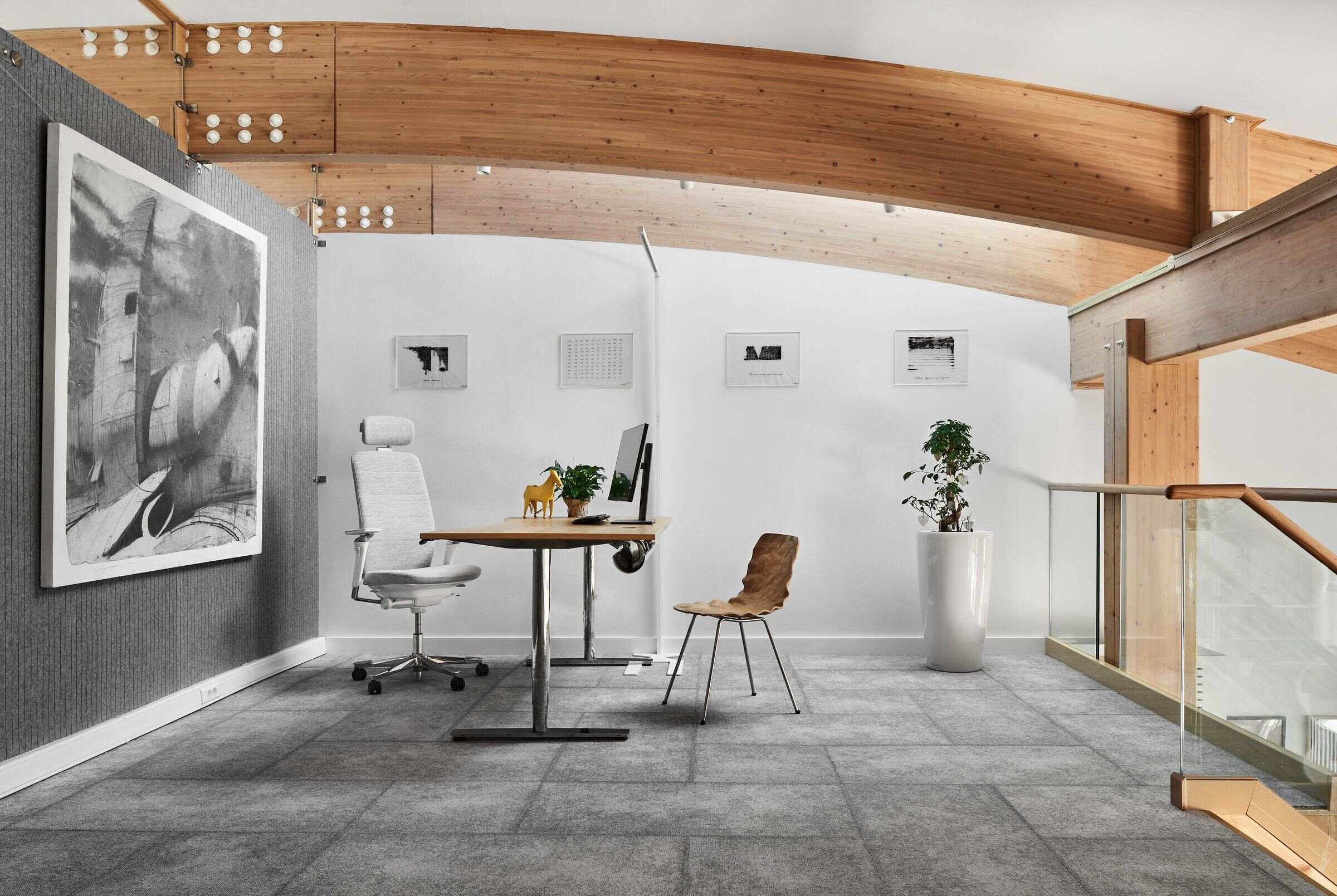 What were the key challenges?
The most important thing in our project is to combine aesthetics and functionality. We have created not just a beautiful space where one feels comfortable to work and spend time, but also a well-organized environment that allows to comfortably perform work tasks and manage all business processes taking place here.
What materials did you choose and why?
The space occupied by the studio is two-level; it is located on the upper 4th floor of the business center just under a vaulted roof, with arches decorated with natural wood. The total height of the two-level room, taking into account the mezzanine of the second level, is 8 meters, which gives a sense of freedom and light. The studio has panoramic windows along the facade wall.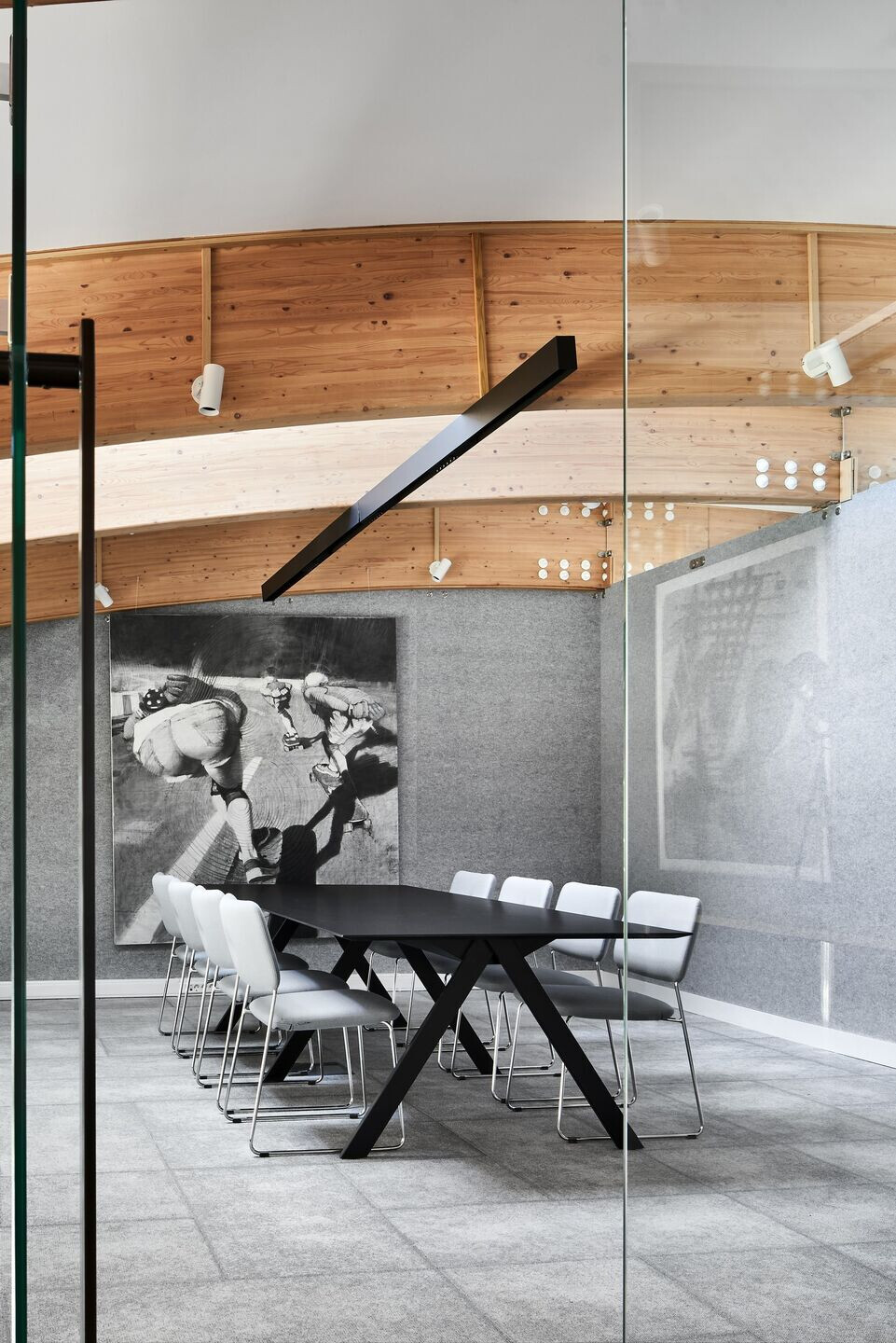 There are 4 functional areas on the first level:
- an entrance waiting area,
- an open space working area,
- a kitchen area,
- an area for briefing and brainstorming, as well as for designers working with projects.
The second level provides workplaces for studio managers and a large meeting room, where we usually hold internal meetings, discuss projects and meet our clients.
The first level features an exit to a terrace of 70 m2, which offers a beautiful view of the roofs of the Petrograd side. In the summer, we usually use the terrace to hold meetings, organize joint dinners in the fresh air and events with friends, partners and clients.
The terrace is equipped with several pieces of outdoor furniture, such as tables separated by high rectangular pots with gramineous plants and upholstered chairs with coffee tables where one can have a friendly conversation over a cup of coffee.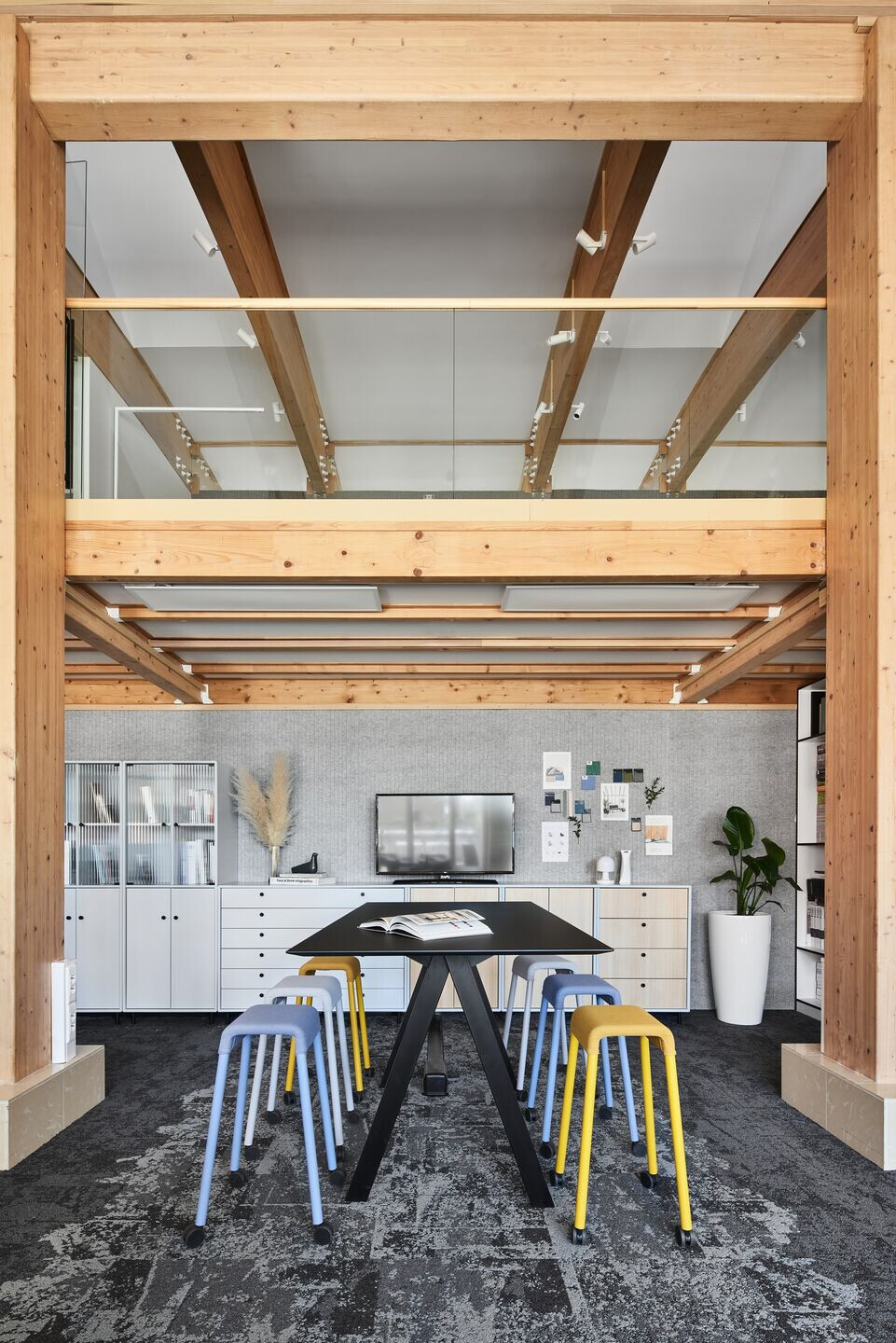 We wanted to make the interior clean, ergonomic and functional, but also to complement it with art objects. There are paintings by Lisa Bobkova. She is a graphic artist. The characteristic feature of the paintings is "a wave that can be interpreted as a pulse, a sound, or a beat creating a space-time concept."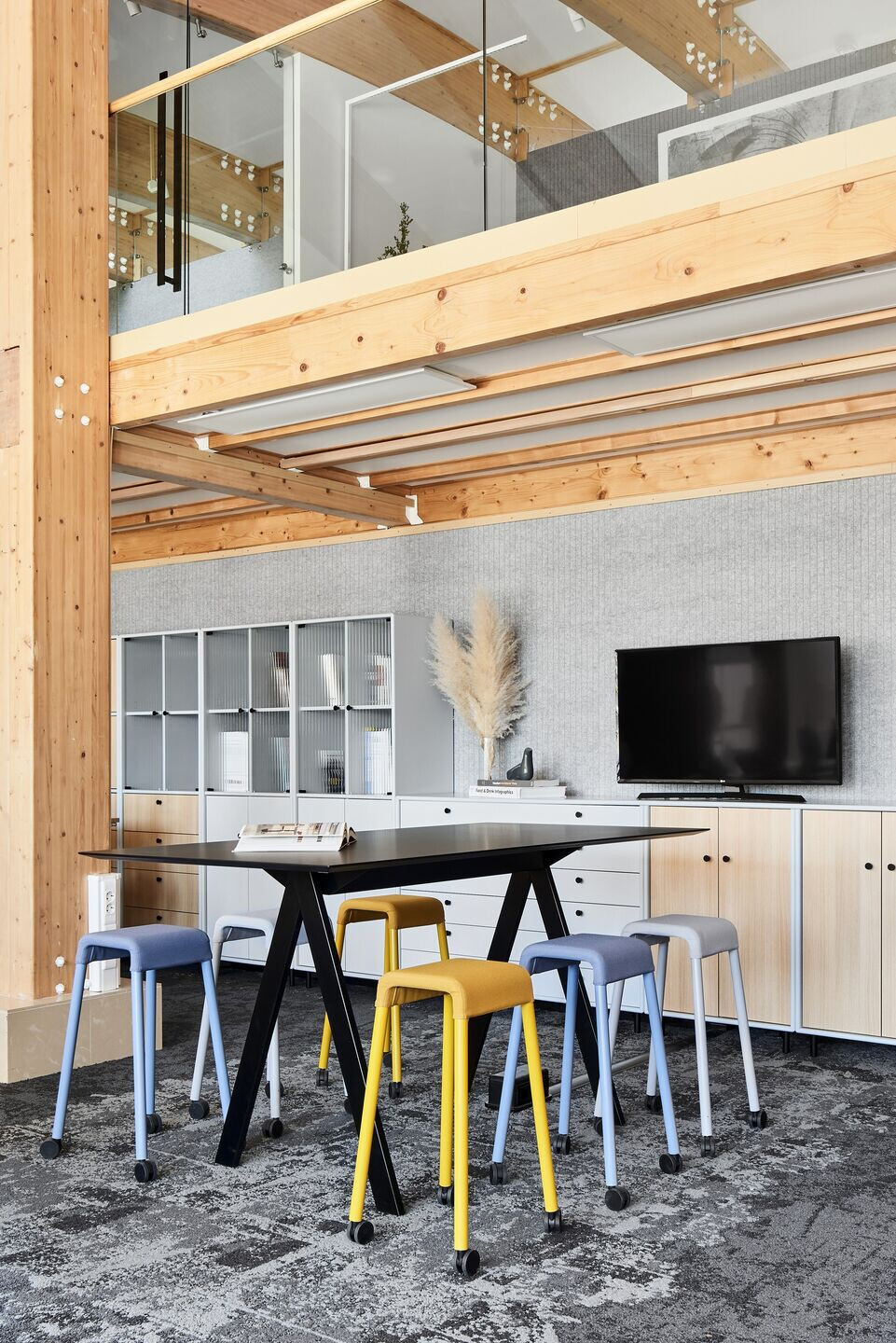 The large canvases by Kirill Chelushkin can also be found on the mezzanine in the working area and the meeting room. The meeting room features a painting called "Need for Adrenaline-2". The dynamism of thisartwork seems to make anyone entering the room a member of the skateboarding team. It's like you're joining them and continuing to move. Awonderful view opens up while one goes up to the second level.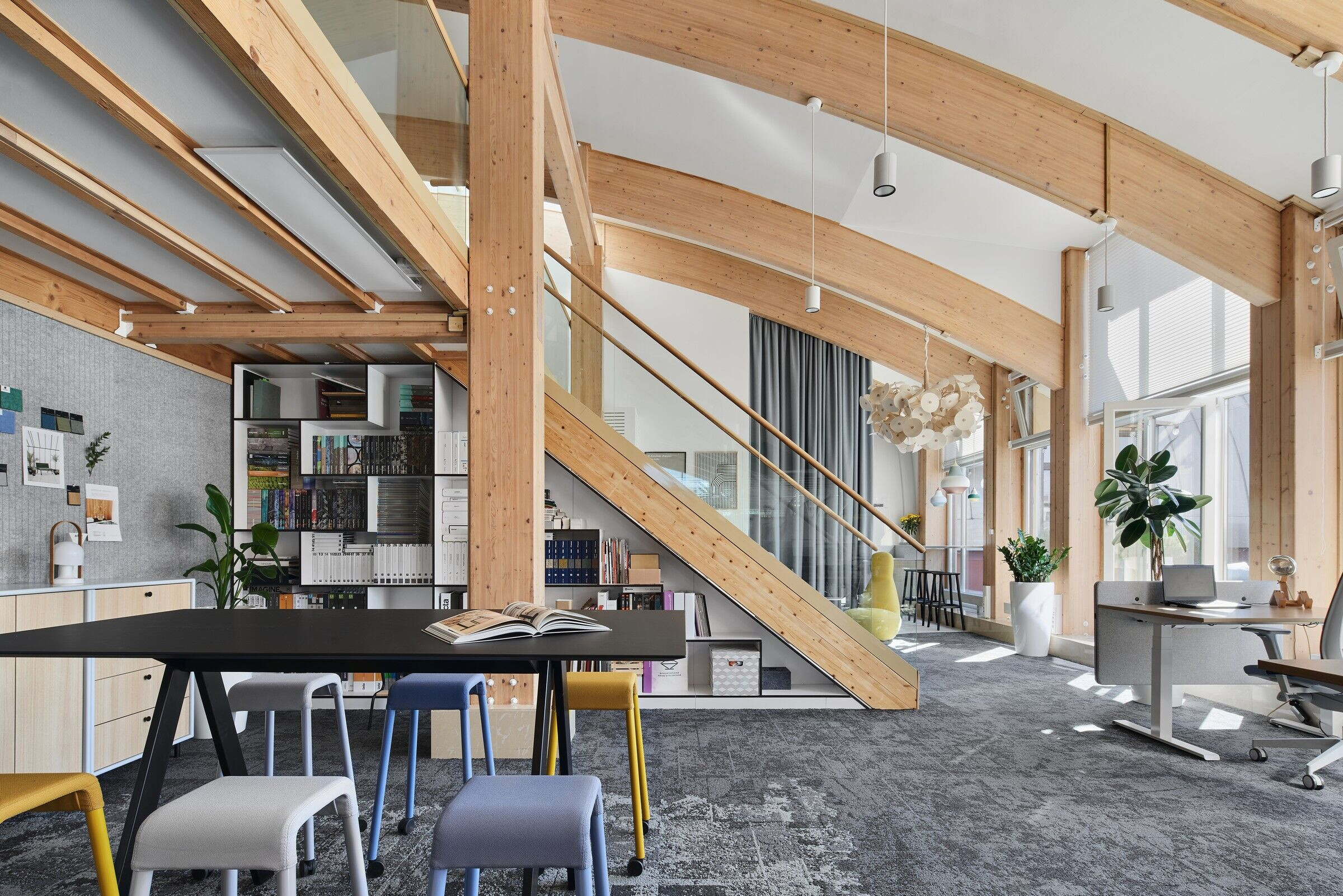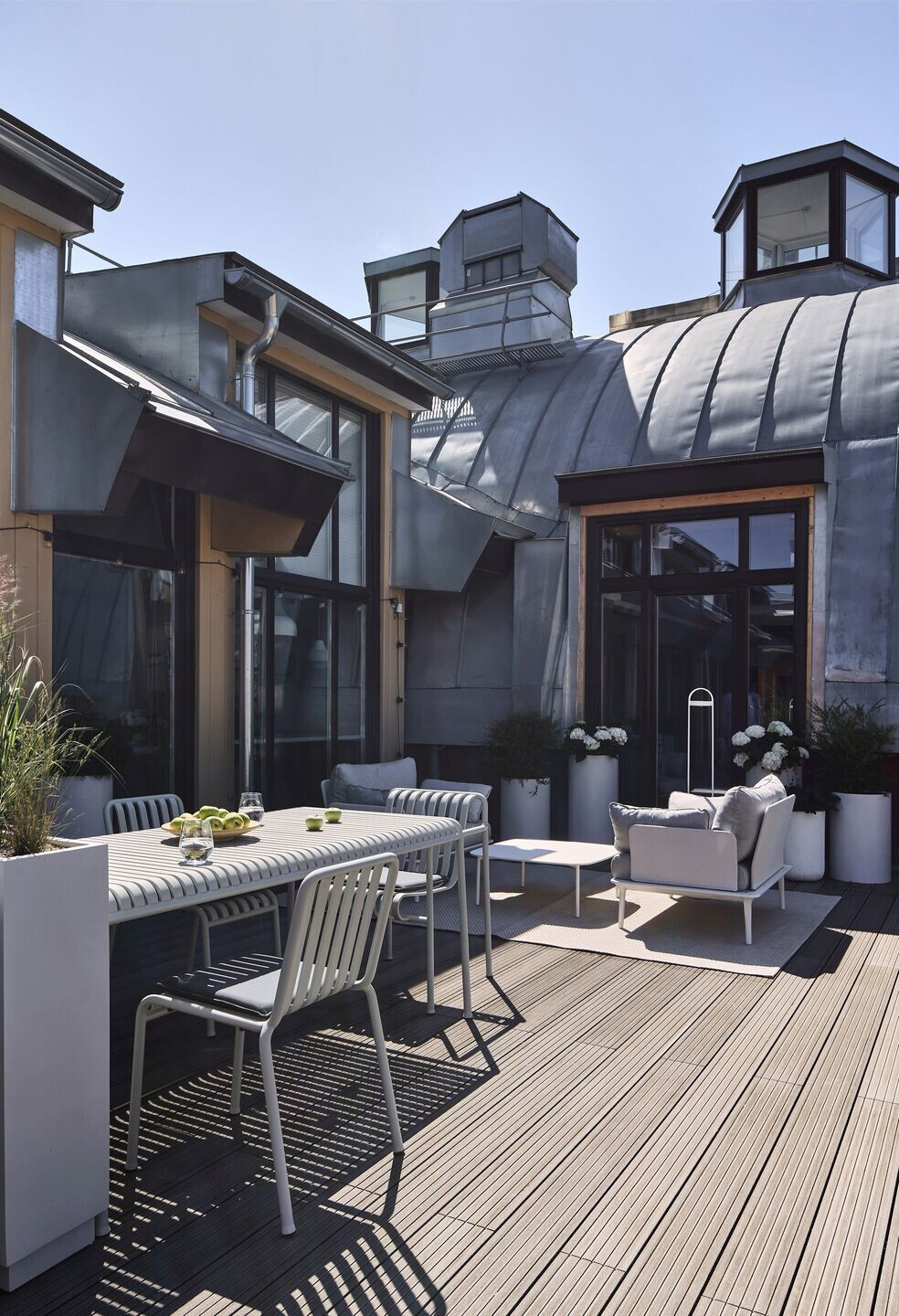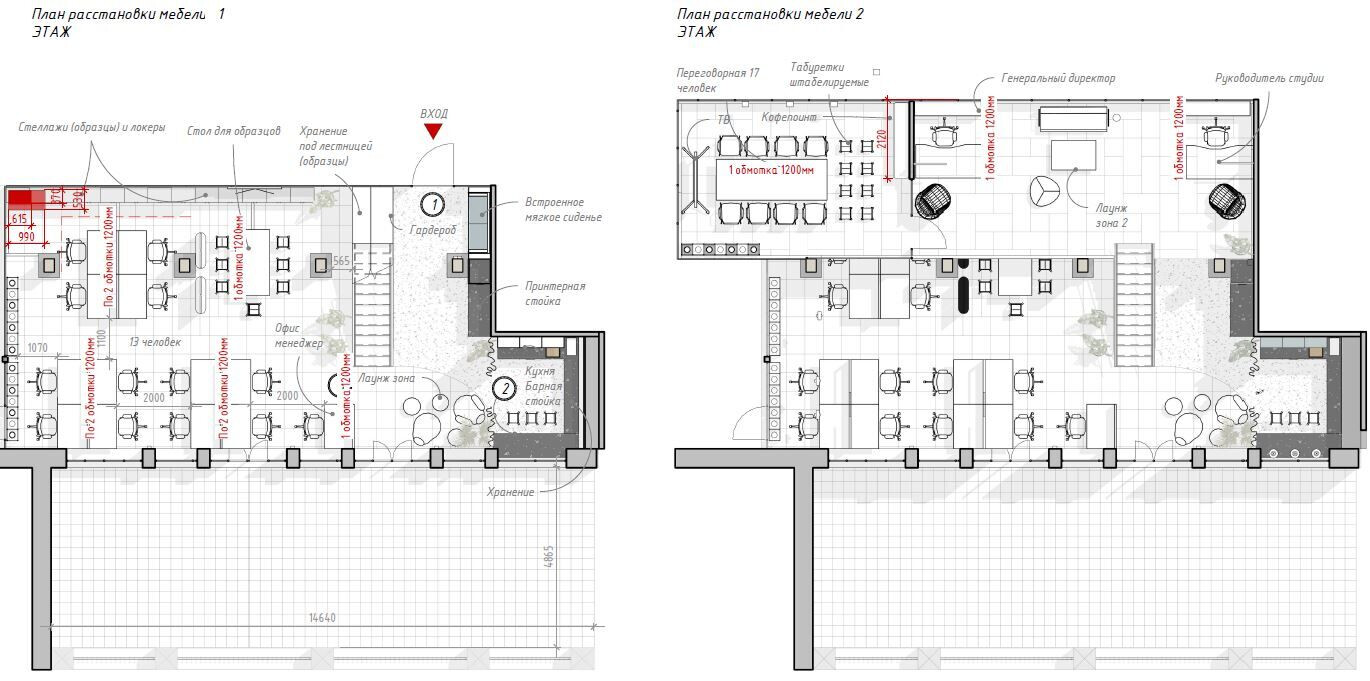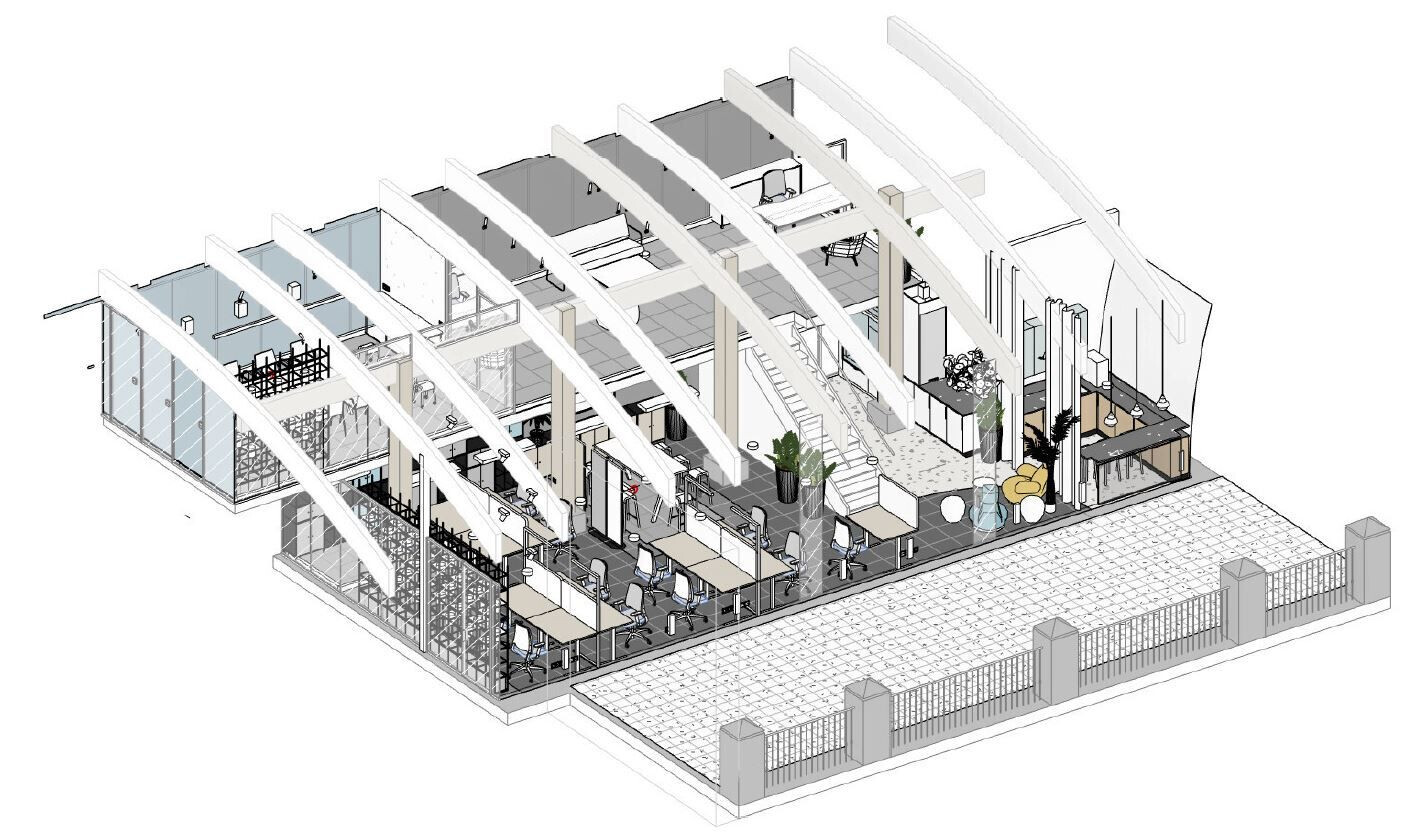 Material Used :
1. Art: Paintings by Lisa Bobkova, large canvases by Kirill Chelushkin
2. Flooring: Carpet tiles 1st floor – Interface – Net Effect, Homogeneous vinyl - Forbo - Sphera Energetic 51226 vivid mirror, Carpet tiles 2nd floor – Milliken – Comfortable concrete Aura
3. Interior lighting: Louis Poulsen – Cirque, Zumtobel, Green Furniture Concept – Leaf Lamp, Marset – Follow me, Le Klint – Carronade
4. Interior furniture: work tables Kinnarps - Oberon, chairs Capella; Profim – chairs Light Up; Bla Station – armchairs Oppo, coffee table Couronne, chairs Dundra, stools Dent; Johanson – meeting tables Peak, stools Stroll; sofa Sits – Otto; barstools Pedrali – Babila
5. Outdoor furniture HAY – Palissade; Pedrali – Reva