Project Summary:
Dudley House is a new mixed-use development in Paddington designed by Child Graddon Lewis for Westminster City Council, comprising 197 affordable homes, a permanent home for Marylebone Boys' Secondary School, premises for the Central Pentecostal Church, and retail accommodation.
Delivered on just 0.4ha of footprint, Dudley House plays a flagship role in Westminster's inclusive 'City for All' programme and is a blueprint towards creating much-needed affordable homes and community infrastructure within a highly-constrained and commercial urban location.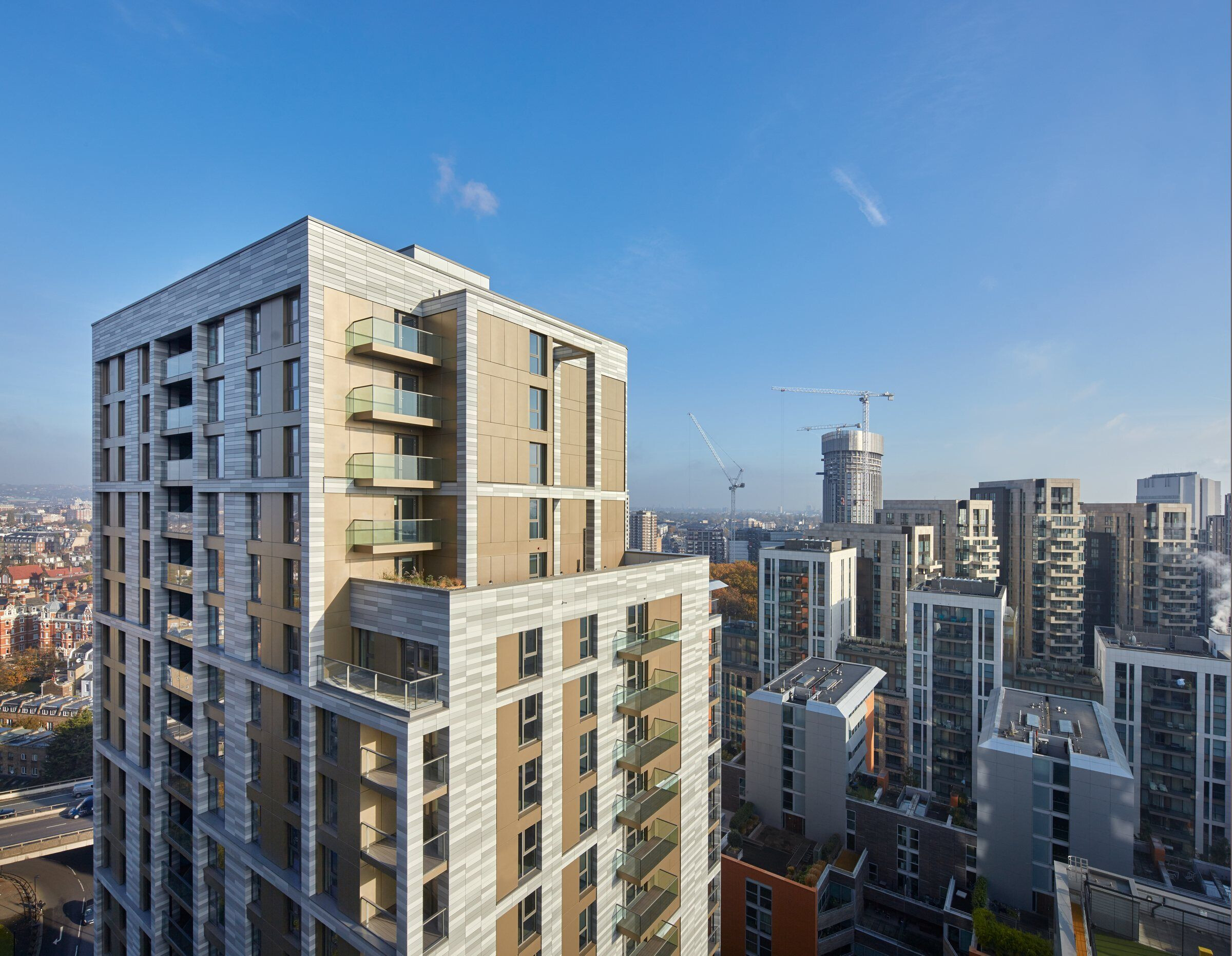 Project Description:
The Design
Each dual-aspect, naturally-lit and spacious home (mix of studio, 1-bed and 2-bed) is provided at intermediate rent, with Dudley House headlined not only as Westminster's largest ever design-and-build contract scheme but as a flagship development for the council's 'City for All' philosophy. This allows those working in Westminster to afford to live within the Borough, shattering assumptions that central London is unaffordable and inaccessible, delivering instead a new community for Westminster's residents – all adding to Paddington's social and economic fabric. Dudley House simultaneously plays its part in Westminster's equally ambitious programme of delivering 22,000 much-needed new homes by 2040.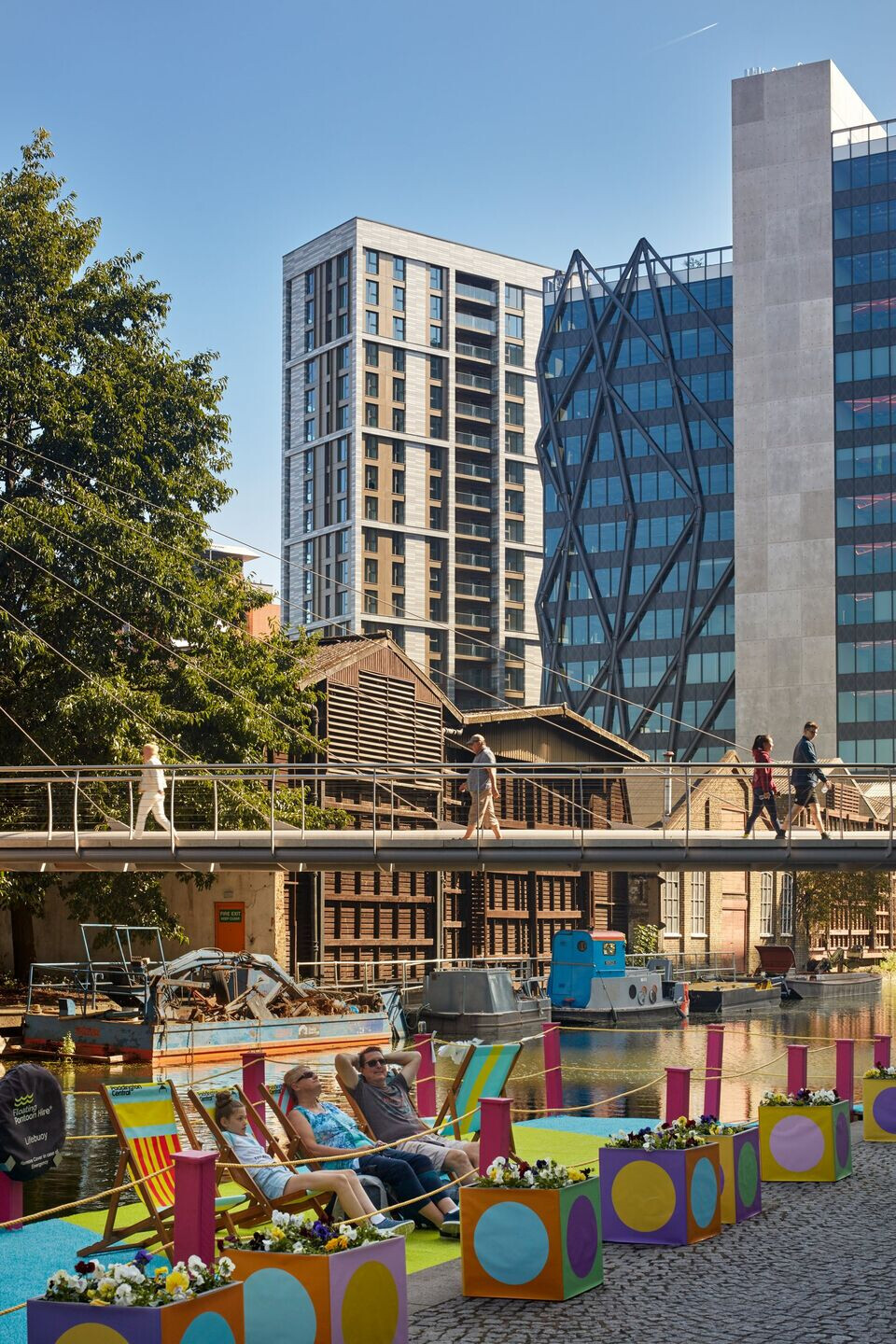 Child Graddon Lewis's approach towards Dudley House from inception was to place a vertical split between all main uses – giving each element a pride of place and sense of home by being expressed separately, with distinguishable and identifiable entrances facing on to individual streets at ground floor level and separate circulation cores.
Terracotta-clad, the residential element of the project is shared over 22 storeys, with the massing intentionally slim and neatly chamfered so as to protect and enhance views from Little Venice and beyond – making Dudley House a welcome addition aesthetically to the community's skyline. Universally designed and wheelchair accessible throughout, the project provides generous shared amenity spaces to foster a sense of community.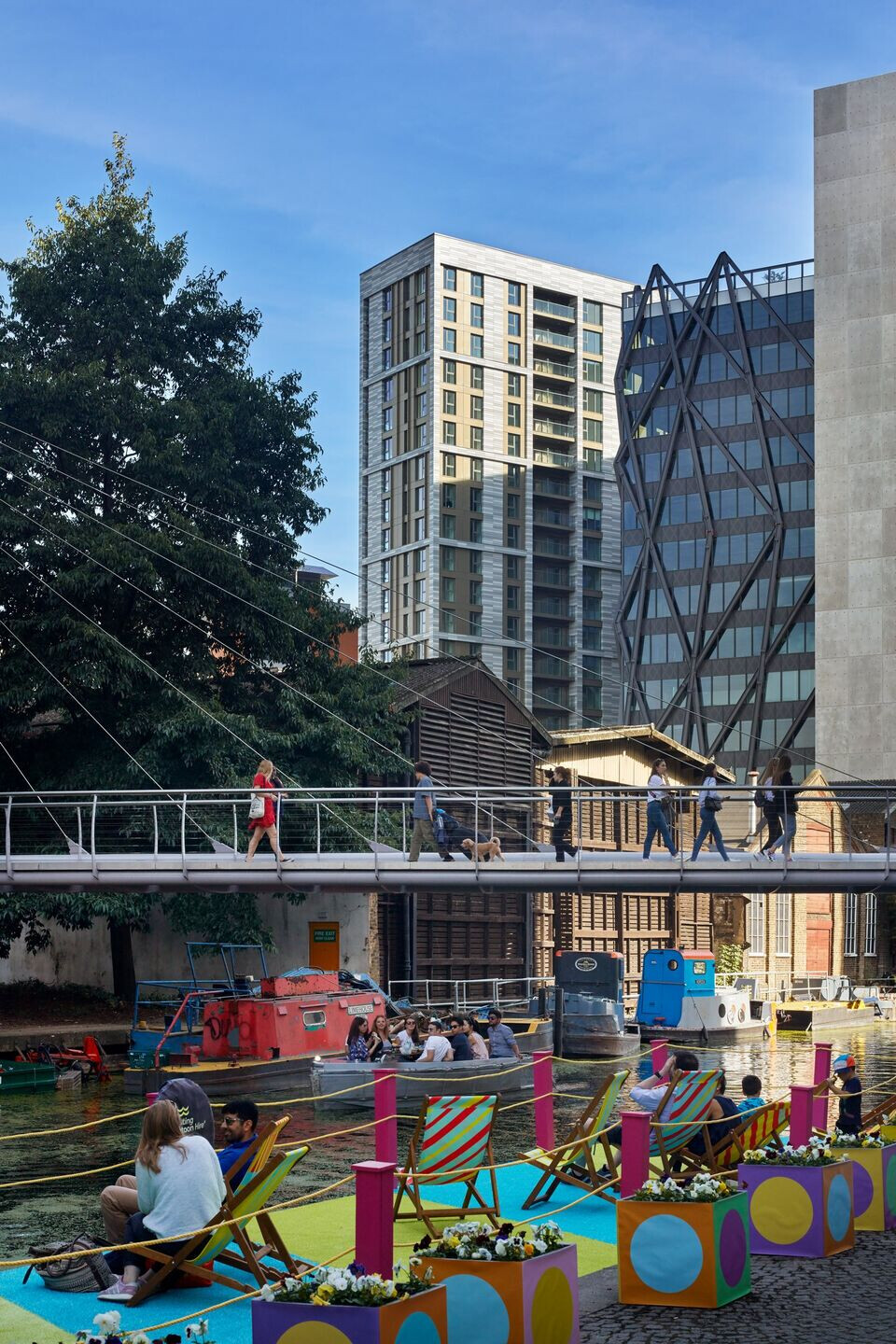 All residents moved into their new homes pre-Christmas 2019 and are already reaping the benefits of living within the same Borough in which they work, including teachers, nurses and an employee for the British Paralympic Association.
Dudley House is, however, much more than homes. Neatly designed within this urban footprint is a nine-storey secondary school – the tallest in the UK and now permanent home for Marylebone Boys' School, which had spent its first four years in several temporary locations. The ambition further reaches to a new facility and lease of life to the local Central Pentecostal Church, replacing a severely dilapidated, poorly converted terrace house as part of the run-down former site, and a new retail unit.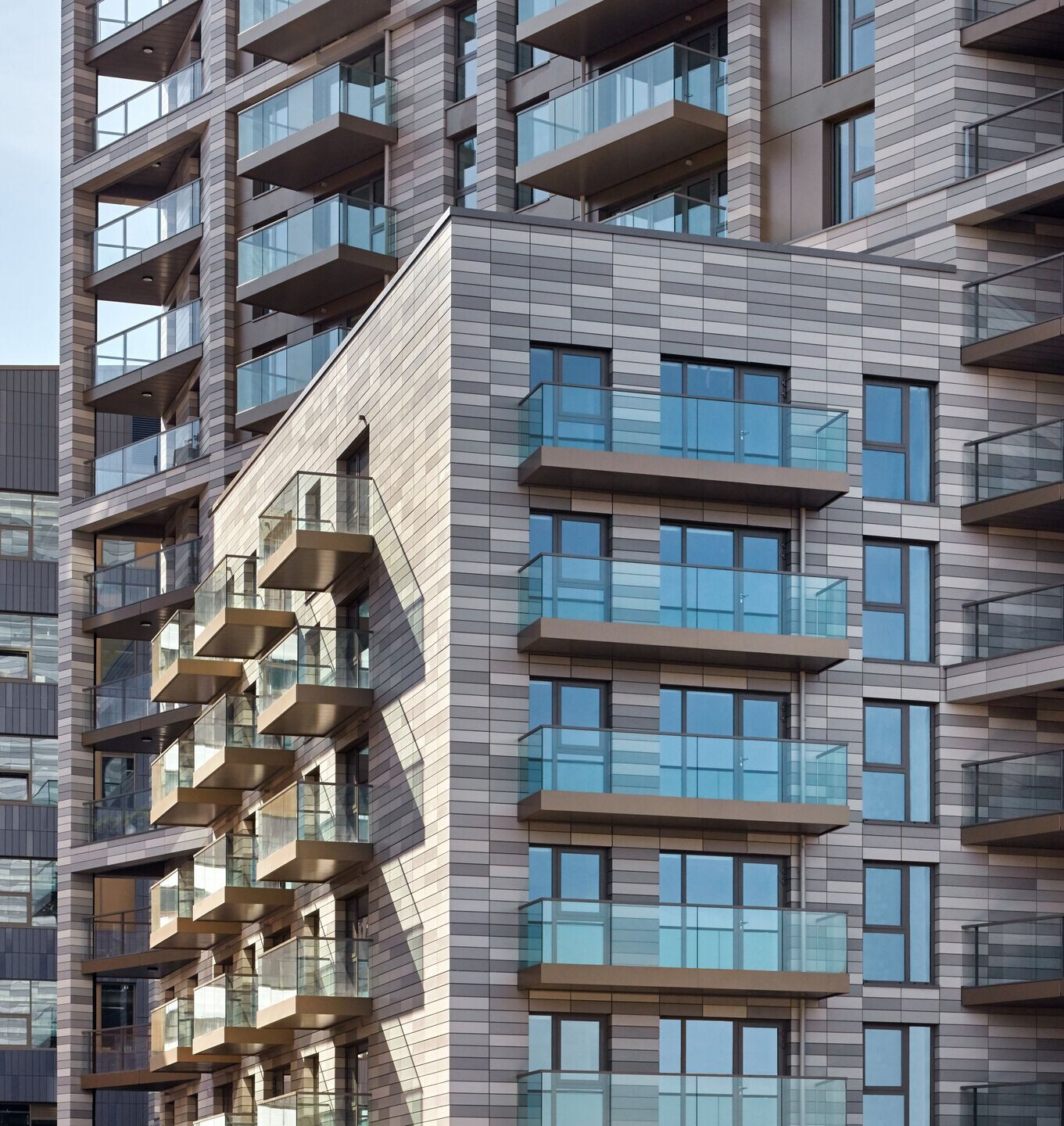 Focusing upon the school, a bright central atria hallmarks the design, which further includes a flexible hall space with retractable seating at basement level and outstanding facilities throughout. With limitations in space, the considered school design incorporates a netted play area at roof level, with a highway design providing clear access to neighbouring outdoor facilities for the students to utilise.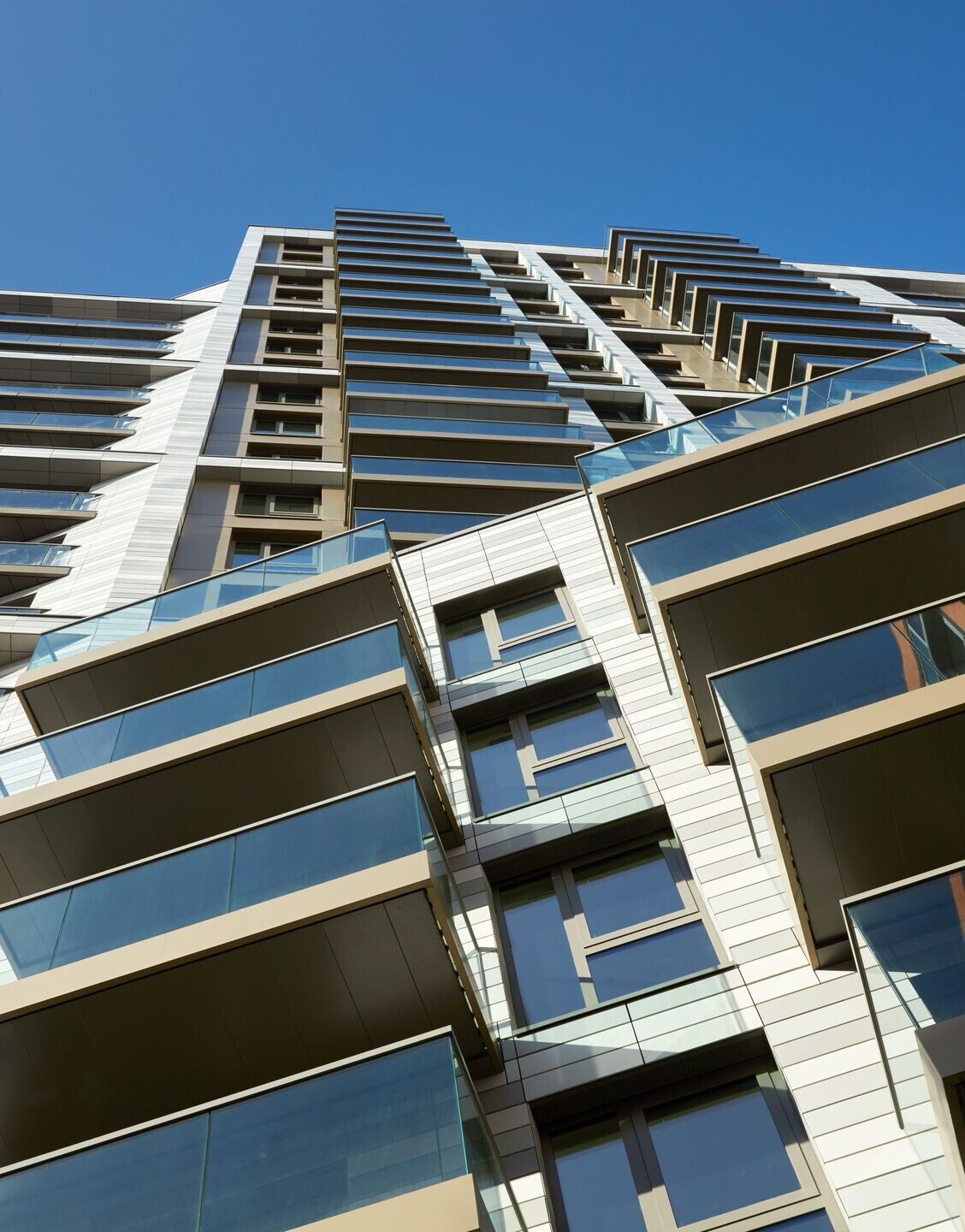 Social Impact
Dudley House embodies one clear objective – becoming the beating heart of a vibrant and successful neighbourhood community in Paddington. Every inch of space has been maximised within its 22 storeys to provide 197 much-needed homes at intermediate rent for people working and living in Westminster – people who are essential towards sustaining the local economy.
The mix of outstanding new homes for those on moderate incomes with excellent education opportunities and community assets is a blueprint for how intelligently designed developments can rejuvenate urban environments. The success of Dudley House will also determine the approach for other developments, with Westminster now actively sharing the scheme as a case study with other local authorities. In January 2020, the council staged a tour of the project and Q&A session for over 200 representatives from local authorities within London and across the UK.
Alongside providing a blueprint for a connected community, the project team further invested in the local community with a total social value of £1.5m, including 21 work experience opportunities for 15-17 year olds, 220 mock interviews and feedback workshops with pupils at Marylebone Boys' School, 64 supported apprentice weeks, and 934 school, college and university workshops in total.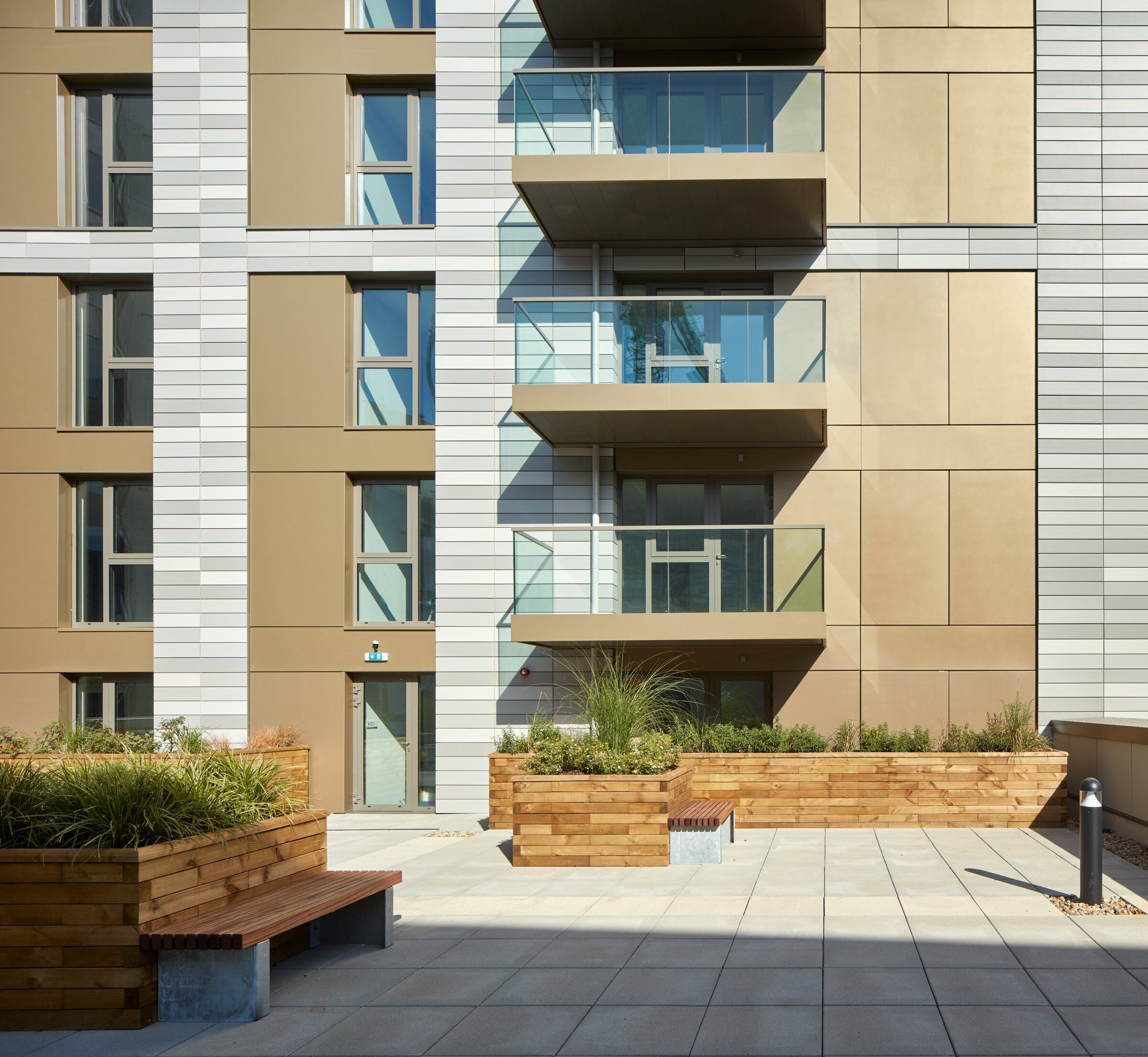 Environmental Impact & Sustainability
Child Graddon Lewis always takes a broad view on sustainability, adopting a holistic approach that includes improving social, educational, economic and health outcomes alongside environmental aspects relating towards the conservation of the earth's finite resources. This is no different in the design and delivery of Dudley House, with emphasis placed towards constructing a thermally efficient building fabric that exceeds the requirements of Building Regulations.
The design utilised a central energy centre based upon a Combined Heat & Power (CHP) system, of which by generating heat and power together reduces the carbon emissions of the building by 40%. On-site renewable energy is generated by rooftop photovoltaic solar arrays, with the day-time energy requirement of the school enabling the system to function even more effectively. Although there was no requirement for formal accreditation as the scheme was withdrawn by the Government, Dudley House was designed towards Code for Sustainable Homes Level 4, and the school towards BREEAM 'Very Good'.
Alongside sustainable procurement throughout, reducing traffic to the site and minimising the local and environmental impact whilst increasing programme speed was also sought throughout construction. The design intrinsically supported this and all key milestones were successfully completed, including the earlier completion of the school in time for the beginning of its planned academic year. Prefabrication also played a significant part, including a plant room and offsite manufacture of four-storey flue sections. The structural steel framing system was also manufactured offsite, creating a speedier on-site process alongside reducing construction-related vehicle movements by a quarter.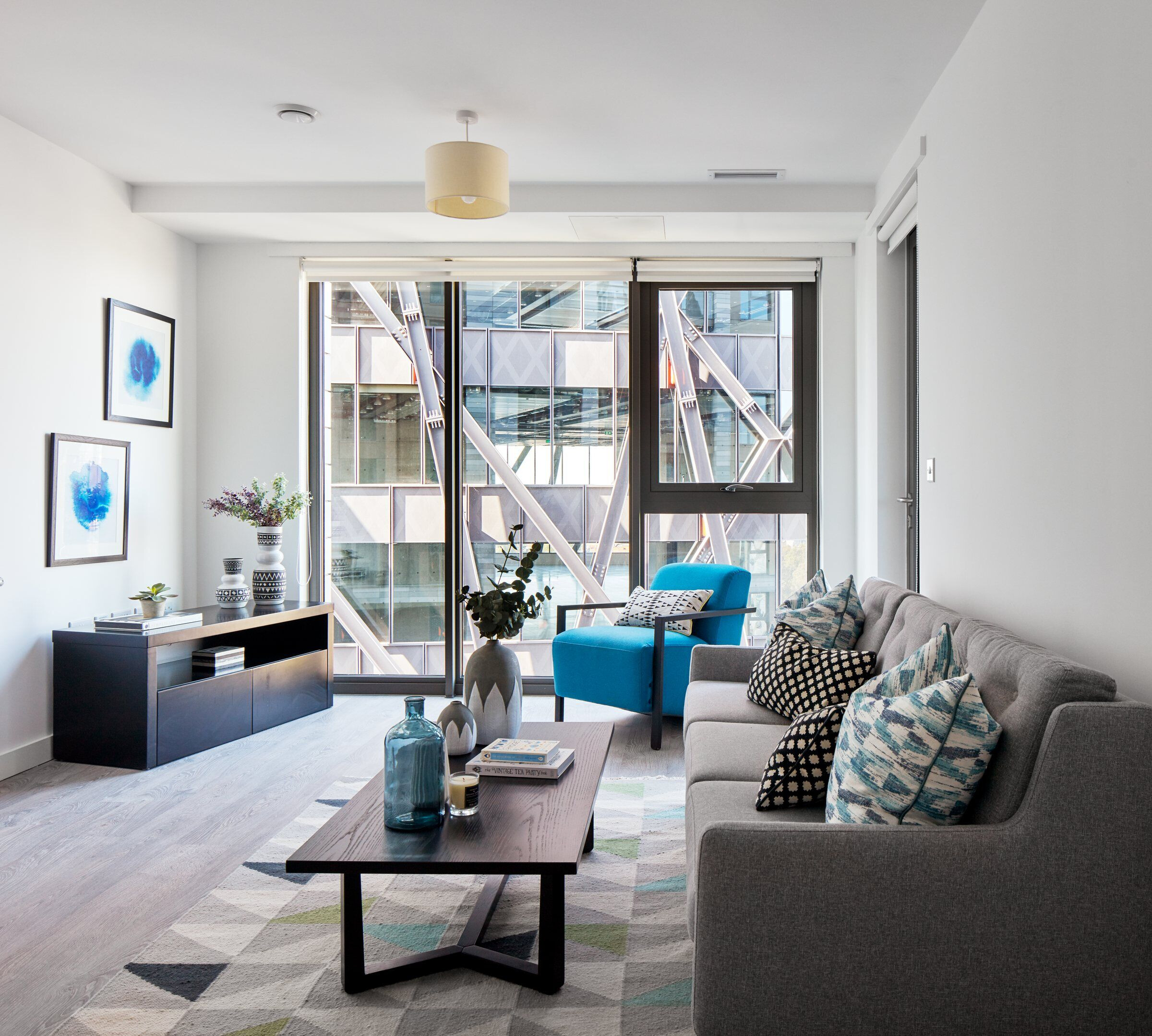 Collaboration
Strong relationships and a tangible spirit of collaboration were at the heart of this project from cradle to completion. A team built upon unity, mutual trust and respect allowed for any unforeseen factors or new issues to be resolved with haste and in a positive manner.
Teamwork at the design stage paid dividends. The contractor and project manager, Willmott Dixon and Currie & Brown respectively, were unusually brought into the project at an early stage during the planning process, allowing for their technical and buildability input to prove invaluable alongside Westminster and Child Graddon Lewis. This allowed the team as a collective to highlight all practical issues that could have a potential impact at later stages of the project, and being so embedded early on proved key towards keeping an extremely tight programme on track – including the delivery of the school ahead of the start of the academic year.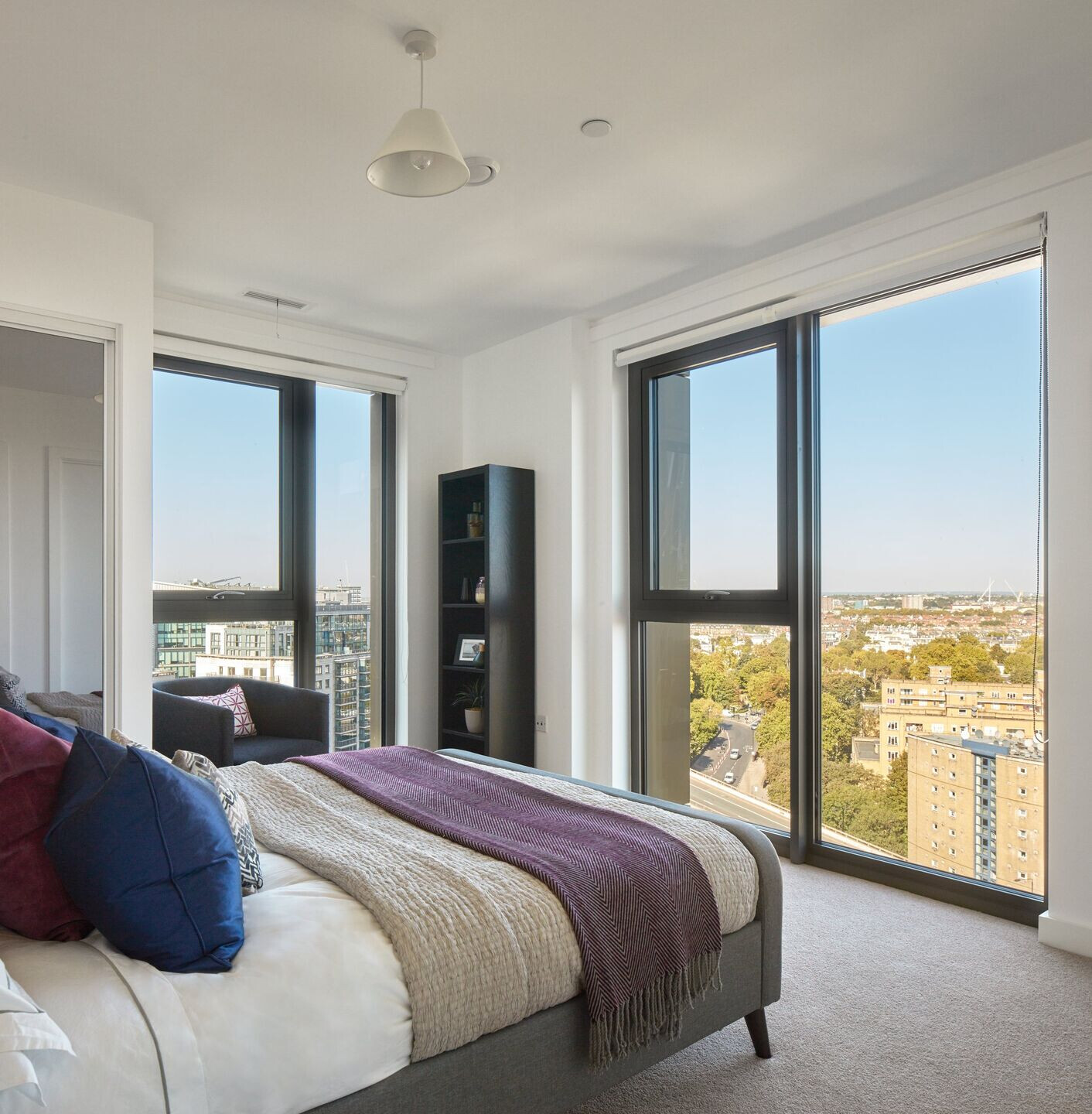 Understanding and supporting the needs and concerns of every stakeholder, right through to the residential building management company, further characterised the project. The school, for example, was involved in the design process from initial concept stage, with its role ensuring the needs of all pupils and staff have now been reflected within the final building. This was achieved via multiple site visits and even a series of pupil-focused workshops.
Such intensive collaboration allowed the team to achieve extraordinary planning lengths, ensuring the project had zero local impact upon traffic flow, businesses, neighbours, pedestrians and cyclists. A site-office and welfare facilities to accommodate the 350 people working on the project was also installed throughout the build.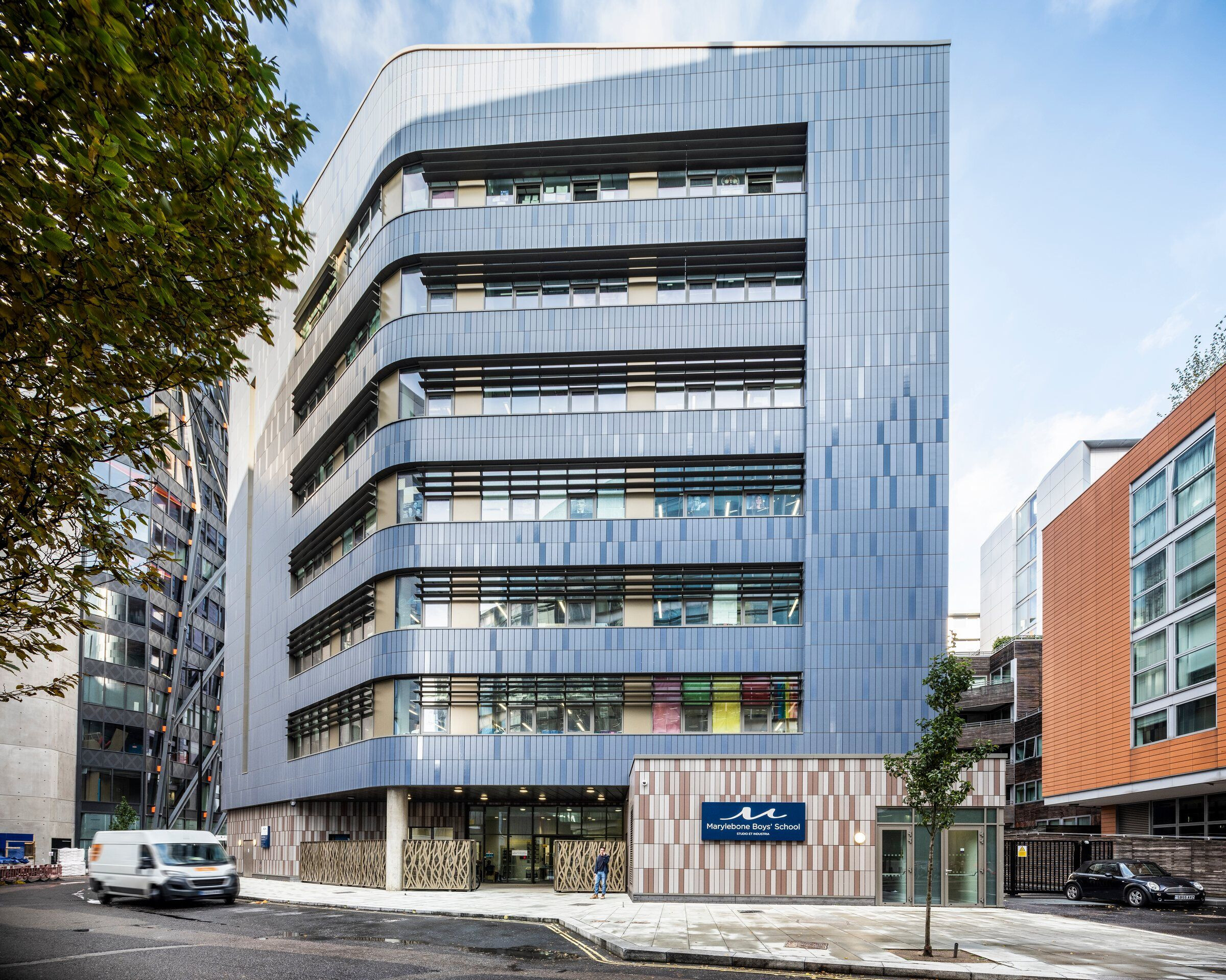 Innovation
Dudley House aims to inspire a legacy for the future and give life to a new era of council house-building in urban locations, one that has ultimate social impact by creating and allowing communities to flourish. It is a central element of the ongoing success of the Paddington Basin's regeneration and provides the innovative solution of allowing the wider community to benefit from 197 new affordable homes, a school for 840 pupils and other crucial facilities skilfully contained within a footprint that is half the size of a football pitch.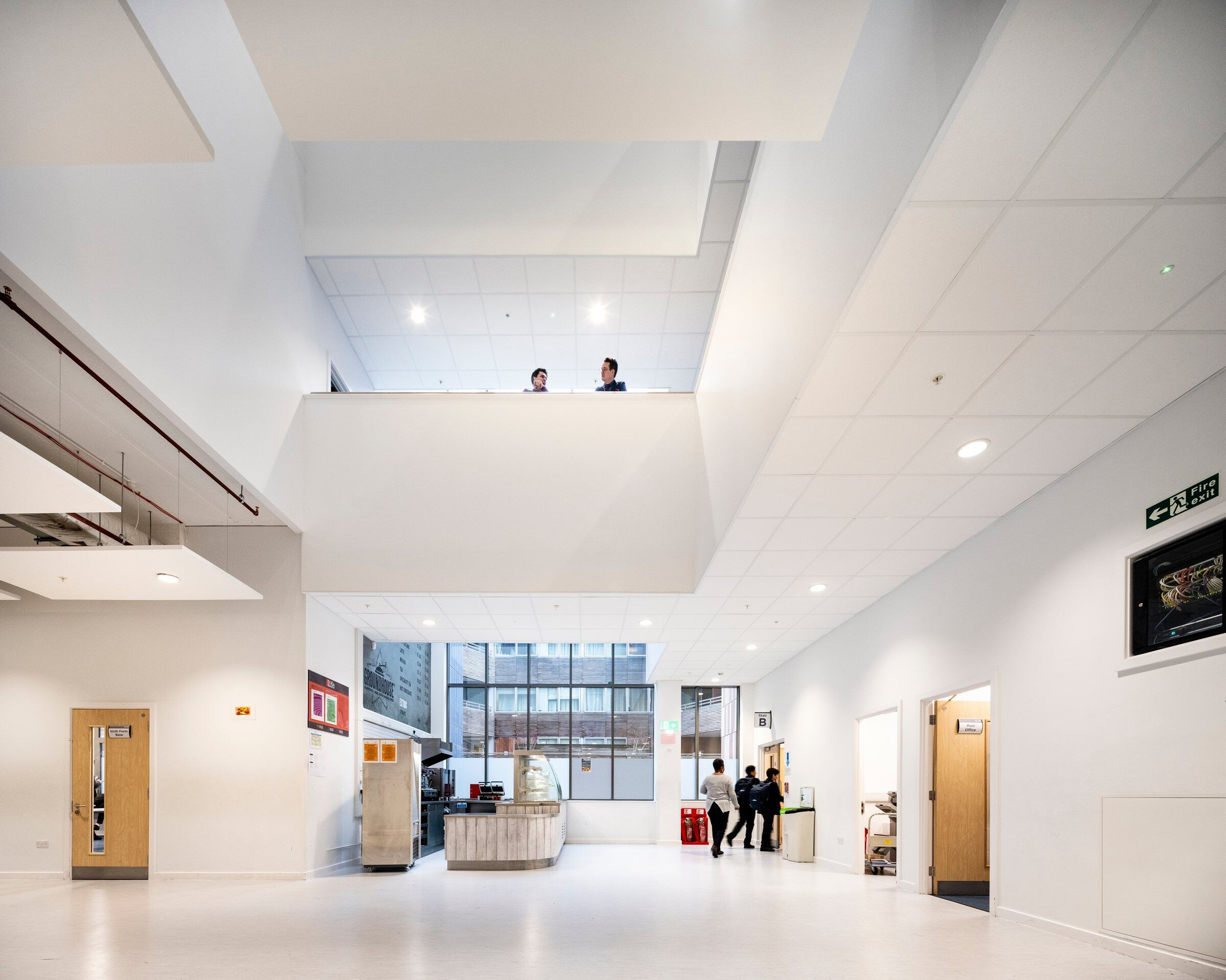 Alongside what Dudley House represents socially as unique, the delivery of the project proved an innovative feat. The site was tight, highly-constrained, and within a busy Central London-based location; urban, high-profile and immediately adjacent to the Westway (an elevated 3.5 miles section of the A40). Child Graddon Lewis's design expertise and innovative approach to delivery overcame these challenges, achieved by adopting a technical approach from the outset and creating a golden thread of information to continue to delivery and beyond by working on the scheme to Building Information Modelling (BIM) Level 2 throughout. This proved to be a key technological tool in coordinating work with the wider design team prior to construction; leading towards an enhanced, coordinated, more efficient and transparent detailed design process, with less waste and fewer costly revisions during construction.
Additionally, by utilising BIM, crucial information has now been created to allow all stakeholders to manage the building both sustainably and efficiently for decades to come.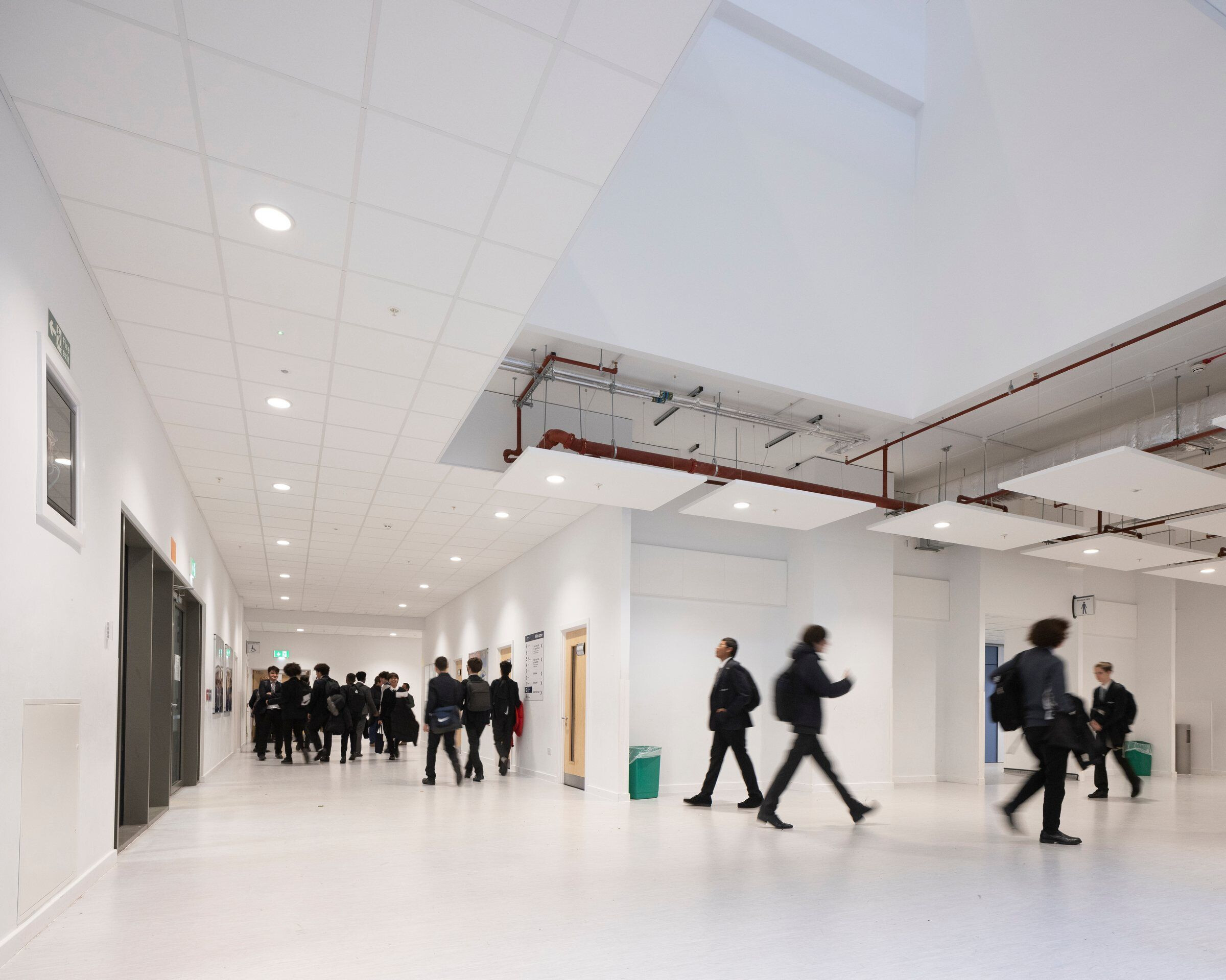 Supporting Statements:
"The design approach for many reasons was to place a vertical split between all main uses. This not only inspiresan identity for the residents, pupils and school staff, church congregation and retail business, but allowed for more flexibility within the design process while maximising the available footprint of the site. For example, the problem with placing housing above the school – a possible viable design solution – is that the layout of the school is inevitably constrained by the structural configuration of the housing above. Also, having playground amenity space between floors means they're not strictly open-air spaces.
"Overall, we believe Dudley House provides a development that will foster a sense of community, completing one of the missing pieces of the Paddington Basin masterplan jigsaw. The vibrant mix of uses will ensure that this stretch of Paddington is much more than just a place where people work.
James Felstead, Director, Child Graddon Lewis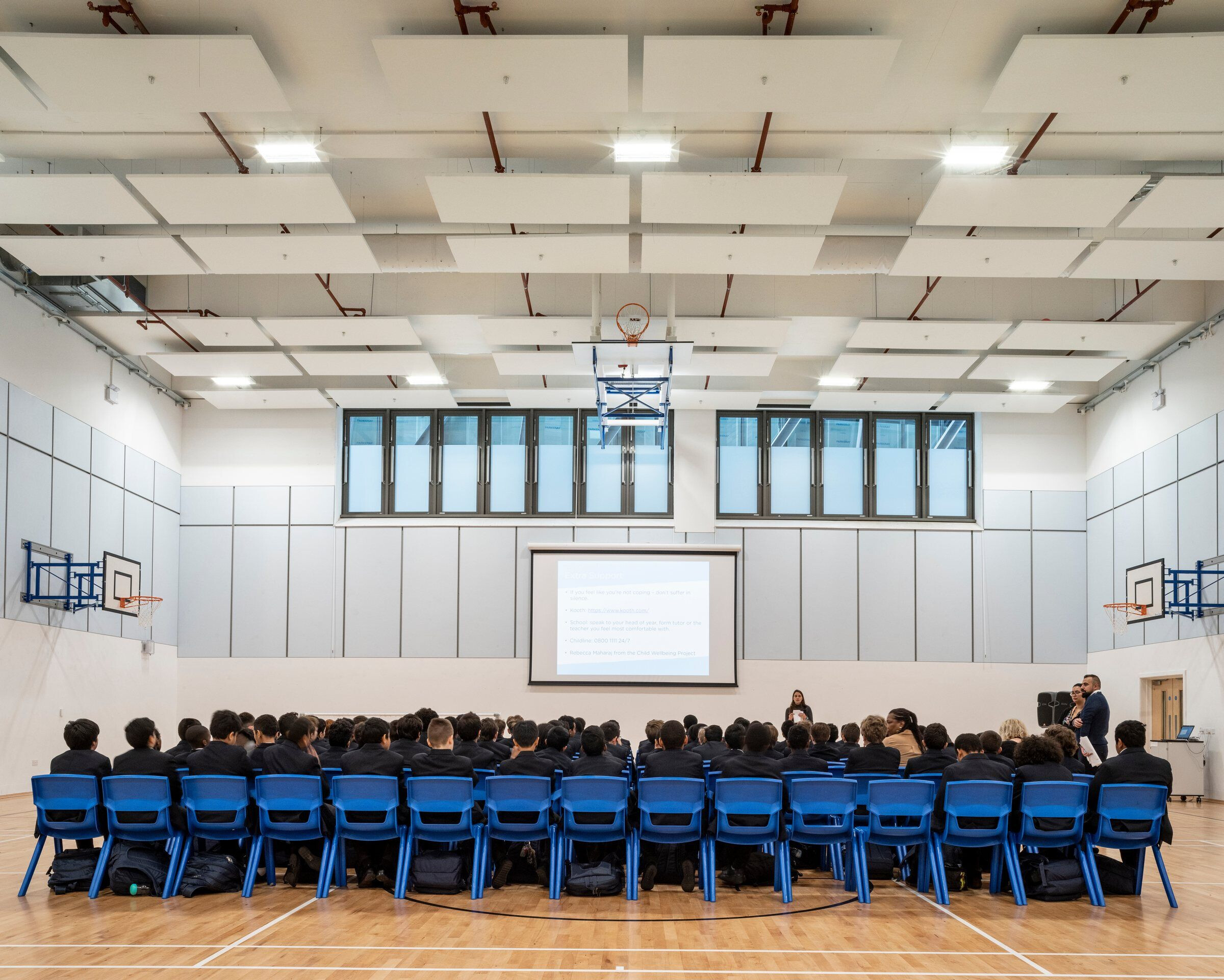 "Dudley House is an essential part of Westminster's commitment to transforming our city into a 'City for All', delivering at least 1,850 much-needed affordable homes of our residents by 2023 with thousands more to follow. We could not have delivered this ambitious project, and 197 affordable homes, without the support and vision of our partners Child Graddon Lewis.
"We asked a lot of them. It was a real challenge to deliver 197 new homes of a high standard, a secondary school with enough outdoor and play space, a church and retail on a highly constrained site in Paddington. CGL worked collaboratively at every stage, always acting in partnership with Westminster officers and our contractors Wilmott Dixon Construction to deliver a highly efficient building which makes effective use of the land and serves all its users equally.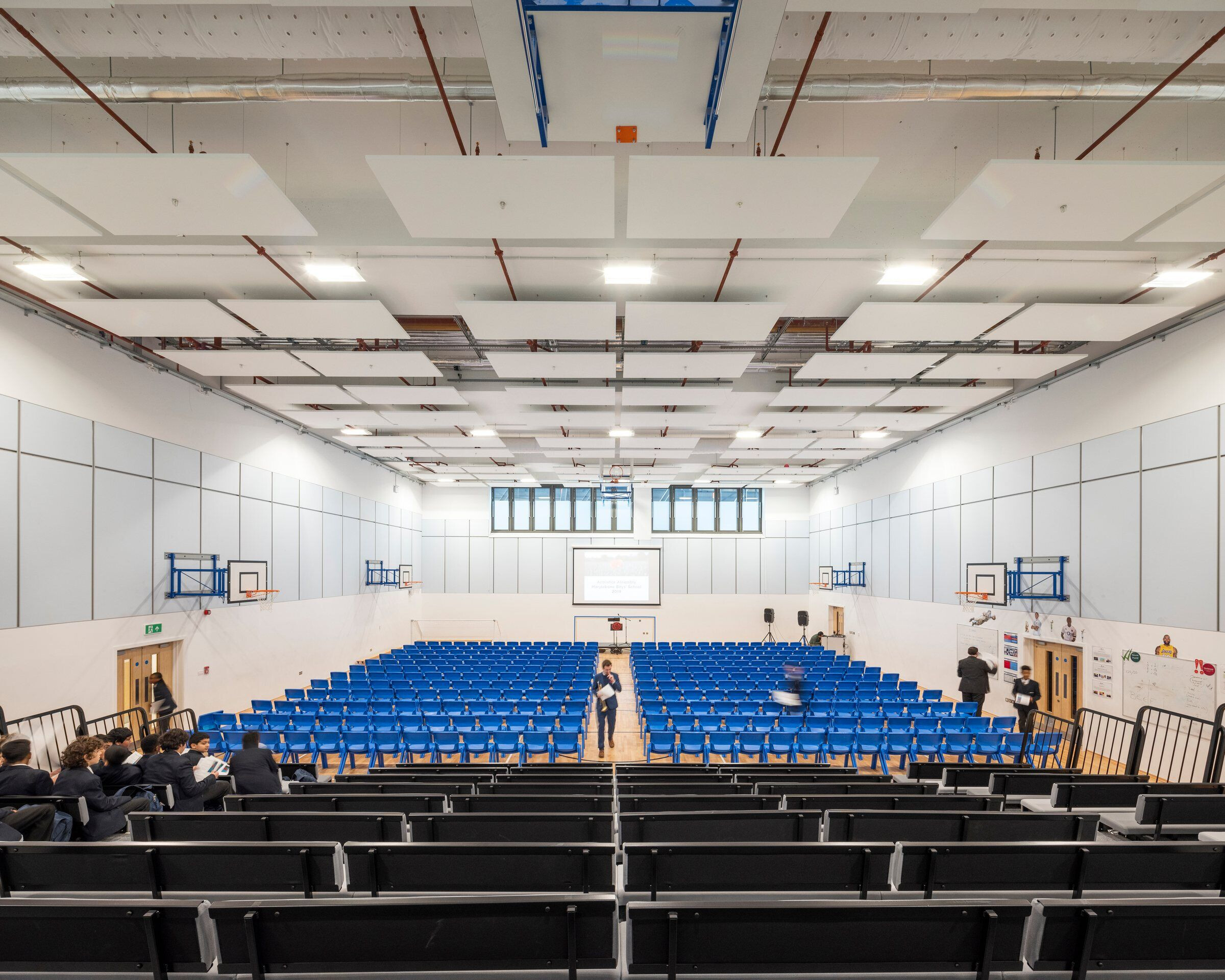 "It is through CGL's innovative design that the 840-pupil school was delivered despite the constraints of a highly urban environment and limited space on site. A nine-storey vertical-school, built around a bright atrium, with the roof cleverly adapted to provide an outdoor football pitch and classroom spaces designed to be flexible and multi-purpose. Equally, they designed the residential element to provide 197 homes of outstanding quality, with a degree of privacy and calm that you might not expect of a building in the heart of Paddington and just off the A40 flyover."
Paul Choat, Head of Construction, Westminster City Council
Team:
Client: Westminster City Council
Architect: Child Graddon Lewis
Developer: Westminster City Council
Employer's Agent / Construction Management: Currie & Brown
Main contractor: Willmott Dixon Construction
Structural Engineer: Structa
Mechanical and Electrical / Sustainability Engineer: TGA & Kane Group Building Services
Planning Consultant: WYG & Union 4 Planning
Approved Building Inspector: Westminster Building Control
Energy Assessor: Chapman BDSP
Ecology: Middlemarch Environmental
Acoustics: Spectrum
Daylight / Sunlight: CHP Surveyors
Transport: Meyer Brown
Landscape: Keary Design Associates
Façade Engineers: Inhabit
Balconies Subcontractor: Sapphire Balconies / BA Systems
Roofs and Waterproofing: IKO